If you are used to fishing in the open ocean, going ice fishing for the first time will
probably leave you in a bit of a shock, especially when looking at the fishing rods. The
fishing rods are small! Why are ice fishing rods so small? You've come to the right place
because we've got your answer.
Why are ice fishing rods small? Ice fishing rods are small because they need to be more sensitive to fish bites. Since ice fishing happens in cold environments, fish tend to be more dormant. It means sensing fish bites will be more difficult, especially with a big rod.

There are many reasons why ice fishing rods are smaller. Let us discuss each reason
one by one.
---
Why The Small Size? Does Size Matter (For Fishing Rods
Anyway)?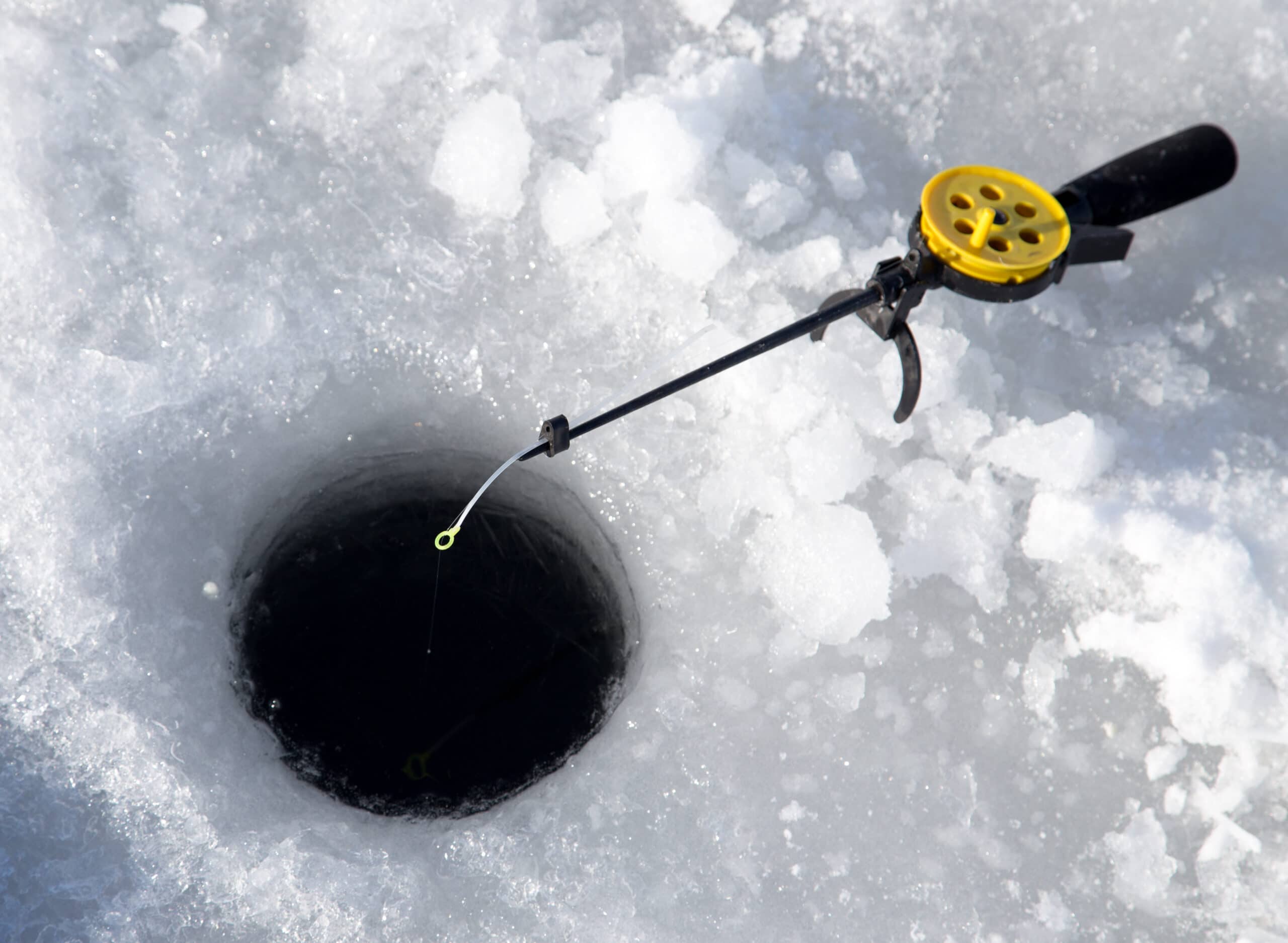 When going out ice fishing for the first time, you'll notice the cute rods anglers
use, especially as it is a stark contrast to fishing open waters. However,
there are reasons why this is so.
Most people think that ice fishing and open ocean fishing are pretty similar. However,
they are more different than most people think. The weather is colder, and there is less
leverage for moving while on ice.
---
Sensitivity
Can I Use A Regular Rod While Ice Fishing?
It is a general question amongst beginners, and the answer to this question is
absolute! There are no hard and fast rules when ice fishing. Why not if you have funand feel comfortable using a regular rod
?
Other reasons may prompt you to use a regular rod instead of an ice fishing rod, even
while ice fishing. I'll talk more about the different uses, but you must remember
one thing about ice fishing: you are in a small hut.
Here's an example:
Amazon sells a cute pop-up 2-3 person ice fishing shelter that they say is 58" x 58" x
66" in size. That's 4'10" x 4'10" x 5'6". Just to put in perspective, a standard lightweight
graphite trout rod sold on Amazon is 5'7" long, according to someone that purchased
and measured the trout rod.
Now, I don't know about you, but I don't think trying to use a nearly six-foot-long rod
inside a nearly five-foot to the nearly six-foot enclosure is going to work. See where I'm
going with this?
---
When Should I Use A Regular Rod? When Should I Use An Ice Fishing Rod?
Even though an ice fishing rod is less cumbersome and has many advantages while ice
fishing, there are also reasons to opt for a regular rod. Let us look at situations where
you'll need one over the other.
Use an ice fishing rod for casual ice fishing of smaller fish.
If you want to ice fish casually and want to be as comfortable and at ease, you should
use a regular ice fishing rod. They are designed specifically for ice fishing and
accommodate ease and comfort while in use.
Especially if you are new to ice fishing, using a rod designed for ice fishing is
recommended. Additionally, even if you are already a veteran, choosing to fish with an
ice fishing rod is still pretty useful.
When to Use a Regular Sized Fishing Rod
Use a regular fishing rod if you want to target big fish specifically. However,
depending on the size of the hut, you may be limited to using only the ice fishing rod.
Unfortunately, small ice fishing rods are not so good at getting your big pike. So if you
want the bigger fish, you should use the bigger rod.
According to veteran angler Jon Webber, "They (ice fishing rods) are used mainly for
smaller fish and aren't going to be the best if you're going after the bigger guys. If you're
going after something smaller like a Bluegill, then you don't need a big rod, and you'll be
better off getting something smaller."
Use an Ice Fishing Rod if you want a more compact experience fishing.
Got limited storage space? Want to make your fishing experience less of a burden and
more of an enjoyment? Are you tired of a clunky and cramped iced fishing experience?
You should use an ice fishing rod.
Not only are ice fishing rods much more compact and are much easier to use, but they
are also much easier for traveling. Especially if you live far away from an ice fishing
spot, saving up more storage by using the smaller rod is recommended.
However, although cute and compact, one should consider that an ice fishing rod is
relatively ineffective for regular fishing, at least in terms of trying to cast.
The rod may still work if you were fishing in the summer off a dock, but if you wanted to
fish with this tiny rod in the warmer months, you are going to have a challenging time if
you intend to cast more than a few feet out.
The moral here is that the ice fishing rod, although compact, is intended for ice fishing
and ineffective at casting like a standard rod. Thus, the rod serves its unique purpose
but is not versatile enough to hold a multipurpose fishing rod title.
---
Fishing Guide: 11 Best Ice Fishing Tip Ups
---
My Favorite Top 5 Ice Fishing Rods
I usually shop for my fishing rods at specialty fishing stores. However, I've turned more
and more to purchase my fishing supplies from Amazon and other online sellers in the
last year or two.
I've found five pretty decent ice fishing rods that you can purchase from both specialty
shops at a premium and on Amazon for a competitive price.
Here are my top five favorite ice fishing rods:
5 – The Berkley Lightning Combo
Okay, so they can't all be high-end rods. You have to think about the youngsters and
their lack of enthusiasm for the great outdoors.
If I were to recommend to a youngster a rod combo to get their feet wet with ice-fishing
(metaphorically speaking, of course), I would recommend the Berkley Lightning combo.
It's a basic setup that works well enough to enjoy a few catches out on the ice without too much fuss.
And the low cost is what appeals to me when my young nephew decides
he is more interested in video games after 30 minutes on the ice.
---
4 – The HMG Ice Fishing Spinning Rod by Fenwick
Simplicity is the name of the game here with the HMG rod. This rod is simple and yet
incredibly effective. The rod is set up for a spinning reel, so it takes fourth place on my
list for a lack of versatility.
All versatility issues aside, the HMG is a great starter rod with many potentials to make
it into the world of intermediate rods.
The handle is mostly cork construction with the core rod of the standard carbon blanks.
The increased sensitivity in this durable little rod means that you'll likely feel the
smallest of nibbles making this rod definitely worth its salt.
---
3 – The Tickle Stick by 13 Fishing
This rod comes in lengths from 23" to 38". It's versatile, has ALPS thin wire guides, and
a custom Evolve reel seat. The hand-selected Portuguese cork is a nice touch, giving
the rod a lightweight classic appeal.
The rod is highly rated, with over 320 reviews adding up to a 4.5/5 star rating. It is a
decent little rod, and it's at a reasonable price. If you're looking for a starter or even
intermediate ice fishing rod, this little number is sure to impress.
---
2 – The Mojo by St. Croix Rods
Flipping from a classic design to a modern approach, we have the Mojo by St. Croix
Rods. This rod comes in sizes ranging from 24" to 34". The rod is fabricated with a solid
carbon construction design, and the design proves to deliver superior performance.
The unusual split handle design was what first caught my eye with this rod. It looked
awkward to me. I just had to try it for myself, and I have to say, I'm sold on the design.
It's functional with the custom reel seat that can accommodate most fishing types and
even comes with a 1-year warranty.
---
1 – The Archangel by 13 Fishing
This rod, the Archangel by 13 Fishing, is an elegant thing of beauty, to say the least. A
smooth and tapered handle appears to merge as one with the rod itself, delivering a
sleek and sophisticated look. Black tie ice fishing, anyone?
The rod is carbon forged with Halocarbon blank material. The hook keepers are Evolve
Foxholes and the guides are double diamond coated for maximum performance.
One look at this rod, and you'll see why I chose it as number one. And let me just say
that in terms of performance, it works better than it looks (and it looks pretty good).
Three Frequently Asked Ice Fishing Questions
---
What is the best time of the day to ice fish?
The best time of the day to get the most bites when ice fishing is the transitional period.
During the sunset and sunrise, fish are more active as they move to their feeding
grounds.
Many fish that are either diurnal (spends their time awake during the day) or nocturnal
(spends their time awake at night) will both potentially be active during dawn and dusk
periods. One fish might be grabbing their last meal of the day before heading off to
sleep, while another fish could be just waking and looking for some breakfast.
Due to this convergence of the two waking periods, dawn and dusk tend to provide
better results for most anglers with the increased chances of both nocturnal and diurnal
fish activity during those two times of day/night.
What are the materials used for an ice fishing rod?
Most ice fishing rods are either graphite or fiberglass. The graphite variants are more
expensive, more sensitive, and lighter. Fiberglass is not as good, but it is cheaper.
However, the more expensive versions of fiberglass may deliver a similar experience to
graphite.
Fiberglass does not stand up to the bitter cold in the same way that graphite does.
Depending on the quality of fiberglass, after time and exposure to the cold, the
fiberglass can become brittle and even crack or break. With this in mind, if you intend to
be serious about repeat excursions onto the ice, then a graphite rod of quality is likely a
wiser choice.
What fishing rod is better to use when fishing from a tent or a shelter?
The smaller form factor of an ice fishing rod helps you fish better inside a shelter as you
are in proximity of the ice fishing hole. However, it depends on the size of both the tent
or shelter and the fishing rod.
For example, if the tent you have to cover your ice fishing hole is just a tiny 2-person
pup tent, you will want to use the shortest possible rod. Many small pup tents are not
over four feet tall. On the contrary, some are no more than three feet tall.
Ice House Height Plays a Roll
As you can well understand, the height of the tent or enclosure will potentially limit your
ice fishing capabilities. You should consider sitting there holding the fishing rod and how
you may jerk the rod upward when you feel a bite. Let's do some math to see what
we're talking about here.
First, let's assume you are sitting on a stool, albeit a low one. Let's assume a foot in
height. Now, your torso is likely around 3 feet plus or minus, so let's say our total height
sitting up on the stool is 4 feet.
Consider you are likely holding the rod at the midpoint, so 2 feet off the ground. If you
were to feel a bite on a 24-inch rod and somehow ONLY rotate the rod upwards at, say,
your wrist located 2 feet off the ground, then the tip of the rod, if vertical, would equal 4
feet off the ground.
The More Room To Jig The Better
Realistically though, no one holds a rod at 2 feet and only jerks up with their wrists. That
and I think it's safe to say you don't want to be smacking the top of the tent with your
rod either. Therefore, I would want a shelter or tent that I could likely stand up straight in
or close to it.
And if most ice fishing rods are 24-36-inches, then I'd definitely want a tent or shelter at
least 5 feet wide and 5 feet tall. That's my preference, though. In a small tent or shelter,
you are likely better off with a smaller rod, like a 24" one, rather than upgrading your
entire fishing tent or shelter to a larger hut or giant tent