Spring Crappie Fishing Techniques That Work
---
These spring crappie fishing techniques will help you catch more crappie during this crucial time of the year for crappie fishing. The ice is getting off of the lakes, and the crappies will be starting to move to shallow water soon.
The areas that the crappies will be migrating to will be not only shallow areas but the areas with a lot of sediment and algae which you will find in the northern bay areas. Crappies migrate to these areas because this type of water warms faster than any other area of the lake. They will also be spawning soon, so they are going to these parts of the lake for that reason as well.
Another reason crappies go shallow is they are hungry from not eating much during the winter season. They are going after the big meals now which is bait fish like minnows. So mostly its a big feeding frenzy for crappies during early spring.
Cast The Shore in a Kayak
---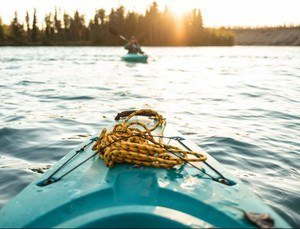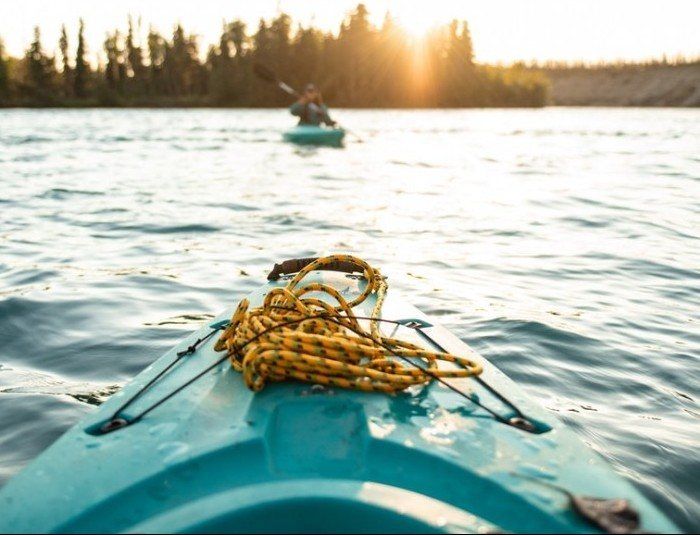 An excellent way to find where those crappies are is if you have a kayak take it out on the lake and navigate the shoreline areas. Take your kayak into the bays and find downed trees and weeded areas. Go along these areas and cast using a beetle spin lure. Beetle spins are a fast and easy bait to use when you are looking for the areas that the spring crappies will be.
The use of the kayak makes it easy to get into these challenging areas that you would have a harder time fishing from shore. Once you find where the crappies are at you can switch to a jig and slip bobber or a hook minnow and slip bobber, whatever your preferred method of crappie fishing might be.
Jigs, Floats, & Bobbers
---
Get yourself some 1/32 to ⅛ Oz jigs and use floats or bobbers with them to suspend your lure over the crappies so that they can see the bait dangling there. A lot of the time the crappies that aren't active will see your jig sitting there for a while and will decide that it would be an easy target to go after.
You will want to play around with the color of the jig heads. Make sure that the jigs mimic minnows and bugs because that is what crappies are feeding on in the spring, summer, and autumn months as well.
Pre-spawn
---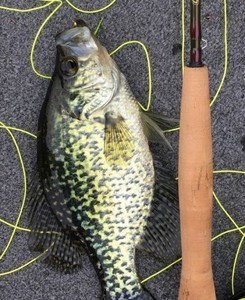 During the pre-spawn early spring, you will find crappies in the shallow weedy areas of the lake where they get the most oxygen. Pre-spawn crappie will be looking for some big meals to give them the energy they will need for when spawning time comes which isn't far off in most cases.
Crappies will be in large schools this time of year. Early spring is one of the best times of year to catch an abundance of crappie once you locate these schools of fish. You won't be able to pull the crappies in fast enough!
If you have a fish finder, it's a good idea to put that to use. It will go along way in helping you find these large schools of crappies and at what depth they are hanging around. Because if you find the schools of fish but don't know how deep they are, you might be presenting your bait wrong to them and not catch anything. You want your bait to be suspended above them so that they see it and then devour it.
Minnows with a slip bobber or a float are good choices of live bait to use during the pre-spawn. Small-sized jigs that are 1/32 to 1/64 Oz, and look like insects are a good choice this time of year for artificial lures.
Spawn Time
---
When the water temperature starts to warm up around 60 to 70 degrees, Fahrenheit crappies will start their spawn time. The spawning time for crappie can last from two weeks to six weeks depending on the size of the lake. If the water is clear crappies will make their nests in water that is 3 to 6 feet deep. Muddy water you will find crappies spawning in waters that are 2 feet deep.
The more protection from wind and lots of vegetation is where you will find spawning crappies. The best types of lures to use during the spawn time is spinning baits and small micro jigs using 4-pound test. Using this combination of line and bait will ensure that the baits move down slowly in the water enticing the crappies to strike if you're looking for the bigger sized crappies you will want to use a ⅛ oz jig and 6 to 8-pound test line.
Cast your jig into reedy areas and slowly reel them back in making sure your rod tip is kept high. You will want to use light-colored jigs like yellow and pink during the crappie spawn for optimal effectiveness. Pairing these light-colored jigs with tubes or plastic curly tails of the same colors help capture crappies during the spawn as well.
Post Spawn
---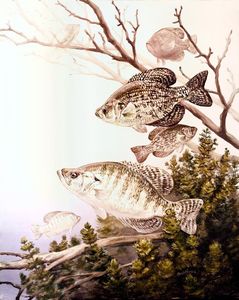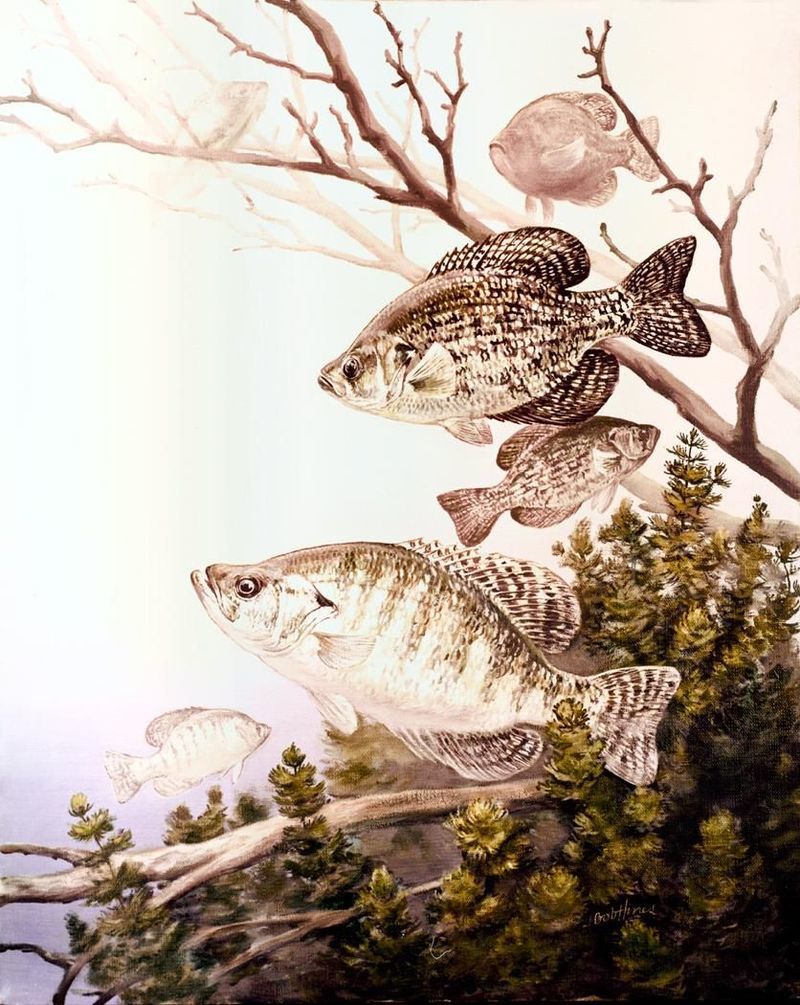 After crappies have spawned, it becomes more difficult to find and catch these fish. They become elusive, and most anglers don't both fishing for them until the fall. But you can still catch some nice crappies during this time of the year.
Crappies will head back to the deeper water where they were before the spawn. They like it there because of the familiarity and safety that the deeper water provides. You will find them around deeply sunken trees and logs, rock piles, and creek channels with drop-offs and ledges.
Fishfinders especially the ones with side-scan can come in handy after the spawn when looking for crappie. You will want to focus your attention on catching the males of the species during the post-spawn. When you find where those elusive crappies are hiding, you have to almost hand feed them the bait. Get it right in front of their mouths. This is because after spawning the fish are tired from the spawn and they don't move very far.
During the post-spawn, you will want to try various rigs and depths to get these crappies to eat. Get a few rods rigged up with multiple jigs. Grab some live minnows and start experiment with different depths until you find the right combination. It's finding that combination of baits and depth that's the hardest part when fishing crappie post-spawn. But once you find the areas and the right combination you can fill your freezer up with crappie!
Spring Crappie Fishing Techniques Conclusion
---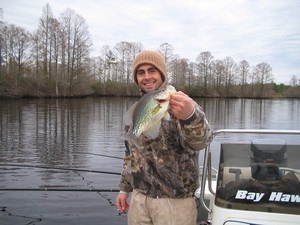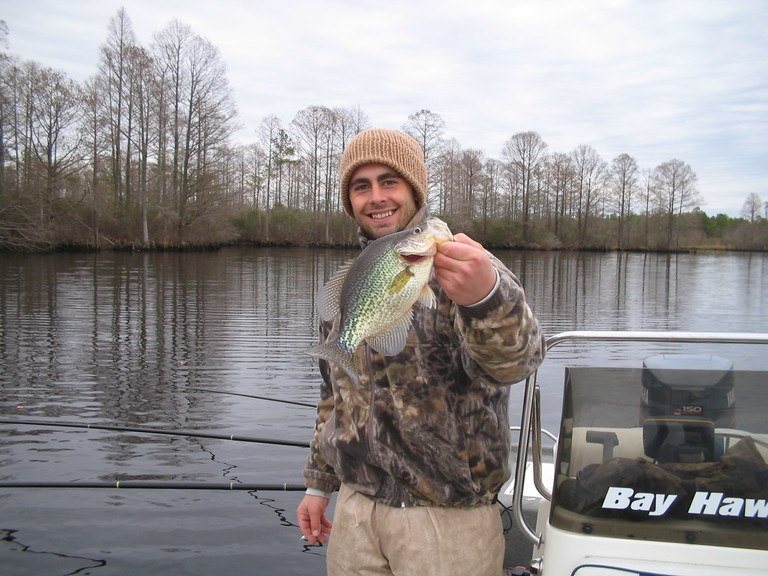 During the spring is the best time of year to be fishing for crappies. And if you use some of the techniques in this article and fish the right areas of the lake you will find and more than likely catch an abundance of crappie. During the pre-spawn is probably the best time of spring to be catching these fish. They will be headed to their spawning areas as soon as the water temperatures warm which is about 50 to 55 degrees Fahrenheit and the ice starts leaving the lakes. Crappies will be found in big schools during the pre-spawn as well.
At spawning time you will find crappies in water depths that range from 2 to 6 feet deep. This will depend on how clear or muddy the water is. The murkier the water is, the shallower the fish will be. Spinning baits and micro jigs work well during the spawn. The water temperature will be 60 to 70 degrees Fahrenheit at this time.
Post Spawn Can Be Challenging
If your fishing post-spawn, you will have a harder time finding the crappies and getting them to eat. So trying various rigs and depths will be vital in catching crappies during the post-spawn time. But once you find the right combination, you can catch crappie all day long! Consider post-spawn crappie fishing a challenge! When you start to bring them in you will be one accomplished and happy angler.
I hope this article on spring crappie fishing techniques helps you catch more crappies. If you have any questions or comments about crappie fishing feel free to leave them in the comments section below. You can also send me your questions through the contact form on this website. You will find it in the menu section at the top of the page. I wish you much success in your fishing adventures and Happy Fishing!
The Crappie Fishing Handbook
If you would like to know more about spring crappie fishing techniques, tackle, lures, and tactics grab yourself a copy of The Crappie Fishing Handbook. You can find this useful book on Amazon and can be purchased digitally through Kindle or in paperback form.