Product: Ugly Stik Tackle Bag


Price: $35.99


Cheapest Place to Buy: Amazon.com


Product Dimensions: 

11.7 x 9.4 x 7.5 inches ; 3.87 pounds




Shipping Weight: 9.4 Pounds




Storage Capacity: 28.8 Liters




Guarantee: Lifetime Manufacturers Warranty




My Rating: 9.5 out of 10 
Introducing the Ugly Stik tackle bag. If you're looking for an affordable, durable, lightweight tackle bag that you can throw on your shoulder and go then The Ugly Stik tackle bag is for you.
In this article, I will show you what is included with this tackle bag and some pros and cons of the bag so you can make an informed decision on whether or not to purchase the Ugly Stik Tackle bag. So let's start with the pros and cons of the bag.
Pros
Lifetime Manufacturers Warranty

Roomy

Lightweight

Comfortable to Carry

External Accessory pockets

Affordable

Compression Molded Bottom
Cons
Small lures and Loose Hooks Will Slide Under the dividers in the Tackle Box Tray Compartments
As you can see the pros outweigh the cons by a long shot. Now I will explain some of the features of the Ugly Stik tackle bag.
Core Features Of The Ugly Stik Tackle Bag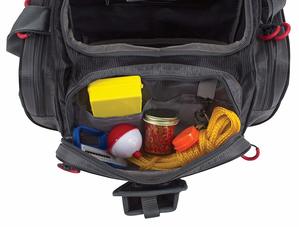 This tackle bag has many essential features that it comes with. The tackle bag is built tough, comfortable to carry, and compact with enough room for what you need to have successful fishing experience. There is no fishing tackle bag quite like the Ugly Stik Tackle bag!
Works Great For Kayak Fishing
This tackle bag is made out of tough polyester with a roughed up bottom surface that won't slip and slide around your kayak or boat. The base is also made of a strongly compressed mold that keeps the bag from sagging.
It's waterproof as well. The waterproof feature is critical especially when you are kayak fishing. You know that water will get into your kayak. That's just a matter of fact.
The Ugly Stic tackle bag is not too big and not too small. It fits in a kayak a lot better than a standard hard plastic or metal tackle box would. It will mold to your kayak.
Roomy Tackle Bag With Plenty Of Extras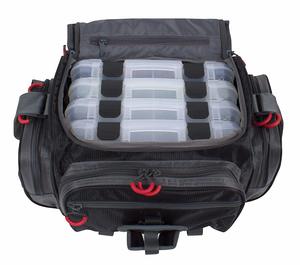 The Ugly Stik tackle bag measures 11.7 x 9.4 x 7.5 inches and has a 20.8-liter capacity to fit all your fishing lures, line, and fishing tools. This bag comes with four plastic tackle box containers.
The tackle trays measure 10.2 x 6.6 x 1.6 inches and have dividers so that you can organize your fishing lures, split shots, and small bobber any way you like.  The tackle trays that this bag comes with are not recommended for tiny swivel lures or loose hooks because they will get under the dividers and slide all over.
These tackle trays also come with ruler type measuring on top of the containers. This is convenient for measuring the fish that you catch to make sure they are within the legal length. If these are too small of tackle containers for you, the Plano 3600 series tackle trays will fit in this bag.
Wait, There's More To The Tackle Bag
This tackle bag has a padded shoulder strap with a mesh top handle which makes the bag comfortable when carrying from place to place. It comes with three external accessory pockets that zip shut so that you won't lose your fishing tools if the bag gets tipped upside down.
The Ugly Stik tackle bag also comes with a removable fishing tool holster with a belt clip. So you can clip this onto your belt and have all your pliers or your hook removal tool right on your waist where you can access them easily when you need them. The belt clip fits on most 2" wide belts.
There are also outer stretchy bands to slide in tools or your plastic bottles of bait scent for easy accessibility. This tackle bag is also guaranteed with a lifetime limited manufactures warranty so no need to worry if the bag fails you in any normal use way Ugly Stik will replace it.
My Conclusion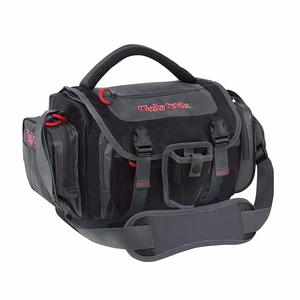 I recommend the Ugly Stik Tackle Bag for its roominess that can hold all the fishing tackle and tools that you need to have a successful fishing excursion. The tackle box trays help with the organization of your tackle so you will find everything you need when you need it without having to rummage through the bag.
It's perfect for kayak fishing. The bag is comfortable to carry with its padded shoulder strap. The bottom of this tackle bag is durable won't sag and is waterproof.
The removable tool holder for your pliers is another feature I love about the Ugly Stik tackle bag. You unclip the tool holder from the pack a clip it on your belt. So now you have your hook remover tool right on your waist. This way you can retrieve it quickly when you catch a fish that has swallowed the hook. You also can't beat the affordable price on this tackle bag.
If you have any questions or comments, please leave them below in our comments section. You can also visit our contact page and send a message there. I hope this review of the Ugly Stik Tackle Bag helped you make an informed decision on whether or not to purchase this product. At Tackle Box Talk You can Have Your Fish and Eat 'em Too! Happy Fishing!