Product:

 Wild River Tackle Tek Lighted Backpack


Price:

 $155.30


Cheapest Place to Buy:

 Amazon.com


Product Dimensions: 

18.5 x 17 x 8.5 inches


Shipping Weight:

 7 Pounds


Guarantee:

 90-Day Limited Warranty


My Rating: 9.4 out of 10



    


        

Tackle Tek Recon Backpack


                        

Purchase On Amazon


    


    




Wild River Tackle Backpack Overview
If you are a night angler and are looking for an affordable, compact and lighted backpack, then the Wild River Tackle Tek lighted backpack is for you. This fishing backpack has a led lighting system so you can see inside the backpack when it's dark. The light also shines on the outside so you can see around the backpack where you are working.
The Tackle Tek lighted backpack comes with many features that you usually don't get in a compact tackle backpack. For example, this backpack comes with four PT3600 tackle trays and a hard plastic holder for your glasses. It also comes with a removable pliers holder that clips to your belt so that you have your pliers right where you need them when you need them.
The front pocket cover folds down for a convenient working surface. The Tackle Tek also has a rain cover that you can quickly pull over the backpack to keep your fishing tackle safe from the elements. It's an all-around handy tackle backpack to bring along to your fishing excursions.
Pros
Compact

Lightweight

Padded Shoulder Straps for Comfort

Built-in LED Lighting System

Removeable Pliers Holder

Four PT3600 Tackle Trays Included

Weather Resistant Protective Cover

Permanent Glasses Holder
Cons
A Well Designed Backpack Makes Organization of Your Tackle a Snap!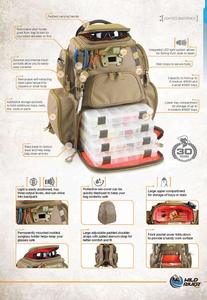 The Wild River tackle backpack is well designed with many compartments and pockets that help you keep your tackle and fishing gear organized. It has four side pockets, one big open upper storage area, and a large bottom storage area that holds four PT #3600 tackle trays.
You get a work surface by folding down the front pocket so you can tie your jigs, lay out your lures and sinkers or whatever you need to do to get ready for the fish. This backpack also has open storage that is easily accessible from the front which is nice when you need to grab something quickly. Just unzip, grab and off you go. You can keep your fishing sunglasses safe with a permanently mounted glasses holder.
It has a handy rain cover to keep all your tackle and gear dry when the weather turns rainy. I can't count how many times I have been out fishing and it started to rain soaking my backpack and water would fill up in all the outer pockets making a total mess of things.
You get all that with this fishing backpack plus a handy dandy pliers holder that is removable, and you can clip it right to your belt. So, organization is not a problem with this tackle backpack.
Backpack Features
Retractable Laynard

is removable and useful for clipping your keys or other items that you don't want to get lost.

Web Loops

to help secure any fishing tools and gadgets you might have.

Plier Holder

that's removable and clips right on your belt for which makes your pliers easily accessible when you need them.

Mesh Pockets

so you can grab those essential fishing tools without having to look in each pocket to find what you are looking for.

Clear Pocket

that zips shut to put your fishing license in so that its visible and keeps it dry.

Shoulder Straps

are adjustable and padded. This helps make that backpack comfortable to carry if you are hiking for long distances.

Sternum Strap

 adds extra support when carrying.

LED Light System

illuminated the inside as well as the outside when your fishing at night or if it's a dark cloudy day.

Rain Cover

is handy to have when it starts raining it keeps all your tackle and fishing gear dry and protected.

Four Storage Trays

come with the Wild River Tackle Tek backpack. These are Plano tackle trays medium #3600. The trays are great for organizing all your jigs, lures, bobbers and sinkers. Find what you need easily and accessible.
 Wild River Tackle Backpack Specifications
Light Source

– LED

Batteries

– 2 AAA 1.5V batteries, not included

Light Output Levels

– Select a green light setting or high and low white LED settings

Weight Without Trays

– 3.15 Pounds

Weight With Trays

– 4.35 Pounds

Exterior Dimensions

– 13″W x 16.5″H x 6.75″D

Tray Compartment Dimensions

– 10″W x 7″H x 6″D

Tray Exterior Dimensions

– 9″W x 1.25″H x 4.75″ D
My Recommendation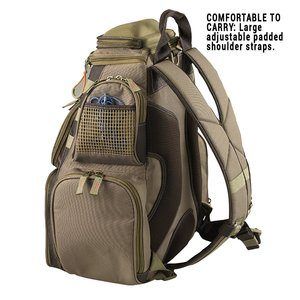 I recommend the Wild River Tackle Backpack for those of you who love to hike to where you are going to fish and if you are fishing at night. The built-in LED system gives you ample light to work with inside and outside of the backpack. There is plenty of storage and pockets so that you can have everything you need to have a successful fishing trip all in a compact bag.
The padded shoulder straps and sternum strap make this tackle backpack comfortable to carry long distances. The four Plano tackle trays make it easy to organize your tackle anyway you see fit so you can find the exact jig or lure you need quickly.
And with all the little extras that come with this backpack like the removable plier's holder, the fishing sunglasses holder, the rain cover, the retractable lanyard, and the web loops you can't go wrong with this backpack. I recommend you get yours today before your next fishing outing.
If you have any questions or comments, please feel free to leave them below. I hope this review of the Wild River Tackle Backpack helps you make an informed purchasing decision. Thanks for reading and Happy Fishing!
Product: Ugly Stick Tackle Bag


Price: $35.99


Cheapest Place to Buy: Amazon.com


Product Dimensions: 

11.7 x 9.4 x 7.5 inches ; 3.87 pounds




Shipping Weight: 9.4 Pounds




Storage Capacity: 28.8 Liters




Guarantee: Lifetime Manufacturers Warranty




My Rating: 9.5 out of 10 
Introducing the Ugly Stick tackle bag. If you're looking for an affordable, durable, lightweight tackle bag that you can throw on your shoulder and go then The Ugly Stick tackle bag is for you.
In this article, I will show you what is included with this tackle bag and some pros and cons of the bag so you can make an informed decision on whether or not to purchase the Ugly Stick Tackle bag. So let's start with the pros and cons of the bag.
Pros
Lifetime Manufacturers Warranty

Roomy

Lightweight

Comfortable to Carry

External Accessory pockets

Affordable

Compression Molded Bottom
Cons
As you can see the pros outweigh the cons by a long shot. Now I will explain some of the features of the Ugly Stik tackle bag.
Core Features Of The Ugly Stic Tackle Bag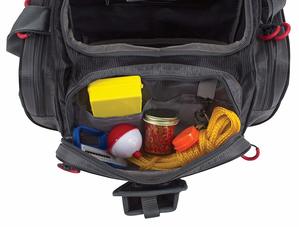 This tackle bag has many essential features that it comes with. The tackle bag is built tough, comfortable to carry and compact with enough room for what you need to have a successful fishing experience. There is no fishing tackle bag quite like the Ugly Stick Tackle bag!
Works Great For Kayak Fishing
This tackle bag is made out of tough polyester with a roughed up bottom surface that won't slip and slide around your kayak or boat. The base is also made of a strongly compressed mold that keeps the bag from sagging.
It's waterproof as well. The waterproof feature is critical especially when you are kayak fishing. You know that water will get into your kayak. That's just a matter of fact.
The Ugly Stic tackle bag is not too big and not too small. It fits in a kayak a lot better than a standard hard plastic or metal tackle box would. It will mold to your kayak.
Roomy Tackle Bag With Plenty Of Extras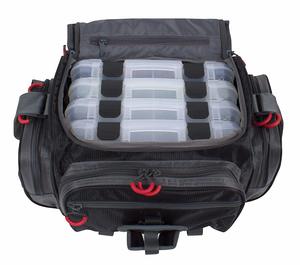 The Ugly Stic tackle bag measures 11.7 x 9.4 x 7.5 inches and has a 20.8-liter capacity to fit all your fishing lures, line, and fishing tools. This bag comes with four plastic tackle box containers.
The tackle trays measure 10.2 x 6.6 x 1.6 inches and have dividers so that you can organize your fishing lures, split shots and small bobber any way you like.  The tackle trays that this bag comes with are not recommended for tiny swivel lures or loose hooks because they will get under the dividers and slide all over.
These tackle trays also come with ruler type measuring on top of the containers. This is convenient for measuring the fish that you catch to make sure they are within the legal length. If these are too small of tackle containers for you, the Plano 3600 series tackle trays will fit in this bag.
Wait, There's More To The Tackle Bag
This tackle bag has a padded shoulder strap with a mesh top handle which makes the bag comfortable when carrying from place to place. It comes with three external accessory pockets that zip shut so that you won't lose your fishing tools if the bag gets tipped upside down.
The Ugly Stic tackle bag also comes with a removable fishing tool holster with a belt clip. So you can clip this onto your belt and have all your pliers or your hook removal tool right on your waist where you can access them easily when you need them. The belt clip fits on most 2" wide belts.
There are also outer stretchy bands to slide in tools or your plastic bottles of bait scent for easy accessibility. This tackle bag is also guaranteed with a lifetime limited manufactures warranty so no need to worry if the bag fails you in any normal use way Ugly Stic will replace it.
My Conclusion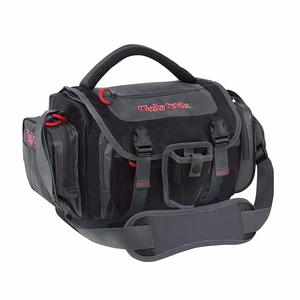 I recommend the Ugly Stic Tackle Bag for its roominess that can hold all the fishing tackle and tools that you need to have a successful fishing excursion. The tackle box trays help with organization of your tackle so you will find everything you need when you need it without having to rummage through the bag.
It's perfect for kayak fishing. The bag is comfortable to carry with its padded shoulder strap. The bottom of this tackle bag is durable won't sag and is waterproof.
The removable tool holder for your pliers is another feature I love about the Ugly Stic tackle bag. You unclip the tool holder from the pack a clip it on your belt. So now you have your hook remover tool right on your waist. This way you can retrieve it quickly when you catch a fish that has swallowed the hook. You also can't beat the affordable price on this tackle bag.
If you have any questions or comments, please leave them below in our comments section. You can also visit our contact page and send a message there. I hope this review of the Ugly Stic Tackle Bag helped you make an informed decision on whether or not to purchase this product. At Tackle Box Talk You can Have Your Fish and Eat 'em Too! Happy Fishing!
You have found it! The one and only Piscifun Fishing Line Winder. Piscifun is a brand you can trust.
It is one of the best fishing line winders for spooling braid and mono line on the market today. I can't say enough good things about this product.
In this article, I'm going to explain all the useful features of this line spooler. It works excellent for both spooling spinning reels and baitcasting reels alike.
This is a must-have fishing line spooling machine, and it is a machine that every angler needs who want a quick and easier way to spool their fishing line. So without further ado, let's get into the pros and cons of this fishing line winder.
Pros
Easy To Use
No Need For Help Spooling
Extra Spool Spacers
Wind Both Baitcasting and Spinning Reels
Keeps Your Line From Tangling when Winding
Lightweight
Portable
Cons
Instructions Are Vague
Use For Spools 2.5″ or Less
The Piscifun Fishing Line Winder Ease Of Use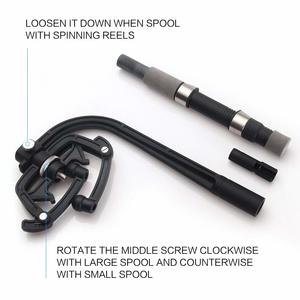 The days of using a pencil or pen to wind your fishing line onto the spool are over! No need to borrow your buddy or your wife to help spool. This product works great for winding both spinning reels or baitcasting reels. Easy change over from each as well. 
For baitcasting reels, you tighten the wheel fastener on the tip, and when you are spooling spinning reels, you need to loosen the wheel fastener which lets the spool spin with the rotor. Very easy anyone can do it.
One of the best parts of owning one of these fishing line winders is you never have to rely on someone else holding the rod and reel while you spool the line. It also makes tying fishing hooks and lures easier — no more line spinning around and around getting tangled in everything that it comes in contact with. Man, I hate when that happens!
Spooling a Baitcasting Reel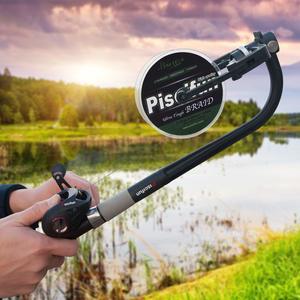 Spooling either baitcasting reels or spinning reels is easy. Heres how to spool a baitcasting reel. You want to tighten the top screw down so that the rotor which is the part of line spooler that holds the fishing line on doesn't spin.
Next, you want to adjust your tensioner, so it fits your spool of line. With the tensioner, you can increase or reduce the tension on the spindle. Clockwise increases the pressure and counterclockwise decreases the tension. This is quickly done no need for pliers all you need is your thumb and index finger.
Putting The Fishing Spool On
Put your spool on the rotor and adjust the tension so that the spool fits in nice and tight. It comes with .59 diameter and .39 diameter spool spacers for different spool sizes. This comes in handy if you have one reel that you fish smaller sized fish with like crappies and a reel you fish bigger sized fish like northern or musky.
Make sure you insert these spool spacers into your spool before attaching it to the rotor. If you don't do this, you will run into problems with the spool wobbling and falling out of the clamps.
Once that's done you are ready to start winding the fishing line on to the reel. So you take the baitcasting reel and mount it to the Piscifun fishing line winder just like you would attach it to your fishing rod.
Then you tie the backing line to the fishing spool line and start winding like you are retrieving a fish holding the line lightly with thumb and index finger. Make sure you have the tension nice and tight otherwise you might get bunching up of the line.
Spooling a Spinning Reel
Now I'm going to explain how to use the line winder to spool a spinning reel. For the spinning reel, you need to tighten the spool down just like you do with the baitcasting method. But when spooling a spinning reel, you want the rotor to be loose and spin around.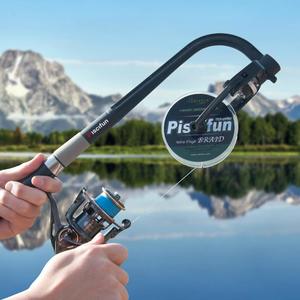 Next, you want to tie the backing line to the spool line and slowly start reeling until the spool is filled ⅛" below the spool edge. Once your spool is full, you cut the connecting lines take the spinning rod off of the fishing line winder attach it to your spinning rod, and you are ready to start fishing.
Ready To Go Fishing?
I know I'm ready. If you don't have fishing line spooler in your fishing arsenal, I would recommend you go out and get yourself one. The Piscifun fishing line winder is the best of the best you can find. Easy setup and use.
The instructions are a little vague, and you are limited to spooling up to 2.5″ fishing spool but other than that it works great. It's not like your going to be using it to spool deep sea fishing reels with it like when your fishing for bluefin tuna. We are not on the show wicked tuna here lol!
You no longer need a separate pair of hands to help you wind a simple spool of line to your reel. With the use of the extra spacers, you don't have to worry about the fishing spool wobbling and to fall off when winding. You can kill two birds with one stone with this fishing line winder by spooling both baitcasting and spinning reels with it.
If you have a comment or question feel free to leave them in the comments section below. You can contact me directly cory@tackleboxtalk.com
Product: American Angler Electric Fillet Knife Pro Series
Price: $122.76
Cheapest Place To Buy: Amazon.com
Dimensions: 14 x 5.5 x 3.8 inches ; 3-lbs
Warranty: 2-years
My Rating: 9.8 out of 10



What You Need to Know about the American Angler Electric Fillet Knife but Didn't Think to Ask
Are you looking for a fillet knife that will stand up to the big bones and big fish? Well look no further you have found it. The American Angler fillet knife will be the last fillet knife you will ever need! This all in one electric fillet knife set comes with 5 different stainless steel blades.
110 Volt Motor Provides More Torque
With a 110 volt motor in the handset that hums along nicely like a fine-tuned machine. That is exactly what it is. And its ergonomically crafted handle it will keep your wrists from hurting and you will beadle to fillet more fish. American Angler makes only high performing quality products.
These blades are strong durable from a company you can trust American Angler. Big bones slowing you down are in the past because this EFK has 2x more torch than the competition.
They Have proven this with extensive tests that have gone on for 10 years. The components on this Pro Series and its design give it 4x the lifespan of its competitors.
American Angler Electric Fillet Knife Has The Best Handset in The Industry!
The handset is ergonomically designed for comfort. The advanced airflow motor fan keeps the handset cool after filleting for long periods of time.
American Angler fillet knife handset is compatible with all the American Angler replacement blades like the 8″ curved Shark Blade and the regular Curved Blade.
It's no wonder why Professional anglers and guides choose this electric fillet knife over the competitions knives.
Comes With Five Types of Sharp Serrated Double Reciprocal Blades
The American Angler fillet knife Pro Series comes with five configurations of blades. This is handy when you are filleting different species of fish with varying degrees of complexity. The blades and the knife itself is backed by a 2-year limited warranty. American Angler stands by their products.
The blades on that come with this set are reciprocating two blade power for precise movement when filleting along and through the bones of the toughest fish. These blades can cut through muskie, catfish, lake trout, salmon, redfish, rock cod, and striper like nobodies business.
The blades are also useful in filleting smaller fish like panfish, trout, crappies, bass, perch you name it. These blades will get the job done right and in no time flat!
All the blades in this set are compatible with any of the American Angler electric fillet knives. If you have another EFK from American Angler and you need to change the blade type just take on from the pro series and pop it on! Works like a charm.
The Blades
5.5 Inch Curved Tip Blade
The 5.5″ curved tip blade is excellent and recommended for the smaller freshwater fish you catch like perch and sunfish. This is a great blade to have when you need to fillet some fish after a long day of ice fishing. It's fast and precise!
---
8 Inch Shark Blade
The 8″ Curved Shark blade is best used in filleting medium-sized fish such as bass, catfish, walleye, crappie, and lake trout. This blade comes extremely sharp and stays sharp long after the competitions blades have gone dull.
---
8 Inch Curved Tip Blade
This blade comes curved at the tip for a more precise fillet. The 8-inch curved tip blade is great at filleting a stringer full of bluegills or any of your freshwater smaller sized fish. It's even good for some of your saltwater species of fish as well.
---
10 Inch Shark Blade
The 10″ Shark blade is hollow ground like all the American Angler electric fillet blades. With two reciprocating blades so that you can fillet some of the bigger fish you catch like catfish, muskie, salmon, bass, and redfish.
---
10 Inch Heavy Duty Blade
This blade is used for some of the biggest fish you can catch out on the ocean such as Tuna, redfish, rock cod, striper. Freshwater fish as well as large catfish and large sturgeon. 10″ heavy duty electric blade can cut through a 75-pound tuna like it was nothing. Professional saltwater anglers stand by this blade.
---
With the American Angler fillet knife Pro Series you get so much for such a small price! Five Blades, ergonomic handle, advanced airflow motor that keeps the handset cool for longer periods of time and it's 2-year limited warranty. What more could you ask for in an electric fillet knife?
Take the next step and get yourself this fillet knife. I know if you do enough filleting of fish like I do you will not regret it. I bet ya if you take care of this knife it just might be the last fillet knife that you will ever need.
If you have any questions or comments feel free to leave them below or send me an email at cory@tackleboxtalk.com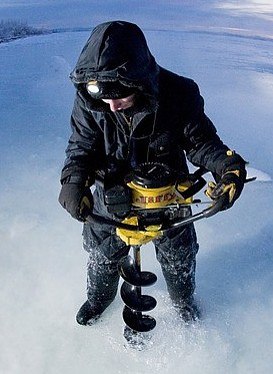 You can't beat clam ice fishing clothing. It's the best ice fishing body gear around. Perfectly tailored to keep you toasty warm on those cold ass winter days out on the ice.
When you go out on the cold lake you want to make sure that you dress in layers. If your wearing layers of clothing you can start shedding them if you get to warm and put them back on if you start getting too cold. That's a good idea anytime you are going to be outdoors in the winter time. The more active you get the warmer you will become. It's a good rule of thumb.
Now that I explained how to put the clothing on and off let's start getting you dressed. With some Clam ice fishing clothing. I promise I won't look! 🙂
Base Layer – Most Important Articles of Clothing
Before the base layer, you are buck naked. The base layer is important because it is right over your skin and you want something that is comfortable yet absorbent. You want to keep your skin dry especially when you are out in the cold ice fishing. If your skin gets wet you could get a case of hypothermia and you don't want that to happen. It could be life-threatening.
Clam has two different bottoms to choose from in their IceArmor line of clothing. Poly bottoms and The Sub Zero. The poly bottoms are made of 180 gram brushed fleece lining. They are anti-microbial with a smooth outside finish. They come in sizes from medium to double extra large.
Poly bottoms with stirrups on the bottom of the legs and they have natural moisture wicking to keep you dry and warm. They also have a smooth outside finish. You can pick a pair of these up for $34.99.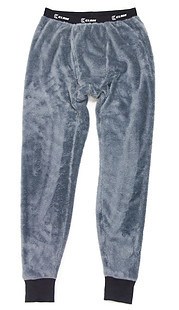 The other pair of base layer bottoms that Clam sells is called the Sub Zero. These are about double the price of the poly bottoms but they are thicker and warmer than the poly bottoms. The sub-zero is made out of 300 grams of high pile fleece. They have an anti-static finish.
They have the moisture wicking technology like the poly bottoms. These bottoms are extremely warm but won't leave you all sweaty when wearing them. The bottoms come with stirrups at the end of the legs. They are anti-microbial like the poly bottoms and they come in sizes medium to triple extra large.
The Sub Zero bottoms are priced at $69.99 to $86.82 depending on the size you order.
For the base layer at the top half of your body Clam has The Poly Top and The Sub Zero Top. The poly Top has the same features as the poly bottoms. The only difference is it's a top.
They come in Medium to double extra large. The poly top comes long sleeved and keeps you warm. The price for the poly top is the same as the bottoms at $34.99.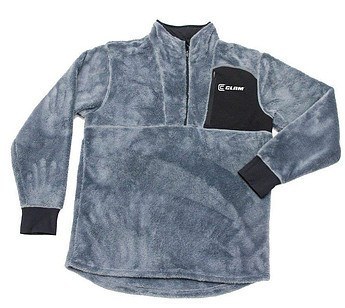 Next, we have the Sub Zero Top by Clam. The sub-zero has a lot of the same features as its counterpart to the bottom. Comes in long sleeve and sizes medium to triple extra large.
They also come with a front left chest zip pocket and elastic cuffs that are snug to keep the warmth in. Also comes with a zipper on the breast. Price for this top is $69.99 to $86.82 depending on size.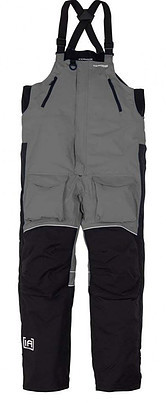 Next, in our Clam ice fishing clothing wardrobe, we want to put on our bibs. Clam has some new colors this season in bibs which are charcoal black and green black combinations. These are called Clam Ascent Float Bibs. They literally can float and they are breathable at the same time. They are made out of 300 denier fabric and it's windproof and waterproof.
The liner is removable only weighs 150 grams and is made out of Thinsulate for extra warmth. The bibs are very mobile and flexible so you won't have a problem moving around in the ice house when you need to grab bait, poles, and wrestling that monster fish when you get it on the line.
The bibs have a motion float technology that adds to their buoyancy. Adjustable inseam with storm gaiters and a fast drainage system in case you fall through the ice and get waterlogged. They come with adjustable nylon suspenders.
Also comes with a cell phone pocket that is waterproof. A two-way waist height leg zippers and a two-way magnetic storm flap with front zip. Also has zippered pockets to warm your hands. They come in sizes small to 5x large. The price for a pair of these Clam bibs is $359.99.
Now you will want to put on the parka or jacket depending on what part of the country you live on. Introducing the Extreme Advantage Parka. This is a very warm and breathable parka. It is littered with pockets that can hold all your favorite ice fishing gadgets. The removable liner jacket is of 150 grams of Thinsulate.
Comes in blue/black and chart/blue color combos. The fabric is soft to the touch and is waterproof. For safety, it has reflective tape throughout. Comes with a waterproof pouch for your cell phone, two retractable D-rings on the chest for various accessories. It sports a magnetic fish towel release and a two-way magnetic storm flap.
It comes in sizes small to 5x large. The Clam Extreme Advantage Parka's price is only $249.99. Not a bad price for this nice looking jacket considering everything that is on it.
That's The Basics
We are now ready to do some serious ice fishing in our Clam ice fishing clothing. Besides the base layer and the outer layer, you will want to get yourself some warm boots, stocking hat, gloves/mittens, and warm socks. Clam makes most of these miscellaneous clothing items which I will write about in a future article.
Now you have the information you need to go out and purchase these warm and comfortable Clam ice fishing clothing. Don't leave home without it.
Thanks for reading and as always if you have any questions or comments please leave them below and I will get back to you.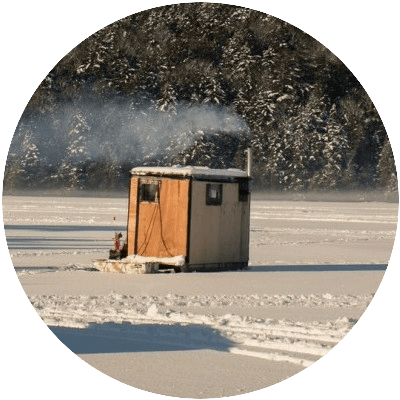 Not bringing along the proper ice fishing supplies is like forgetting your underwear when you are on vacation or getting caught with your pants down while shopping at Cabelas for Christmas gifts lol!
It can be a big pain in the, you know what. I have done it. You have done it. We all have done it.
Not having all the right ice fishing gear can mean the difference between enjoying your day out on the ice or having an ice fishing nightmare where your holes filled with slush and you have to scoop it out with your hands or running out of live bait when the fish are biting like mad.
Ice Fishing Supplies
Forgetting the smallest item could ruin your day! Sure you could go pack up head to the local bait shop and purchase what you forgot. But why not just purchase it beforehand and have it with you?
I have put together a list to save you some valuable ice fishing time. Here are some of the most important ice fishing supplies you will want to bring along when you head out to the lake. Don't get caught without these. You will regret it!
Auger – Drilling Through The Ice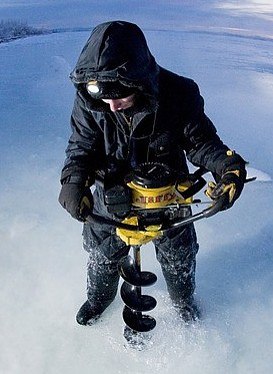 Before you can do anything you need to get through the ice to get to the fish. You will need an auger or something that will drill or punch a hole in the ice. There are more augers on the market than there are people lol. Not really put it seems like it.
If you have enough money you can go out and pick up a good gas powered auger for $200 to $300 dollars and up. It makes life easy because you will more than likely be drilling through the ice multiple times in a day if you want to go home with your limit.
Another option you have if you don't have quite as much money to invest is the manual ice auger. The manual ones go for about $50. With a manual auger, you have to turn the blade by hand.
This is very time consuming and personal energy consuming as well but it can be done. Make sure with a manual auger that your blades are extra sharp which will help you from exhausting yourself before you even put your first line in the hole.
Last option is getting yourself a heavy iron pick and chop away at the ice.:( This technique is not recommended especially if the ice is thick. But even if it isn't that thick it will still take you a lot of time away from ice fishing which is what you came out there to do in the first place. But if an ice pick is all you can afford I guess you would have to go with that. I just hope you have strong arms and patience
Ice Scoop
Make sure you bring along your handy dandy ice scoop so you can scoop out the slush that will accumulate over time in your ice hole. If you forget this essential ice fishing supplies your hands will get cold, chapped and raw. Not Fun!
There is also what they call a skimmer which you plunge into the hole like a toilet plunger and that breaks through any thin ice that might have formed and pulls the slush out on the way up like a scoop does.
Ice Fishing Rod and Reel
Don't forget the rod and reel. You won't catch any fish without these two items. Although some rods you can use without a reel. Those are great for jigging and rigging. So depending on what your preference is you need at least the rod. If you are talented you could just get a stick and tie a line to the end of it. Now that's old school lol. 🙂
Tackle/Live Bait
You don't want to leave home without some tackle and live bait. Some anglers just use artificial lures and some just use live bait but I think the majority of anglers use both and sometimes together. Depending on a myriad of various circumstances.
Obviously, with the artificial bait, you want to have a tackle box of some sort. If your fishing with minnows you want to bring your live bait station. This will keep your minnows alive and keep them from freezing solid before you put them on the hook.
5 Gallon Bucket
One of the most important ice fishing supplies that I see ice anglers bringing with them out on the ice is the plain everyday 5 Gallon Bucket. You can put most of your supplies in this thing. Carry it to where your fishing at. You can also use it as something to sit on! Great concept that 5-gallon bucket is I wish I would have thought of it!
Warm Clothes
You will want to dress appropriately when out ice fishing. Make sure you dress in layers because the temperature can vary out on the ice. The sun beating down and glaring off the snow you might get a little warm and if you are dressed in layers you can take articles of clothes off or put them back on when you get chilled.
Insulated boots, stocking hat, warm gloves, jacket, and snow pants are all essential ice fishing supplies. Don't get caught with your pants down lol especially out on the frozen lake!
Bring It!
The ice fishing supplies that I have listed in this article are the barebones items you will need to have a successful and enjoyable time out on the ice. There are many other supplies that you can bring but they are not as essential as these. Here is a short list of some other items you might want to bring along.
Ice Shelter
Fish Finder
Pole Holder
Generator
The list can go on and on!  Just don't forget the essentials. If you have more money to invest in the sport you can purchase the few things I just mentioned.
The goal when ice fishing is to have fun, catch some fish and enjoy the outdoors during the winter season. It can be whole fun for the family as long as you have the right ice fishing supplies.
If you have any questions, comments or fish stories leave them below or you can email me at cory@tackleboxtalk.com
Product: Mr. Heater Triple Tank Top
Price: $130.01
Cheapest Place To Buy: Amazon.com
Dimensions: 16.2 x 6.2 x 22.2 inches
Weight: 2 lbs
Shipping Weight: 9.05 lbs
My Ratings: 9.4 out of 10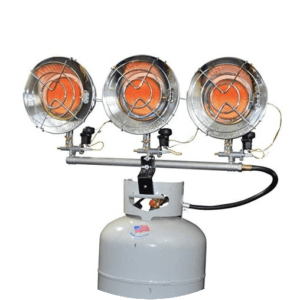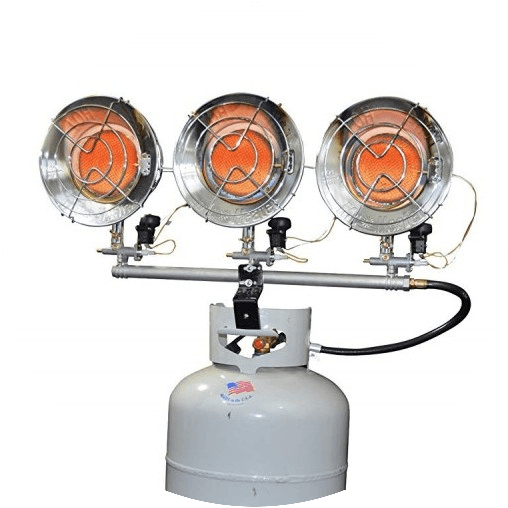 Trying to stay warm while you are ice fishing can be a significant burden especially when the temperatures reach down into the single digits.
Hands and feet start going numb even while wearing appropriate gloves and boots. I know I've been there and done that. When I find myself in this predicament, I kick myself that I didn't invest in some a heater!
Well, no more cold, numb fingers while I'm ice fishing. I decided to do some research and came up with a solution to this dilemma. I found Mr. Heater Triple Tank Top! This heater is excellent for when you are out braving the cold, ice fishing.
Like the product says it's three heaters all in one and mounts onto a single propane cylinder. You can use 20 up to a 100 lb — cylinder for the heaters. They have a safety shut-off for all three of the heaters in case they tip over. The product boasts a high, medium and low regulator that's easy to control when temperatures vary outside.
Rotation of the Mr. heater triple tank top heads is easy with a turn of a wing nut you can rotate a quarter turn on all three of them individually right or left. Also, comes with polished chrome reflectors.
How To Attach To Propane Cylinder
Attaching Mr. heater triple tank top is easy as pie to attach to the propane cylinder. The burner assembly attaches to the steel collar on the propane cylinder that protects the shutoff valve. All you have to do is loosen the hold-down nut on the burner assembly clamp and slide it down onto the steel collar of the propane tank. Then tighten nut securely. Next, attach the hose to the hose connection on the cylinder.
Run Time/Heat Output
Mr. heater triple tank top heater has a run time of about 9.5 hours running all three burners on high. You won't have to run all three once you get this thing cranked up. It's plenty warm on just two of the heaters running. If you run only one at the low setting which would be about 10,000 BTU'S an hour, you would be talking more of a 40-hour run time, and that's with a 20lb propane tank.
This product has radiant heat and is meant for outdoor use only. So don't be using this in your ice houses you will get carbon monoxide poisoning!
It has 10,000 to 45,000 BTU'S (British Thermal Units) per hour. Mr. Heater consumes about 2 gallons of propane an hour all depending on how many heater heads you are using and if you are running them on low, medium or high.
I like that you don't have to run all of them at the same time which saves in propane when all three are not needed. Most of the time unless it is below zero you won't need all three, but it's nice to know that you have them there.
Mr. Heater Triple Tank Top Details
This heater has a high-grade durable metal mesh that protects the head burners so that it will last longer. Which is what you would want if it tipped over on the ice while ice fishing.
This triple heater can be used for many outdoor activities such as hunting, fishing, camping, gathering on the porch with friends or family, tailgating at the big game. Also, this heater would be great at a construction site or loading dock where it can get darn cold in the winter months.
The burning surfaces are made out of a premium stainless steel for long lasting burning time. Feel safe with the tip over safety switches that are on all three of the heaters.
It will keep five people warm while ice fishing in the open air! That's amazing for three little heaters. They kick the heat out quite a way. A distance of 15′ away can keep you comfortable. I have heard just 10′ away is too warm. These units are ignited by using a lighter or match just like a hot water heater.
Warranty/Return Policy
Mr. Heater Triple Tank Top has a 1-year manufacturer's limited warranty, and 90-day money back guarantee.
In Conclusion
As you can see, Mr. Heater Triple Tank Top is well worth the money spent if you spend any amount of time outdoors in the cold winter months. Kicking out heat at a range of 15′ is what you would want a heater to accomplish especially when ice fishing. The lake winds can get awfully cold.
With a run time of 9.5 hours on full heat, you can spend all day or night if that's how you roll out on the ice and catch your limit of whatever you're fishing for without freezing your fingers and toes off.
All you need now is a pair of Oakley polarized ice fishing sunglasses to keep the glare of the ice off of you. You will feel like your ice fishing in paradise!
Don't get caught out on the ice without your Mr. Heater triple tank top to keep you warm and toasty! Your extremities will thank you.
If you have any questions or comments, please leave them below.
What You Need to Know About the Different Pairs of Oakley Polarized Fishing Sunglasses
There's nothing like spending a lazy weekend afternoon fishing. However, if you want to ensure that your time is well spent, you'll need more than just a sturdy fishing rod and some colorful bait.
Some specialized items can boost your chances of pulling in a good haul at the lake. I, for one, prefer the assistance I receive from a pair of Oakley polarized fishing sunglasses.
In this article, we'll dive deeper into specific pairs of polarized fishing sunglasses the folks at Oakley have to offer.
But before that, we'll talk about what makes those glasses so special in the first place.
What Does Being Polarized Mean for Sunglasses?
I prefer to fish when the sun is nice and bright but not too oppressive. That kind of weather allows me to get comfortable and I can spend hours at the lake.
The only real issue is that the sun can get in the way sometimes. You're looking to see if there's something to catch, and the glare suddenly gets in your way.
That's why polarized sunglasses can be so helpful. When the lenses are polarized, they do a better job of essentially filtering out that distracting glare. With no glare to deal with, I can focus more on the activity at hand and be more successful.
The designers at Oakley use a specialized molding process to create their polarized lenses. Using that technology allows for the creation of slimmer lenses that are also easier to see through.
Polarized Prizm Sunglasses… What Are They?
You'll see later on that among the pairs of Oakley polarized fishing sunglasses we'll discuss are ones that also feature Prizm technology.
The people at Oakley have different uses for their Prizm Technology. For us fishing fans, it's the deep and shallow water applications that are worth paying attention to.
Prizm Deep Water filters the different shades of blue and puts more emphasis on green and red hues. That effect allows me to better see if there's a fish lurking beneath the waves. On days when the waters are particularly choppy, you need all the help you can get to see what's swimming nearby.
Meanwhile, Prizm Shallow Water enhances contrast and visibility so that you can see if there's something moving in the water. If your favorite fishing spot has a tendency to get muddy, then having lenses that can counteract that is extremely helpful.
Now that we have a better idea of what technologies are used in a pair of Oakley polarized fishing sunglasses, let's take a look at specific examples.
We begin with a classic pair of sunglasses.
The design of the Holbrook is simple, yet refined. The lenses are framed in a conventional way. They fit comfortably over your eyes, thus eliminating the need for you to make constant adjustments.
When it comes to the lenses, you can take your pick from two different polarized options.
If you opt for the HD polarized lenses, then you'll get the glare-reducing benefits and the improved clarity. Should you decide that you want the Prizm polarized lenses, then you'll get the glare reduction and the deep water-compatible benefits as well.
The frame's design is understated, the Oakley icons add contrast with just a few metal rivets. The frame doesn't get in my way though, and I appreciate how light it feels while I'm wearing it.
When it comes to durability, you don't have to worry that much about Oakley's Holbrook. The lightweight nature of the frame should not lead you to question this item's durability. I have used this pair for extended stretches of time and have found no issue with the hinges or anything.
You will be able to find some more daring pairs of sunglasses from Oakley. But if you want to keep things simple and classic with your eyewear, the Holbrook is a good choice.
The next pair of Oakley polarized fishing sunglasses we'll take a closer at is the Fives Squared.
Whereas the Holbrook appeals to users by featuring a classic style and form. The Fives Squared aims to be a more functional alternative.
The main feature of the Fives Squared is the way it can easily fit just about anyone.
I've had some trouble with using non-Oakley sunglasses myself in the past. After a few hours of wearing them, I found myself growing uncomfortable and wanting to take them off. On particularly hot days, wearing sunglasses is not a ton of fun.
The rectangular frame does not take up a lot of space. It's also constructed in a way that it does not awkwardly stick out and potentially cause some discomfort.
These sunglasses are remarkably lightweight as well and you should be able to wear them all day with no issue.
Unfortunately, your only option if you want a polarized pair of Oakley's Fives Squared is to go with the HD polarized.polarization is still highly effective, but this pair could have benefited from the added contrast too.
There have been times in the past when I've had to choose between an item that's more practical, and another that's more stylish.
That's why I love Oakley's Split Shot so much.
Let's start with its more practical features.
This pair of Oakley polarized fishing sunglasses comes with a detachable leash. It's very easy to misplace glasses, but with a leash included, that's not going to be a problem with this pair.
You can also see that the frame for this pair is on the thicker side. That's not a design flaw and is instead a feature that gives the glasses some added durability.
Regardless of oil and sweat buildup, the nose pad stays exactly where it was designed to stay.
It's no small feat that the designers at Oakley were able to include all those features while retaining the classic styling of their glasses.
When it came to substance this style of sunglasses was not sacrificed.
Prizm technology is also present in this pair, which makes it even more useful while fishing.
Oakley's Radar EV Path sunglasses feature the boldest design of all the items in
this article.
The Prizm polarized lenses now make up a greater percentage of the sunglasses. What helps to provide for a larger field of view is the tallness of the lenses.
I personally found that the taller lenses are most useful when fishing on open water. They allow me to see more of the surrounding area, and I can fish more efficiently.
Despite the unconventional design of this pair, you don't need to worry about them being uncomfortable. The lenses don't push down on your cheeks, and the nose pad holds them in place.
If you're hesitant to get this pair because you think the styling is too out there, you should know that they look great outdoors.
You also don't need to worry about the durability of either the lenses or the frame. They will hold up no matter how often you use these sunglasses.
Improving your fishing experiences is possible if you use Oakley sunglasses. With the aid of the polarization and the Prizm technologies, spotting your targets will be easier, and you will be more successful.
All you need to do is to find the pair of Oakley polarized fishing sunglasses that fits you best because all of them will perform well.
If you have any questions feel free to leave them below.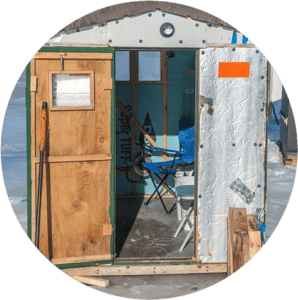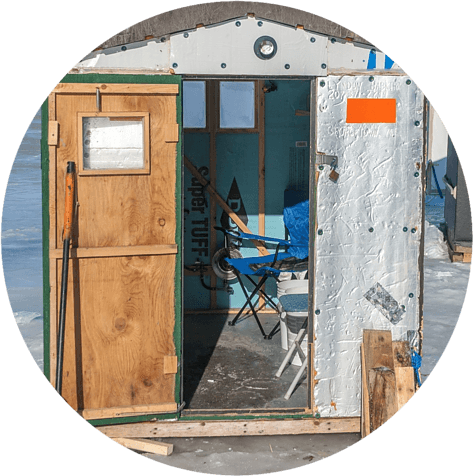 So, you've chosen your lake, set aside the time, and decided you want to try your hand at ice fishing. I've found it to be a great way to relax and, once you've got the hang of it, it's a rewarding way to earn your dinner. That said, it's critical to do your research and make sure you're all caught up with the best ice fishing house supplies that you will need.
For me, proper equipment is necessary to enjoy the process, and enjoying it is essential to catch fish. Let's see what's out there.
Getting comfortable
When I began to prepare for my first outing ice fishing, I was woefully unprepared. I thought a big jacket and four walls to block out the wind would keep me sufficiently warm.
Little did I know that without an insulated seat, the ambient cold will get to you, one way or another, no matter how prepared you think you are. I've personally found that those two pieces of ice fishing house supplies to be the two most important when it comes to enjoying the experience.
Many people swear by sitting on their bucket, but I say they're crazy. Sitting for hours on something with minimal insulation is just a nightmare, and you lose a lot of body heat.
Maybe they have better circulation than I do, but I don't know if I'd still be ice fishing today without insulated chairs. I'm a fan of the Clam® Chair, which you can get at any sporting goods store with ice fishing house supplies.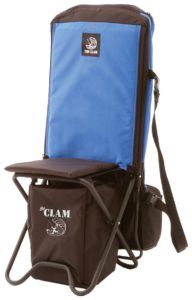 In addition to a nice, warm seat, I find it necessary to have a good shelter for the long haul. Depending on your budget, there are a few approaches you could take.
I must have seen re-purposed trailers a hundred times. That can be expensive and, if done wrong, disappointing and cold.
One of the most important parts of being able to enjoy the experience is keeping yourself comfortable Staying out of the wind is crucial as well.
DIY Ice Houses
Too many times I've seen big, do-it-yourself shelters that don't get the job done. I imagine these people thinking they're saving money, but it's quite inexpensive to buy a shelter, there are some good ones on the market.
For budget ice fishers, Cabela's sporting goods sells a serviceable ice fishing shelter, and the brands Shappell and Frabill sell similarly priced shelters of similar quality for a price point of roughly 150-200 dollars.
Breaking the Ice
By this point, you've got an idea on how to manage the temperature and staying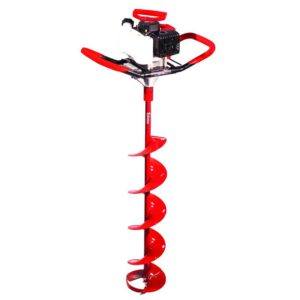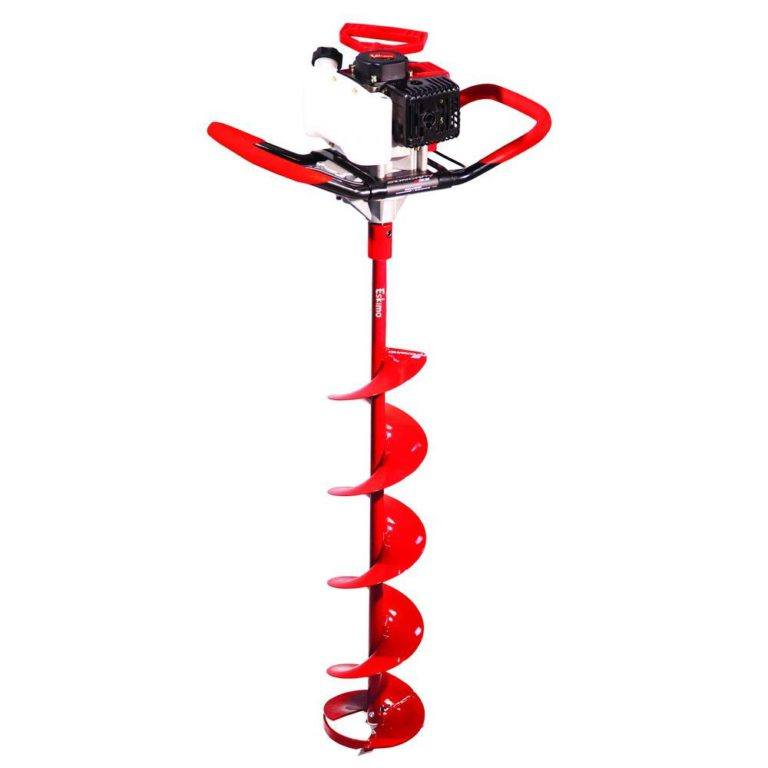 comfortable, but now it's time to get down to business. Breaking the ice.
First things first, you're going to need an auger. The auger is one of the most fundamental pieces of ice fishing house supplies, hands down.
I've heard of some awful ways people have tried to make a hole in the ice. But, anything but a specially designed piece of machinery is asking for trouble.
If you're not familiar with ice fishing, you might be asking what is an auger? A fair question, I was confused at first too. Despite the technical term, it's mainly just a drill for the ice.
I must advise against using anything else to break the ice. An auger is the safest way to get through the ice. That's because it runs the least risk of cracking the ice, which is very dangerous.
There are a few on the market at the moment, and I've had no problems with the cheaper ones, such as the Eskimo Hand Ice Auger (about $50) here in Wisconsin.
That said, you may want to consider a gas-powered model, such as the Eskimo Sting Ray 33cc with 8″ Quantum Auger, running about $250 if you live further North, like Canada, where the ice tends to get thicker.
But when it comes to augers, though, it's better to be safe than sorry. If you've got the budget for it, it's a smart move in the long-term to buy a heavy-duty auger that can last you for as long as you keep ice fishing.
What sort of rod do I need to go ice fishing?

Typically, in my experience, ice-fishing requires a rod a bit longer than I grew up with. Once I got used to it, though, the 24-40 inch rods started to make perfect sense. And I began to understand the specifics of hovering over a hole in the ice.
For me, the various rods I've gotten over the years are some of my favorite ice fishing house supplies. In time, you too might have a whole slew of multiple rods for various purposes.
So, now you know longer rods are generally more common in ice fishing. Now it's time to think of the reel. Usually, ultralight reels are the go-to, and ice fishing specific models are much cheaper than their open water counterparts.
When I go ice fishing, I try to stay modest concerning my catch. So I tend to be happy catching perch, crappie, and bluegill, which are relatively common prey when ice fishing.
For these fish, I prefer inexpensive rods. I have enjoyed variously using my 13 Fishing brand Widow Maker Ice Rod. Also like my Frabill brand Straight Line 101, and my Cabala's Tourney Trail® Ice Combos over the years.
Time to hit the ice
Now it's time to put all these pieces of equipment to use! If it's your first time using an auger, you might want to bring along someone who knows how to use it. It's easily the most technical part of the whole process.
With a little patience, you can figure it out on your own. Once you've got your hole and set up your shelter, you get to enjoy the relaxation.
Depending on your luck, you may have either a productive first year or an educational one. Considering you've done your research on ice fishing house supplies, you can expect at least some success.
In just a few seasons you'll become a wise old fisherman, and you'll be looking forward to every winter. That's how I feel about it, and I hope you will too, it's a great way to spend your winters.
If you have any questions or comments feel free to leave them below. You can also email me directly cory@tackleboxtalk.com.  Thanks for Reading and Happy Fishing.
Finding A Quality Ice Fishing Pole Holder
I realized the first time I wanted to go ice fishing that there was so much I didn't know. To top that off, there was so much stuff that I didn't have.
An ice fishing pole holder was first on my list because I wanted to fish with a few poles at one time. Therefore, I decided to do a lot of researching.
One of the items that I had to find was the best ice fishing pole holder, in order to eliminate the stress of the pole while I was out on the ice. I decided to put a few lists together in order to help me make a better decision. I thought that my list may be of use for those in a similar predicament.
Versatility:
Versatility is important when researching pole holders. If the pole does not have any versatility, then the pole can be taken by any fish from under the ice, causing me to lose a piece of equipment that was essential to have. I want to be the best at ice fishing, therefore finding an ice fishing pole holder is a priority in my book.
Durability:
Most pole holders have this feature. Durability is not built into all ice pole holders. Therefore, I made a list of the top pole holders that had consistent durability as well as ability to make any adjustment that was necessary.
Shelter Fit:
I knew that a quality pole holder needed to have the option of fitting any type of shelter. Therefore, I spent some time looking at different products. I wanted to see if they had any options to fit multiple shelter styles. Shelters varied in multiple ways, so I needed to be well diversified to complete the rest of my gear.
Design:
The overall design of the pole holders needed to have a strong and solid design. They needed to be able to handle different types of fish. And support the pole if I stepped away for a few minutes. The design should also have the ability to hold multiple lines.
I needed a holder that was able to adjust to different levels and was simple to maintain. I was aware that fish have senses. So I had to take that into account. I knew the pole holder had to be carefully designed so that the pole could easily be balanced and moved around.
Pivot Capabilities:
When I looked for different pole holders, I learned that some of them had the ability to pivot. I then learned that it depends on how you are ice fishing that makes the difference. Since I do different methods of ice fishing, I tried a few different pole holders out that had the option to pivot.
Fish have certain senses and with the use of a pivot on the holder, it allowed the pole to shift with the water making it more natural to the fish.
Does It Include Hardware?
Included in the pole holder package should be all the hardware needed. I wanted my set up to be simple and less stressful because ice fishing can take a lot out of a person. If all the hardware was already included, I would not have to go about and find all the required materials. I would just need to install it.
A Few Ice Fishing Pole Holders That Are Top Quality:
I put together a few top ice fishing pole holders. When you head out on the ice I hope these pole holders will be a great fit. And to help make your experience easier when you head out to go ice fishing.
•Hawkeye Catch Cover MF02 Portable Multi-Flex Rod Holder
This pole holder is simple and lightweight and tough as nails!  Very versatile as well. Price is $23.19 on Amazon.
•  EDTara Ice-Fishing Dual Holder 
The EdTara is a double pole holder. It rotates 360 degrees and is wind resistant. It's corrosion proof and environmentally friendly. Price for this one is only $7.38 on Amazon.
• Brocraft Ice Fishing Bucket Rod Holder 
This holder attaches either to an ice shack, portable pop up shack or right to your ice bucket! It's very versatile and can rotate 360 degrees for easy fishing. You can pick this one up at Amazon for $13.99.
Final Thoughts
I learned that the more knowledge that I obtained, the better my skills in ice fishing grew. I found that the ice fishing pole holders made a huge difference. Especially in actually capturing the fish. My ice fishing escapades would be less stressful if it was simple to maintain and set up.
If you have any questions or comments feel free to leave them below. You can also email me directly cory@tackleboxtalk.com