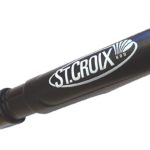 It's that time of the year again, Winter… And when winter creeps up on our doorstep, so does the ice on the lakes. Ice anglers from all over get the urge to get out and do some ice fishing. You will want to make sure you have a sturdy, sensitive, quality rod like the St.Croix Legend ice fishing rods.
These fishing rods will help you catch your limit. Legend ice fishing rods have excellent sensitivity because of the black anodized spring coiled strike indicator system. This provides above par bobber versatility and performance of these ice fishing rods. You will see that a fish is on the end of your line before you even feel it! That's the kind of ice fishing rod every angler dreams about having.
The spring coil system is fully adjustable and also interchangeable, which is useful in the customization of the rods. When you get the rod customized to suit you just right, don't be surprised if you catch your limit time and time again. You'll be hooking the fish before the fish even knows what hit'em!
To get your own St. Croix Legend Ice Rod on Amazon CLICK HERE
St.Croix Legends Ice Fishing Rods Series
---
There are three lineups in the legend ice fishing rod series that we will be discussing throughout this article. The legend gold came out for ice fishing season 2013/2014. The Silver edition came out that same season, and the Black edition came out in the 2017/2018 season.
The whole legend series is built on a graphite blank. This is as solid as it gets in an ice fishing rod. The St.Croix Legend ice fishing rods are very strong rods that will take the abuse, and you can keep on fishing!
Gold Series

This series is made of 24k gold plate. The gold color helps if you are fishing on a cloudy day or if you're night fishing with a lousy light source. This series also has a Fuji SK2 reel seat.
The handle is made of neoprene-skin. Neoprene is a synthetic rubber that can maintain its flexibility over a wide temperature range. This makes it ideal for ice fishing.
The gold series comes in only one length, which is 24″. That is what the length of the original St.Croix Legend ice fishing rods.
Silver Series
The silver series comes in an original stainless-steel finish. They have a cork trim around a secure lock reel seat. The silver series legend rods come in 10 tension supports and four different lengths…
17" Model – comes only in Light tension support
24″ Model – comes in Ultra Light, Light, Medium Light, Medium and Medium-Heavy
30″ Model – comes in Light, Medium Light, and Medium
48″ Model – only comes in Medium
Black Series
The black series legend rod is the top of the top in the Legend series of ice fishing rods. This series is one of the best freshwater ice fishing rods on the market. Black features a stainless-steel strike indicator. It's super-finesse and high-tension, so you know when those fish are biting before you even feel it.
It has the adjustability with the interchangeable spring indicator system. That is what makes this rod more sensitive than others on the market. This lets ice anglers notice the smallest nibbles and catch that fish before you even feel it.
The fully adjustable and interchangeable spring indicator system is much more sensitive than any other type of indicator, allowing ice anglers to see the most subtle bump or strike before it can be felt. The St.Croix Legend Black ice fishing rods come in many models with different lengths and tension supports.
17" Model – comes only in Light tension support

24″ Model – comes in Ultra Light, Light, Medium Light,

Medium and Medium-Heavy

30″ Model – comes in Light, Medium Light, and Medium

48″ Model – only comes in Medium
The Spring Coil Bobber System
---
All 3 of these editions of the Legends series have a stainless steel strike indicating spring bobber. But for added tension support, you can purchase the coil spring bobber system  (sold separately), which makes them extremely sensitive.
With the coil spring system, you will get that little extra that can make all the difference in how many fish you catch.
Greg "The Prowler" Wilczynski came up with the St. Croix super finesse spring bobber system. It's a stainless steel metal coil with the last loop extending out to a little bobber on the end. With this bit of system on the end of your ice rod, you will be able to see the fish nibbling on the end of your rod before you can even feel it. This is one thing that makes St. Croix Legend ice rods legends in the ice fishing industry.
If you haven't experienced fishing with the St. Croix spring coil bobber system, then do yourself a favor this ice fishing season and pick yourself one up. You can get them on Amazon. Believe me, you will be catching more fish with this one little add on!
Once you see that little bead that is on the end of the spring move, it's time to set the hook. If you wait to feel the fish biting, it's too late. You have to set that hook when you see it before you feel it. That's because a fish's metabolism slows in the cold season, and if you don't hook them at the first sign of a strike, you will many times lose them.
At The End Of The Day
The St.Croix Legend ice fishing rods are a perfect choice if you are looking for durability and sensitivity while fishing for those low biting fish. These Legend rods can withstand the torture of ice fishing as if it falls on the hard ice or bending almost in half. 
These rods will bounce right back because of their graphite blank that there made of their sensitivity derives from the stainless steel strike indicator system that they are all equipped with. You are really going to appreciate the spring coil bobber system that you can purchase as an add on for these ice rods. That system alone is going to help you catch more fish. And that's something all of us ice anglers want!
If a strong, durable, lightweight and sensitive ice rod is what you're looking for well, then you have found it in the St. Croix Legend ice rod series! You will never want to fish with another ice rod again.
3 Types of The St.Croix Legend Ice Rod Series
Let's recap; there are three ice rods in the St. Croix Legend series.
Gold – The Gold series is made of 24 karat gold plate. This series only comes in one length, which is 24". It is ideal for fishing on a cloudy day or at night because you can better see the gold color.
Silver – The Silver series is made of stainless steel. It has ten different tensions and four different sizes to choose from. The four lengths are:
Black – The Black series is the top of the line in ice fishing rods. The blank is made of graphite. It has a stainless steel indicator that is super finessed for superb sensitivity for fussy fish. It comes in four length models.
And various tension strengths to choose from.
Which One Will You Choose?
---
Most anglers get the lighter versions of the rods. The length of the rod is a personal preference. But if you're going to be fishing in a portable ice house, you will want to opt for the shorter version of rods because of space issues. A shorter ice rod will also give you more room in an ice house for setting the hook.
I would recommend this rod series to those fishermen and women who love to go pan, crappie, and perch fishing. And also to those anglers who love to catch their limits day in and day out. Now, that's good eating!
Now, check out what's available in the Legend Rods Series by clicking below. Thank you for reading, and if you have questions or comments, please send them my way. Remember, you can Catch Your Fish and Eat'em 2!