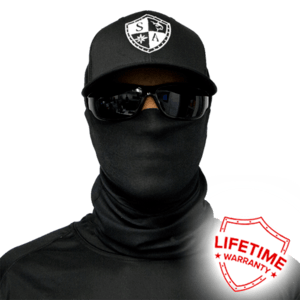 Don't you hate it when you're out on the lake on a cold wind-wiped day fishing, and the skin on your face is getting chapped and very sore.
You are going to wish you had some  SA fishing face shields next time you are out on the lake. It can get to the point you can't stand it, and you're always burying your mouth and chin into your jacket. It's darn hard to see and not only that to catch fish that way.
It doesn't need to be that way. I ran across a company online called SA. They have fishing face shields for sale in all sorts of themes and patterns. There are many raving safishing reviews on the internet so they are well worth a look at!
They even sell dog face shields! Can you believe that? I couldn't until I saw the video they had on their site. You can also get face shields that match you and your dog! Well, it is a dog-eat-dog world out there ya know. 🙂
What Types of Designs Does SA carry?​
SA has a vast variety of designs and colors to choose from in its collection. You can also have your face shield custom-made to your design. The following is a list of designs that SA offers on their website…
Tactical Black
Nebula
SA Forest
Camo Skull
SA Forest Camo Dregs
Clown
Stealth Tech Camo Hydro Skull
Blackout American Flag
Carbon Fiber
Blackout Forest Camo
Skull Tech Crow
Various Country Flags
Two-Sided
Grey Military Camo
Gangster
Mermaid Scales
Purple Crow
Western
Breast Cancer Awareness
The list goes on and on with over 150 designs and themes. I would be here for days typing out all the designs that SA has to offer. So suffice it to say whatever design/combination you can think of they have in stock and ready to order. And if you don't find the design you're looking for, you can get one custom-made. How about that for selection!
Thermal Face Shield For Ice Fishing…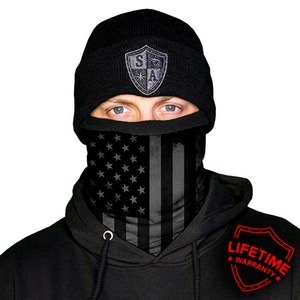 SA'S thermal face shields are especially useful for ice fishing. It gets cold out on the frozen tundra, especially if you don't have an ice shelter to keep the wind off of you. You are going to want to add to your ice fishing outfit with a thermal face shield from SA.
These fleece-lined face shields come in a vast variety of designs and themes. They protect your face ears and neck from what mother nature can throw at you. These thermal fleece face shields have a seamless design and are durable enough to handle the strongest outdoor elements.
Extended Details:
Dual Lateral Stretch
Extreme Wind Technology
Moisture Wicking
Sewn Inner Fleece Lining that is Seamless
One Size Fits All
Machine Washable
Air Dry Only
Do Not Iron
100% Microfiber technology with Frost Tech™
Extreme Active Thermal Protection
When you're out on the lake ice fishing, you will catch people off guard with some of SA 'S awesome designs. Your head neck and ears will also stay warm, which is the main thing.
SA has a special offer right now where you can buy 1 thermal fleece face shield and get 3 free.  Now that's a great deal to jump at since it's getting cold outside and the fish are biting!
Not Just For Fishing!
SA's face shields can be used for more things than just fishing. They are great for hunting, hiking, biking, motorcycling, running, wear them at work when it's cold outside, and all types of outdoor sports. You name it; there is a use for them.
The face shields are also lightweight but durable, so they won't be holding your head down when you are participating in your activities. Protection from the sun is another feature that these shields have. Wear them on your outdoor adventures. You won't regret it.
Multiple Uses
There are numerous ways you can wear your face shield. In the cold weather, you can use it as a neck scarf, simple face mask, or full head and neck mask.
When the weather is warm and you want protection from the sun and to keep the sweat off your neck and brow, you can go with the regular headband. Other ways to use it in warm weather are the head and back of the neckband, legionnaire style headband, regular beanie style. Lastly, you can just wrap it around your wrist as for a band to wipe away sweat. Also, you won't lose it when it is wrapped around your wrist.
Conclusion
You have everything you need with SA fishing face shields. They protect you from the sun with their SPF40 rating. They wick moisture to help keep the sweat off of your eyes. Because it's hard to see what you need to see if your continually wiping sweat from your brow. It could even cause an accident.
They are breathable and multi-purpose. You can't go wrong. I highly recommend getting a few pairs of these face shields. There are many specials on their website, so head on over there and check them out.
If you have any questions or comments feel free to leave them below and I will be happy to address them.