Welcome to my review of the best marine coolers of 2019. If you have been searching for coolers that you can take out on your boat then you have come to the right place.
There are so many marine coolers on the market and it's hard to determine which coolers are the best to keep everything cool and keep it perishable items from spoiling.
You are in luck. I have reviewed and described 9 of the best marine coolers of 2019 so that you can make an informed decision on which is the best for you.
Coolers come in many shapes, colors, and sizes. The main thing a cooler needs to do is keep perishable items cool. So the question's you need to ask yourself are:
How long do you need to keep your items cooled?

How much space do you need?

What type of items do you want to keep cool?

How much room do you have on your boat for a cooler?
Those are the four questions you should ask yourself when picking out a marine cooler. I have provided a buyers guide within this article that will show you what you need to look for in a marine cooler before purchasing one.
​​​​​

Marine Cooler Comparison Chart
---
9 Best Marine Coolers of 2019
---
Igloo Quick & Cool
First up in our list of best marine coolers is the Quick & Cool cooler by Igloo. If you're looking to keep a lot of items cool for a long period of time then it's worth taking a look at this cooler.
With its Ultratherm insulation that's in the lid and in the body will keep ice for up to 7 days. Since it holds a full 150 quarts it has a threaded plug that you can attach a hose to so that you can drain it easily.
The Quick & Cool comes with an easy access hatch so you don't have to open the whole lid when searching for the item you want. This helps in keeping things cooler for longer periods of time.
You will love the snap-fit latches that keep your contents secure when out on the boat or when transporting your cooler. You will especially appreciate the dual flip-up handles for easy carrying and loading your cooler onto your boat.
This cooler makes a convenient extra bench on your boat as well with the dimensions being 41.63" x 18.69 x 20.25. Throw a couple of cushions on it and you have yourself a soft love seat for two :). It is made of Polyethylene so you know it can stand the weight and the banging around on the boat when the seas get rough.
---
Yeti Tundra 110
If you haven't heard of Yeti coolers you must have been living under a rock the last few years lol. Yeti is a premier company when it comes to top-quality coolers. So second up in our list of best marine coolers is the Yeti Tundra 110.
This cooler was made for boating. Specifically, this cooler from Yeti was designed for rafting in mind but fits on a boat just as well. The Tundra 110 is made out of the same material that whitewater kayaks are made out of which is roto-molded polyethylene.
You don't have to worry about your ice melting because it's insulated with FatWall insulation. This insulation is 3" thick and is touted to be bear-resistant! This Yeti is one of those coolers that you can set out in the hot sun for a week straight and your ice will still be there! Not quite as much you put in but you can't expect no melting without refrigeration after a whole week.
Need an extra set on your boat? Just pick up a Tundra seat cushion. These cushions come made to fit your Tundra cooler. The cushions come in your choice of styles Camo Max and white.
According to the Yeti website, you can fit 74 cans of beer and 90 lbs of ice in the Tundra 110. That's a lot of beer and ice! If you and your buddies are going on a week-long camping trip then you will want to bring this cooler along.
Product Dimensions:
Weight - 39 lbs
Outside - 18 ⅛" x 20" x 37 ½"
Inside - 10 ⅞" x 14 ¾" x 29 ⅜"
The Tundra 110 also comes with one dry goods basket to keep what you want dry and away from the ice.
Top Features​​​​​​
Yeti is one of those trusted brands that don't come around all the time. Strength and durability nothing cools like a Yeti!
---
Otterbox Venture Cooler 65 Quart
The Otterbox Venture Cooler is an excellent cooler to have along with you if you are going on an extending camping or fishing trip. Ice retention is superb with this marine cooler. It's been reported that you can keep ice for up to 16 days with the Otterbox. That's over half a month! Amazing!!
To make the cooling effect of the Otterbox last longest you should pre-cool your items before placing them in the cooler, pack it full of ice, keep the lid closed and keep it out of direct sunlight. It's designed with a mounting system and comes with a bottle opener and dry storage tray.
The total length is 40" handle to handle and holds 65 quarts. Made of insurance grade insulation which is 2" thick keeping your items cold for up to 16 days.
The Venture cooler is made of top quality materials which include:
Polypropylene Shells
Polycarbonate/ABS Latches
Silicone Seal and Latches
Two-Part Polyurethane Insulation
Stainless Steel Pins
Nylon Drain Plug
TPE Feet
This cooler is certified bear-resistant as long as you have the locking lid kit which is sold separately. It's made in Colorado USA and come with a lifetime warranty. No worry about the Venture cooler slipping and sliding on the boat because it has anti-slide rubber feet.
Nesting grooves allow a cutting board and dry storage rack to hang on the inner lid which is a great space saver. You can organize it as well with the three slots for custom compartments.
Top Features
Product Dimensions:
External - 40.01" x 18.76 x 18.83"
Internal Top - 27.92" x 11.67" x 13.30"
Internal Bottom - 26.72" x 10.60" x 13.30"
Holds 76 lbs of ice. You can also fit 36 12-oz. Cans and 69 juice boxes in it.
---
Coleman Coastal Xtreme 5 Marine
Coleman coolers have been around for quite some time. I have had a lot of these in my years and I have to say I haven't had one bit of problem with any of them. They are rugged and hold ice retention for an average amount of time. Coleman's are what you would call the middle of the road coolers but they get the job done for an affordable price.
The Coleman Coastal Xtreme and is one of those coolers that you can take out on the boat and know that your ice will stay frozen and your items will stay cool.
This cooler is 120 quarts and comes in your choice of white, dark blue, slate and tan colors. You get up to six days of cooling. Coleman has made this cooler specifically designed for the boater and fisher in mind. It can withstand saltwater and can I say a very affordable price tag? It can hold an amazing 204 cans of a beverage of your choice.
Use it as a bench on your boat. It holds 250 pounds sitting on top. The hinges are made out of stainless steel so they won't rust and they have comfort grip handles that won't pinch when you are carrying the cooler.
The Xtreme cooler by Coleman has rave reviews on Amazon an amazing 77% are 5-star reviews. I can believe it because Coleman is such a trusted brand at an affordable price. It's an American staple in coolers and camping equipment!
Top Features​
Product Dimensions:
External - 36.8" x 19.3" x 18.75"
Internal - 33" x 14" x 15"
---
Pelican Elite 70 Quart
Next up we have the Pelican Elite 70 Quart cooler. Pelican makes some of the best coolers around and the Elite is one of them! Pelican's coolers are made to last a lifetime and they back it up with a Lifetime guarantee. You don't see that very often with other cooler manufacturers.
This cooler comes with a freezer-grade seal which provides for optimum ice retention. Sturdy ergonomically designed handles for easy transporting to your boat or truck bed. Press and pull latches for easy opening and a molded-in lock hasp with stainless steel plate. It also comes with a built-in bottle opener and cupholders.
Also included is a fish ruler so that you can quickly measure that fish you just caught to make sure it's the right size to be a keeper. The plug is tether threaded and the drain is sloped so you have an easier time draining.
Another cool thing about the Pelican Coastal Xtreme cooler is it comes in an assortment of colors including:
White/Gray
Dark Gray/Green
Tan/Orange
Green/Tan
Canyon Red/Coyote
Catus Green/Coyote
Coyote/Dark Gray
Pacific Blue/Coyote
For a cooler that's a lot of choices in color. And they're cool looking colors at that not just your plain white or red that you see a lot of times in coolers.
And with this cooler like all the others, you can pick up a seat cushion from Pelican so that you can use your cooler as an extra bench on your boat or camping. They are the perfect height for a bench and added room on your boat for an extra spot to sit and fish!
Pelican coolers are not cheap but they are not cheaply made either. You do get what you pay for in a Pelican. And with the lifetime guarantee well you have nothing to lose!
Top Features​​
---
Orca 40 Quart Cooler
Orca or Outdoor Recreational Company of America produces top-quality coolers right here in the good old USA! The Orca 40 cooler is a great example of American craftsmanship. Orca's come in so many vibrant colors that many other cooler companies don't offer such as:
Red
Pink
Navy
Light Blue
Green
Blaze Orange
Black
Seafoam
Tan
White
Charcoal
The Orca 40 quart cooler will keep your items and ice cold for up to 10 days. Orca coolers are an all around great cooler. Easy to carry, many colors to choose from, keeps ice cold for more than a week and a little cheaper than it's competition the Yeti cooler but made with the same great stuff.
You get a strong roto-molded construction with your Orca cooler that can withstand the rough banging away you can get on a rough boat ride. It comes with an easy flow drainage spout which makes it a snap to drain your cooler when you are done using it. There is nothing worse than having a cooler that doesn't drain properly.
This cooler offers a cargo net attachment for extra storage and a lid gasket that ensure proper sealing of the lid. If the lid doesn't seal right on a cooler well there goes your ice. Seems like a simple concept but some coolers miss the boat on this.
You have to check out the clasps that hold the lid down. They are made of little orca tails! If the clasps are that detailed imagine how the rest of the cooler is made.
If I was going to buy a cooler Orca would be close to the top of my list! Check them out on Amazon.
---
Seavilis Milee
If you're looking for a professional grade cooler that's under $300 then Seavilis Milee cooler would be your best bet! These coolers are tough, durable and will keep your items cold for a long period of time.
Milee coolers come in 34,45,60 and 75 quart models and in various colors such as:
Gray
Jungle Green
Sky Blue
Tan
Seafoam Green
They are also roto-molded for durability and are made for camping, fishing and boating. These coolers are not for those with bad backs because they are heavy. There are many great features that Seavilis provides with their coolers. Here's what you get:
Non-stick Feet
Compass
Bolt Hinges
UV Protection
Tie- Downs
Pressure Release Button
Freezer Style Gasket
Heavy Duty Nylon Straps
Easy Open Latches
You get a few extras as well including a cup holder, divider and basket. Seavilis Milee coolers are a great value for all that you get. You can also use them as a bench in your boat because they can hold up to 220 lbs on it.
Top Features
What I really like about the Seavilis is that you are able to pressurize the inside which makes for a tight seal to keep the contents fresh and cold.
---
Grizzly 165 Quart Cooler
If you're in the market for a huge premium cooler then you would want to consider the Grizzly 165 quart cooler. Grizzlies are built to last. Made in the USA this cooler you can fit everything you would need in it for a boat outing and more! This is a roto-molded cooler so it's tough as nails. It has environmentally friendly insulation if that is one of your concerns.
This cooler features molded-in rope handles, a dry storage tray and the drain plug hole is a 2" round. That makes for some fast draining when you are in a hurry. The latch system is bear claw so it does need any hardware. The lid stays perfectly in place. No need to worry about this thing opening up on you in rough waters when you are cruising around in your boat!
The Grizzly 165 quart can hold 50 lbs of ice and a whopping 152 12-ounce cans of your favorite beverage. This thing weighs 62 lbs when it's empty. These coolers also come with a lifetime warranty. Not too many coolers give you that! They offer one even bigger at 400 quarts if you need a monster cooler. For something that size, you might as well buy a freezer lol.
Grizzly torture tests their coolers specifically for hunting, fishing, tailgating and camping in mind. You can get the Grizzly 165 quart in tan or white your choice. So if your a serious about your coolers and want one that is durable and fits a ton of stuff then do yourself a favor and check out the Grizzly 165 quart cooler. You just can't go wrong with a Grizzly!
Top Features​​​​​​
Product Dimensions:
Outer Dimensions: 47 ¾" x 19 ⅝" x 22 ¾"
Inside Dimensions: 42 ⅛" x 14" x 17 ½"
---
Landworks 45 Quart Cooler
Landworks is a trusted company that's been around for quite some time. They manufacture an array of quality products including augers, wood chippers, utility carts and now they produce some of the best coolers.
I just had to include Landworks 45 quart coolers as one of the 9 best marine coolers. This is a safe, dry ice acceptable cooler that can keep ice cold for 10 days or longer as long as the items inside are pre-cooled and kept in low temperatures and out of the sun.
The Landworks cooler offers some excellent and useful features including:
Dual Stainless Steel lock-plate
Bottle Openers
Low Profile Snag-less TPE T-Clasp Latches
Nylon Rope Handles
Non-skid Feet
This cooler can also be sealed air-tight and has a pressure release valve system that allows for extra long-lasting ice retention and keeps your contents fresh.
It's also roto-molded for durability and is made of commercial-grade insulation for more ice retention power. The walls of this cooler are 3" thick which should be the standard for coolers but unfortunately, most coolers are only 2" or less.
The seal is commercial grade as well being 360 degrees 15mm D-freezer style gasket. The drain plug is recessed so you won't have any leaking problems. The tie-down slats are molded with two impact rubber absorbing grips on each side of the cooler. And of course, the shell is UV protected from the harmful rays of the sun.
Take it along on your fishing or camping trip. It will keep your food fish or beverages cold for a week! It will fit 48 12 ounce cans of your favorite beverages.
Product Dimensions:
Weight: 26.45 lbs
Outer Dimensions: 27" x 16.3" x 16.3"
Inside Dimensions: 21.5" x 11" x 21.1"
---
Marine Cooler Buyers Guide - Things to Consider
---
There a few things you want to take into consideration before purchasing a marine cooler for your boat. In this guide, I will go through those things so that you can make an informed decision on the right cooler for you.
Storage Size
First, you want to determine how big of a cooler you need. Some cooler's total size that it holds doesn't always mean cooling size. This is more true with bag coolers because there will be outer pockets that are not part of the cooling space which is included in the overall size description.
Size all depends on how much and what you need to be cooled.
Size of The Cooler
When looking for a marine cooler size will be important. You need to determine how much room you have on your boat for the cooler. Once you have decided how much room you have then you can purchase a cooler that will fit that space on your boat.
Insulation
Your going to want a well insulated cooler so that your items and ice last for as long as possible. 2 - 3 inches of insulation is what your looking for. The high-end coolers like Yeti have at least 3" of insulation foam.
Syrofoam is the best foam for use in cooler insulation and should have an R-value of 5 to 9. The higher the R-value the better the cooler will keep ice cold.
Extra Features
You will want to think about special features that you would like included on your cooler. Like measuring lines on the top of the cooler for measuring fish length, lid light, bottle opener or cup holders on the lid.
There are many extras a cooler might have so you just need to pay attention to the product details when deciding on what type of marine cooler you want.
Depending on what the cooler is insulated with will determine how long it will keep things cool. The longer you want things to stay cool the higher the price the cooler will be. If you're looking to keep things cool for a day or less you will be able to settle for a much cheaper cooler.
If you need the cooler to keep things cool for a few days up to a week your going to want a high-end cooler and will be paying much more. Usually, the longer the cooler is projected to keep things cool the bigger the cooler will be. This makes sense because if you are planning a week-long fishing trip to Canada then you would have a lot of things to keep cool for a long period of time thus the big size of the cooler.
3 Types of Coolers
There are three basic types of coolers.
Soft-sided cooler
Hard Shell Cooler
Electric Cooler
Is the Cooler Waterproof?
Believe it or not, some soft-sided coolers can't handle water. So make sure the cooler you pick is waterproof. You won't have a problem with hard metal or plastic coolers but some of the soft coolers fabric is not waterproof and will eventually deteriorate when exposed to water over time.
Have You Found The Best Marine Cooler?
---
I hope you found the right marine cooler that suits your needs. There are hundreds of coolers on the market but only a few stand out. I believe these are the best marine coolers that money can buy. Some are expensive but in the end, you get what you pay for.
So if you're serious about having a quality cooler that will keep your stuff cool for extended periods of time and that will fit on a boat then I think these 9 are some of the best out there.
If you have questions or comments about any of these coolers please leave them in the comments section below and I would be more than happy to answer them. Thanks for reading and I hope you got some informative information out of this review. As always Happy Fishing!
Welcome to my review of the best saltwater spinning reels.
If you are a serious saltwater angler then these reviews will come in handy as I provide you the best of the best spinning reels for saltwater fishing that you can find.
​

Be it inshore or offshore saltwater fishing that you are into we have the right spinning reel for you! It makes it easier to find the right find the right spinning reel when you have all the best ones right in one place.
These are the 10 of best so take your time reading through these reviews and I know you will come away with the perfect spinning reel for you. Once you find the perfect reel for you then you can go out and catch some monster fish on the ocean.
Most of the spinning reels on the market are good for freshwater applications. There are few that can stand the rigors of rough saltwater fishing especially in the deep ocean where you are going to encounter some huge fish. You must have the right spinning reel that can stand up to the saltwater and saltwater air and spray that you get. The reel must be tough as nails as well when you are fighting those very large fish!

I put together a buyers guide for you that is at the end of the article . You might want to jump down to the guide first if you would like some help in choosing the best spinning reel for you.
Glad to have you here and I hope this article helps you find what you are looking for.

So sit back, get a cup o' coffee, soda, beer, tea or whatever your drink of choice is and let's find the right reel for you!
---
---
10 Best Saltwater Spinning Reels 2019
Shimano Nasci
If you're looking for a compact spinning reel for light freshwater and medium saltwater applications then the Shimano Nasci would be the one you want.
The metal Hagane gear is cold-forged. This ensures that the gears move smoothly and it can also take a beating when you are fishing some crazy weather that the ocean can throw at you!
Casting and distance are superb because the Nasci reel sports bearings that are located on each end of the pinion gear.
This way the pinion is perfectly aligned with the drive gear of the reel. You will notice this when the gear and the spool shaft move frictionlessly with each other resulting in smooth and far distant casting! And that's what you need when fishing the ocean waters.
With its Coreprotect technology the Nasci has a water-resistent body, line roller and roller clutch.
The Shimano Nasci comes in 5 different models for your fishing pleasure.
---
Penn Fierce lll
What can you say about the Penn Fierce III? Well quite a lot. This saltwater spinning reel is ready to take what you have to dish out!
The fierce IIIs body is made out of all metal which keeps all the internal components aligned when you are fighting that big fish. You will be able to retrieve fish smoothly with its Techno-balanced rotor.
You also have to respect the Superline spool, line capacity rings, aluminum bail wire, and HT-100 carbon fiber drag washers. The pinion ball bearing is now encased which is an upgrade for the 2019 models.
​

The Penn company has been around for a long time and when it comes to spinning reels and saltwater they know their stuff! Penn is a name you can trust and can go back to time and time again for quality durable fishing reels and rods.
​

You get to choose from 8 models which are FRCIII1000,2000,2500,3000,4000,5000,6000 and 8000.
---
Van Staal X Series
If you're ready to fish hard-fighting tuna or marlin and want the gear to be able to wear them down and win the battle then it's worth taking a look at the Van Staal X-series bailed spinning reels.
These reels are the first time Van Staal has used a titanium bail. Strength and smooth reeling are cornerstones of Van Staal reels. This reel comes in two anodized finishes being black and silver.
Van Staal reels are high-end but if you are a serious saltwater angler then they are well worth the price. You get 30 lbs of lock-down drag which will give you the confidence when reeling in those tough fish. If you don't have a great anti-reverse drag when fishing the sea you are going to lose the game and that fish you have been battling.
The drag system is sealed and waterproof so you don't have to worry about saltwater entering these reels and causing damage. If you haven't tried Van Staal reels before now is the time to grab yourself one and try out these precision reels for yourself.
---
Penn Torque II Spinning
The second spinning reel from Penn in our list is the Torque II. This is a high-end spinning reel that has a full metal body, rotor, and side plate. Included in the Torque II is a 10, count them 10 stainless steel ball-bearing system for a very smooth reeling experience.
It also boasts a sealed drag system with Dura-Drag. You will enjoy the anti-reverse on this reel with its silent back up ratchet. You have line capacity so you know exactly how much line you have to work with. The whole body and spool are IPX6 sealed. You also get CNC gear technology and a Superline spool comes on it.
The price tag is high on this one but well worth the money if you're looking for a top of the line spinning reel that will stand the saltwater and the test of time. You will be able to fish heavy-duty inshore or offshore applications. The Penn Torque II is also proudly made in the USA!
​

You have 8 models to choose from. 3 of them come in gold color and the other 5 come in silver.
---
Shimano Twin Power SWB
If you're looking for an offshore saltwater spinning reel then you will want to take a look at the Twin Power SWB by Shimano. With this reel, you have the technology of Shimano that provides durability and power to battle the biggest fish the sea has to offer.
The Twin Power incorporates the Shimano Hagane design which makes for a very agile and like the name says powerful spinning reel. The interior components are well protected from the saltwater that can cause havoc with any fishing reel.
Made of advanced cold-forged aluminum you can't ask for a more strong and durable reel. You will enjoy the super smooth spinning power with its 10 plus stainless steel ball bearings system. Just imagine reeling in that tuna or black marlin with as much ease as it takes to reel in a sea bass!
You just can't go wrong with the amazing craftsmanship that goes into all of Shimano's reels. The metalwork is superb as well as being designed for smoothness when reeling. You're arms and hands will thank you for purchasing the Twin Power SWB after a long day battling the fish out on the open water!
---
Penn Slammer III
Another spinning reel in my top 10 best saltwater spinning reels is the Penn Slammer III. This reel has a sexy look to it that comes in black and red. Penn makes some of the most durable and comfortable spinning reels around and this is definitely one of them.
With this reel, you are getting an IP6 seal and spool design. The IP6 seal system protects all the internal gears and special components from spray and saltwater damage that you will most likely find when fishing the sea.
You get a sealed Slammer drag system with Dura-drag. The side plate, rotor, and body are all made of strong metal which is one of the main qualities you look for in a spinning reel. None of that plastic crap that will break when it's banged around or up against a lot of force.
Fighting any huge fish out on the ocean can cause major damage to a spinning reel but with the Penn Slammer III you don't need to worry. You will land that fish and then some without any problems.
You get an 8 stainless steel bearing system with CNC technology. This reel comes in 10 models to choose from so there is an option that will fit any of your fishing needs and applications. It's an all-around great saltwater spinning reel that won't break the bank.
---
Penn Spinfisher VI
Introducing another great saltwater spinning reel from Penn. The Spinfisher VI! This is one hell of a saltwater spinning reel thats fairly priced. It's in the medium range of price when it comes to Penn fishing reels.
The Spinfisher VI comes with Ht-100 carbon fiber drag washers, CNC gear technology, Superline spool and a full metal body for added durability. You get their line capacity rings on the spool so you know exactly how much line you have left to work with. And 6 ball bearing system helps for a smooth reeling experience.
The CNC gear systems allow for a precision alignment that can withstand heavyweight from the monster fish you would come across on the sea. The spool is fully sealed so no saltwater will get into and damage the internal components.
​

5500 models and below have a machined aluminum gear and the 6500 models and up have a machined brass gear. Well built strong and durable. Also the smoothest casting you will find.
You get a whopping 11 models to choose from with the Spinfisher VI! They're available in standard, live liner, long cast, and bail-less models. That's 11 reasons to look into owning this spinning reel. If there isn't a reel to fit your fishing style out of these 11 then I don't know what to tell ya!
---
Shimano Thunnus C14
If you're talking offshore fishing then you want to check out the Shimano Thunnus C14. When it comes to heavy-duty offshore saltwater fishing you want to stick with a brand you can trust and that brand is Shimano. This company has stood the test of time and proven themselves year in and year out when it comes to fishing rods and reels.
You won't be running into any wind knots with the propulsion line management system that this reel has on it. Just smooth long-distance casting is what you are going to find. The C14 is the carbon fiber that Thunnus is made out of which is 20% stronger than graphite!
Now we are talking strong!! This fiber is also lightweight and it won't rust. We all know rust is a huge problem when fishing on the ocean so with this spinning reel you won't have to worry about that.
The spool speeds stay consistent with its built-in Varispeed technology. Your retrieve will be smooth and sensitive with the Dyna-balance which counterbalances the rotor.
With this reel, you will be able to fish any bait in any condition you can think of. Lightweight smooth retrieve. The Thunnus C14 is a spinning reel you will want to have with you when you are out of the open sea. You have four models to choose from with this reel.
| | | | | | | |
| --- | --- | --- | --- | --- | --- | --- |
| | | | | | | |
| | | | | | | |
| | | | | | 10/300,12/265,16/170,20/120 | |
| | | | | | | |
---
Okuma Cedros
It's high speed and durable and it's called the Okuma Cedros saltwater spinning reel. This reel might be small but it packs a big punch and the price is something to smile about!
The Cedros was built especially for deep water vertical jigging. It will stop the toughest of fish with the Okuma Dual Force Drag system. The drag washers are Japanese made multi-disc felt washers. This creates a smooth drag.
The side plate and frame are made out of diecast aluminum. The spool is two-toned anodized ported. It comes with a blue anodized machined handle. And everything is treated with a corrosive resistant coating. The kind of coating you want to protect it from the saltwater.
It has a pinion gear that is machined precisely out of brass. There are 4 HPB corrosion-resistant stainless steel ball bearings and one anti-reverse roller ball bearing.
You also have an Elliptical Oscillation System and a hydro-block watertight drag seal so you don't get any of that nasty saltwater in your drag system which eventually ruins a spinning reel.
What you have here is an excellent deep sea spinning reel made by the Japanese that know saltwater fishing and they know their reels. The Okuma Cedros comes in four models to choose from.
| | | | | | |
| --- | --- | --- | --- | --- | --- |
| | | | | | 270 yds./8 lb.,190 yds./10 lb.,170 yds./12 lb. |
| | | | | | 240 yds./15 lb.,380 yds./10 lb.,340 yds./12 lb. |
| | | | | | 310 yds./15 lb.,430 yds./12 lb.,260 yds./20 lb. |
| | | | | | 260 yds./25 lb.,350 yds./20 lb.,420 yds./15 lb. |
---
Accurate Twin Drag SR
If you're fishing the deep blue for gamefish that are hard pulling like the tuna or billfish then you will want to get your hands on the Twin Drag spinning reel by Accurate.
The spool has two large friction washers on either side of it. This provides for a smooth consistent drag every time.
All your fishing applications are covered with the six model types that the Accurate Twin Drag comes in. Here are some of the main features that this spinning reel has to offer.
14 Class-5 ABEC Stainless Steel Bearings

Patented Twin Drag System

Accudrags
Stainless Steel Spring and Clips

Drag Pre-set knob on the end of the spool

Ergonomically Designed

Stainless Steel Gears
This reel is made from the best of everything that you would want in a high-end saltwater spinning reel. If quality and performance are what matter to you when you are out battling the fish of the deep sea then you will want to be battling those fish with an Accurate Twin Drag spinning reel!
---
What to Look For When Buying a Saltwater Spinning Reel
There are a few things you want to keep in mind when purchasing a saltwater spinning reel and in this guide, I will explain those things.


First and foremost in order to keep your wrists from hating you the next day, you will want to choose a reel that is light. A light reel can be used for both inshore and offshore saltwater fishing.
A heavy reel can take a toll on your arms after a long day of fishing. So picking a light reel will ensure that you can go out on the water day in and day out with as little fatigue as possible!
Make sure there are strong rivets that hold the knob to the handle. If you have weak, thin-looking rivets chances are the handle of the reel won't be able to stand the riggers of saltwater fishing.
The last thing you want while battling with that monster fish is to have the knob fall off! That would be the end of the battle and the fish would win.


You will want to make sure that the bearings of the reel are sealed and protected from the damage that saltwater will cause. If the information provided from the manufacturer doesn't clearly state what kind of protection that is used to reduce corrosion then you need to look for a different reel.


The handle should be designed so that it is comfortable in your hand. There is nothing worse than a handle that is uncomfortable especially when trying to reel in a massive fish.
Max Drag Not That Important
The maximum drag is not as important when considering a saltwater spinning reel. The average person can only handle about 15-20 pounds of drag. So purchasing a reel with high max drag makes no sense because you wouldn't be able to handle it anyway.
Depending on how you will be fishing you will want to make sure you have enough line capacity for your reel. You don't want to run out of line when fishing the ocean. Capacity is key especially with narrow reels and long rods.


Can the Reel Handle Braid
You will want a spinning reel to be able to handle braided line. Check the specifications to ensure that the reel will work well with braided line. So check to make sure there are no open spots on the ends of the bail roller in which thin braided line can get caught.


The Material of The Spool
A quality spinning fishing reel will have a spool that is made of metal. If it is plastic it is more likely going to break on you. So invest in a reel that has a solid metal spool which will end up saving you money in the long run.


Lastly, you want to pick a spinning reel that has an automatic instant anti-reverse feature on it. You want to make sure that handle locks when you lock it. You don't want any play in it because that will cause wearing and grinding on the gears which are not good things.
Now that you have an idea of some of the things to look for when purchasing a saltwater spinning reel you can pick the best one that will get you that monster fish you have been waiting to catch.
Conclusion
So there you have it from my perspective. 10 of the best saltwater spinning reels that are on the market. A few are best for inshore fishing and a few are great for offshore fishing. And some of them are great for both. Anyone of these reels will work great for saltwater fishing.

To recap here are the 10 reels that I have reviewed in this article.
Shimano Nasci
Penn Fierce III
Van Staal X Series
Penn Torque II
Shimano Twinpower SWB
Penn Slammer III
Penn Spinfisher VI
Shimano Thunnus C14
Okuma Cedros
Accurate Twin Drag SR
I hope you got some useful information from these reviews so that you can make an informed decision on the right saltwater spinning reel for you. If you have any questions or comments please leave them in the comments section below. Until next time Happy Fishing!
Spring Crappie Fishing Techniques That Work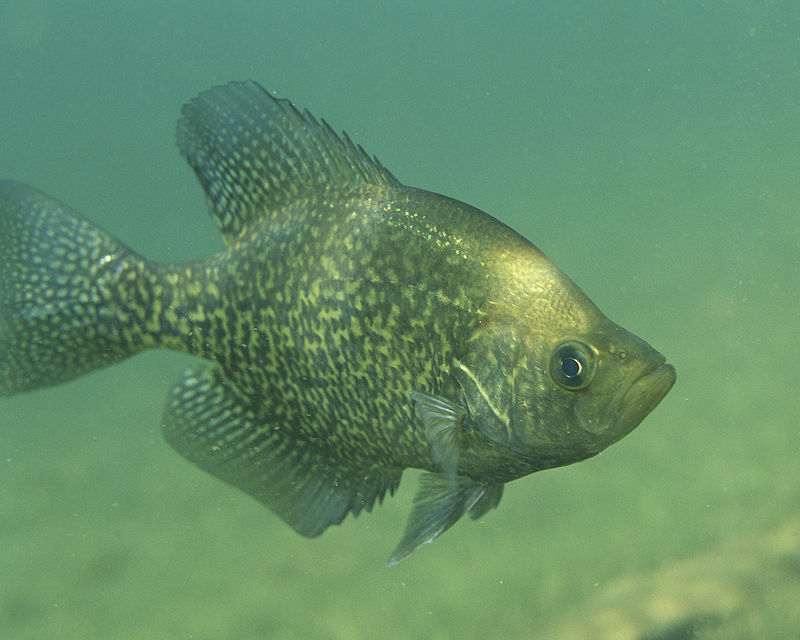 These spring crappie fishing techniques will help you catch more crappie during this crucial time of the year for crappie fishing. The ice is getting off of the lakes, and the crappies will be starting to move to shallow water soon.
The areas that the crappies will be migrating to will be not only shallow areas but the areas with a lot of sediment and algae which you will find in the northern bay areas. Crappies migrate to these areas because this type of water warms faster than any other area of the lake. They will also be spawning soon, so they are going to these parts of the lake for that reason as well.
Another reason crappies go shallow is they are hungry from not eating much during the winter season. They are going after the big meals now which is bait fish like minnows. So mostly its a big feeding frenzy for crappies during early spring.
Cast The Shore in a Kayak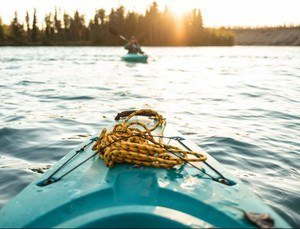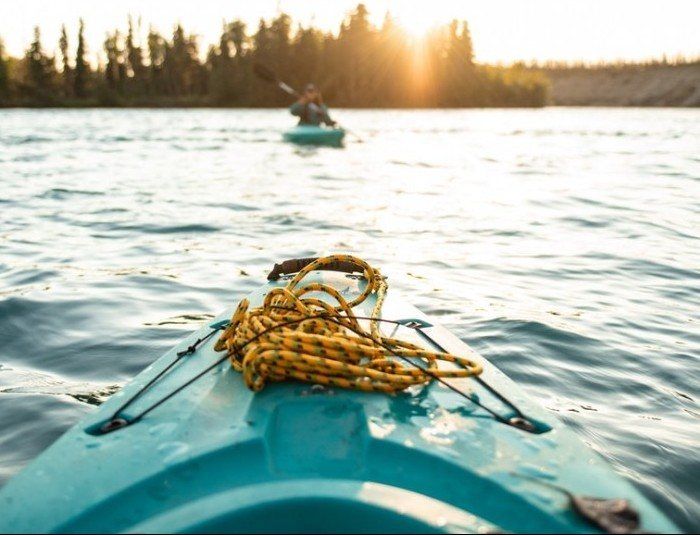 An excellent way to find where those crappies are is if you have a kayak take it out on the lake and navigate the shoreline areas. Take your kayak into the bays and find downed trees and weeded areas. Go along these areas and cast using a beetle spin lure. Beetle spins are a fast and easy bait to use when you are looking for the areas that the spring crappies will be.
The use of the kayak makes it easy to get into these challenging areas that you would have a harder time fishing from shore. Once you find where the crappies are at you can switch to a jig and slip bobber or a hook minnow and slip bobber, whatever your preferred method of crappie fishing might be.
Jigs, Floats, & Bobbers
Get yourself some 1/32 to ⅛ Oz jigs and use floats or bobbers with them to suspend your lure over the crappies so that they can see the bait dangling there. A lot of the time the crappies that aren't active will see your jig sitting there for a while and will decide that it would be an easy target to go after.
You will want to play around with the color of the jig heads. Make sure that the jigs mimic minnows and bugs because that is what crappies are feeding on in the spring, summer and autumn months as well.
Pre-spawn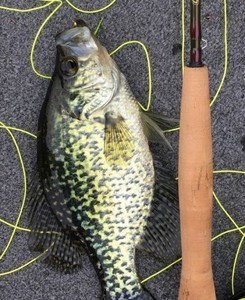 During the pre-spawn early spring, you will find crappies in the shallow weedy areas of the lake where they get the most oxygen. Pre-spawn crappie will be looking for some big meals to give them the energy they will need for when spawning time comes which isn't far off in most cases.
Crappies will be in large schools this time of year. Early spring is one of the best times of year to catch an abundance of crappie once you locate these schools of fish. You won't be able to pull the crappies in fast enough!
If you have a fish finder, it's a good idea to put that to use. It will go along way in helping you find these large schools of crappies and at what depth they are hanging around. Because if you find the schools of fish but don't know how deep they are, you might be presenting your bait wrong to them and not catch anything. You want your bait to be suspended above them so that they see it and then devour it.
Minnows with a slip bobber or a float are good choices of live bait to use during the pre-spawn. Small sized jigs that are 1/32 to 1/64 Oz, and look like insects are a good choice this time of year for artificial lures.
Spawn Time
When the water temperature starts to warm up around 60 to 70 degrees, Fahrenheit crappies will start their spawn time. The spawning time for crappie can last from two weeks to six weeks depending on the size of the lake. If the water is clear crappies will make their nests in water that is 3 to 6 feet deep. Muddy water you will find crappies spawning in waters that are 2 feet deep.
The more protection from wind and lots of vegetation is where you will find spawning crappies. The best types of lures to use during the spawn time is spinning baits and small micro jigs using 4-pound test. Using this combination of line and bait will ensure that the baits move down slowly in the water enticing the crappies to strike if you're looking for the bigger sized crappies you will want to use a ⅛ oz jig and 6 to 8-pound test line.
Cast your jig into reedy areas and slowly reel them back in making sure your rod tip is kept high. You will want to use light colored jigs like yellow and pink during the crappie spawn for optimal effectiveness. Pairing these light colored jigs with tubes or plastic curly tails of the same colors help capture crappies during the spawn as well.
Post Spawn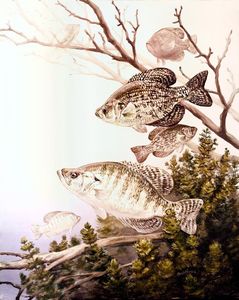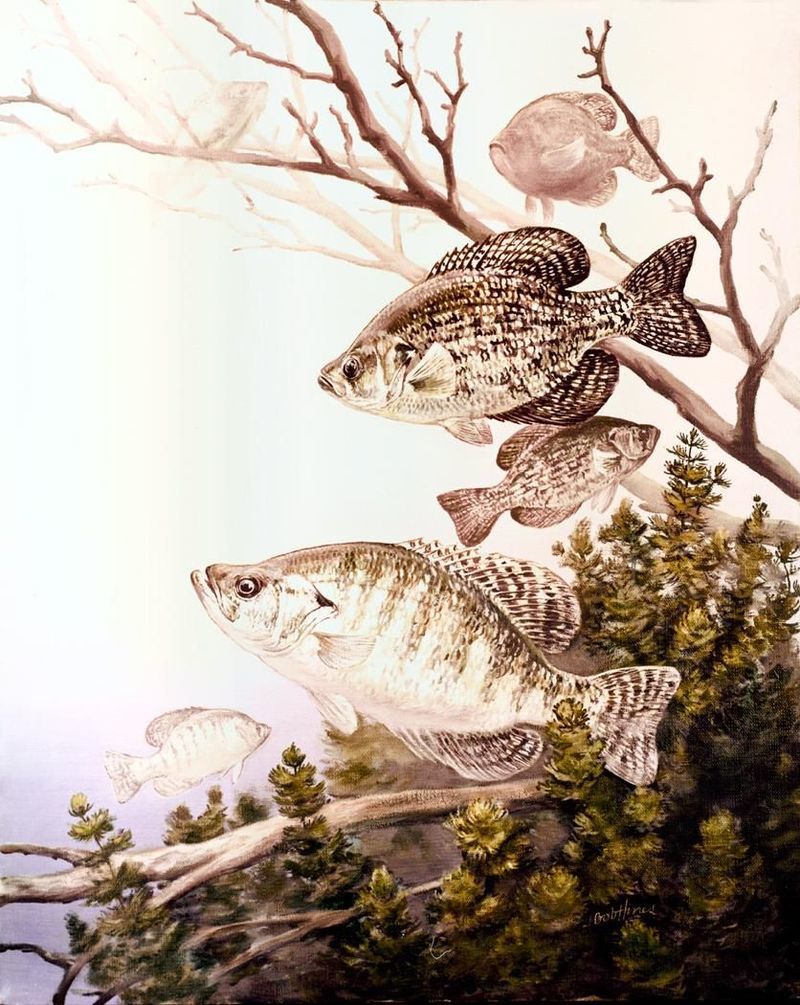 After crappies have spawned, it becomes more difficult to find and catch these fish. They become elusive, and most anglers don't both fishing for them until the fall. But you can still catch some nice crappies during this time of the year.
Crappies will head back to the deeper water where they were before the spawn. They like it there because of the familiarity and safety that the deeper water provides. You will find them around deeply sunken trees and logs, rock piles and creek channels with drop-offs and ledges.
Fishfinders especially the ones with side-scan can come in handy after the spawn when looking for crappie. You will want to focus your attention on catching the males of the species during the post spawn. When you find where those elusive crappies are hiding, you have to almost hand feed them the bait. Get it right in front of their mouths. This is because after spawning the fish are tired from the spawn and they don't move very far.
During the post spawn, you will want to try various rigs and depths to get these crappies to eat. Get a few rods rigged up with multiple jigs. Grab some live minnows and start experiment with different depths until you find the right combination. It's finding that combination of baits and depth that's the hardest part when fishing crappie post spawn. But once you find the areas and the right combination you can fill your freezer up with crappie!
Spring Crappie Fishing Techniques Conclusion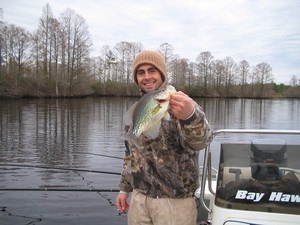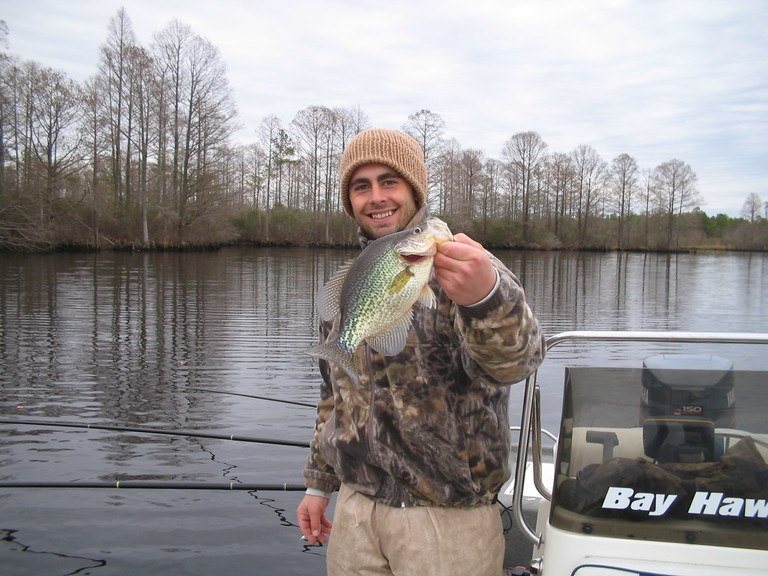 During the spring is the best time of year to be fishing for crappies. And if you use some of the techniques in this article and fish the right areas of the lake you will find and more than likely catch an abundance of crappie. During the pre-spawn is probably the best time of spring to be catching these fish. They will be headed to their spawning areas as soon as the water temperatures warm which is about 50 to 55 degrees Fahrenheit and the ice starts leaving the lakes. Crappies will be found in big schools during the pre-spawn as well.
At spawning time you will find crappies in water depths that range from 2 to 6 feet deep. This will depend on how clear or muddy the water is. The murkier the water is, the shallower the fish will be. Spinning baits and micro jigs work well during the spawn. The water temperature will be 60 to 70 degrees Fahrenheit at this time.
Post Spawn Can Be Challenging
If your fishing post spawn, you will have a harder time finding the crappies and getting them to eat. So trying various rigs and depths will be vital in catching crappies during the post-spawn time. But once you find the right combination, you can catch crappie all day long! Consider post spawn crappie fishing a challenge! When you start to bring them in you will be one accomplished and happy angler.
I hope this article on spring crappie fishing techniques helps you catch more crappies. If you have any questions or comments about crappie fishing feel free to leave them in the comments section below. You can also send me your questions through the contact form on this website. You will find it in the menu section at the top of the page. I wish you much success in your fishing adventures and Happy Fishing!
The Crappie Fishing Handbook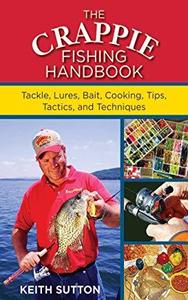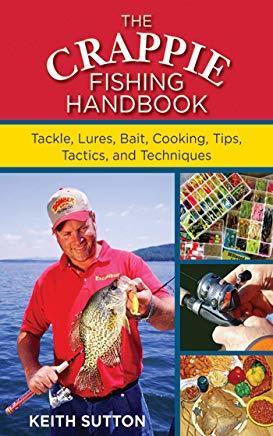 If you would like to know more spring crappie fishing techniques, tackle, lures and tactics grab yourself a copy of The Crappie Fishing Handbook. You can find this useful book on Amazon and can be purchased digitally through Kindle or in paperback form.
Product: Tenkara USA Iwana 12' Carbon Fiber Fly Rod & Level Line Outfitter
Price: $193.95
Available at: Amazon.com
Product Dimensions: 6" x 6"x 36"
Product Weight: 2-lbs
Guarantee: Lifetime Warranty
My Rating: 9.3 Out of 10


Interested in learning about the Tenkara USA Iwana fly rod? Well, you have come to the right place! I have done a full review on this product, and all I have to say is if you are into Tenkara fly fishing you will want to take a close look at the Iwana fly rod. They build this rod out of carbon fiber which makes it strong and sturdy. But at the same time, it is lightweight and compact the way a true Tenkara fly rod should be.
It is 12' long which is the perfect size for any stream or river that you will be fishing. The Iwana fly rod comes with an outfitter kit of 3.5 orange level line, three-pack of Ishigaki flies and line holder. Everything you need to get out there and start Tenkara fly fishing! A simple straight forward no reel Tenkara fly rod. What more could you ask for?
Breakdown of Everything Included In This Package:
Tenkara USA Iwana Fly Rod
The fly rod is the most important part of this product package. Tenkara USA brought the sport of Tenkara fly fishing to the western world around 2006. From there this Japanese form of fly fishing caught on. It has become very popular especially in America.
The Iwana fly rod is 12' long and 6:4 action ratio which makes very precise. It's perfect to fly fish any size stream or river that you find yourself at. The fly rod is made out of carbon fiber which makes it strong yet light and compact.
Ishigaki Kebari Flies
Along with the fly rod, you get a pack of 3 sizes 12 Ishigaki Kebari flies with this outfitter. These are the perfect flies for Tenkara fly fishing.
Level Line
65 feet of orange Tenkara level line comes with this outfitter. Very little memory, easy to see and strong enough for casting.
Line Holder
The Tenkara line holder lets you easily wind your line when you are done. The foam insert allows for drying of the line when it's wound up. The flies are held in cut-out areas.
Pros
Perfect size for any stream or river

Made of Carbon Fiber for durability

Lightweight

Precise

High Quality
Cons
Is The Tenkara USA Iwana Fly Rod For You?
If you're looking for a Tenkara fly fishing rod that is lightweight, just the right length for fishing any stream and durable then you will want to give the Iwana fly rod a try. And the fly rod is made of carbon fiber which makes it durable. It's a very precise fly rod that will get that fly right to the spot you want it to be.
The Iwana fly rod comes with 3 Ishigaki Kebari flies, Tenkara level line, and Tenkara line holder. This fly rod is made from the company that introduced the western world to Tenkara fly fishing. This is a high quality, easy to use and simple as it gets Tenkara fly rod.
I recommend the Tenkara USA Iwana fly rod for anyone getting started in the sport of Tenkara fly fishing. I hope you have enough information from this review to make an informed decision on whether or not to purchase the Tenkara USA Iwana fly rod.
If you have any questions or comments, please leave them in the comments section below. As always Happy Fishing!
Product: Tenkara USA - Sato Fly Rod & Accessories Kit
Price: $269.95
Available at: Amazon.com
Product Dimensions: 32" x 6" x 6"
Product Weight: 4-lbs
Guarantee: Lifetime Warranty
My Rating: 9.6 Out of 10


Tenkara Rod Review
Today I'm doing a Tenkara rod review on the Tenkara USA Sato fly rod and accessories kit. If you haven't heard of Tenkara fly fishing, I have written an article called "What is Tenkara Fly Fishing?"; that explains all about this Japanese form of fly fishing. That article will get you up to speed on this style of fly fishing.
The Sato fly rod is named after Ernest Satow who was a diplomate, Japanologist, and British Scholar. He was the first person to write about Tenkara! The Sato fly rods are the most versatile of the Tenkara fly fishing rods.
A Sato fly rod is a compact Tenkara fly fishing rod that you can put in your backpack. They are very lightweight at only four pounds. When you are fly fishing and hiking through the wooded areas that are around the streams and rivers that you will be fishing this compactness and lightweight is very important. You don't want to be dragging a heavy one piece fly rod with you in this terrain.
The Tenkara USA Sato Fly Rod Has 3 Different Lengths To Fish By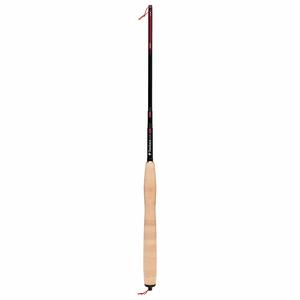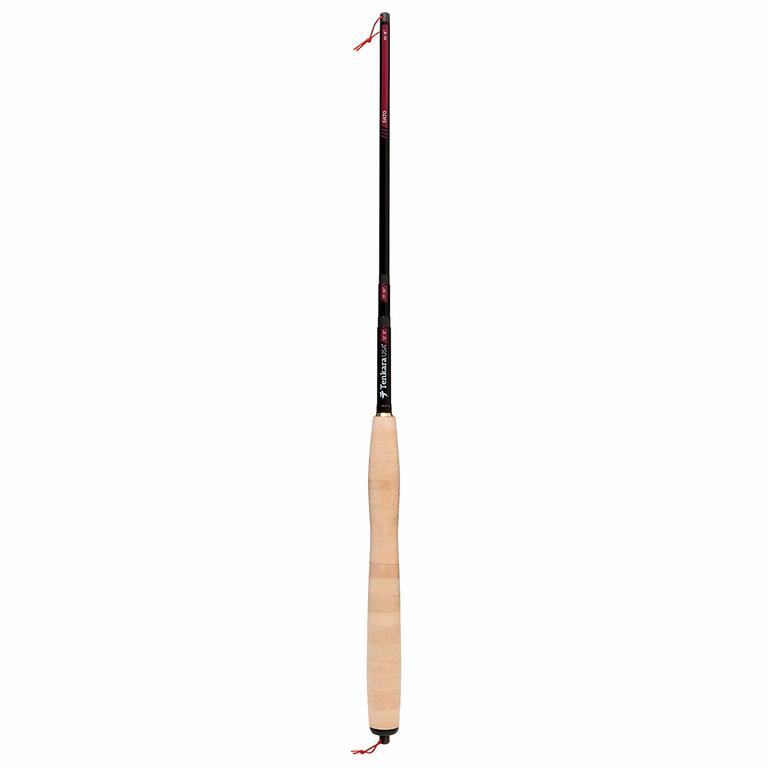 The Sato Fly Rod is very versatile as well with three different lengths you can fish at depending on what type of stream, river, and terrain you are fly fishing at. You can fish wider streams and rivers when the Sato fly rod is at its full length, and if the stream is more closed in and the banks are closer together, the shorter length will work best.
Two Patent Pending Features
There are two patent-pending features that the Sato fly rod from Tenkara USA has on it. The first feature is called the Triple-Zoom feature which is the three different lengths that I explained earlier. The shortest length is 10'8", the middle length is 11'10," and the longest length that the Sato fly rod can extend to is 12'9". So suffice it to say this fly rod can be used in just about any fly fishing situation you find yourself in.
The second patent pending feature on the Sato fly rod is called Keep your Plug system. It's a common occurrence to lose the plug to your telescopic fly rod. So Tenkara USA came up with a simple system so that you can avoid this from happening to you. They put a hole at the bottom end of the Sato fly rod so that you can stick the plugin while you are fishing. All you have to do is take the plug out of the tip when you are ready to use the Sato rod and stick in the hole at the bottom of your rod.
And when you are done fishing and ready to collapse your rod at the end of the day put the rod plug back on the tip. This is a simple fix for losing your rod plug but very useful as long as you remember to put the plug in the spot at the end of your Sato fly rod. The Sato fly rod also comes with two plugs so if you lose one you will have the other plug as a backup.
What Comes In The Sato Fly Rod & Accessories Kit?
Tenkara USA Sato Fly Rod

Level Line

Line Keeper

Universal Rod Cap

Ishigaki Kebari Flies

AvidMax Clip-on Retractor with Nippers

AvidMax 5" Forceps

RIO Powerflex Plus Leaders
Sato Fly Rod
This fly fishing rod from Tenkara USA is lightweight, compact and has three adjustable lengths to make fishing in any stream or river as easy as can be. The Sato fly rod comes with two-rod plugs. As they say, two is better than one especially with fly fishing rod plugs which are easy to lose and another feature the Sato fly rod holds is a spot on the handle end of the rod where you can stick the rod plug when you are fishing.
Level Line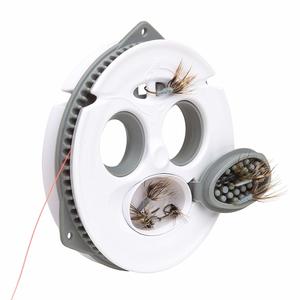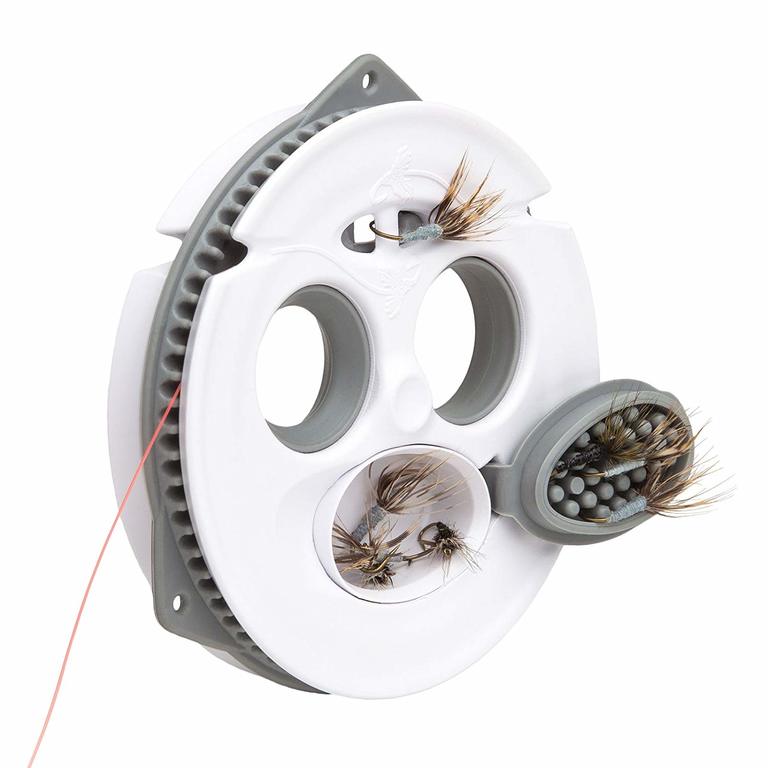 This is a type of Tenkara fishing line. Level lines are lighter than your regular fly fishing line and easier to see because of the brighter colors. This kind of fishing line is also easier to adjust the lengths with the telescopic Tenkara rods.
Line Keeper
Tenkara line keepers hold Tenkara line and tippet or two Tenkara lines. It also holds a rod 
plug and up to 12 Tenkara flies. There are two walls that catch the line as you wind. This helps from keeping your fly fishing line from getting all tangled up while you wind it.
Universal Rod Cap 
Allows the line to remain attached to the Sato fly rod and also helps protect the end of the handle.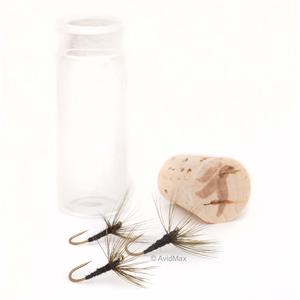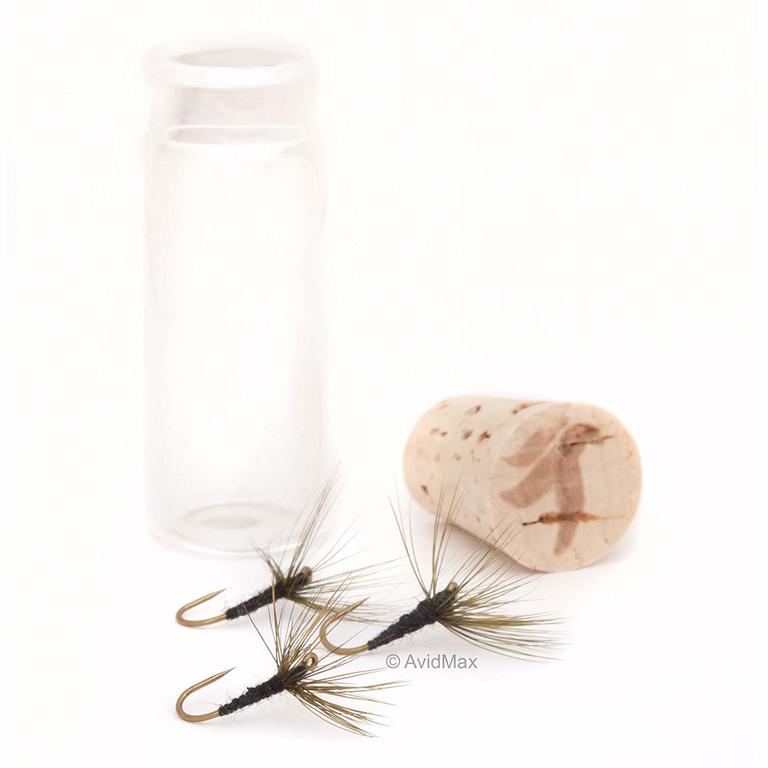 Ishigaki Kebari Flies 
These are size 12 Tenkara flies used by Dr. Hisao Ishigaki who is a renowned Tenkara angler. You get three flies per set.
RIO Powerflex Plus Leaders 
These are extra strong trout leaders. They have high knot strength, and the tensile strength is 20% more than your regular fishing leader.
AvidMax Clip-on Retractor with Nippers 
This fishing accessory comes in handy when you need to nip your tippet end. When not in use clip it right to your vest or pocket.
AvidMax 5" Forceps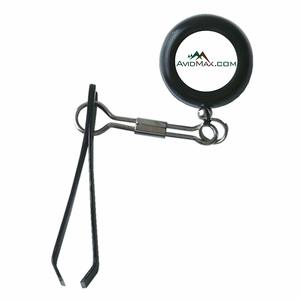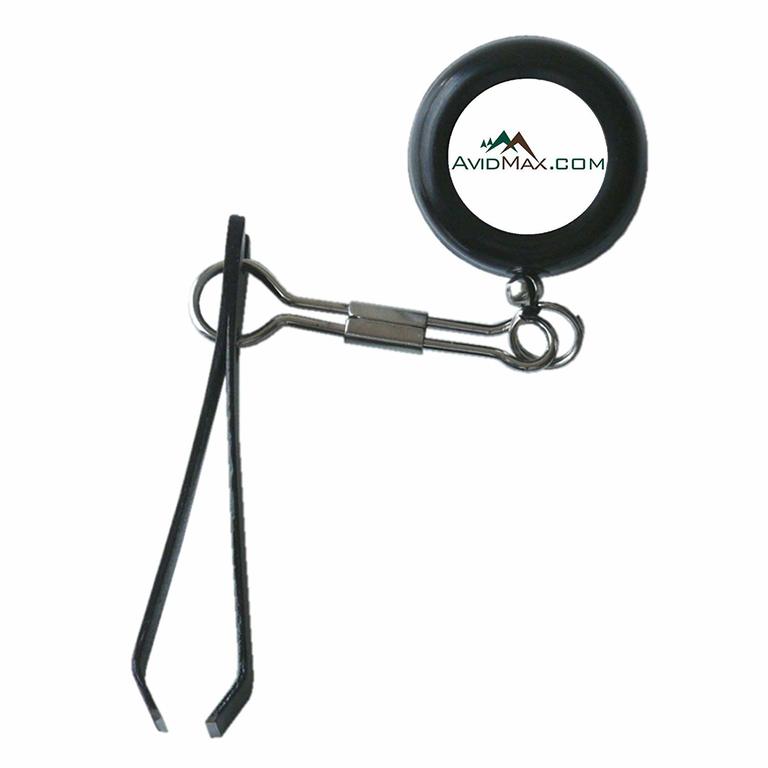 These forceps have a stainless steel finish and work well for removing hooks and for tying flies. They have a unique clamp lock system so they will stay closed when you need them to remain closed.
Pros
Cons
Tenkara Rod Review Conclusion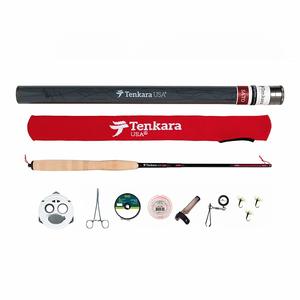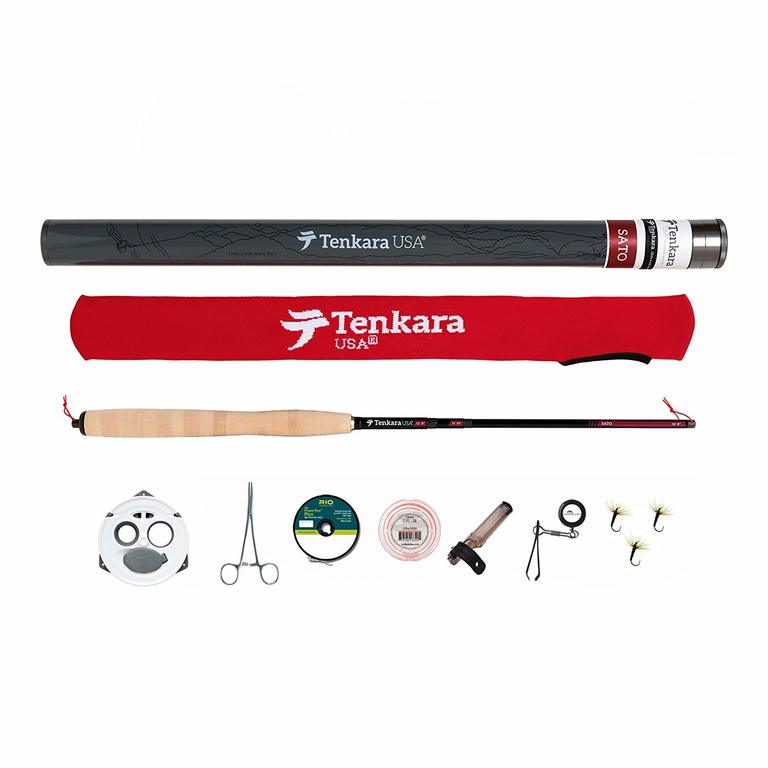 As you can see by my review the Tenkara USA Sato fly rod with accessories kit is well worth the purchase. With the three adjustable lengths you can fish any stream or river you find yourself at. It's lightweight and compact so that you can carry it in your backpack when you are hiking through woods to your favorite fly fishing spot.
With this fly rod, you also get a line keeper, level line, forceps, clip-on retractor with nippers, two-rod plugs, RIO Powerflex Plus leaders, three Ishigaki Kebari flies and a Universal rod cap. You get everything you need to get started in Tenkara fly fishing. I know you will enjoy this simple but effective Japanese style of fly fishing. And with the Sato fly rod made by Tenkara USA, you will enjoy it that much more.
I hope this Tenkara rod review has answered all your questions about the Sato fly rod by Tenkara USA. I also hope I have helped you in making an informed buying decision. Thank you for reading.
If you have any questions or comments, please leave them in the comments section below. And as always Happy Fishing!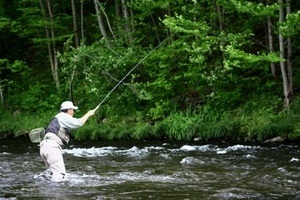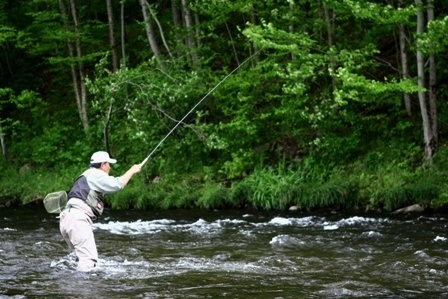 What Is Tenkara Fly Fishing? Tenkara is a Japanese type of fly fishing that became known outside of Japan around the year 2009. A man named Daniel Galhardo popularized Tenkara fly fishing with the founding of his company Tenkara USA.
テンカラ is Japanese for Tenkara which means "from heaven," or "from the skies" according to Wikipedia.
Tenkara Japanese Style of Fly Fishing
Tenkara is the technique used in fishing for trout in the mountain streams of Japan. This technique is a lot like the fly fishing us westerners know, but the term Tenkara is strictly the Japanese style of fly fishing.
How Tenkara Fly Fishing Started
This Japenese style of fly fishing has been around for about 200 years and was introduced to the western countries around 2009. So it is a very new style of fly fishing comparatively. Tenkara is very popular in Japan, and we are just starting to find out the benefits of this type of fly fishing here in the West.
Tenkara was used initially in the mountain streams by professional anglers in Japan. This technique made it easy to catch the traditional fish found in Japan like the Amago, Iwana, and Yamama. Initially, they used long poles made out of bamboo which is abundant in Japan. They also didn't need the use of reels as we use in the west because of the length of the poles.
Tenkara Fly Fishing Essentials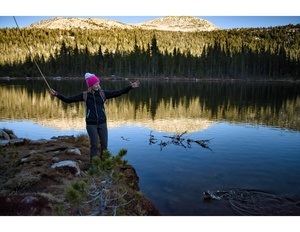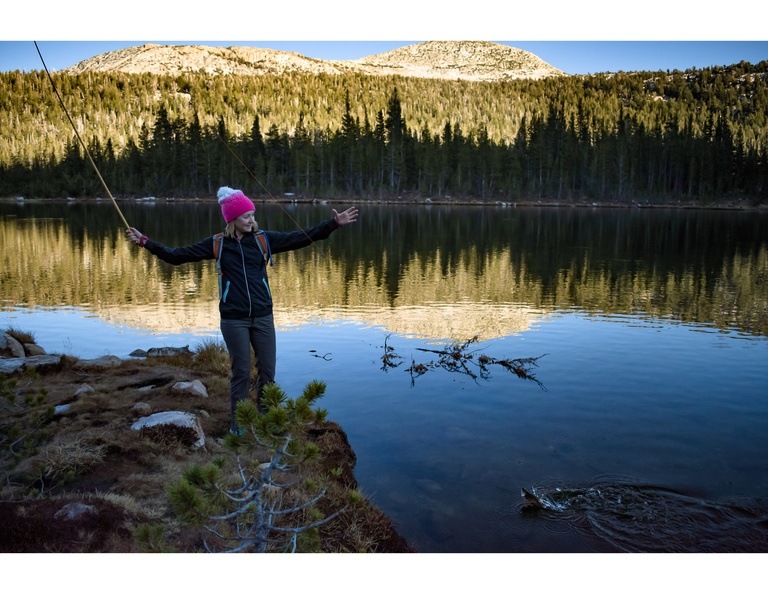 Tenkara is an easy and effective way to fly fish. The equipment need for this style of fly fishing is minimal compared to the way we fly fish in America. You don't even need a reel when you are fly fishing Tenkara style! The following is what you are going to need to get started in Tenkara fly fishing.
You will need a long rod so a telescoping rod will work best unless you can get a traditional bamboo rod, but this would be difficult to transport. Especially if you are fishing in wooded areas where the streams would be. Tenkara rods are available that are specifically designed for Tenkara fly fishing. These rods are on average about 12 feet long. Prices vary depending on size and brand.
Next, you will need a Tenkara line. This line comes in two different kinds. There are Tenkara level lines and Tenkara tapered lines. These lines can be used by themselves or with a 4-foot tippet at the end of the line which you tie your fly to.
According to Tenkara USA, tapered lines are the easiest to set up and cast with, and they come in a fixed length. The level lines come in a spool with about 65 feet of line and can be cut to length. Try both and whatever one works best for you, go with that one. A 5X tippet is recommended if you are going to use tippets.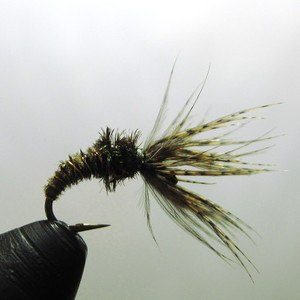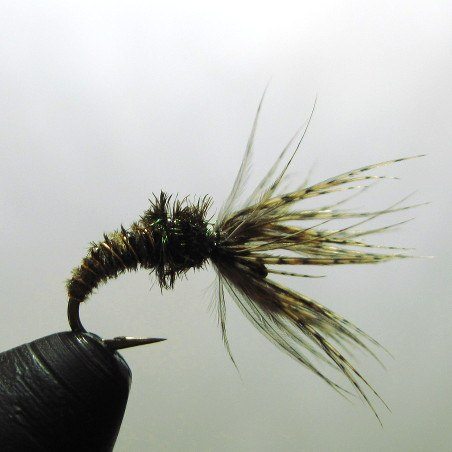 Of course, you will need to use a fly when Tenkara fishing. Any type of fly will work with this type of fly fishing. Tenkara USA recommends using sakasa style fly because they work well in most conditions that you will find when you are out fly-fishing. Sakasa kebari flies are a reverse hackle wet-fly.
The hackle refers to the hair or fur that is tied to the fly. The hackle is tied facing forward unlike traditional western flies where the hackle is facing the other way on the fly.
Along with the Tenkara rod, line, tippet and fly you will want to have a needle nose pliers to get the hook out of the fish. Some sort of cutters to cut your line and a holder for your Tenkara line. All of this can be bought in kits that are sold online.
Setting Up a Tenkara Rod
Setting up a Tenkara rod is simple and straight forward. The rod comes with a plug on the end of it. First, remove the plug. Then you want to pull out the braided tip or Lillian as it is called. Make sure to leave the hard tip that the Lillian is attached to in the rod. Next, you want to tie your line to the Lillian. When you have the line tied on you will hold the rod with one hand and slowly slide out the segments of the rod one by one until they are all extended.
How To Close a Tenkara Rod
Now that you know how to set up a Tenkara rod properly you will want to learn how to close it. When collapsing the Tenkara rod you want to start at the base pulling the first segment of the rod in and pull each of the segments in until you have the last one in. You can leave your line tied to the rod and when the entire rod is collapsed you wrap the line around the line holder. If you are done for the day pull the tag from the end of the line and put the rod away.
Conclusion
Now that you have the answer to the question What is Tenkara fly fishing? You will be able to go out and try this simple and effective form of Japanese fly fishing. There are only a few things you need to remember to in order to Tenkara fly fish. You need
Tenkara telescoping rod
Tenkara line
Four-foot tippet
Tenkara Flies
Line Holder
Pliers of Fishing Tool
Cutters to cut your line
That's about it. A lot fewer things to remember then your traditional western form of fly fishing. The best part of Tenkara fly fishing is that it is the easiest ways to fly fish and a very effective way to fly fish for trout, bluegills or whatever stream fish you may want to fish for. So the next time you go fly fishing give Tenkara a try. You might never go back to the old way of fly fishing again!
I hope you enjoyed this article and got some useful information from it. If you have any questions or comments, please leave them in the comments section below. And as always Happy Fishing!
Product: Garmin echoMAP CHIRP 54cv w/ Transducer
Price: $259.97
Cheapest Place To Buy: Amazon.com
Product Dimensions: 

6.8 x 1.7 x 5.4 inches


Product Weight: 1.6 Pounds
Guarantee: 1-Year Consumer Limited Warranty
My Rating: 9.3 out of 10
Garmin echoMAP CHIRP 54cv Overview
Today I'm reviewing another excellent product from Garmin. The Garmin echoMAP CHIRP 54cv with transducer is a top of the line fish finder with state of the art CHIRP sonar technology. The echoMAP lets you create or own HD maps with 1-foot contours all while you are fishing! The maps are possible because of the built-in Quickdraw Contours Software.
Chirp sonar technology allows for crystal clear definition and outstanding target separation because it focuses intently on the target. There's another integrated software in the echoMAP 54cv called HomePort Planning software. This software allows for the digital recording of the information from the CHIRP sonar, and it will enable you to play routes and waypoints back across other devices.
ClearVu Scanning Sonar
Garmin's ClearVu scanning sonar allows you to see with amazing clarity what is right under your boat. The HD-ID sonar is combined with the ClearVu scanning sonar into to 1 transducer. The scanning sonar is so clear it almost looks like a real picture you are looking at! That is one of the main points I like about this fish finder. You will see those fish like you are right there under your boat looking at them.
Create Your Own HD Maps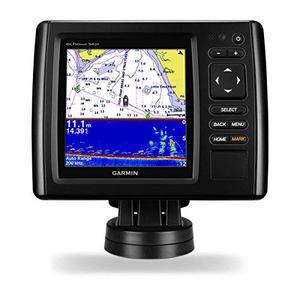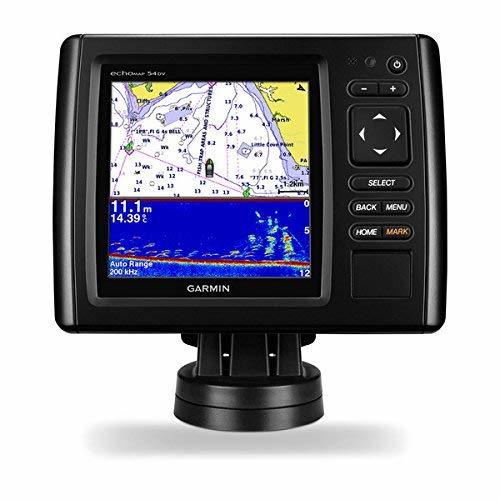 You can create 1-foot contour fishing maps in HD while you are fishing with the Quickdraw Contours software. These are very useful for the next time you go out fishing in that area. You can share the maps if you choose in the Quickdraw community on Garmin Connect if you want.
The Garmin echoMAP CHIRP 54 cv is Portable
It's easy to bring your echoMAP with you when you leave your boat because the cords plug right into the mount. So just plug into the mount when going out in the boat and when you're back getting off your boat just unplug and go. This keeps your fish finder from being stolen or left out in inclement weather.
BlueChart g2 Charts
Another feature that is preloaded on the Garmin echoMAP 54cv is BlueChart g2 charts. These are a combination of detailed official and private charts that cover worldwide. These help you navigate harbors and marinas all over the globe so that you can guide your boat in and out of port with confidence. The BlueChart g2 also provides tides and currents, depth contours and spot sounding.
Transfer Your GPX Waypoints
If you have waypoints or routes that you usually take while your fishing on other GPS navigational devices you can transfer them to your Garmin echoMAP CHIRP 54cv. This is another great feature I love about the echoMAP!
Accurately Find Your Secret Fishing Spot with Ease!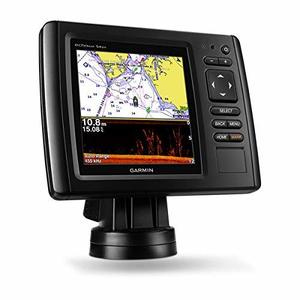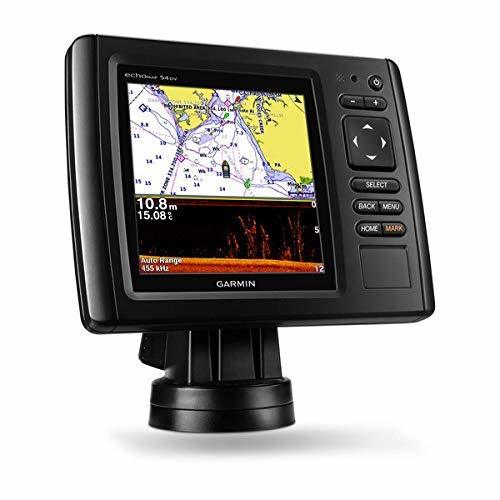 Finding that special fishing spot that you enjoy fishing at the time before with the 5 Hz GPS and GLONASS! This technology refreshes your heading and position every five times every second. I can't tell you how many times I have never been able to find that secret fishing spot on a certain lake. That is no longer a problem with the echoMAP.
3.54″ x 3.54″; 5.0″ diagonal
Internal or external over NMEA 2000
50,000 points; 50 saved tracks
500 W (RMS) / 4,000 W (peak to peak)
(50/200 kHz) sonar capable
(77/200 kHz) sonar capable
2,300 ft @ 77 kHz, freshwater  1,100 ft @ 77 kHz, saltwater
Shows return from the bottom up
Water temperature log and graph
Here Is What's Included In Your Purchase Of The Garmin echoMAP CHIRP 54cv
echoMAP CHIRP 54cv
Documentation/ Operators Manuel
Transom Mount
A transducer (4-pin)
NMEA 2000 adapter cable(4-pin female to 5-pin male)
Protective Cover
Hardware
Flush mount
Tilt/swivel mount
Power/data cable
Pros
State Of The Art Sonar Technology
Make Your Own HD Maps
Share Digital Information Between Other Devices
Portable (Unplug and take it with you)
Easily Mounts To Your Boat
BlueChart g2 Charts Included
Cons
Not Compatible with ActiveCaptian
SideVu Not Included
Conclusion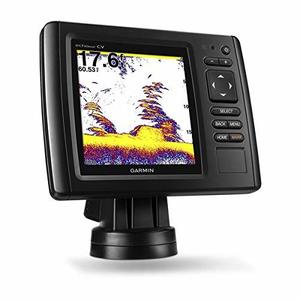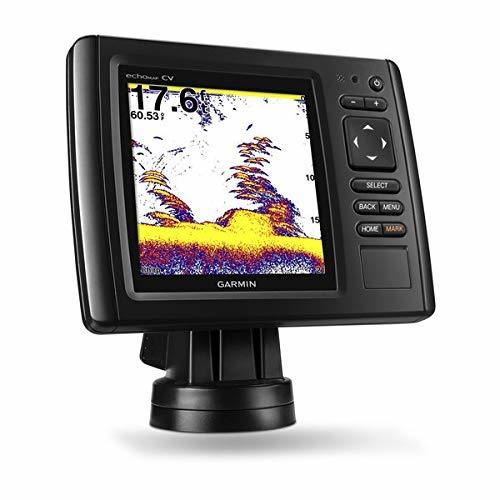 I highly recommend the Garmin echoMAP CHIRP 54cv with a transducer for all your navigational and fishing needs. CHIRP sonar technology that Garmin has made is the best you're going to find in the private sector. The view from under your boat is as clear as you are going to get. It almost looks like a real picture.  Having the BlueChart g2 Charts on board with you is a godsend. Never get lost again and know where you are at all times.
With the 5 Hz and GLONASS, you can make high definition maps on the go while you fish! To me, that is just amazing. Chart out your secret fishing spot and next time you go out you will find it quick and easy. Not only that but all the information you collect and map out like waypoints and topography can all be shared on multiple devices.
The echoMAP also mounted to your boat quickly, and you don't have to leave it on your boat when you are done for the day just unplug the echoMAP CHIRP 54cv and take it with you. This way it doesn't get stolen or destroyed in case something unexpected happens to your boat!
Now you have all the information you need on the Garmin echoMAP CHIRP 54cv to make an informed buying decision. Thanks for reading and I hope this was helpful for you. If you have any questions or comments, please leave them in the comments section below. As always Happy Fishing!
Muskie Fishing Tips Overview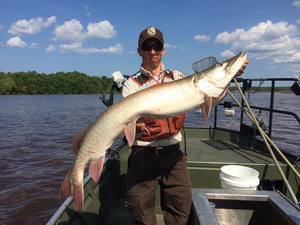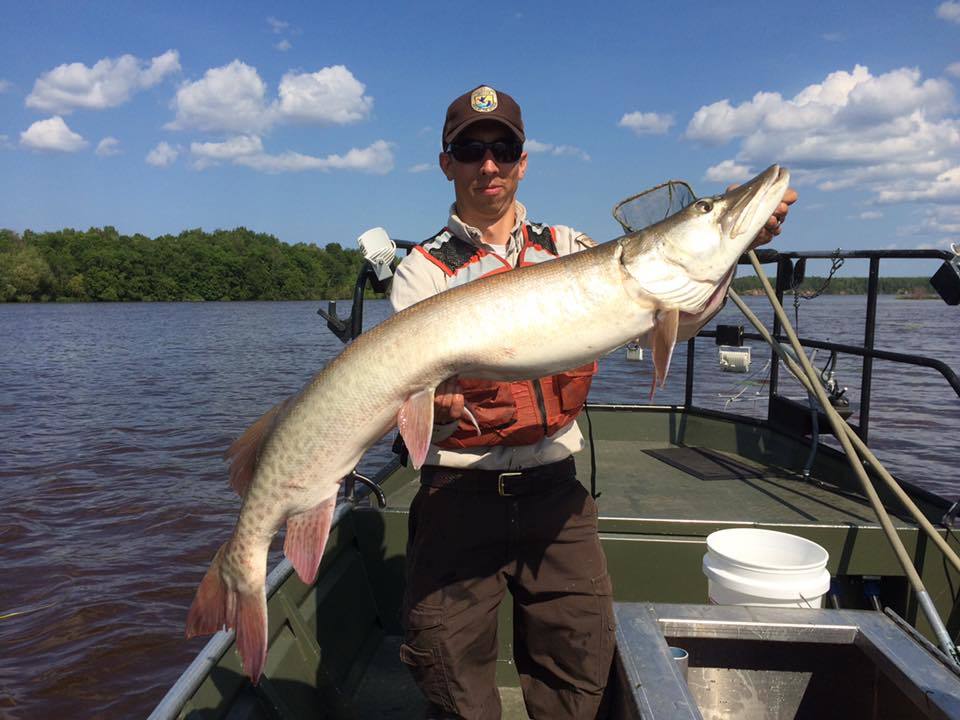 Want to know the ins and outs of catching monster muskies? Look no further I have compiled a list of the top 10 muskie fishing tips that will bring home those monster muskellunge you're dying to wrestle with! These are proven techniques that many an angler have tested and tried and have enjoyed an abundance of muskie throughout the fishing season.
Tip #1 - Weather Conditions
Weather conditions play a vital role in where you are going to be fishing for these monster muskies. When you have a cloudy, rainy and windy day you will find muskies hanging around rock structures. The Muskies will be found in shallow water as well the more the wind picks up.  But be careful when you fish close to rock structures on windy days. You don't want your boat smashing into the rocks.
When the weather is calm and sunny, you will find the muskies in the weed beds and sandy areas. Muskies like the weedy areas because they can go undetected when they are searching for prey. And the weeds give off oxygen.
Tip #2 - Crankbaits Work Best When The Weather Turns Cold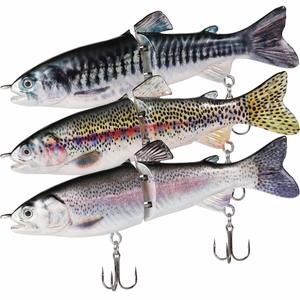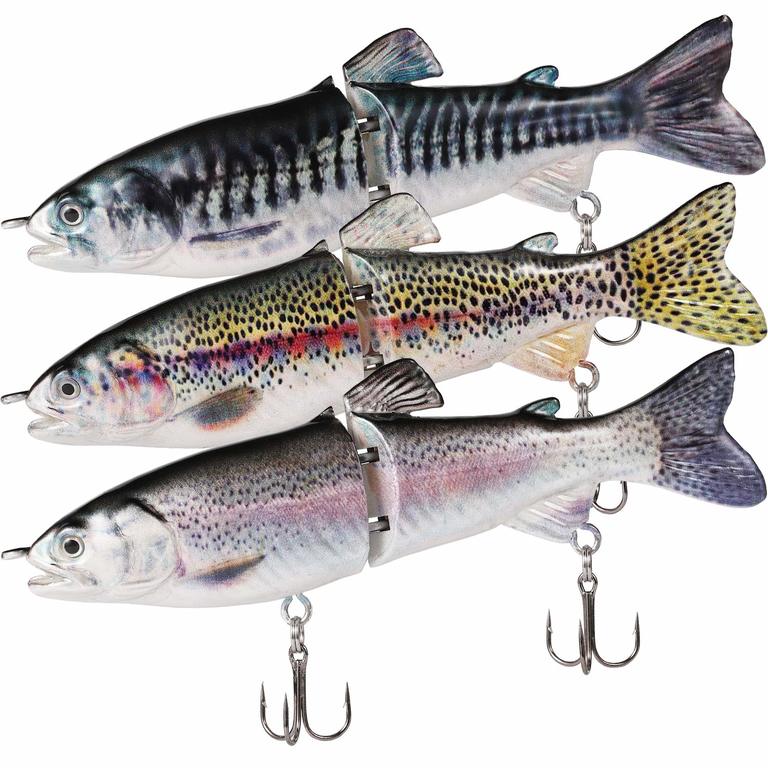 This tip is more for fall fishing for muskie. Crankbaits work the best when the weather turns cold. This is because crankbaits smack against the rock structures and ride over the weed cover creating a flash that muskies love. The muskies are staying down deeper in the colder weather, and a crankbait can sink to the deeper areas that your other musky baits will not. So the muskie can't resist a lure right in front of them. They will strike it with a vengeance!
Tip #3 - Set Your Hook Properly
Setting your hook may seem obvious, but with muskies, it's critical that you set the hook in their mouths; otherwise, you will lose many of them. You need to set the hook deep and make sure you are ready when the muskellunge strikes because he is going to strike hard! Hook setting for muskie should be practiced before going out on the lake so that you will be ready when the time comes. No second chances when that monster muskie hits the end of your line. It's due or die time!
Tip #4 - Master The Use Of Bucktail Lures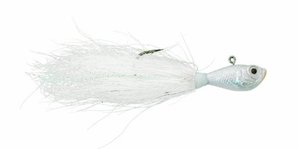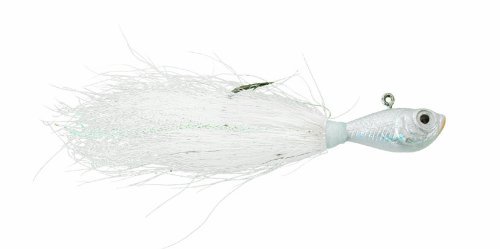 If you want to catch that trophy monster muskie then you have to learn how to use bucktails effectively. Bucktails are a pretty simple and straight forward lure to fish with, but there are some tricks that you can use to make those muskie go wild for them.
Bucktail jigs work well for muskie fishing because of the realistic hair on them that moves well and realistically in the water. Muskies love this movement of the hair, and it attracts them like nothing else. When a muskie latches on to a bucktail the hair compacts down revealing the hook, now you can have a clean hookset without anything getting in the way.
Here are a few practical ways to present your bucktail.
Rip Jigging – Cast your bucktail and let it sink to the bottom. After that rip it forward before you let it drop to the bottom again.

Work The Jig Along The Bottom – In this technique, you let the bucktail hit bottom and, then you reel the jig bouncing and grinding on the bottom of the lake.

Fish The Bucktail Like a Jerkbait – Here you want to jerk your rod which darts the bucktail along its path in the water.

Fish Them Vertically –  With this presentation technique, you can try different movements of your rod. Try shaking and jerking your rod. You will know when you got the right actions because those monster muskies will let you know by attacking your bucktail.
Try different speeds when you are retrieving the bucktail and when you find the right retrieval speed for the area you are in stick with that speed. This will all depend on if the muskies are feeling aggressive or not on that particular day and lake.
Tip #5 - Catch 'em Before The Storm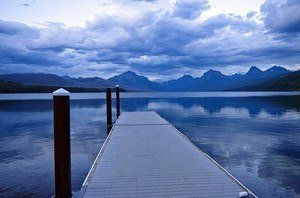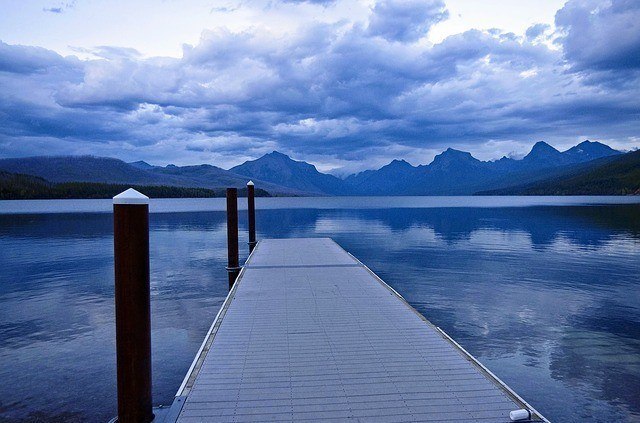 One of the best times to catch the monster muskies is right before a storm is about to hit. For some reason, muskies get aggressive when the weather changes. So anytime there is a major weather change is an ideal time to catch these monsters of freshwater!
Tip #6 - Use The Figure 8 Method
The figure 8 method works well for muskie fishing because muskies will follow their prey for a while before they decide to take action on that prey. To do this cast your line out. When the lure starts getting close to the boat put the tip of your rod in the water. Make wide sweeps in a figure 8 style, and if there is a muskie following your lure, this will intrigue him to strike your lure. Make sure these figure 8 turns are wide because muskies are a big fish and won't be able to follow small figure 8 turns.
Also, if the muskie is in an aggressive state following close by your boat, you will want to increase your speed of figure 8. But if the muskie is not aggressive slow down the speed.
Tip #7 - Drop Offs and Open Water
In the early spring right after or during the melting period of the ice you will want to find the areas where the muskies are going to spawn. After you have found those areas which would be in the low water flats, you will want to fish for the muskies close to these areas. They will be down in the deeper areas so, focus on fishing drop offs and open waters that are close to the spawning areas.
You will find muskie there because they know they will be spawning soon but the water where they need to go and spawn is still too cold. But the water down deeper is warmer, and that's where they will hang out waiting for the spring spawn.
The lures that work best at this time of the fishing season are crankbaits, swimbaits, and bucktail jigs. When fishing the bucktail jig at this time of year, you will want to focus on vertical jigging. There will be many muskies in when you find the right area and your chances are good that you will snag a monster out of the bunch!
Tip #8 - Summer Muskie Fishing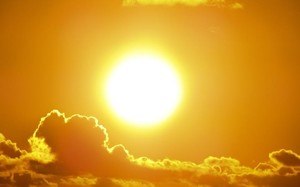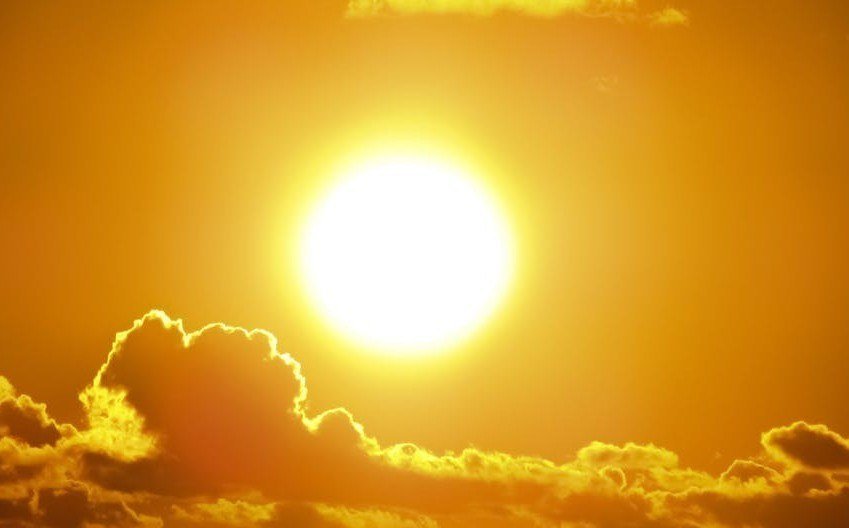 Fishing for muskies in the summer can be a frustrating adventure especially if it is sweltering. Muskies won't feed when it is hot out. So to remedy this fish only in the early morning hours before the sun comes up or during the evening. These times of day will give you the best chance at catching muskies in the summer months. Avoid fishing muskies midday if at all possible during the summer unless it is a cool summer day.
Tip #9 - Autumn Muskie Fishing
When fishing for muskie in the autumn, you will find them in more shallow areas. Focus you fishing in the autumn around weed beds and the edges of weeds. The later in autumn that you go the shallower the muskies will go. Get your bucktail jigs out this time of year. The muskies will eat them up. But keep your speeds of retrieval of the bucktails at a regular pace not over aggressively fishing them.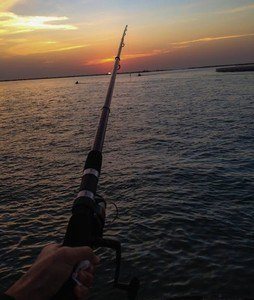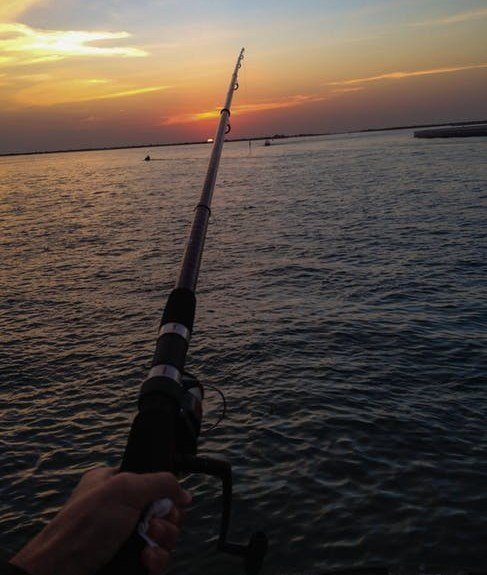 Your back will thank you if you use a long fishing rod when fishing for muskies. The use of the long rod is because you are casting big heavy baits usually when you are muskie fishing. The shorter your rod, the harder on your back and shoulders will be.
Also, using a long rod will help when you are doing your figure 8 method. The figure 8 method was explained in tip #6. The longer rod enables you to make those broader sweeps. Broader sweeps are key when you are doing the figure 8 way. The long rod should be heavy to a heavy X action rod, and when you are using baits that are in pounds in weight, you will want to upgrade to a heavy XX.
Muskie Fishing Tips Conclusion
Now that I have provided you with 10 muskie fishing tips that will help you catch those monster muskies you will want to go out and make use of these tips in the field. I'm confident if you use these 10 tips regularly while you are muskie fishing you will bring in your fair share of monster muskies!
To recap:
Be aware of the weather conditions.

Crankbaits work best when the weather turns cold.

Set Your Hook Properly.

Master The Use Of Bucktail Lures.

Catch 'em Before The Storm.

Use The Figure 8 Method

Fish drop offs and open-waters in the early spring before the spawn.

Go after muskies in the evenings or early mornings in the summer season.

Fish shallow weed bed areas in the autumn.

Use a long rod.
If you have any questions or comments, please leave them in the comments section below. I hope you find this article useful and as always Happy Fishing!
To learn more on muskie fishing check out the book 25 Can't-Miss Musky Patterns. This book was written by the editors and writers of The Musky Hunter Magazine.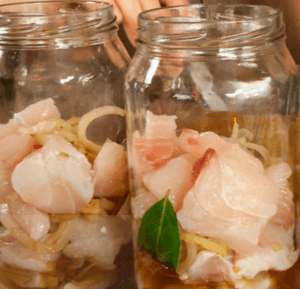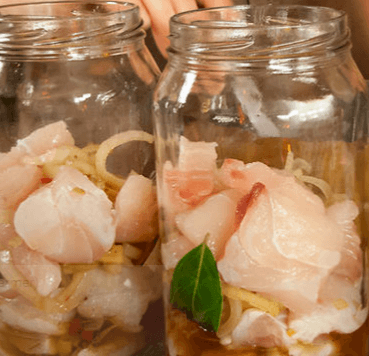 The following is an article on how to pickle fish. Pickled fish is an excellent way to preserve your fish for future consumption. And fish is a healthy snack you can eat any time. I enjoy eating pickled fish with crackers as a midnight snack.
In this article, I will show you what ingredients are involved in pickling fish and how to go about sealing the pickled fish so you can store the fish for future use.
Ingredients Used In Pickling Fish
There are Eight ingredients that go into pickling fish. Here is what you will need:
Distilled  White Vinegar

Red Wine Vinegar

White Wine – Any brand of white wine will do.

White Sugar

Pickling or Canning Salt

Peppercorn

White Onion

Fish Fillets
That's it just eight easy to find ingredients to pickle fish. You might have all these ingredients in your kitchen right now. If you don't, it will take a quick trip to the grocery store to get them. Or if you are lucky enough to live in a big city that has Amazon grocery delivery, you could do that as well.
The white wine can be substituted with blush if that's what you have on hand. And all these ingredients can be any brand you choose. By the way, the fish tastes better if you catch it yourself lol! You can use just about any kind of freshwater fish for this pickling recipe.
How To Pickle Fish – The Recipe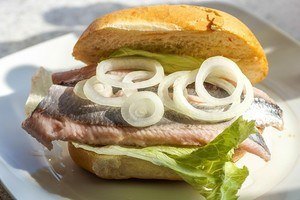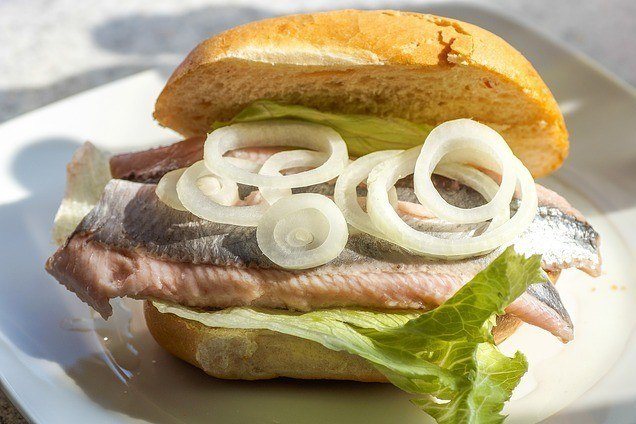 The recipe to pickling fish is very straight forward, and you don't have to have a degree in fine cuisine to do this. Here is what you need and how to go about whipping this pickled fish recipe out.
Fish Fillets –

First you want to get four to five pounds of fish fillets. Make sure that your skin and debone the fillets before proceeding.

Onion –

You will want to have a medium white onion. Slice the onion thin like you would for when slicing them up to put on a hamburger. Don't dice the onion.

Distilled Vinegar –

1 ½ Cups of Distilled White Vinegar.

Red Wine Vinegar –

 ½ Cup of Red Wine Vinegar.

Pickling Salt –

½ Cup of Pickling or Canning Salt

White Sugar –

1 Cup of White Sugar

White Wine –

¾ Cup of White Wine

Peppercorn –

2 Tablespoons of Peppercorn. You can use more if you like a stronger spiced taste to your pickled fish.
Pickled Fish Recipe Directions
First, you will want to freeze the fish fillets for about three or more days. After the fish has been frozen you will want to thaw them out in the refrigerator this helps keep the fish fillets firm.

You will want to cut the fish fillets in 2" pieces. You can cut them up smaller if you wish. The size of the fish pieces depends on what size jars you will be putting the pickled fish in.

For this recipe, we will be using five-pint sized jars. You can use smaller containers if you want smaller servings, but you will need more jars. Also if you are using smaller than pint-sized jars, you will want to cut the fish fillets smaller at about 1" pieces. Next, place the fish pieces and onions in layers in the jars.

 Now tighten the lids on the jars and put them in the refrigerator.
Preparing The Pickling Brine
While the fish pieces and onions are marinating in the refrigerator, it's time to cook the pickling brine that will go in the jars of fish and onions.
You will need a saucepan. Pour in the saucepan the wine, sugar, peppercorn, pickling salt and both kinds of vinegar.

Bring the pickling brine to a boil. Dissolve the sugar by stirring the brine mixture constantly. Once the sugar is dissolved turn the heat off and let the brine mixture cool.
How To Pickle Fish – Final Steps
Now that the pickle brine is completely cooled you will want to take the jars of fish pieces and onions out of the refrigerator. Pour the brine into each jar covering the fish pieces and onions completely.

Put the sealing lids on the jars and tighten so that the jars are completely sealed.

Once the jars are sealed, you will want to refrigerate the jars for ten to twelve days. Doing this lets the pickling brine do its magic. Believe me; it's well worth the wait!
Once the fish has had time to marinate for the ten to twelve days you can take the jars out of the refrigerator. All that's left to do is enjoy the delicious pickled fish!
The pickled fish can be stored in the refrigerator for about a month or two. Some people say you can store it longer, but I would stay on the safe side and consume it within a month or two.
Alternative Fish Cooking Method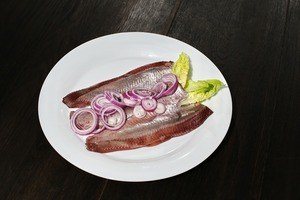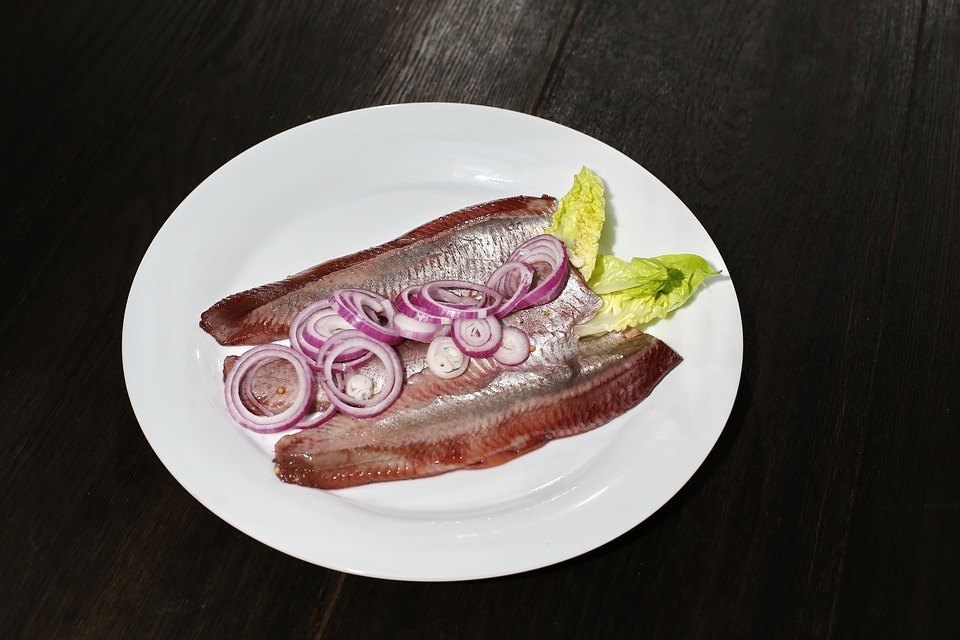 If you are worried about killing all the bacteria and larvae that the fish might have in them, you can add the fish to pickle brine cooking process and cook the fish. Doing this will ensure that you kill all the harmful bacteria. The one bacteria you will want to avoid is found in northern pike, and it's called the broad fish tapeworm or Diphyllobothrium.
Of course you don't want to be getting this tapeworm in your intestines so if you are pickling northern pike make sure to cook the fish in the pickling brine. Make sure not to overcook the fish if you can pierce it with a fork it is done. After you have cooked the fish in the brine, you put it in the canning jars with the onions and put it in the refrigerator.
Enjoy!
Now that you have the information you need on how to pickle fish you can enjoy pickled fish all year long. I enjoy my pickled fish on Ritz crackers with a little cheddar cheese. Some people like pickled fish with tomatoes or other fresh vegetables. The combinations of things you can add with your pickled fish are endless. I have heard certain wines pair well with pickled fish.
Get creative and enjoy your pickled fish with whatever suits your fancy. I hope you enjoyed this article and got some useful information on how to pickle fish. If you have any questions or comments, please leave them in the comments section below. Happy Fishing! And as always remember you can Catch Your Fish and Eat'em 2!!
Bringing Essential Kayak Fishing Gear Along On Your Next Fishing Trip Is Critical!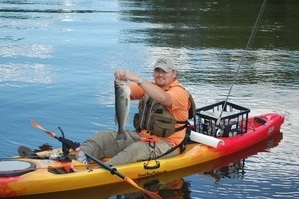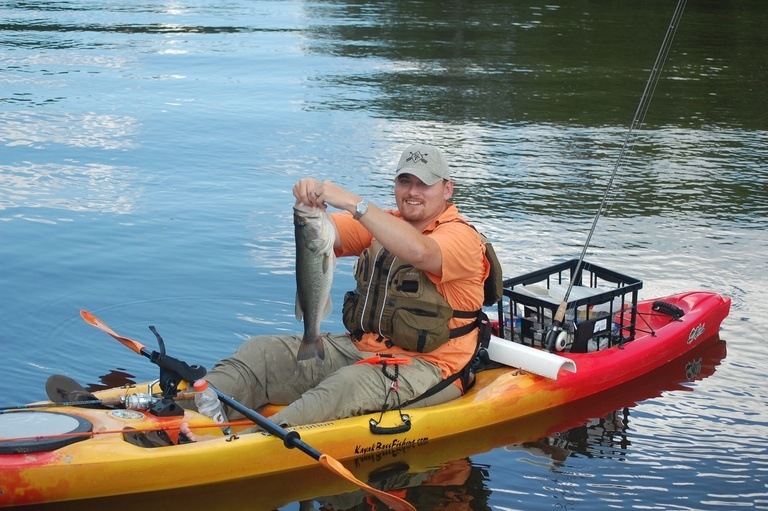 If you're getting ready to go on a kayak fishing trip, you will want to make sure you have some essential kayak fishing gear with you when you go.
It's important to be prepared if you want the fishing experience to be a successful one. If you don't have the right gear with you, it's too late once you are out on the kayak and far from any store!
In this article, I have compiled a list of some of the essential gear you will want to bring with you when you go on your kayak fishing trip. This list is not exhaustive, but it will give you a good idea of what is the essential gear you need to bring with you.
Here's Your Essential Kayak Fishing Gear List
Personal Floatation Device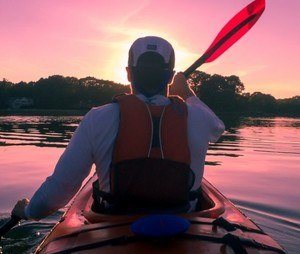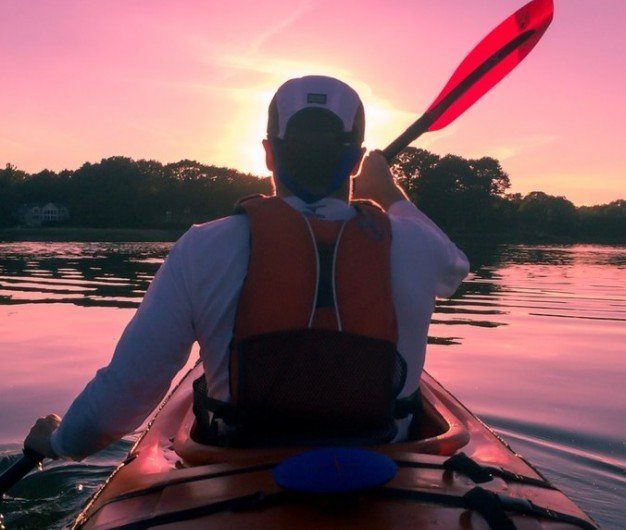 First in the gear list and probably the most important piece of gear you will need when you are out in your kayak is a personal floatation device. Get yourself a good PFD that is comfortable but safe.
Your life could depend on it, and it is the law. I know some anglers don't like wearing them saying they know how to swim well and don't need the cumbersome problems that PFD's can cause. But nowadays there are some comfortable and less cumbersome PFD's on the market.
Of all the kayak fishing gear in this list, the personal floatation device is by far the most important piece of gear you need to bring on your next kayak fishing trip!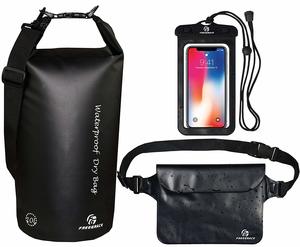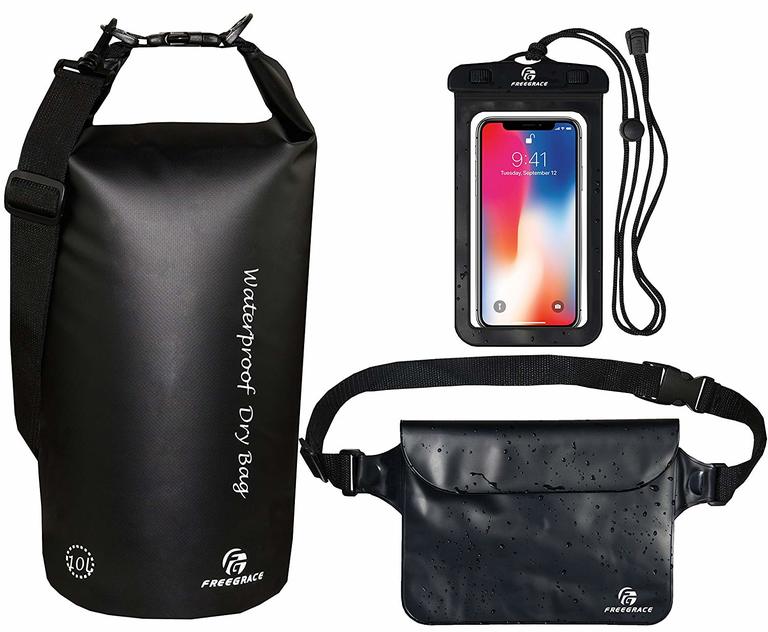 Make sure the bags that you have with you are waterproof and sealable. Because with kayak fishing you know your things are going to get wet! There's nothing worse when your kayak flips over, and you have a bag that is not sealed and waterproof. You end up losing most of your items, and if they aren't lost a lot of the time, they are damaged because of the water.
There are plenty of waterproof bags that are made specifically for your kayak. These bags hold just about anything you can think of. Make sure you have a few different size bags to carry your belongings and to keep them dry with while kayak fishing.
I know bringing a kayak paddle is an obvious piece of gear you need, but it is an essential piece of gear. Without the paddle, there is no way of maneuvering around in the water, and you could end up going in circles. You would be surprised at how many people get out on the lake, ocean or river and totally forgot their paddle. I have been there done that lol.
A net comes in very handy when you're struggling with a big fish while you are kayaking. Having a net along will save you a lot of time and hassle and could save you from flipping your kayak!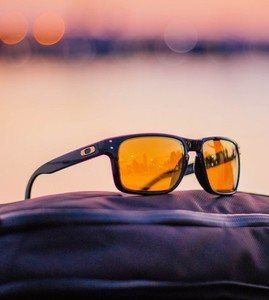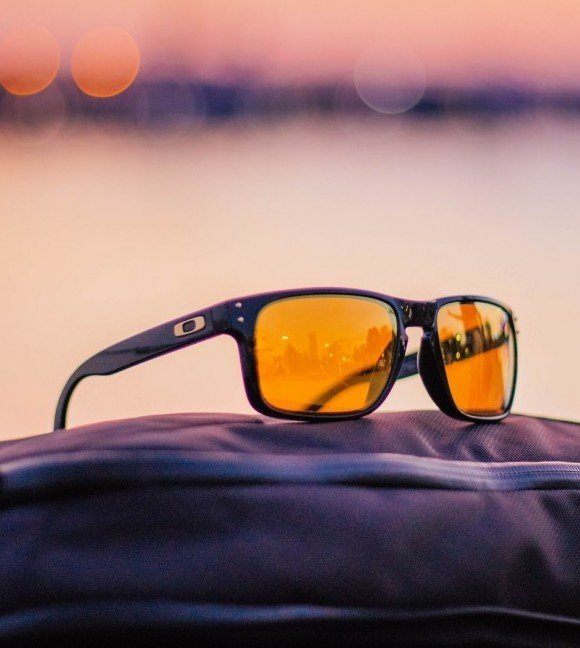 Make sure you bring along a good pair of fishing sunglasses. It's a good idea to have a strap for your sunglasses as well so that you can hang them around your neck when they are not in use.
This way you don't lose them, and they are right there when you need them. There is nothing worse when the sun is going down or coming up, and you can't see what you are fishing for. And they make you look cool as well. 🙂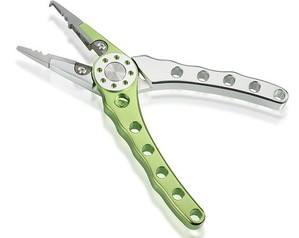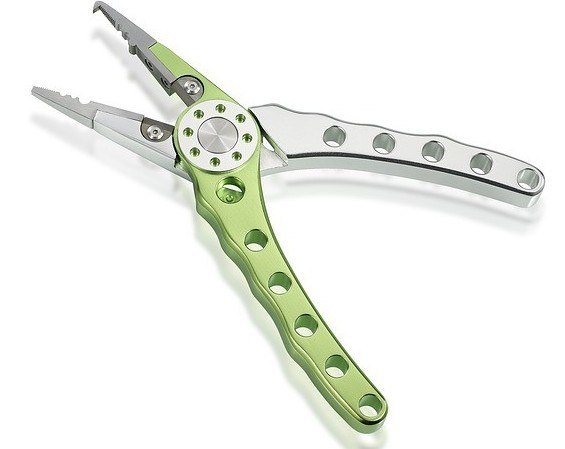 Don't go out on the water in your kayak without a good pair of pliers or some sort of multi-tool. A pair of pliers will help get the hook out of the fish and some times out of yourself.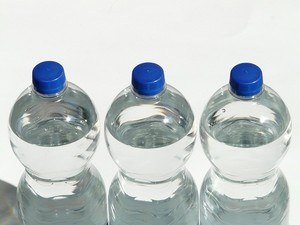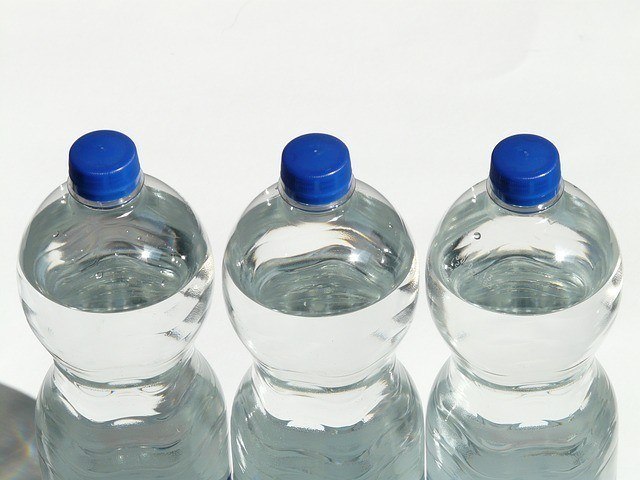 Of course, you don't want to forget bringing along enough bottled water to get you through the day. I would recommend you bring along more than you need just in case you end up stranded somewhere. It doesn't hurt to plan ahead.
Another option for having all the fresh water you need when you are out kayaking is a water filtration system. Sawyer Products makes one that fits right in the palm of your hand. This will come in handy if you don't want to tote along a bunch of bottled water.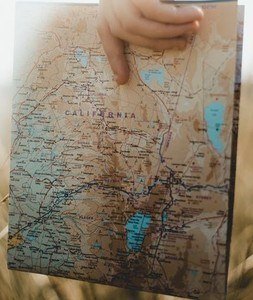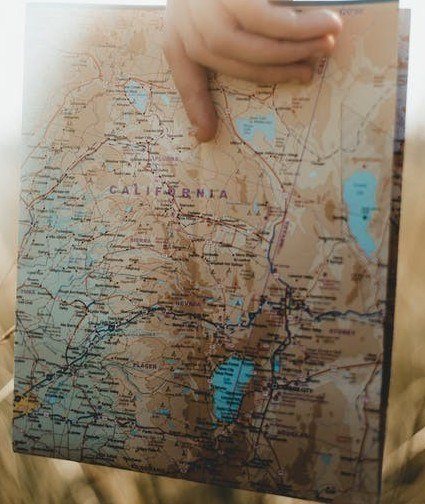 Have a map of the area you are going to be kayak fishing at. If the lake or river is big, have a map of the that as well. Make sure you tell someone where you will be at and how long you expect to be there. This is good to do just in case something unexpected happens, and someone can come looking for you if you don't make it back.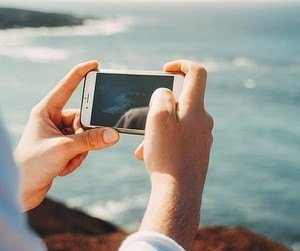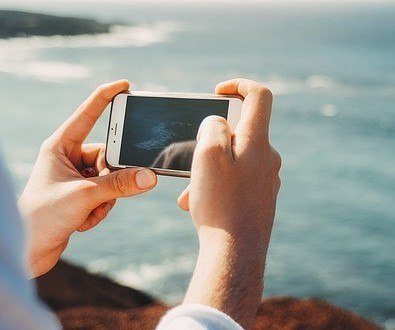 If you have a cell phone and I don't know too many people that don't bring it along on your fishing trip. I don't have to tell you how a cell phone will be important on your kayak fishing trip. Make sure you have a way of charging your cell phone as well while you are out there.
Another good idea is to have a waterproof cell phone. Or at least a waterproof case you can put your cell phone in. We all know it's just a matter of time that your cell phone is going to get wet.
Conclusion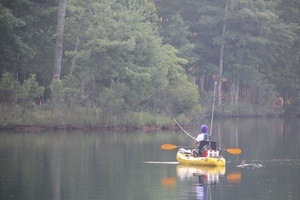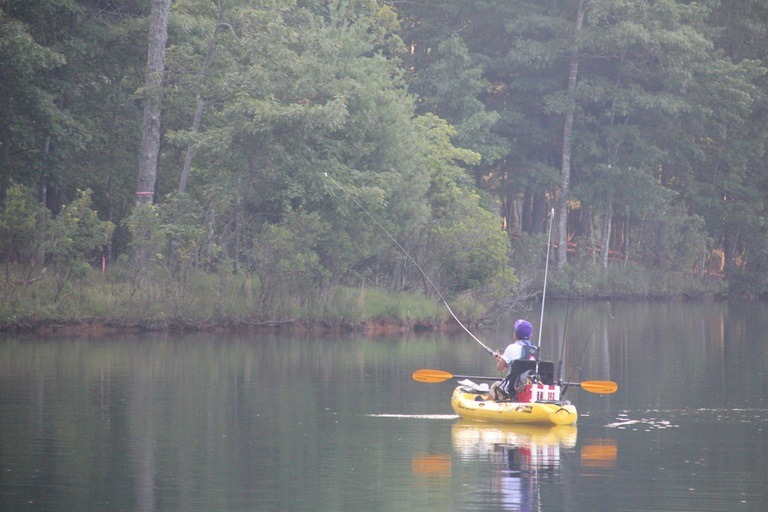 As long as you remember to bring along these essential kayak fishing gear your fishing trip should go well! To recap you will want to bring a personal floatation device or (PDF). Also, a waterproof bag that is sealable so that you can keep all your important belongings dry.
Don't forget your kayak paddle; otherwise, you will find yourself up a creek without a paddle. Pardon the pun! You will need a good net, fishing sunglasses, multi-tool or pliers, fresh water or water filtration system. Also, you will want a map, and one of the most important and useful things is your cell phone.
I hope this list of essential kayak fishing gear will help your kayak fishing trip go smoothly. If you have any questions or comments, please leave them in the comments section below. Happy Fishing!