Product: Minn Kota Talon 
Cheapest Place to Buy: Amazon.com
Product Dimensions: 57 x 8 x 6 inches ; 60.5 pounds
Guarantee: Limited Warranty
My Rating: 9.8 out of 10

If you're thinking about purchasing a shallow water anchor, then you need to check out the Minn Kota Talon Shallow Water Anchor. This anchor has it all from a user-friendly interface to offering 4 different depth versions.
In this article, I will give you thirteen reasons why the Minn Kota Talon is by far the best shallow water anchor system you can buy to date. So let us jump right into those eleven reasons.
---
Reason #1 – Electro-Mechanical Design
The first reason you want to purchase the Talon shallow water anchor is that of its electro-mechanical design. This design is quieter and more user-friendly than other shallow water anchors on the market. The Talon comes with a mounting bracket that's adjustable up and down so that it fits any transom. It also has 30 degrees of pivot and easy removal.
Reason #2 – Vertical Deployment
With the Talons vertical deployment the anchors stay out of your way when you are rummaging around on the boat trying to hook that trophy fish.
The Talons go straight down so you won't get your lines tangled in them. Having the light is great at night when it's hard to see when the fish swims to the stern of your boat.
Reason #3 – Five Ways to Control
You have six different ways you can control the anchors.
Footswitch

Wireless Remote

i-Pilot or iPilot Link Remote

Minn Kota Smartphone App

Directly from Your Hummingbird Unit

Directly on the Talon Control Panel Itself
Reason #4 – Sleek New Design with Many Color Choices
The new design has a sleek and sexy look to it. And it's more arrow dynamic than the competition anchors. The Minn Kota Talon also come in a variety of color choices to match your boat. The colors are:
Black/Black

Blue/Black

Red/Black

Silver/Black

Silver/White

White/White
If you can't match your boat color with them, I don't know what to tell you. I guess you will have to get some spray paint and do your own paint job on them. 🙂
Reason #5 – Led Depth Indicator
The Minn Kota Talon shallow water anchor has a led depth indicator to tell you how deep the water is at any given time. The indicator comes in handy if you don't have a fish finder onboard. Check the depth of the water on the talon's control panel and fish accordingly.
A depth indicator is an option, not all shallow water anchors have on them. But the Talon provides it and much much more.
Reason #6 – Deployment Notification System
A deployment notification system sounds an alarm if you try to take off with the talons deployed in the water. I don't know how many times I have forgotten to take up the anchor before I have taken off. All I can say is that it is not good for the boat or the anchor!
Reason #7 – Launching Is Easy As Pie
Easily launch your boat. Just back your boat and trailer into the water. Launch the boat off of the trailer and press the remote button to deploy the talons. Then park your truck. This keeps the boat from floating all over the place and drifting out to sea before you are ready to get in and go.
Hop into the boat press the remote button to bring the talons up and your off and fishing! There's nothing to it. This saves a ton of time at the boating dock so that you will have more time out on the water fishing.
Reason #8 – Built-in Work Lights
There are work lights built right into the anchors. Light up the boat transom with the blue and white work lights. Each of the lights has three brightness intensity settings to help light up whatever you are doing on the boat.
The light is perfect for nighttime fishing or if you have to tie knots in your line when it is a dark day. You can never have enough lights on your boat. The lights also help so that other boaters can see you at night on the lake.
Reason #9 – Push Button Selections
The push-button selectable anchoring modes let you adjust your anchoring positions for any weather conditions. The separate anchoring modes are:
Soft Bottom – If it's muddy or silty

Standard – For normal anchoring

Rough Water – For heavy winds and choppy water conditions
Reason #10 – Lower Profile
A lower profile allows you to fit into more places like your garage or under low bridge decks.
Reason #11 – Foot Tap Stowing
With the Minn Kota Talon shallow water anchor, you have easy stowaway of the anchor system with a tap of the foot.
Reason #12 – Four Different Talon Lengths
Last but not least. The Talon anchor system has four different lengths for a variety of depths to choose from.
8 Foot

10 Foot

12 Foot

15 Foot
The fifteen-foot version is 50% deeper than the deepest anchor of any shallow water anchors on the market today. The anchor talons are indestructible. They have a strong and flexible anchor spike that carries a lifetime guarantee. The talons are also engineered to resist the effects of saltwater corrosion.
Reason #13 – Wave Absorption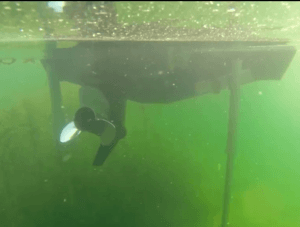 Your boat stays anchored down even in rough weather with the built-in floating suspension. The anchor won't be affected when the boat is rocking back and forth and up and down. Nothing worse than having your anchor rip out of it's holding on the bottom when you are trying to fish your perfect fishing location!
You will really appreciate the wave absorption that these anchors offer especially on a windy day when the water can get rather choppy!
---
Anchor's Away
So there you have it thirteen reasons you should get yourself the Minn Kota Talon shallow water anchor. With it's
Electro-Mechanical Design

Vertical Deployment

Six Ways to Control

Sleek new design and many color choices

Led Depth Indicator – Wave Absorption – Deployment Notification System

Ease of Launching

Built-in Work Lights

Push Button Selections

Lower Profile

Four Different Talon Lengths
You can't go wrong and deciding to pick up the best shallow water anchor system that has been made so far. I recommend Minn Kota as a stable and trustworthy company that stands behind their products, and they have awesome customer service.
Go out and get yourself the Minn Kota Talon shallow water anchor for your boat. You and your fellow anglers will thank you for it.
If you have any questions or comments feel free to leave them in the comments section below. Thank you for reading and Happy Fishing!