Product: KastKing Speed Demon Pro Baitcasting Reel
Cheapest Place To Buy: Amazon.com
Shipping Weight: 13.9 Ounces
Warranty: 1-year
My Rating: 9.7 out of 10
Today I'm doing a review on the KastKing Speed Demon Pro reel.
This baitcasting reel has it all and at the right price to boot!
The Speed Demon is one of the fastest baitcasting reels with a 9.3:1 gear ratio.
Hard to find this type of gear ratio for this price on the market today.
With its steel ball bearings, golf-like grips, and a magnetic brake this reel is great for freshwater and or saltwater fishing at a price that won't put a hole in your budget.
Let's take a look at some of the features that you get with the  Speed Demon Pro baitcasting reel.
Loaded With Upgraded Features
9.3:1 Gear Ratio
6 Ounce
Carbon Body
Double Shielded Stainless Steel Ball Bearings
Triple Carbon Disc Drag
Trilateral Magnetic Brake System
Split Main Shaft
CNC Aluminum Spool
Left Or Right Casting
---
The Lightweight Carbon Body
The new KastKing Speed Demon Pro has a lightweight body, only 6.5 ounces, and is made of carbon fiber. Although the frame is light, the carbon fiber allows for a durable, sturdy product. The side plates, handle, and star drag are all designed to lower the weight of the frame and the comfortability of use that lasts for hours. The design of the structure helps it to perform well for both saltwater and freshwater fishing.
The spool on the Speed Demon Pro is made out of a beautiful-looking aluminum that is perfectly machined. The anodized aluminum helps with keeping the spool rust-free for a smoother cast.
---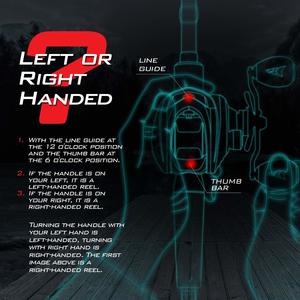 High Speed
The fast speed of the KastKing Speed Demon Pro is impressive because of its 9.3:1 gear ratio. The gears are made of Manganese Brass that is cut using a Japanese Hamai machine for a quicker line pick up and recovery.
The faster you can bait cast, the more opportunity you have to catch that trophy fish you have been trying to find for years. It's not called Speed Demon Pro because it's slow.
---
Comfy Handles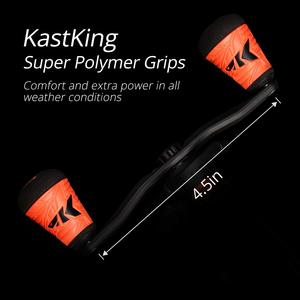 The handle grips on this reel are so comfortable you won't believe it. The awesome feeling of the gulf style grips enhances the overall feel of the Speed Demon Pro. These grips are a cool-looking reddish-orange color and comfortable enough to cast all day long and into the night if you're a night angler.
The Kastking Speed Demon reel has a left-hand or a right-handed that are interchangeable. If you're right-handed, then you want to buy the right-handed reel, and if you are left-handed, then you want to purchase the left-handed reel.
---
Excellent Brake System
The Speed Demon reel comes with a trilateral magnetic brake system. And has a total of 9 magnets that are adjustable for whatever condition you find yourself in or whatever bait you're using at the time. The braking system eliminates backlashes and overruns when aligned properly. The settings will not change until you change lures and adjust the level of braking that is put to the spool.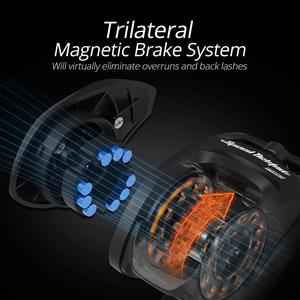 Make sure to read the owner's manual about the adjustment of the braking system. Because if you don't adjust the brake right for the type of bait you have on you are going to run into backlash problems. But if you know how to make the proper adjustments on the braking system, you will have no problems.
---
Stainless Steel Ball Bearings And Disc Drag
The KastKing Speed Demon Pro comes with 13 stainless steel ball bearings. These are double shielded delivering smooth retrieves and easy casting. Even at accelerated speeds, they are quiet and smooth. The state-of-the-art triple carbon disc drag offers 13.2 pounds of drag for the most powerful of fish.
Now I don't know about you, but the ball bearing system is one of the first things I look for when buying a fishing reel. If the ball bearing system sucks then your casting and retrieving of fish is going to suffer. You don't want a reel that has a bad ball-bearing system.
---
Split Main Shaft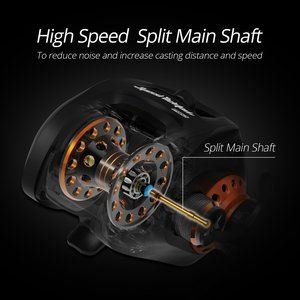 The main shaft is split allowing for faster speed. The split shaft also lets you cast farther with reduced noise and holds the spool lightly in its grips.
This is an upgrade from the solid main shafts which are heavier which makes it harder to cast long distances. The solid shaft design is much louder as well so as not to spook the fish when you are casting.
---
Pros
Lightweight at only 6.5 ounces
Triple Carbon Disc Drag helps bring in the biggest of fish
Split Main Shaft for a smooth long distant cast
Double Shielded Stainless Steel Ball Bearings for a steady retrieve.
CNC Machined Aluminum Spool
Fast Casting Speed
Golf Like Grips
Cons
Backlash if you don't adjust the brake system properly
A small learning curve on the brake adjustment
---
Kastking Speed Demon Pro Spinning Reel
---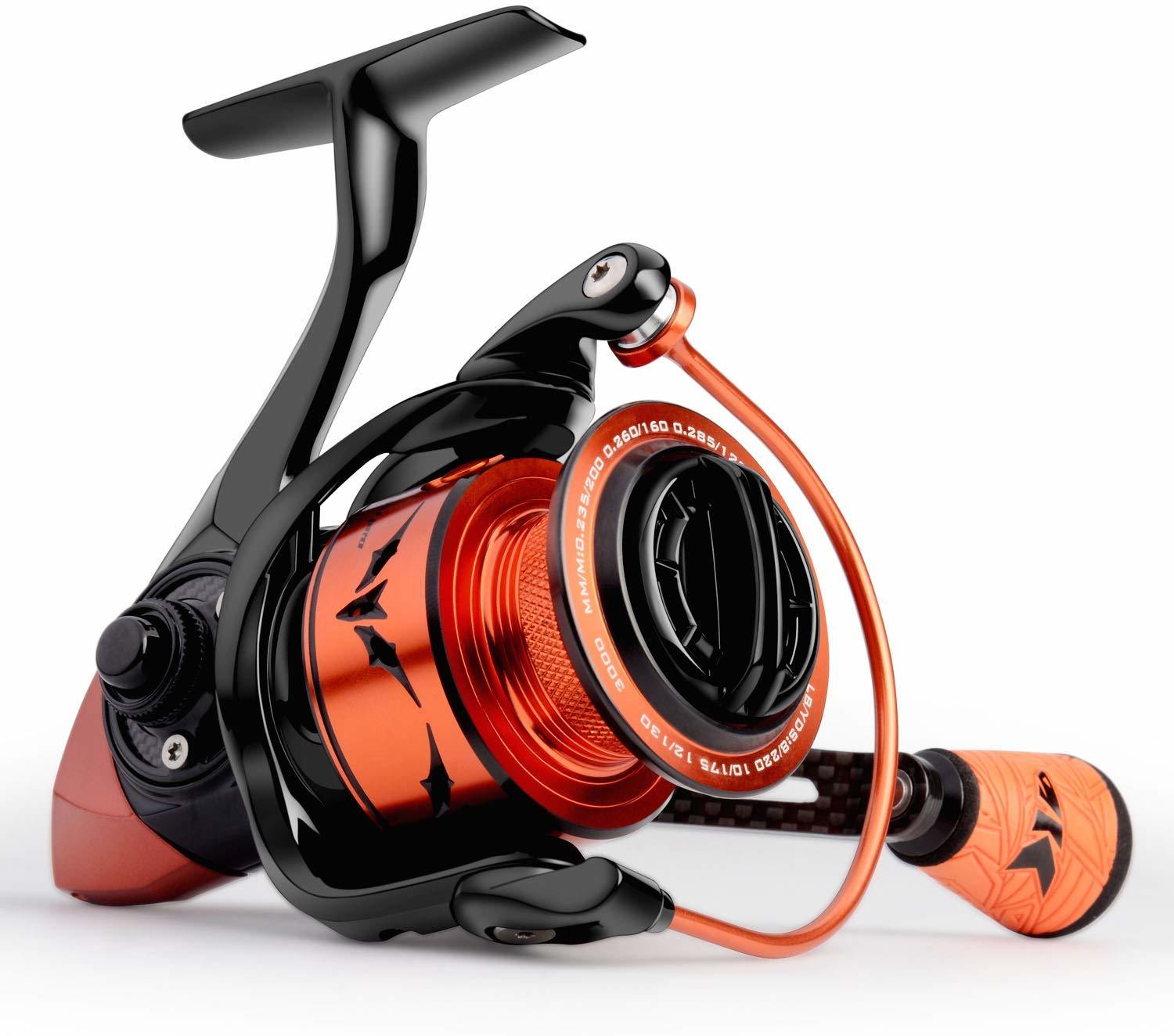 Product: KastKing Speed Demon Pro Spinning Reel
Cheapest Place To Buy: Amazon.com
Shipping Weight: 1.09 Pounds
Warranty: 1-year Warranty
My Rating: 9.5 out of 10
Besides having one of the best baitcasting reels Kastking also has a Speed Demon Pro spinning reel. Touted as the world's fastest 7.2:1 gear ratio will help you catch more fish because you will be retrieving catches fast than before!
The price is right for this reel costing you under $100. Kastking makes available quality fishing products at affordable prices and this spinning reel is no less.
Top Features:
11 Double Shielded Stainless Steel Ball Bearings
Aluminum Frame
Super polymer Grips
Carbon Fiber Handle
25lbs Drag
Kastking Speed Demon Rods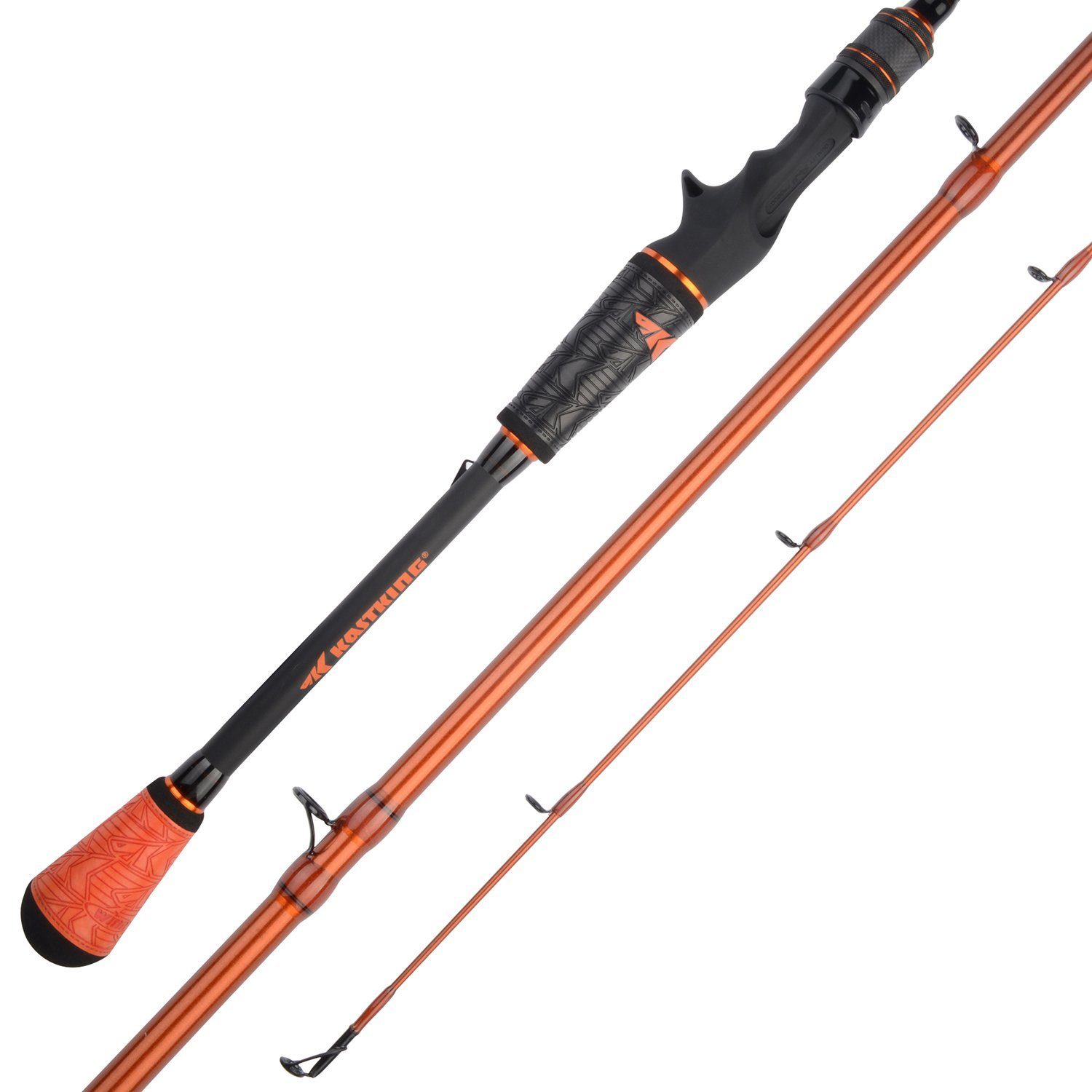 KastKing also makes speed demon rods in various designs and applications. So if you are looking for a speed demon reel you might want to consider pairing it with one of the speed demon rods. For example, if you're looking for a good bass fishing rod then the Speed Demon Bass Series fishing rod you might want to consider.
Included in the bass series rods are:
Fuji Guides, REEL seats, and WINN grips
Elite Carbon Blanks and NANO Resin Technology
Lightweight Composite S-Class Crankbait Rods
15 Technique Specific Actions and Lengths
True Tournament Performance Rod
KastKing makes some of the best rods and reels that you can find. Set yourself up for a successful bass fishing experience with a Kastking speed demon rod and reel combo set. As for affordable price and a quality fishing rod nothing beats a Kastking fishing rod. Nothing!
Where Is Kastking Made?
Kastking products are becoming a popular brand amongst anglers as of late. One reason for the popularity of Kastking is because they make high-end fishing products but at an affordable price. The question has been asked many times in forums around the internet "where is Kastking made?" and "who makes Kastking?". So I decided to answer this question within this review.
Kastking is made by a company named Eposeidon. This company was started in 2011 by a few college buddies from Syracuse, New York. Their goal was to make fishing affordable and fun. That goal was achieved with the formation of the company Eposeidon and Kastking was born. So I'm happy to say that Kastking is made in the good old USA!
In Conclusion
I recommend you pick one of these KastKing Speed Demon Pro reels up. I love the look of this reel, and all the upgraded features that have been added are terrific. The price is affordable at only $20 more than the previous version but keeping it under $100. Works great for fishing freshwater and saltwater.
I would recommend learning a little about baitcasting before you go out and use it. Baitcasting reels can be entirely different than spinning reels. I also like the split main shaft that they added to this reel provides for a better casting experience compared to the old version of the Speed Demon.
Which Kastking Speed Demon is Right for You?
If you are looking for an affordable fishing rod or reel then the Kastking Speed Demon Pro series are the products you are looking for. Here is what Kastking has to offer.
Baitcasting reel – a baitcasting reel that is made of a lightweight carbon body at under 7 oz. It has double-shielded stainless steel ball bearings to ensure the smoothest casting and retrieving. You get an excellent brake system and a split main shaft. The handles are ergonomically comfortable which is important to have on a reel when you are out on the lake for a full day of fishing. Talk about speed. You get a 9.3:1 gear ratio from the brass that the gears are made of making this baitcasting reel live up to its name as a speed demon!
Spinning reel – You can choose the spinning reel which is one of the fastest spinning reels around because of the 7.2:1 gear ratio. With the 11 stainless steel ball-bearing that are in this reel, you have the smoothest of smooth retrieves. You get 25-lbs of drag on this spinning reel. You will enjoy the lightweight body that is made of aluminum. This is an all-around well built affordably priced spinning reel.
Speed Demon Rod – With Kastkings rods you get a rod that is made out of elite carbon with NANO resin technology. It's a true tournament performance rod which is a composite S-class crankbait rod. You get Fuji guides, reel seats, and WINN grips for comfort. You can also choose from 15 technique-specific actions and lengths. It's one of the best pro rods that you find for such a low price but quality built on the market today.
When you pair Kastking reels with the Speed Demon Pro rods you get an unstoppable fishing combo system that any professional angler would be proud of! So if the pros would use Kastking then why not you?
You can purchase all of Kastkings Speed Demon products right on Amazon where you get free shipping if you are a Prime member. Check them out today!
KastKing is an exceptional company with a load of great products. It's kind of a no-brainer to pick up this reel for your next fishing outing. I know you will love it.
If you have any questions or comments feel free to leave them below. Thanks for reading and Happy Fishing!