Spring Crappie Fishing Techniques That Work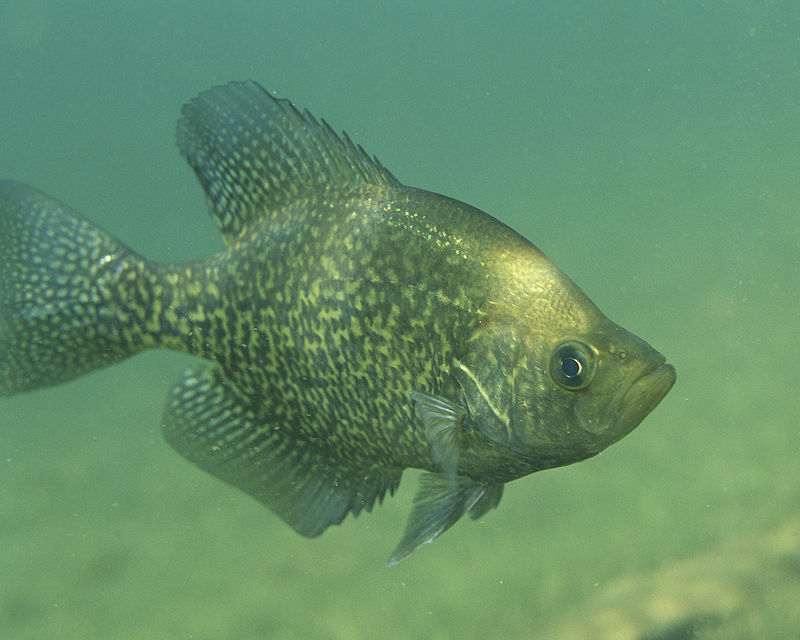 These spring crappie fishing techniques will help you catch more crappie during this crucial time of the year for crappie fishing. The ice is getting off of the lakes, and the crappies will be starting to move to shallow water soon.
The areas that the crappies will be migrating to will be not only shallow areas but the areas with a lot of sediment and algae which you will find in the northern bay areas. Crappies migrate to these areas because this type of water warms faster than any other area of the lake. They will also be spawning soon, so they are going to these parts of the lake for that reason as well.
Another reason crappies go shallow is they are hungry from not eating much during the winter season. They are going after the big meals now which is bait fish like minnows. So mostly its a big feeding frenzy for crappies during early spring.
Cast The Shore in a Kayak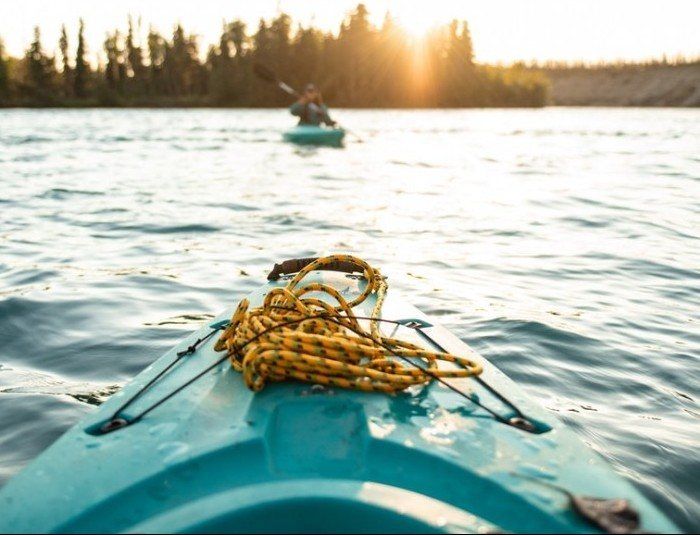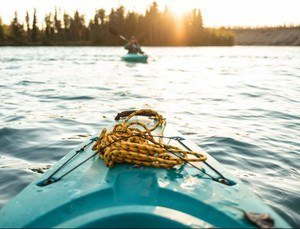 An excellent way to find where those crappies are is if you have a kayak take it out on the lake and navigate the shoreline areas. Take your kayak into the bays and find downed trees and weeded areas. Go along these areas and cast using a beetle spin lure. Beetle spins are a fast and easy bait to use when you are looking for the areas that the spring crappies will be.
The use of the kayak makes it easy to get into these challenging areas that you would have a harder time fishing from shore. Once you find where the crappies are at you can switch to a jig and slip bobber or a hook minnow and slip bobber, whatever your preferred method of crappie fishing might be.
Jigs, Floats, & Bobbers
Get yourself some 1/32 to ⅛ Oz jigs and use floats or bobbers with them to suspend your lure over the crappies so that they can see the bait dangling there. A lot of the time the crappies that aren't active will see your jig sitting there for a while and will decide that it would be an easy target to go after.
You will want to play around with the color of the jig heads. Make sure that the jigs mimic minnows and bugs because that is what crappies are feeding on in the spring, summer and autumn months as well.
Pre-spawn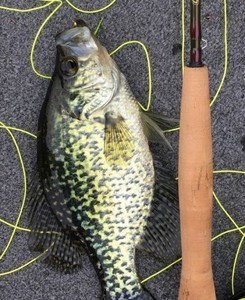 During the pre-spawn early spring, you will find crappies in the shallow weedy areas of the lake where they get the most oxygen. Pre-spawn crappie will be looking for some big meals to give them the energy they will need for when spawning time comes which isn't far off in most cases.
Crappies will be in large schools this time of year. Early spring is one of the best times of year to catch an abundance of crappie once you locate these schools of fish. You won't be able to pull the crappies in fast enough!
If you have a fish finder, it's a good idea to put that to use. It will go along way in helping you find these large schools of crappies and at what depth they are hanging around. Because if you find the schools of fish but don't know how deep they are, you might be presenting your bait wrong to them and not catch anything. You want your bait to be suspended above them so that they see it and then devour it.
Minnows with a slip bobber or a float are good choices of live bait to use during the pre-spawn. Small sized jigs that are 1/32 to 1/64 Oz, and look like insects are a good choice this time of year for artificial lures.
Spawn Time
When the water temperature starts to warm up around 60 to 70 degrees, Fahrenheit crappies will start their spawn time. The spawning time for crappie can last from two weeks to six weeks depending on the size of the lake. If the water is clear crappies will make their nests in water that is 3 to 6 feet deep. Muddy water you will find crappies spawning in waters that are 2 feet deep.
The more protection from wind and lots of vegetation is where you will find spawning crappies. The best types of lures to use during the spawn time is spinning baits and small micro jigs using 4-pound test. Using this combination of line and bait will ensure that the baits move down slowly in the water enticing the crappies to strike if you're looking for the bigger sized crappies you will want to use a ⅛ oz jig and 6 to 8-pound test line.
Cast your jig into reedy areas and slowly reel them back in making sure your rod tip is kept high. You will want to use light colored jigs like yellow and pink during the crappie spawn for optimal effectiveness. Pairing these light colored jigs with tubes or plastic curly tails of the same colors help capture crappies during the spawn as well.
Post Spawn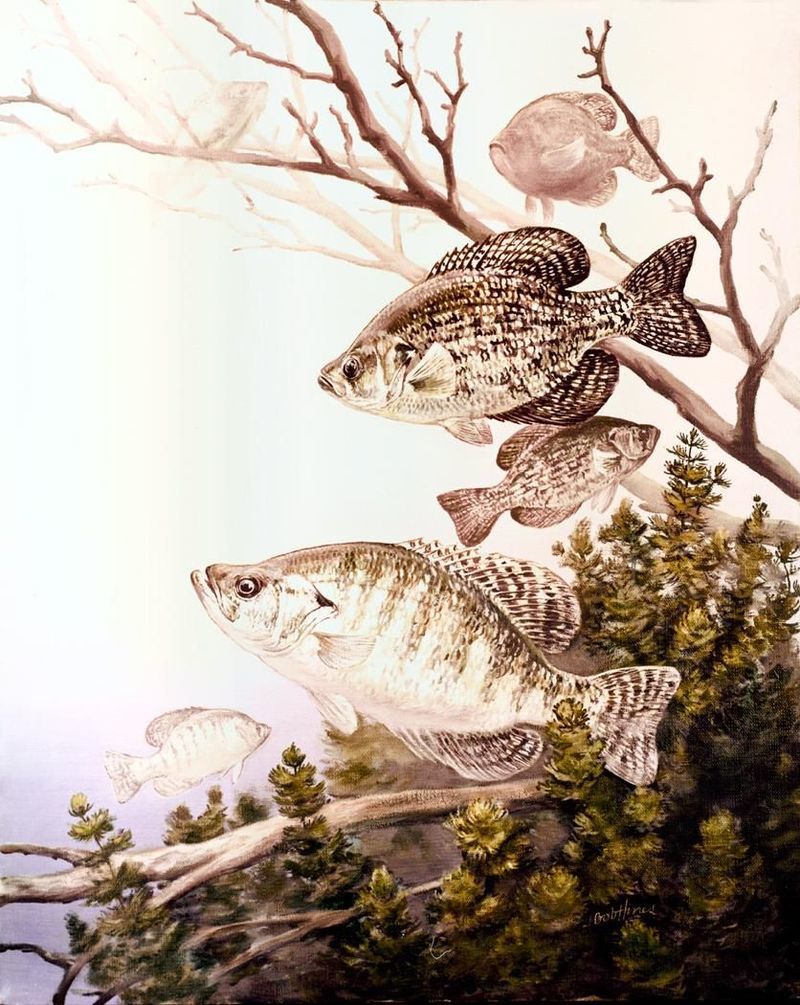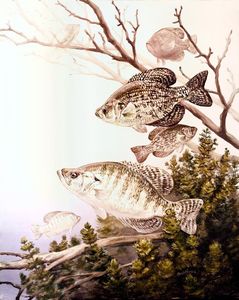 After crappies have spawned, it becomes more difficult to find and catch these fish. They become elusive, and most anglers don't both fishing for them until the fall. But you can still catch some nice crappies during this time of the year.
Crappies will head back to the deeper water where they were before the spawn. They like it there because of the familiarity and safety that the deeper water provides. You will find them around deeply sunken trees and logs, rock piles and creek channels with drop-offs and ledges.
Fishfinders especially the ones with side-scan can come in handy after the spawn when looking for crappie. You will want to focus your attention on catching the males of the species during the post spawn. When you find where those elusive crappies are hiding, you have to almost hand feed them the bait. Get it right in front of their mouths. This is because after spawning the fish are tired from the spawn and they don't move very far.
During the post spawn, you will want to try various rigs and depths to get these crappies to eat. Get a few rods rigged up with multiple jigs. Grab some live minnows and start experiment with different depths until you find the right combination. It's finding that combination of baits and depth that's the hardest part when fishing crappie post spawn. But once you find the areas and the right combination you can fill your freezer up with crappie!
Spring Crappie Fishing Techniques Conclusion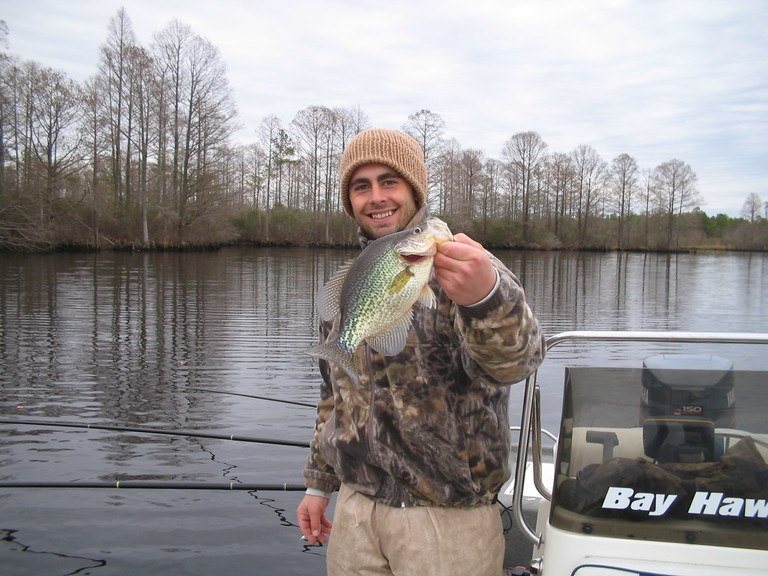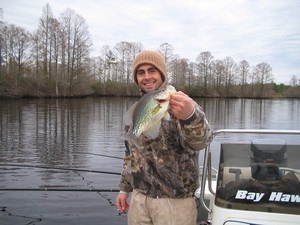 During the spring is the best time of year to be fishing for crappies. And if you use some of the techniques in this article and fish the right areas of the lake you will find and more than likely catch an abundance of crappie. During the pre-spawn is probably the best time of spring to be catching these fish. They will be headed to their spawning areas as soon as the water temperatures warm which is about 50 to 55 degrees Fahrenheit and the ice starts leaving the lakes. Crappies will be found in big schools during the pre-spawn as well.
At spawning time you will find crappies in water depths that range from 2 to 6 feet deep. This will depend on how clear or muddy the water is. The murkier the water is, the shallower the fish will be. Spinning baits and micro jigs work well during the spawn. The water temperature will be 60 to 70 degrees Fahrenheit at this time.
Post Spawn Can Be Challenging
If your fishing post spawn, you will have a harder time finding the crappies and getting them to eat. So trying various rigs and depths will be vital in catching crappies during the post-spawn time. But once you find the right combination, you can catch crappie all day long! Consider post spawn crappie fishing a challenge! When you start to bring them in you will be one accomplished and happy angler.
I hope this article on spring crappie fishing techniques helps you catch more crappies. If you have any questions or comments about crappie fishing feel free to leave them in the comments section below. You can also send me your questions through the contact form on this website. You will find it in the menu section at the top of the page. I wish you much success in your fishing adventures and Happy Fishing!
The Crappie Fishing Handbook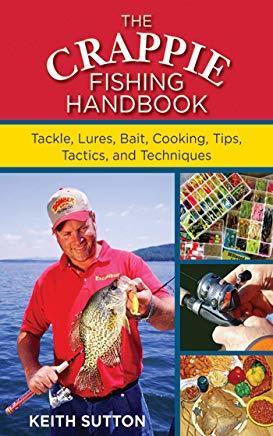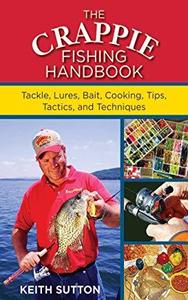 If you would like to know more spring crappie fishing techniques, tackle, lures and tactics grab yourself a copy of The Crappie Fishing Handbook. You can find this useful book on Amazon and can be purchased digitally through Kindle or in paperback form.
Product: Tenkara USA Iwana 12' Carbon Fiber Fly Rod & Level Line Outfitter
Price: $193.95
Available at: Amazon.com
Product Dimensions: 6" x 6"x 36"
Product Weight: 2-lbs
Guarantee: Lifetime Warranty
My Rating: 9.3 Out of 10


Interested in learning about the Tenkara USA Iwana fly rod? Well, you have come to the right place! I have done a full review on this product, and all I have to say is if you are into Tenkara fly fishing you will want to take a close look at the Iwana fly rod. They build this rod out of carbon fiber which makes it strong and sturdy. But at the same time, it is lightweight and compact the way a true Tenkara fly rod should be.
It is 12' long which is the perfect size for any stream or river that you will be fishing. The Iwana fly rod comes with an outfitter kit of 3.5 orange level line, three-pack of Ishigaki flies and line holder. Everything you need to get out there and start Tenkara fly fishing! A simple straight forward no reel Tenkara fly rod. What more could you ask for?
Breakdown of Everything Included In This Package:
Tenkara USA Iwana Fly Rod
The fly rod is the most important part of this product package. Tenkara USA brought the sport of Tenkara fly fishing to the western world around 2006. From there this Japanese form of fly fishing caught on. It has become very popular especially in America.
The Iwana fly rod is 12' long and 6:4 action ratio which makes very precise. It's perfect to fly fish any size stream or river that you find yourself at. The fly rod is made out of carbon fiber which makes it strong yet light and compact.
Ishigaki Kebari Flies
Along with the fly rod, you get a pack of 3 sizes 12 Ishigaki Kebari flies with this outfitter. These are the perfect flies for Tenkara fly fishing.
Level Line
65 feet of orange Tenkara level line comes with this outfitter. Very little memory, easy to see and strong enough for casting.
Line Holder
The Tenkara line holder lets you easily wind your line when you are done. The foam insert allows for drying of the line when it's wound up. The flies are held in cut-out areas.
Pros
Perfect size for any stream or river

Made of Carbon Fiber for durability

Lightweight

Precise

High Quality
Cons
Is The Tenkara USA Iwana Fly Rod For You?
If you're looking for a Tenkara fly fishing rod that is lightweight, just the right length for fishing any stream and durable then you will want to give the Iwana fly rod a try. And the fly rod is made of carbon fiber which makes it durable. It's a very precise fly rod that will get that fly right to the spot you want it to be.
The Iwana fly rod comes with 3 Ishigaki Kebari flies, Tenkara level line, and Tenkara line holder. This fly rod is made from the company that introduced the western world to Tenkara fly fishing. This is a high quality, easy to use and simple as it gets Tenkara fly rod.
I recommend the Tenkara USA Iwana fly rod for anyone getting started in the sport of Tenkara fly fishing. I hope you have enough information from this review to make an informed decision on whether or not to purchase the Tenkara USA Iwana fly rod.
If you have any questions or comments, please leave them in the comments section below. As always Happy Fishing!
Product: Tenkara USA - Sato Fly Rod & Accessories Kit
Price: $269.95
Available at: Amazon.com
Product Dimensions: 32" x 6" x 6"
Product Weight: 4-lbs
Guarantee: Lifetime Warranty
My Rating: 9.6 Out of 10


Tenkara Rod Review
Today I'm doing a Tenkara rod review on the Tenkara USA Sato fly rod and accessories kit. If you haven't heard of Tenkara fly fishing, I have written an article called "What is Tenkara Fly Fishing?"; that explains all about this Japanese form of fly fishing. That article will get you up to speed on this style of fly fishing.
The Sato fly rod is named after Ernest Satow who was a diplomate, Japanologist, and British Scholar. He was the first person to write about Tenkara! The Sato fly rods are the most versatile of the Tenkara fly fishing rods.
A Sato fly rod is a compact Tenkara fly fishing rod that you can put in your backpack. They are very lightweight at only four pounds. When you are fly fishing and hiking through the wooded areas that are around the streams and rivers that you will be fishing this compactness and lightweight is very important. You don't want to be dragging a heavy one piece fly rod with you in this terrain.
The Tenkara USA Sato Fly Rod Has 3 Different Lengths To Fish By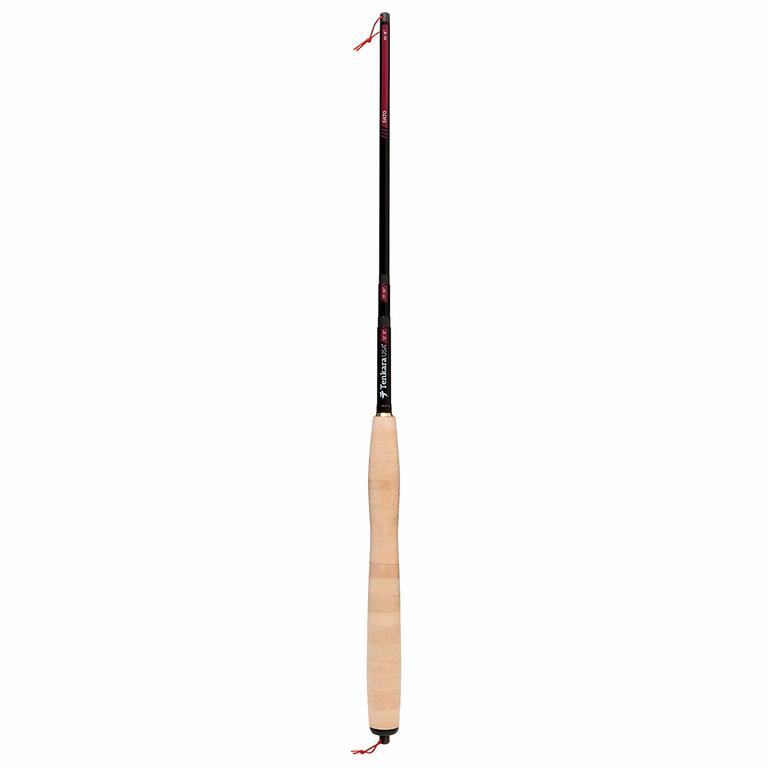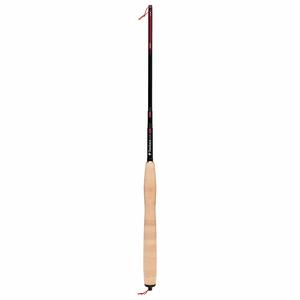 The Sato Fly Rod is very versatile as well with three different lengths you can fish at depending on what type of stream, river, and terrain you are fly fishing at. You can fish wider streams and rivers when the Sato fly rod is at its full length, and if the stream is more closed in and the banks are closer together, the shorter length will work best.
Two Patent Pending Features
There are two patent-pending features that the Sato fly rod from Tenkara USA has on it. The first feature is called the Triple-Zoom feature which is the three different lengths that I explained earlier. The shortest length is 10'8", the middle length is 11'10," and the longest length that the Sato fly rod can extend to is 12'9". So suffice it to say this fly rod can be used in just about any fly fishing situation you find yourself in.
The second patent pending feature on the Sato fly rod is called Keep your Plug system. It's a common occurrence to lose the plug to your telescopic fly rod. So Tenkara USA came up with a simple system so that you can avoid this from happening to you. They put a hole at the bottom end of the Sato fly rod so that you can stick the plugin while you are fishing. All you have to do is take the plug out of the tip when you are ready to use the Sato rod and stick in the hole at the bottom of your rod.
And when you are done fishing and ready to collapse your rod at the end of the day put the rod plug back on the tip. This is a simple fix for losing your rod plug but very useful as long as you remember to put the plug in the spot at the end of your Sato fly rod. The Sato fly rod also comes with two plugs so if you lose one you will have the other plug as a backup.
What Comes In The Sato Fly Rod & Accessories Kit?
Tenkara USA Sato Fly Rod

Level Line

Line Keeper

Universal Rod Cap

Ishigaki Kebari Flies

AvidMax Clip-on Retractor with Nippers

AvidMax 5" Forceps

RIO Powerflex Plus Leaders
Sato Fly Rod
This fly fishing rod from Tenkara USA is lightweight, compact and has three adjustable lengths to make fishing in any stream or river as easy as can be. The Sato fly rod comes with two-rod plugs. As they say, two is better than one especially with fly fishing rod plugs which are easy to lose and another feature the Sato fly rod holds is a spot on the handle end of the rod where you can stick the rod plug when you are fishing.
Level Line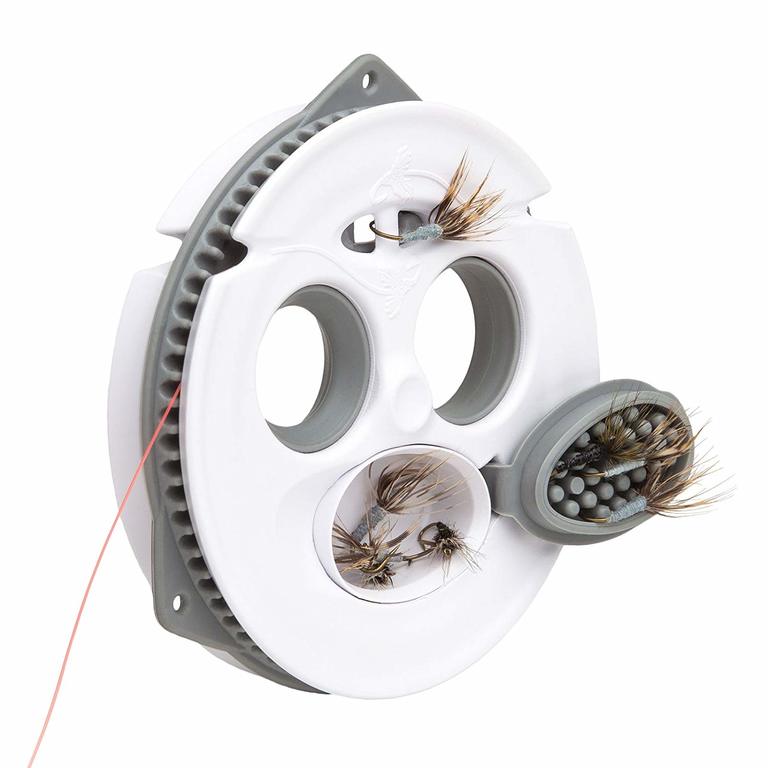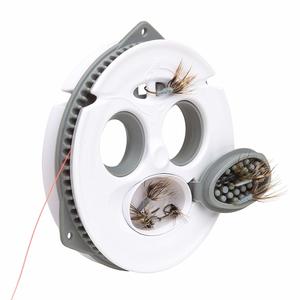 This is a type of Tenkara fishing line. Level lines are lighter than your regular fly fishing line and easier to see because of the brighter colors. This kind of fishing line is also easier to adjust the lengths with the telescopic Tenkara rods.
Line Keeper
Tenkara line keepers hold Tenkara line and tippet or two Tenkara lines. It also holds a rod 
plug and up to 12 Tenkara flies. There are two walls that catch the line as you wind. This helps from keeping your fly fishing line from getting all tangled up while you wind it.
Universal Rod Cap 
Allows the line to remain attached to the Sato fly rod and also helps protect the end of the handle.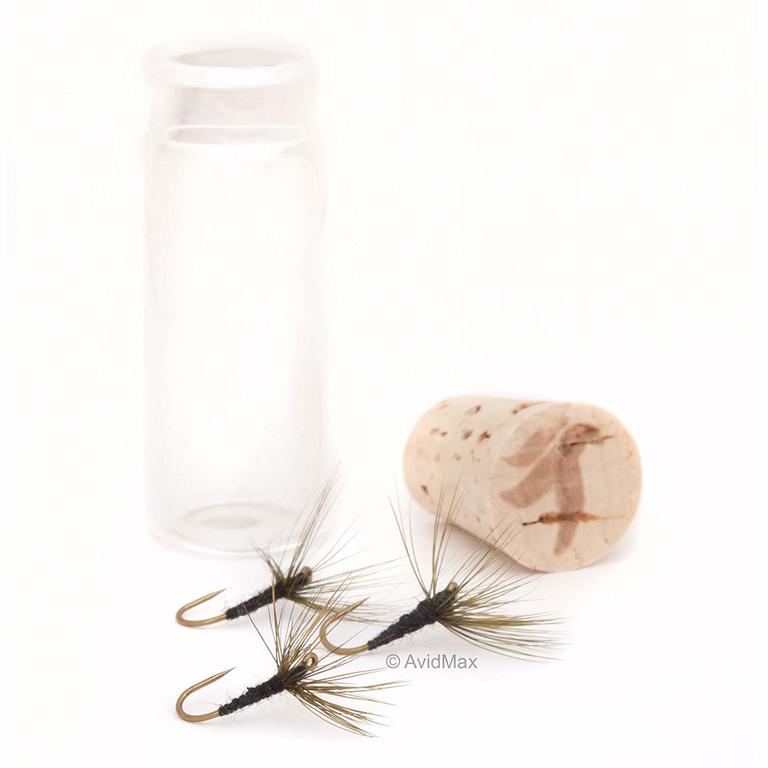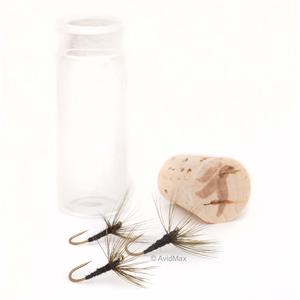 Ishigaki Kebari Flies 
These are size 12 Tenkara flies used by Dr. Hisao Ishigaki who is a renowned Tenkara angler. You get three flies per set.
RIO Powerflex Plus Leaders 
These are extra strong trout leaders. They have high knot strength, and the tensile strength is 20% more than your regular fishing leader.
AvidMax Clip-on Retractor with Nippers 
This fishing accessory comes in handy when you need to nip your tippet end. When not in use clip it right to your vest or pocket.
AvidMax 5" Forceps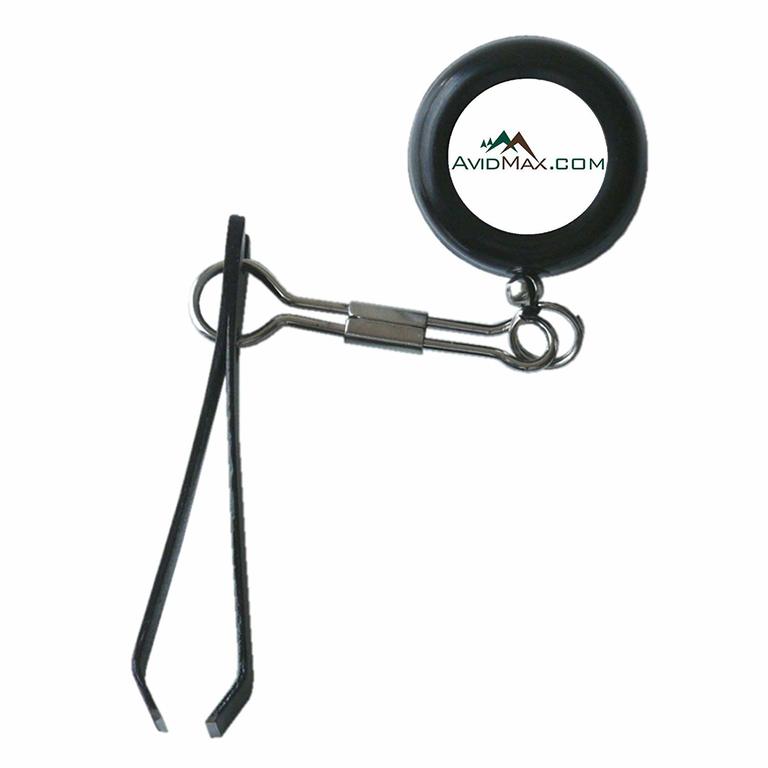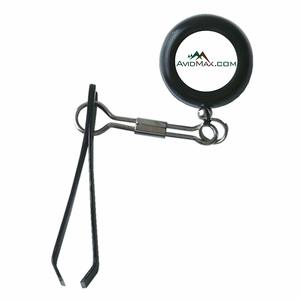 These forceps have a stainless steel finish and work well for removing hooks and for tying flies. They have a unique clamp lock system so they will stay closed when you need them to remain closed.
Pros
Cons
Tenkara Rod Review Conclusion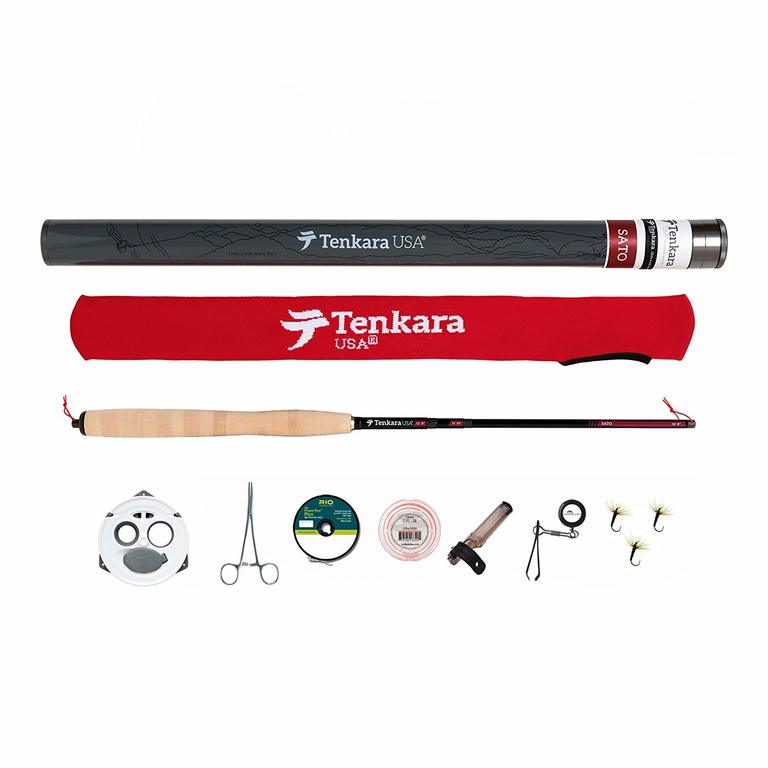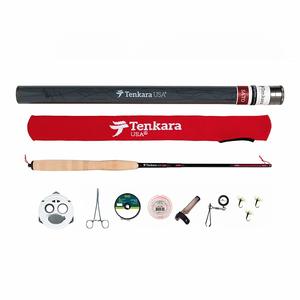 As you can see by my review the Tenkara USA Sato fly rod with accessories kit is well worth the purchase. With the three adjustable lengths you can fish any stream or river you find yourself at. It's lightweight and compact so that you can carry it in your backpack when you are hiking through woods to your favorite fly fishing spot.
With this fly rod, you also get a line keeper, level line, forceps, clip-on retractor with nippers, two-rod plugs, RIO Powerflex Plus leaders, three Ishigaki Kebari flies and a Universal rod cap. You get everything you need to get started in Tenkara fly fishing. I know you will enjoy this simple but effective Japanese style of fly fishing. And with the Sato fly rod made by Tenkara USA, you will enjoy it that much more.
I hope this Tenkara rod review has answered all your questions about the Sato fly rod by Tenkara USA. I also hope I have helped you in making an informed buying decision. Thank you for reading.
If you have any questions or comments, please leave them in the comments section below. And as always Happy Fishing!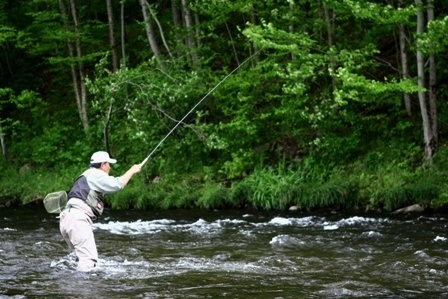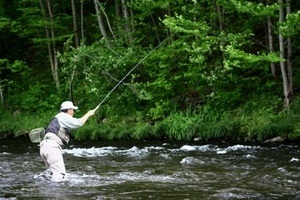 What Is Tenkara Fly Fishing? Tenkara is a Japanese type of fly fishing that became known outside of Japan around the year 2009. A man named Daniel Galhardo popularized Tenkara fly fishing with the founding of his company Tenkara USA.
テンカラ is Japanese for Tenkara which means "from heaven," or "from the skies" according to Wikipedia.
Tenkara Japanese Style of Fly Fishing
Tenkara is the technique used in fishing for trout in the mountain streams of Japan. This technique is a lot like the fly fishing us westerners know, but the term Tenkara is strictly the Japanese style of fly fishing.
How Tenkara Fly Fishing Started
This Japenese style of fly fishing has been around for about 200 years and was introduced to the western countries around 2009. So it is a very new style of fly fishing comparatively. Tenkara is very popular in Japan, and we are just starting to find out the benefits of this type of fly fishing here in the West.
Tenkara was used initially in the mountain streams by professional anglers in Japan. This technique made it easy to catch the traditional fish found in Japan like the Amago, Iwana, and Yamama. Initially, they used long poles made out of bamboo which is abundant in Japan. They also didn't need the use of reels as we use in the west because of the length of the poles.
Tenkara Fly Fishing Essentials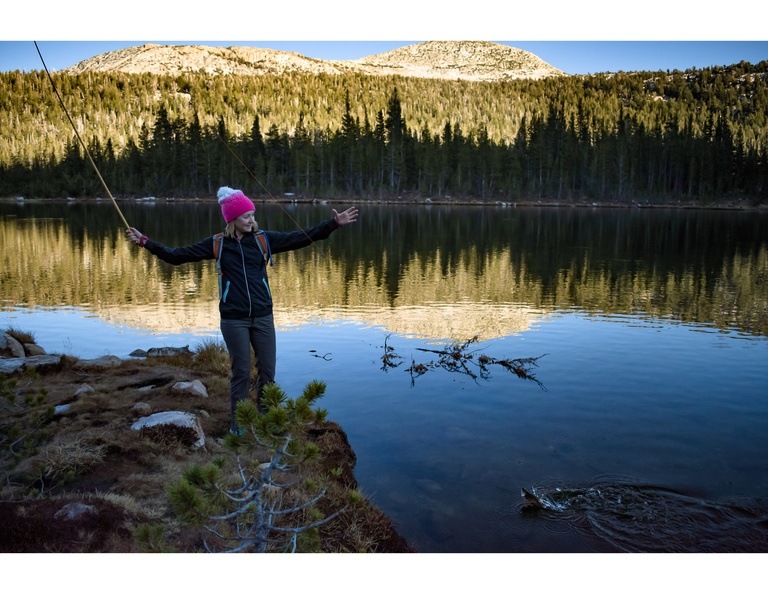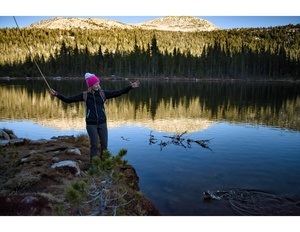 Tenkara is an easy and effective way to fly fish. The equipment need for this style of fly fishing is minimal compared to the way we fly fish in America. You don't even need a reel when you are fly fishing Tenkara style! The following is what you are going to need to get started in Tenkara fly fishing.
You will need a long rod so a telescoping rod will work best unless you can get a traditional bamboo rod, but this would be difficult to transport. Especially if you are fishing in wooded areas where the streams would be. Tenkara rods are available that are specifically designed for Tenkara fly fishing. These rods are on average about 12 feet long. Prices vary depending on size and brand.
Next, you will need a Tenkara line. This line comes in two different kinds. There are Tenkara level lines and Tenkara tapered lines. These lines can be used by themselves or with a 4-foot tippet at the end of the line which you tie your fly to.
According to Tenkara USA, tapered lines are the easiest to set up and cast with, and they come in a fixed length. The level lines come in a spool with about 65 feet of line and can be cut to length. Try both and whatever one works best for you, go with that one. A 5X tippet is recommended if you are going to use tippets.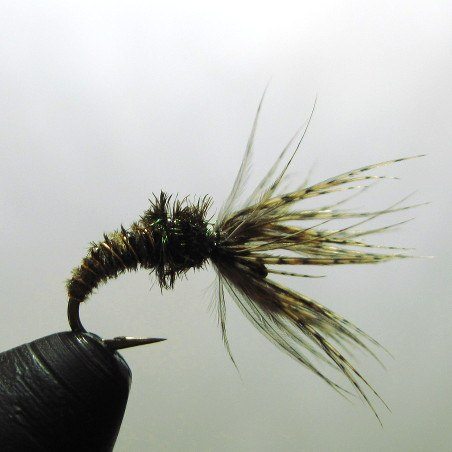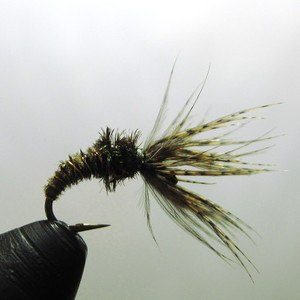 Of course, you will need to use a fly when Tenkara fishing. Any type of fly will work with this type of fly fishing. Tenkara USA recommends using sakasa style fly because they work well in most conditions that you will find when you are out fly-fishing.
Sakasa kebari
flies are a reverse hackle wet-fly.
The hackle refers to the hair or fur that is tied to the fly. The hackle is tied facing forward unlike traditional western flies where the hackle is facing the other way on the fly.
Along with the Tenkara rod, line, tippet and fly you will want to have a needle nose pliers to get the hook out of the fish. Some sort of cutters to cut your line and a holder for your Tenkara line. All of this can be bought in kits that are sold online.
Setting Up a Tenkara Rod
Setting up a Tenkara rod is simple and straight forward. The rod comes with a plug on the end of it. First, remove the plug. Then you want to pull out the braided tip or Lillian as it is called. Make sure to leave the hard tip that the Lillian is attached to in the rod. Next, you want to tie your line to the Lillian. When you have the line tied on you will hold the rod with one hand and slowly slide out the segments of the rod one by one until they are all extended.
How To Close a Tenkara Rod
Now that you know how to set up a Tenkara rod properly you will want to learn how to close it. When collapsing the Tenkara rod you want to start at the base pulling the first segment of the rod in and pull each of the segments in until you have the last one in. You can leave your line tied to the rod and when the entire rod is collapsed you wrap the line around the line holder. If you are done for the day pull the tag from the end of the line and put the rod away.
Conclusion
Now that you have the answer to the question What is Tenkara fly fishing? You will be able to go out and try this simple and effective form of Japanese fly fishing. There are only a few things you need to remember to in order to Tenkara fly fish. You need
Tenkara telescoping rod
Tenkara line
Four-foot tippet
Tenkara Flies
Line Holder
Pliers of Fishing Tool
Cutters to cut your line
That's about it. A lot fewer things to remember then your traditional western form of fly fishing. The best part of Tenkara fly fishing is that it is the easiest ways to fly fish and a very effective way to fly fish for trout, bluegills or whatever stream fish you may want to fish for. So the next time you go fly fishing give Tenkara a try. You might never go back to the old way of fly fishing again!
I hope you enjoyed this article and got some useful information from it. If you have any questions or comments, please leave them in the comments section below. And as always Happy Fishing!
Product: Garmin echoMAP CHIRP 54cv w/ Transducer
Price: $259.97
Cheapest Place To Buy: Amazon.com
Product Dimensions: 

6.8 x 1.7 x 5.4 inches


Product Weight: 1.6 Pounds
Guarantee: 1-Year Consumer Limited Warranty
My Rating: 9.3 out of 10
Garmin echoMAP CHIRP 54cv Overview
Today I'm reviewing another excellent product from Garmin. The Garmin echoMAP CHIRP 54cv with transducer is a top of the line fish finder with state of the art CHIRP sonar technology. The echoMAP lets you create or own HD maps with 1-foot contours all while you are fishing! The maps are possible because of the built-in Quickdraw Contours Software.
Chirp sonar technology allows for crystal clear definition and outstanding target separation because it focuses intently on the target. There's another integrated software in the echoMAP 54cv called HomePort Planning software. This software allows for the digital recording of the information from the CHIRP sonar, and it will enable you to play routes and waypoints back across other devices.
ClearVu Scanning Sonar
Garmin's ClearVu scanning sonar allows you to see with amazing clarity what is right under your boat. The HD-ID sonar is combined with the ClearVu scanning sonar into to 1 transducer. The scanning sonar is so clear it almost looks like a real picture you are looking at! That is one of the main points I like about this fish finder. You will see those fish like you are right there under your boat looking at them.
Create Your Own HD Maps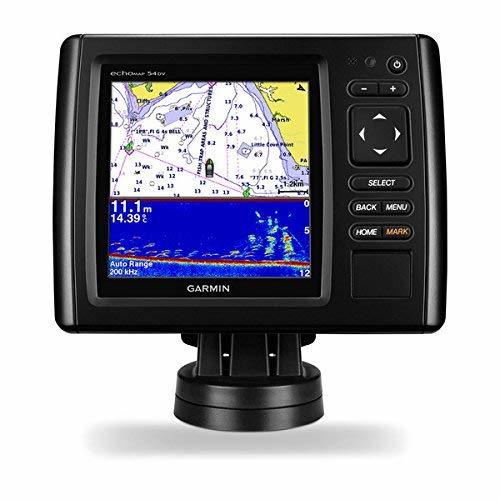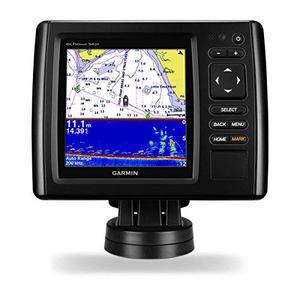 You can create 1-foot contour fishing maps in HD while you are fishing with the Quickdraw Contours software. These are very useful for the next time you go out fishing in that area. You can share the maps if you choose in the Quickdraw Community on Garmin Connect if you want.
The Garmin echoMAP CHIRP 54 cv is Portable
It's easy to bring your echoMAP with you when you leave your boat because the cords plug right into the mount. So just plug into the mount when going out in the boat and when you're back getting off your boat just unplug and go. This keeps your fish finder from being stolen or left out in inclement weather.
BlueChart g2 Charts
Another feature that is preloaded on the Garmin echoMAP 54cv is BlueChart g2 charts. These are a combination of detailed official and private charts that cover worldwide. These help you navigate harbors and marinas all over the globe so that you can guide your boat in and out of port with confidence. The BlueChart g2 also provides tides and currents, depth contours and spot sounding.
Transfer Your GPX Waypoints
If you have waypoints or routes that you usually take while your fishing on other GPS navigational devices you can transfer them to your Garmin echoMAP CHIRP 54cv. This is another great feature I love about the echoMAP!
Accurately Find Your Secret Fishing Spot with Ease!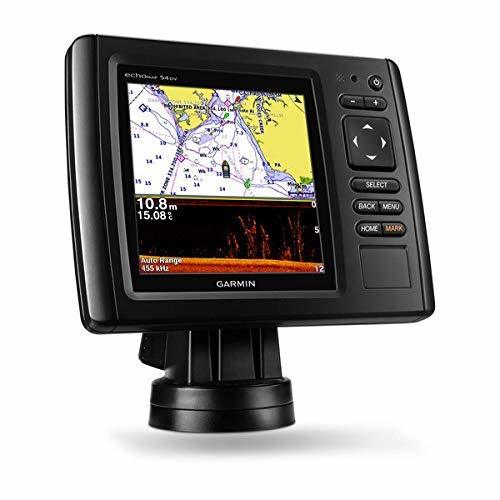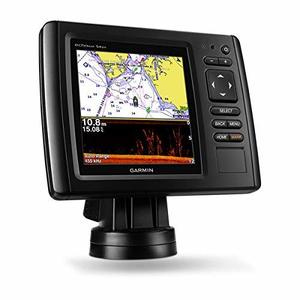 Finding that special fishing spot that you enjoy fishing at the time before with the 5 Hz GPS and GLONASS! This technology refreshes your heading and position every five times every second. I can't tell you how many times I have never been able to find that secret fishing spot on a certain lake. That is no longer a problem with the echoMAP.
3.54″ x 3.54″; 5.0″ diagonal
Internal or external over NMEA 2000
50,000 points; 50 saved tracks
500 W (RMS) / 4,000 W (peak to peak)
(50/200 kHz) sonar capable
(77/200 kHz) sonar capable
2,300 ft @ 77 kHz, freshwater  1,100 ft @ 77 kHz, saltwater
Shows return from the bottom up
Water temperature log and graph
Here Is What's Included In Your Purchase Of The Garmin echoMAP CHIRP 54cv
echoMAP CHIRP 54cv
Documentation/ Operators Manuel
Transom Mount
A transducer (4-pin)
NMEA 2000 adapter cable(4-pin female to 5-pin male)
Protective Cover
Hardware
Flush mount
Tilt/swivel mount
Power/data cable
Pros
State Of The Art Sonar Technology
Make Your Own HD Maps
Share Digital Information Between Other Devices
Portable (Unplug and take it with you)
Easily Mounts To Your Boat
BlueChart g2 Charts Included
Cons
Not Compatible with ActiveCaptian
SideVu Not Included
Conclusion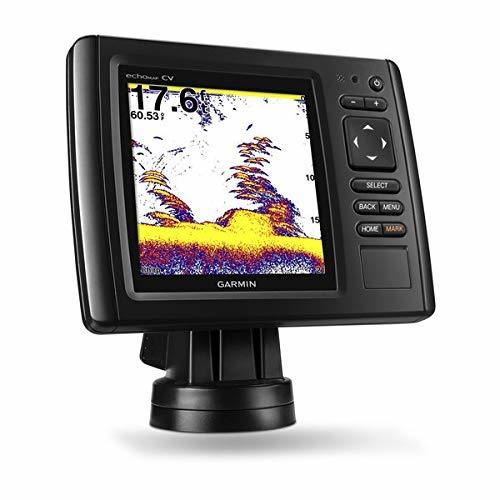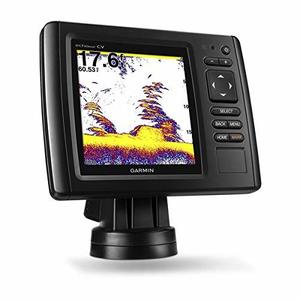 I highly recommend the Garmin echoMAP CHIRP 54cv with a transducer for all your navigational and fishing needs. CHIRP sonar technology that Garmin has made is the best you're going to find in the private sector. The view from under your boat is as clear as you are going to get. It almost looks like a real picture.  Having the BlueChart g2 Charts on board with you is a godsend. Never get lost again and know where you are at all times.
With the 5 Hz and GLONASS, you can make high definition maps on the go while you fish! To me, that is just amazing. Chart out your secret fishing spot and next time you go out you will find it quick and easy. Not only that but all the information you collect and map out like waypoints and topography can all be shared on multiple devices.
The echoMAP also mounted to your boat quickly, and you don't have to leave it on your boat when you are done for the day just unplug the echoMAP CHIRP 54cv and take it with you. This way it doesn't get stolen or destroyed in case something unexpected happens to your boat!
Now you have all the information you need on the Garmin echoMAP CHIRP 54cv to make an informed buying decision. Thanks for reading and I hope this was helpful for you. If you have any questions or comments, please leave them in the comments section below. As always Happy Fishing!
Muskie Fishing Tips Overview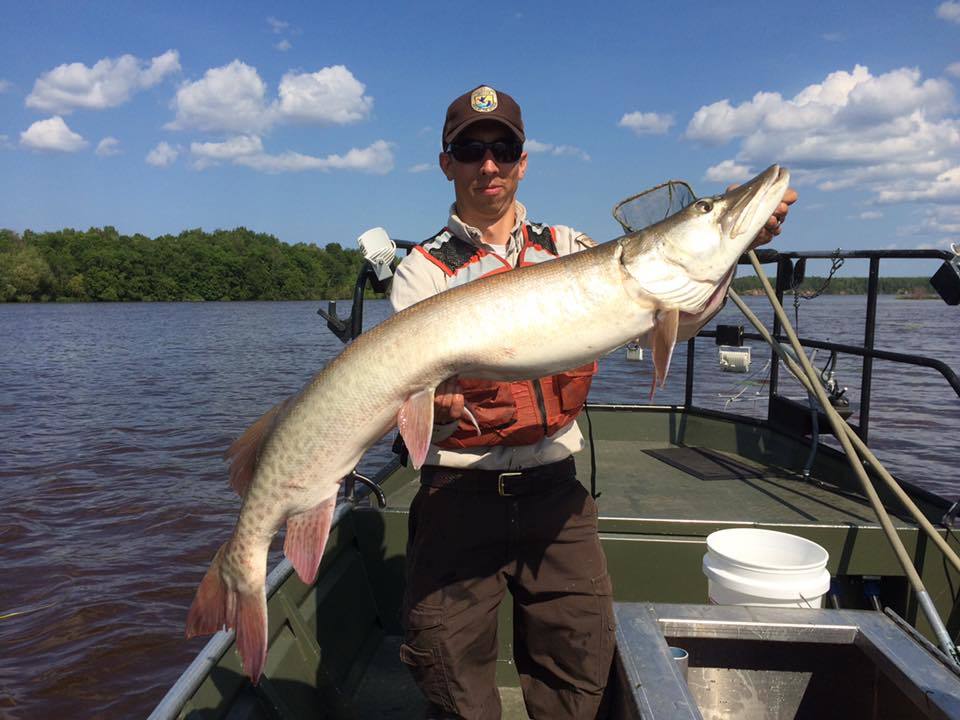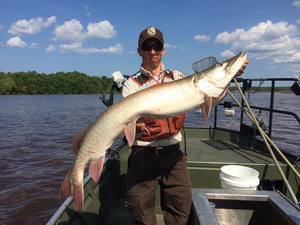 Want to know the ins and outs of catching monster muskies? Look no further I have compiled a list of the top 10 muskie fishing tips that will bring home those monster muskellunge you're dying to wrestle with! These are proven techniques that many an angler have tested and tried and have enjoyed an abundance of muskie throughout the fishing season.
Tip #1 - Weather Conditions
Weather conditions play a vital role in where you are going to be fishing for these monster muskies. When you have a cloudy, rainy and windy day you will find muskies hanging around rock structures. The Muskies will be found in shallow water as well the more the wind picks up.  But be careful when you fish close to rock structures on windy days. You don't want your boat smashing into the rocks.
When the weather is calm and sunny, you will find the muskies in the weed beds and sandy areas. Muskies like the weedy areas because they can go undetected when they are searching for prey. And the weeds give off oxygen.
Tip #2 - Crankbaits Work Best When The Weather Turns Cold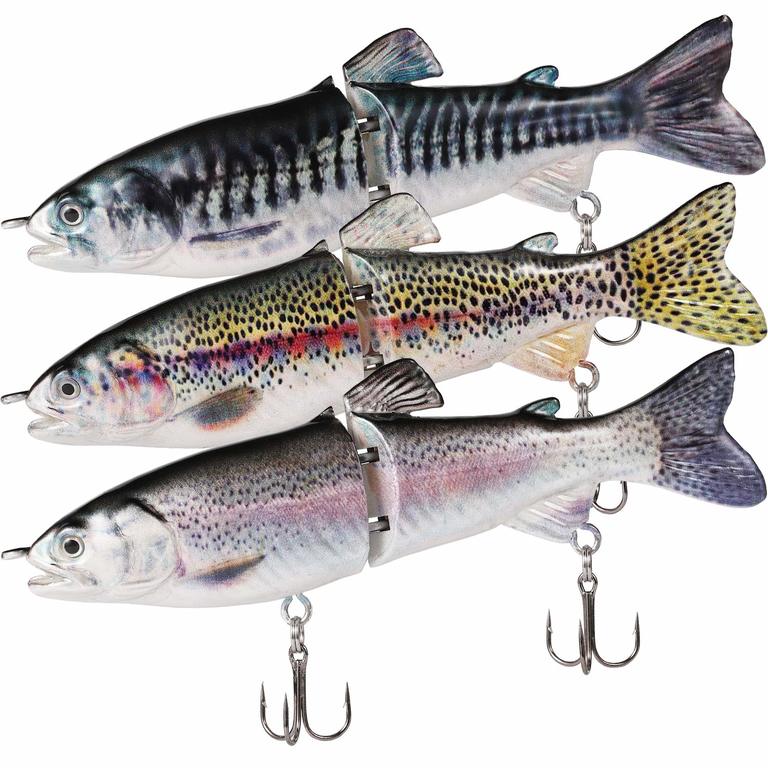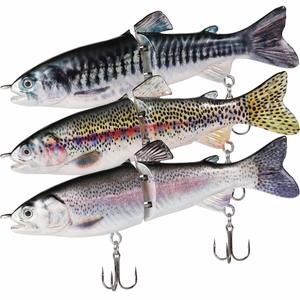 This tip is more for fall fishing for muskie. Crankbaits work the best when the weather turns cold. This is because crankbaits smack against the rock structures and ride over the weed cover creating a flash that muskies love. The muskies are staying down deeper in the colder weather, and a crankbait can sink to the deeper areas that your other musky baits will not. So the muskie can't resist a lure right in front of them. They will strike it with a vengeance!
Tip #3 - Set Your Hook Properly
Setting your hook may seem obvious, but with muskies, it's critical that you set the hook in their mouths; otherwise, you will lose many of them. You need to set the hook deep and make sure you are ready when the muskellunge strikes because he is going to strike hard! Hook setting for muskie should be practiced before going out on the lake so that you will be ready when the time comes. No second chances when that monster muskie hits the end of your line. It's due or die time!
Tip #4 - Master The Use Of Bucktail Lures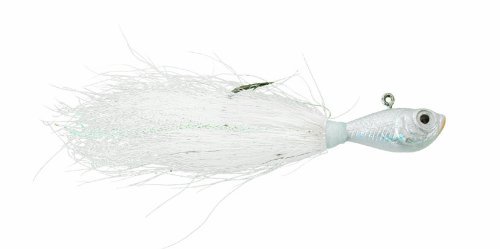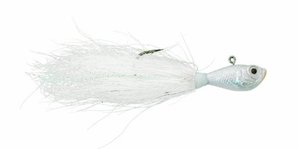 If you want to catch that trophy monster muskie then you have to learn how to use bucktails effectively. Bucktails are a pretty simple and straight forward lure to fish with, but there are some tricks that you can use to make those muskie go wild for them.
Bucktail jigs work well for muskie fishing because of the realistic hair on them that moves well and realistically in the water. Muskies love this movement of the hair, and it attracts them like nothing else. When a muskie latches on to a bucktail the hair compacts down revealing the hook, now you can have a clean hookset without anything getting in the way.
Here are a few practical ways to present your bucktail.
Rip Jigging – Cast your bucktail and let it sink to the bottom. After that rip it forward before you let it drop to the bottom again.

Work The Jig Along The Bottom – In this technique, you let the bucktail hit bottom and, then you reel the jig bouncing and grinding on the bottom of the lake.

Fish The Bucktail Like a Jerkbait – Here you want to jerk your rod which darts the bucktail along its path in the water.

Fish Them Vertically –  With this presentation technique, you can try different movements of your rod. Try shaking and jerking your rod. You will know when you got the right actions because those monster muskies will let you know by attacking your bucktail.
Try different speeds when you are retrieving the bucktail and when you find the right retrieval speed for the area you are in stick with that speed. This will all depend on if the muskies are feeling aggressive or not on that particular day and lake.
Tip #5 - Catch 'em Before The Storm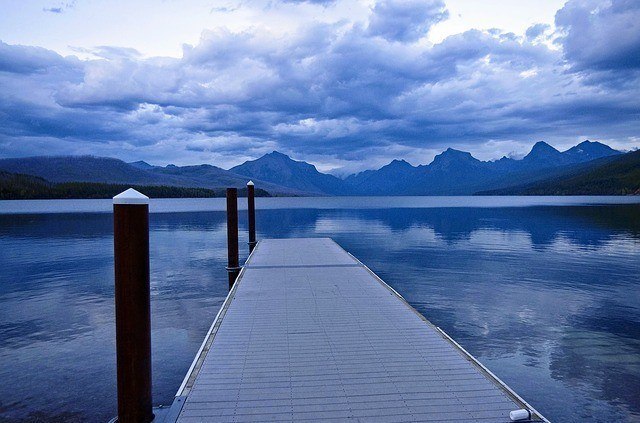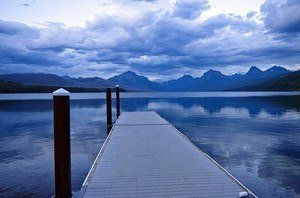 One of the best times to catch the monster muskies is right before a storm is about to hit. For some reason, muskies get aggressive when the weather changes. So anytime there is a major weather change is an ideal time to catch these monsters of freshwater!
Tip #6 - Use The Figure 8 Method
The figure 8 method works well for muskie fishing because muskies will follow their prey for a while before they decide to take action on that prey. To do this cast your line out. When the lure starts getting close to the boat put the tip of your rod in the water. Make wide sweeps in a figure 8 style, and if there is a muskie following your lure, this will intrigue him to strike your lure. Make sure these figure 8 turns are wide because muskies are a big fish and won't be able to follow small figure 8 turns.
Also, if the muskie is in an aggressive state following close by your boat, you will want to increase your speed of figure 8. But if the muskie is not aggressive slow down the speed.
Tip #7 - Drop Offs and Open Water
In the early spring right after or during the melting period of the ice you will want to find the areas where the muskies are going to spawn. After you have found those areas which would be in the low water flats, you will want to fish for the muskies close to these areas. They will be down in the deeper areas so, focus on fishing drop offs and open waters that are close to the spawning areas.
You will find muskie there because they know they will be spawning soon but the water where they need to go and spawn is still too cold. But the water down deeper is warmer, and that's where they will hang out waiting for the spring spawn.
The lures that work best at this time of the fishing season are crankbaits, swimbaits, and bucktail jigs. When fishing the bucktail jig at this time of year, you will want to focus on vertical jigging. There will be many muskies in when you find the right area and your chances are good that you will snag a monster out of the bunch!
Tip #8 - Summer Muskie Fishing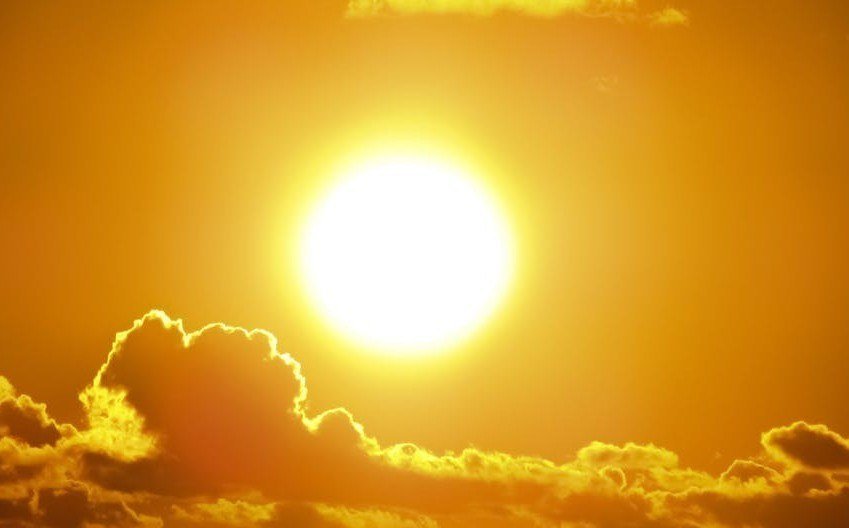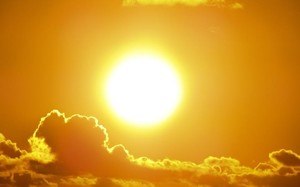 Fishing for muskies in the summer can be a frustrating adventure especially if it is sweltering. Muskies won't feed when it is hot out. So to remedy this fish only in the early morning hours before the sun comes up or during the evening. These times of day will give you the best chance at catching muskies in the summer months. Avoid fishing muskies midday if at all possible during the summer unless it is a cool summer day.
Tip #9 - Autumn Muskie Fishing
When fishing for muskie in the autumn, you will find them in more shallow areas. Focus you fishing in the autumn around weed beds and the edges of weeds. The later in autumn that you go the shallower the muskies will go. Get your bucktail jigs out this time of year. The muskies will eat them up. But keep your speeds of retrieval of the bucktails at a regular pace not over aggressively fishing them.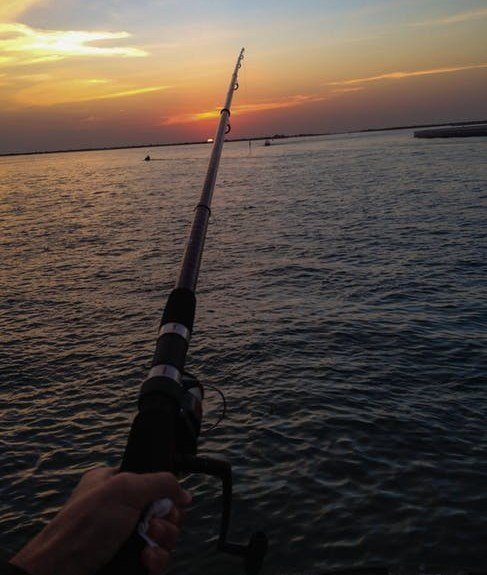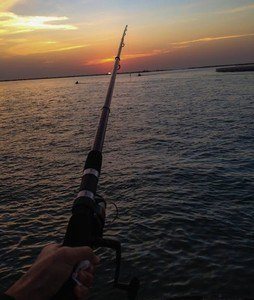 Your back will thank you if you use a long fishing rod when fishing for muskies. The use of the long rod is because you are casting big heavy baits usually when you are muskie fishing. The shorter your rod, the harder on your back and shoulders will be.
Also, using a long rod will help when you are doing your figure 8 method. The figure 8 method was explained in tip #6. The longer rod enables you to make those broader sweeps. Broader sweeps are key when you are doing the figure 8 way. The long rod should be heavy to a heavy X action rod, and when you are using baits that are in pounds in weight, you will want to upgrade to a heavy XX.
Muskie Fishing Tips Conclusion
Now that I have provided you with 10 muskie fishing tips that will help you catch those monster muskies you will want to go out and make use of these tips in the field. I'm confident if you use these 10 tips regularly while you are muskie fishing you will bring in your fair share of monster muskies!
To recap:
Be aware of the weather conditions.

Crankbaits work best when the weather turns cold.

Set Your Hook Properly.

Master The Use Of Bucktail Lures.

Catch 'em Before The Storm.

Use The Figure 8 Method

Fish drop offs and open-waters in the early spring before the spawn.

Go after muskies in the evenings or early mornings in the summer season.

Fish shallow weed bed areas in the autumn.

Use a long rod.
If you have any questions or comments, please leave them in the comments section below. I hope you find this article useful and as always Happy Fishing!
To learn more on muskie fishing check out the book 25 Can't-Miss Musky Patterns. This book was written by the editors and writers of The Musky Hunter Magazine.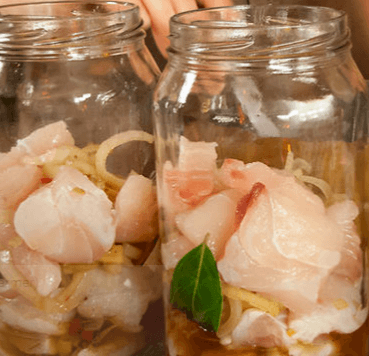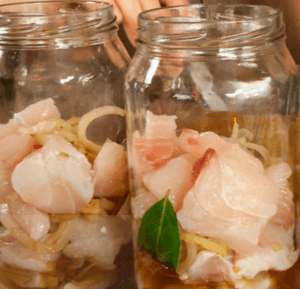 The following is an article on how to pickle fish. Pickled fish is an excellent way to preserve fish for future consumption. And fish is a healthy snack you can eat any time. Fish provides your body with fatty acids that are great for cholesterol-lowering. I enjoy eating pickled fish with crackers as a midnight snack.
In this article, I will show you what ingredients are involved in pickling fish and how to go about sealing the pickled fish so you can store the fish for future use.
Ingredients Used In Pickling Fish
There are Eight ingredients that go into pickling fish. Here is what you will need:
Distilled  White Vinegar

Red Wine Vinegar

White Wine – Any brand of white wine will do.

White Sugar

Pickling or Canning Salt

Peppercorn

White Onion

Fish Fillets
That's it just eight easy to find ingredients to pickle fish. You might have all these ingredients in your kitchen right now. If you don't, it will take a quick trip to the grocery store to get them. Or if you are lucky enough to live in a big city that has Amazon grocery delivery, you could do that as well.
The white wine can be substituted with blush if that's what you have on hand. And all these ingredients can be any brand you choose. By the way, the fish tastes better if you catch it yourself lol! You can use just about any kind of freshwater fish for this pickling recipe.
How To Pickle Fish – The Recipe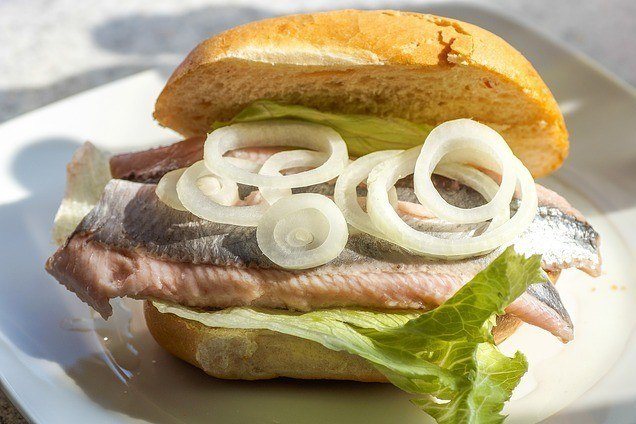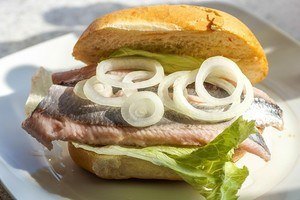 The recipe to pickling fish is very straight forward, and you don't have to have a degree in fine cuisine to do this. Here is what you need and how to go about whipping this pickled fish recipe out.
Fish Fillets –

First you want to get four to five pounds of fish fillets. Make sure that your skin and debone the fillets before proceeding.

Onion –

You will want to have a medium white onion. Slice the onion thin like you would for when slicing them up to put on a hamburger. Don't dice the onion.

Distilled Vinegar –

1 ½ Cups of Distilled White Vinegar.

Red Wine Vinegar –

 ½ Cup of Red Wine Vinegar.

Pickling Salt –

½ Cup of Pickling or Canning Salt

White Sugar –

1 Cup of White Sugar

White Wine –

¾ Cup of White Wine

Peppercorn –

2 Tablespoons of Peppercorn. You can use more if you like a stronger spice taste to your pickled fish.
Pickled Fish Recipe Directions
First, you will want to freeze the fish fillets for about three or more days. After the fish has been frozen you will want to thaw them out in the refrigerator this helps keep the fish fillets firm.

You will want to cut the fish fillets in 2" pieces. You can cut them up smaller if you wish. The size of the fish pieces depends on what size jars you will be putting the pickled fish in.

For this recipe, we will be using five-pint sized jars. You can use smaller containers if you want smaller servings, but you will need more jars. Also if you are using smaller than pint-sized jars, you will want to cut the fish fillets smaller at about 1" pieces. Next, place the fish pieces and onions in layers in the jars.

 Now tighten the lids on the jars and put them in the refrigerator.
Preparing The Pickling Brine
While the fish pieces and onions are marinating in the refrigerator, it's time to cook the pickling brine that will go in the jars of fish and onions.
You will need a saucepan. Pour in the saucepan the wine, sugar, peppercorn, pickling salt and both kinds of vinegar.

Bring the pickling brine to a boil. Dissolve the sugar by stirring the brine mixture constantly. Once the sugar is dissolved turn the heat off and let the brine mixture cool.
How To Pickle Fish – Final Steps
Now that the pickle brine is completely cooled you will want to take the jars of fish pieces and onions out of the refrigerator. Pour the brine into each jar covering the fish pieces and onions completely.

Put the sealing lids on the jars and tighten so that the jars are completely sealed.

Once the jars are sealed, you will want to refrigerate the jars for ten to twelve days. Doing this lets the pickling brine do its magic. Believe me; it's well worth the wait!
Once the fish has had time to marinate for the ten to twelve days you can take the jars out of the refrigerator. All that's left to do is enjoy the delicious pickled fish!
The pickled fish can be stored in the refrigerator for about a month or two. Some people say you can store it longer, but I would stay on the safe side and consume it within a month or two.
Alternative Fish Cooking Method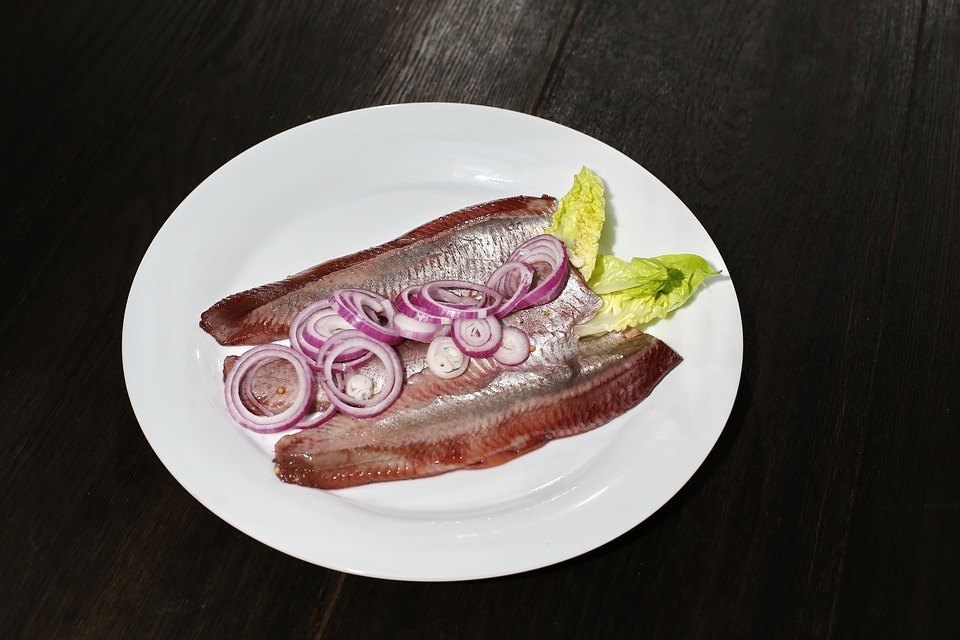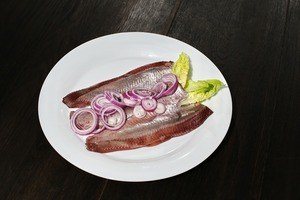 If you are worried about killing all the bacteria and larvae that the fish might have in them, you can add the fish to pickle brine cooking process and cook the fish. Doing this will ensure that you kill all the harmful bacteria. The one bacteria you will want to avoid is found in northern pike, and it's called the broad fish tapeworm or Diphyllobothrium.
Of course, you don't want to be getting this tapeworm in your intestines so if you are pickling northern pike make sure to cook the fish in the pickling brine. Make sure not to overcook the fish if you can pierce it with a fork it is done. After you have cooked the fish in the brine, you put it in the canning jars with the onions and put it in the refrigerator.
Enjoy!
Now that you have the information you need on how to pickle fish you can enjoy pickled fish all year long. I enjoy my pickled fish on Ritz crackers with a little cheddar cheese. Some people like pickled fish with tomatoes or other fresh vegetables. The combinations of things you can add with your pickled fish are endless. I have heard certain wines pair well with pickled fish.
How to Pickle Fish Summary
Let's breakdown how to pickle fish in a quick summary.
Ingredients – there are 8 ingredients that go into my pickled fish recipe. They are:
Recipe – First, debone and skin the fish fillets. Slice thinly a medium white onion the long way. Refer to the recipe section for ingredient amounts. Next, you want to freeze the fish fillets for three or more days. Then you thaw them in the fridge this helps keep them firm for pickling.
Second, cut them up into two pieces or smaller so they fit in the jar.
Third, get five pintsize jars or smaller depending on the serving size you would like. Layer the fish pieces and onions in the jars. Tighten the lids on the jars and put them in the refrigerator.
Prepare the brine – now you will cook the pickling brine. Get a saucepan and pour the wine, sugar, peppercorn, pickling salt and both kinds of vinegar in the pan.
Bring all of this to a boil and mix the brine constantly until the sugar is dissolved. Then turn the heat off and let the brine cool.
Finally, pour the brine in the jars of fish fillets and onions. Seal the jars and put them in the refrigerator for ten to twelve days.
This is a very easy and straight forward recipe that will provide you with delicious pickled fish year-round! You will appreciate that you pickled fish especially in the middle of the winter when you can just open up a jar and enjoy.
Conclusion
Get creative and enjoy your pickled fish with whatever suits your fancy. Fish is a great source of protein and it has fatty acids that your body needs. And of course, it tastes great! Although I recommend keeping it refrigerated it will last at room temperature for months. Do yourself a favor give pickling fish a try you will be glad you did.
I hope you enjoyed this article and got some useful information on how to pickle fish. If you have any questions or comments, please leave them in the comments section below. Happy Fishing and happy eating! And as always remember you can Catch Your Fish and Eat'em 2!!
Bringing Essential Kayak Fishing Gear Along On Your Next Fishing Trip Is Critical!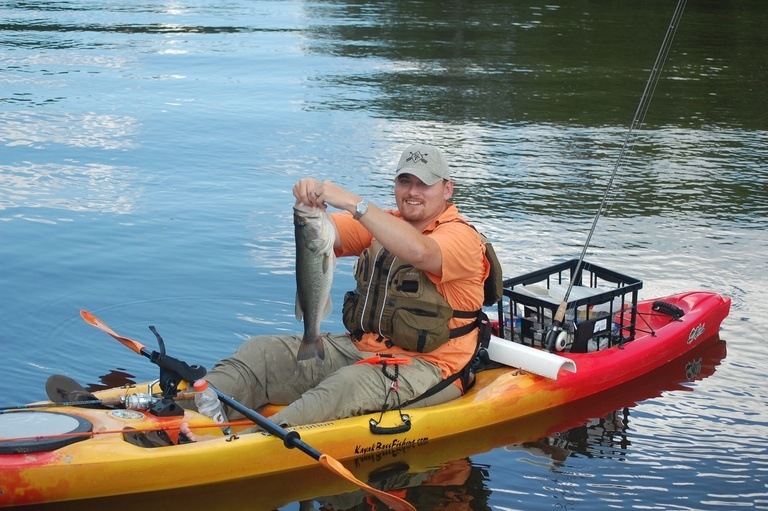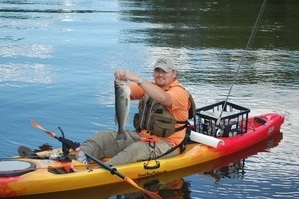 If you're getting ready to go on a kayak fishing trip, you will want to make sure you have some essential kayak fishing gear with you when you go.
It's important to be prepared if you want the fishing experience to be a successful one. If you don't have the right gear with you, it's too late once you are out on the kayak and far from any store!
In this article, I have compiled a list of some of the essential gear you will want to bring with you when you go on your kayak fishing trip. This list is not exhaustive, but it will give you a good idea of what is the essential gear you need to bring with you.
Here's Your Essential Kayak Fishing Gear List
Personal Floatation Device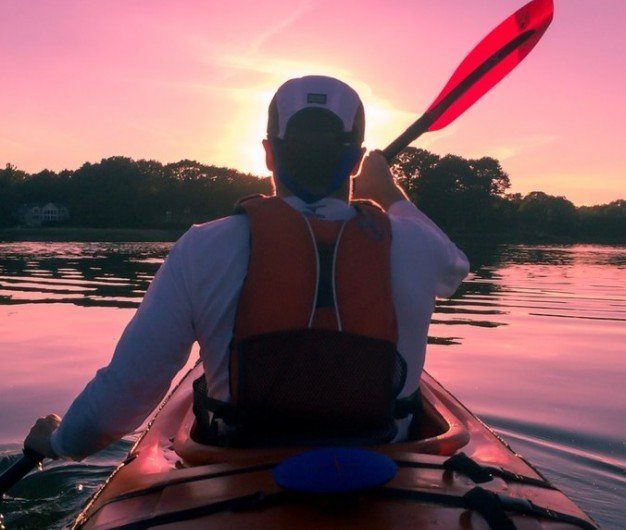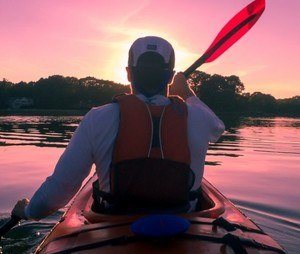 First in the gear list and probably the most important piece of gear you will need when you are out in your kayak is a personal floatation device. Get yourself a good PFD that is comfortable but safe.
Your life could depend on it, and it is the law. I know some anglers don't like wearing them saying they know how to swim well and don't need the cumbersome problems that PFD's can cause. But nowadays there are some comfortable and less cumbersome PFD's on the market.
Of all the kayak fishing gear in this list, the personal floatation device is by far the most important piece of gear you need to bring on your next kayak fishing trip!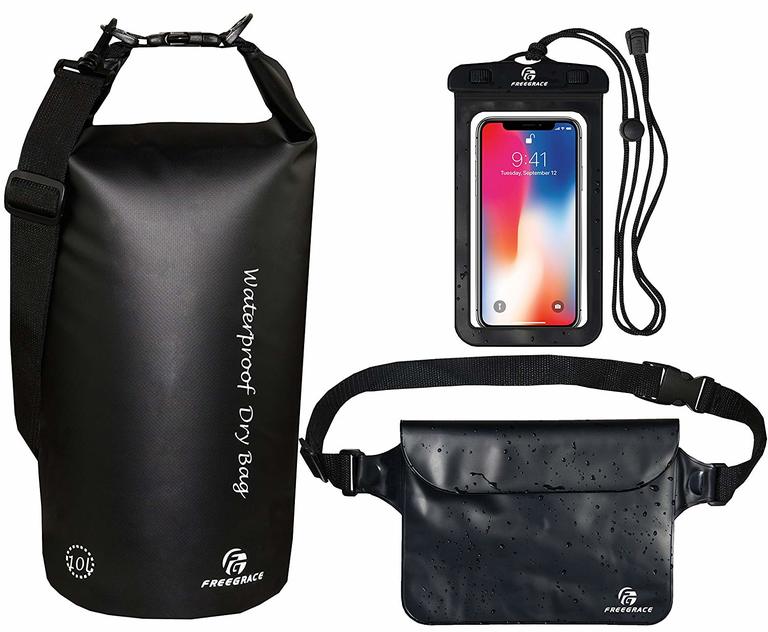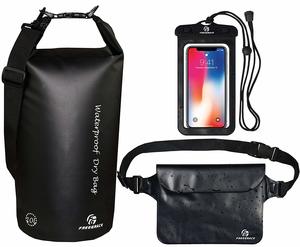 Make sure the bags that you have with you are waterproof and sealable. Because with kayak fishing you know your things are going to get wet! There's nothing worse when your kayak flips over, and you have a bag that is not sealed and waterproof. You end up losing most of your items, and if they aren't lost a lot of the time, they are damaged because of the water.
There are plenty of waterproof bags that are made specifically for your kayak. These bags hold just about anything you can think of. Make sure you have a few different size bags to carry your belongings and to keep them dry with while kayak fishing.
I know bringing a kayak paddle is an obvious piece of gear you need, but it is an essential piece of gear. Without the paddle, there is no way of maneuvering around in the water, and you could end up going in circles. You would be surprised at how many people get out on the lake, ocean or river and totally forgot their paddle. I have been there done that lol.
A net comes in very handy when you're struggling with a big fish while you are kayaking. Having a net along will save you a lot of time and hassle and could save you from flipping your kayak!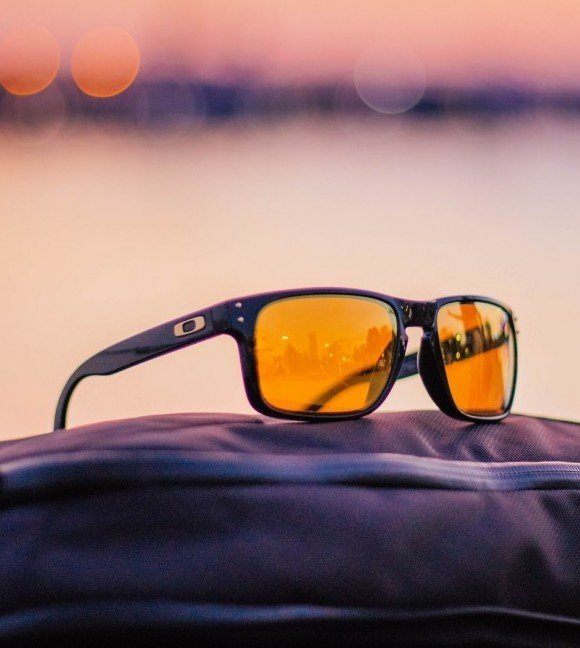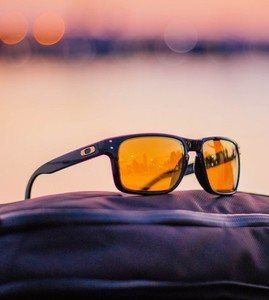 Make sure you bring along a good pair of fishing sunglasses. It's a good idea to have a strap for your sunglasses as well so that you can hang them around your neck when they are not in use.
This way you don't lose them, and they are right there when you need them. There is nothing worse when the sun is going down or coming up, and you can't see what you are fishing for. And they make you look cool as well. 🙂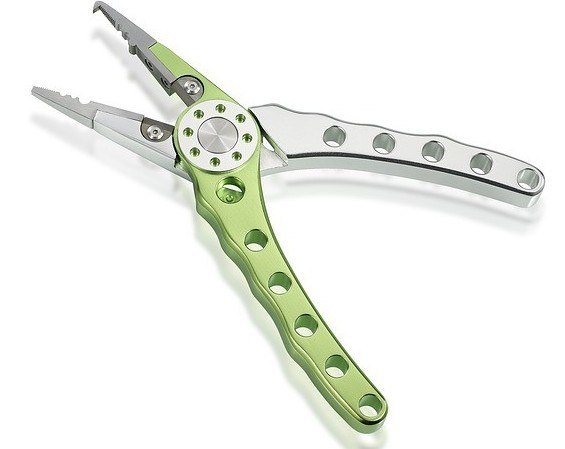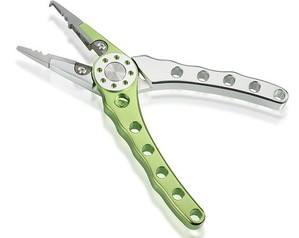 Don't go out on the water in your kayak without a good pair of pliers or some sort of multi-tool. A pair of pliers will help get the hook out of the fish and some times out of yourself.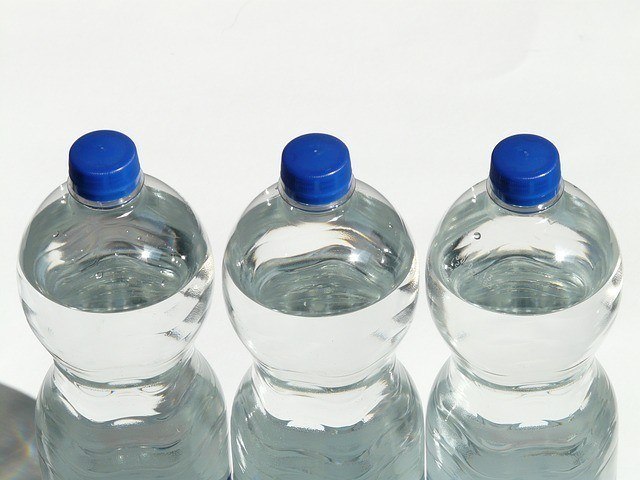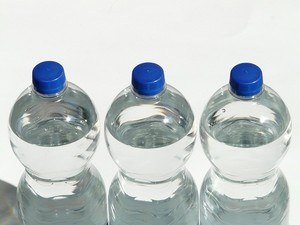 Of course, you don't want to forget bringing along enough bottled water to get you through the day. I would recommend you bring along more than you need just in case you end up stranded somewhere. It doesn't hurt to plan ahead.
Another option for having all the fresh water you need when you are out kayaking is a water filtration system. Sawyer Products makes one that fits right in the palm of your hand. This will come in handy if you don't want to tote along a bunch of bottled water.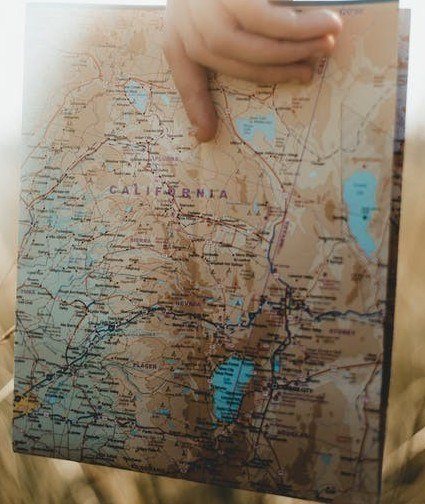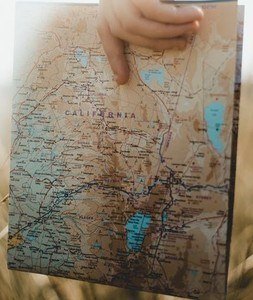 Have a map of the area you are going to be kayak fishing at. If the lake or river is big, have a map of the that as well. Make sure you tell someone where you will be at and how long you expect to be there. This is good to do just in case something unexpected happens, and someone can come looking for you if you don't make it back.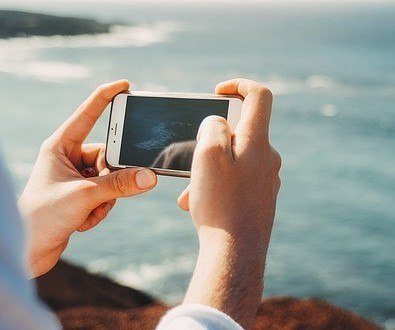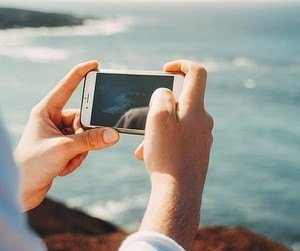 If you have a cell phone and I don't know too many people that don't bring it along on your fishing trip. I don't have to tell you how a cell phone will be important on your kayak fishing trip. Make sure you have a way of charging your cell phone as well while you are out there.
Another good idea is to have a waterproof cell phone. Or at least a waterproof case you can put your cell phone in. We all know it's just a matter of time that your cell phone is going to get wet.
Conclusion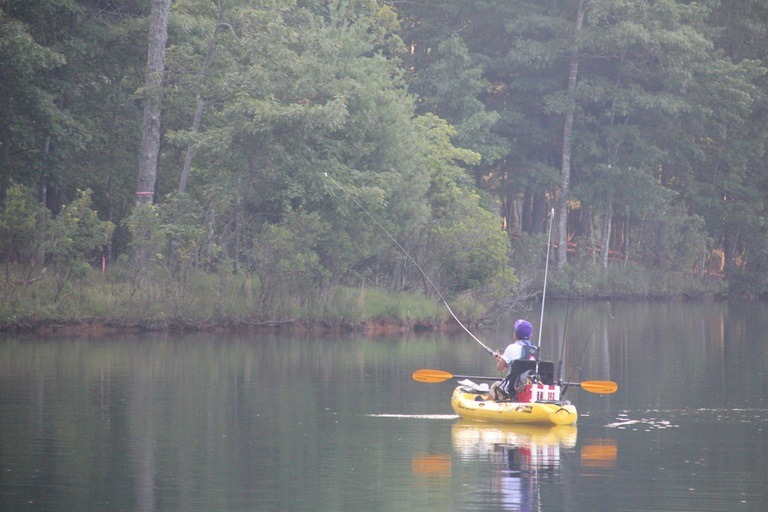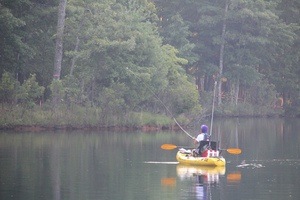 As long as you remember to bring along these essential kayak fishing gear your fishing trip should go well! To recap you will want to bring a personal floatation device or (PDF). Also, a waterproof bag that is sealable so that you can keep all your important belongings dry.
Don't forget your kayak paddle; otherwise, you will find yourself up a creek without a paddle. Pardon the pun! You will need a good net, fishing sunglasses, multi-tool or pliers, fresh water or water filtration system. Also, you will want a map, and one of the most important and useful things is your cell phone.
I hope this list of essential kayak fishing gear will help your kayak fishing trip go smoothly. If you have any questions or comments, please leave them in the comments section below. Happy Fishing!
Product: Cannon Magnum 10 STX Electric Downrigger
Price: $534.11
Cheapest Place to Buy: Amazon.com
Product Dimensions: 23.8 x 15.5 x 10.5 inches
Shipping Weight: 28 Pounds
Guarantee: Limited Lifetime Warranty
My Rating: 9.2 out of 10


BUY ON AMAZON
Cannon Magnum 10 STX Electric Downrigger Overview
If you're looking for a fast retrieval and short stopping downrigger, than the Cannon Magnum 10 STX Electric Downrigger is the one you want. The Magnum 10 STX has the quickest retrieval rate in the industry at 250 feet per minute! That fast speed of retrieval ensures your fishing line won't get tangled with the boom line when a fish latches on to the end of your fishing line.
The magnum 10 STX also has a special short-stop feature that is activated by the push of a button. The shortstop automatically brings the weight in and stops it at the top of the water. This feature helps protect your highly prized boat from the swinging weight. Magnums are strong downriggers. They have to be durable to handle year after year of knocking around on your boat.
The STX has a telescoping boom that extends from 24" to 53". Having the extension on the boom keeps your fishing line farther away from your boat. The spool is made of stainless steel. This is a great feature when you are doing heavy-duty operations. The base of the dual-axis fishing rod holder swivels 360 degrees. The swivel action makes it easy to point your rod in the optimal spot for the best fish action possible.
The Cannon Edge Design of The Magnum 10 STX Includes Amazing Features
The Magnum 10 has many great features because of it's upgraded design. Cannon redesigned the boom end giving this downrigger more durability when trolling. They constructed it with less moving parts without compromising the adjustability of the boom and dual-action swiveling rod holder. It is a truly one-unit composite construction masterpiece!
The circuit boards, motor, and all critical parts are encased and sealed to protect from water getting inside. We all know water, especially salt water can do some major damage to the moving parts and circuit boards in a downrigger. Also, the mounting knobs, stainless steel spool, switches, and plugs are all easier to access than the previous model.
You can access the spool easily by removing two screws from the side plate. So to change spools just remove the side plate take the old spool out and replace it with the new spool. Screw the side plate back on and bam your back in business!
Wait! There are More Excellent Features on The Magnum 10
The Cannon Magnum comes with positive Ion Control sends positive Ions from your cable to counteract the negative ions that your boat emits. This helps attract fish because it's a field of energy fish love! I couldn't believe this when I heard it but it's true. It amazes me what products can do nowadays to help any angler catch more fish!
This downrigger also comes with IP 68 waterproof power cord and connections. It has a three-digit depth counter when you are dropping the weight you can position your lure in the exact depth the fish are. So with the depth counter and a fish finder, you can no doubt hall in your limit of fish! The Magnum 10 STX also has an integrated ball storage hook and a twenty-pound weight capacity.
The line releases up to 250 feet of 150-pound test stainless steel cable which is corrosion-resistant. One more cool feature I forgot to mention it has a backlit keypad for easy viewing. This helps when it gets cloudy or you're doing some night fishing.
Pros
Fastest Retrieval Rate In The Industry
Telescoping Boom
Backlit Keypad
Dual Axis Adjustable Rod Holder
Three-digit Depth Counter
Positive Ion Control
Access Spool Easily
Sealed and Protected Electronics and Motor
Special Short-Stop Feature
Limited Lifetime Warranty
250 Feet of 150-pound Test Corrosive Resistant Stainless Steel
IP 68 Waterproof Power Cord and Connections
Twenty Pound Weight Capacity
Integrated Ball Storage Hook
Cons
If your fishing in real deep lakes like the Great Lakes you will need more than the 250 feet of cable the Magnum 10 STX comes with.
The Cannon Magnum 10 is a Winner In My Book!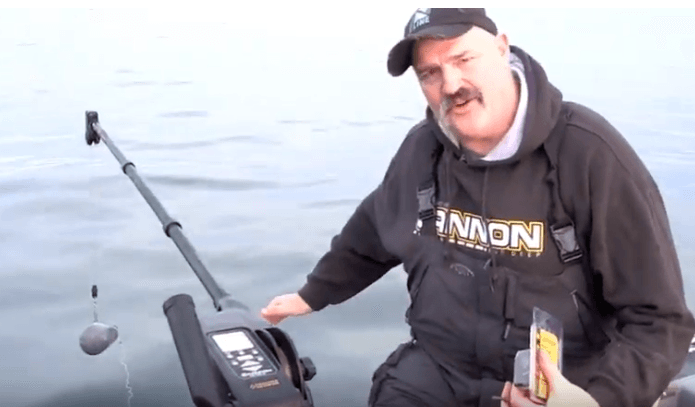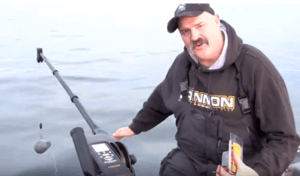 So, what do you think? Is the Cannon Magnum 10 STX Electric Downrigger right for you?
If you're looking for a quality and durable downrigger that will help you troll better for fish and is affordable. I would have to say that getting this downrigger for your boat is a no brainer!
That lightning-fast retrieval rate of 250 feet per minute does it for me. I can't stand when the fishing line and the cable from the downrigger get tangled up together it causes a huge mess and many times lost prize fish. So that alone sells me on this fishing product.
The Cannon Mag 10 Attracts Fish!
I also like the fact that it releases positive ions from the cable to counteract the negative ions from your boat! This is not only amazing but it actually creates a field of energy that attracts fish! Now that alone would be enough to get this bad boy.
And you can use the Magnum 10 downrigger in fresh or saltwater. With its corrosion-resistant stainless steel cable and its sealed and protected electronics and casing. The water can't get in or eat away at the cable. Not all downriggers offer such protection from the abusive elements mother nature throws at us humans.
Now you have the ins and outs of the Cannon Magnum 10 STX Electric Downrigger. You can make an informed decision if this product is right for you and your boat. I hope this review helps with your purchasing decision. If you have any questions or comments you can leave them below. Goodbye for now and as always Happy Fishing!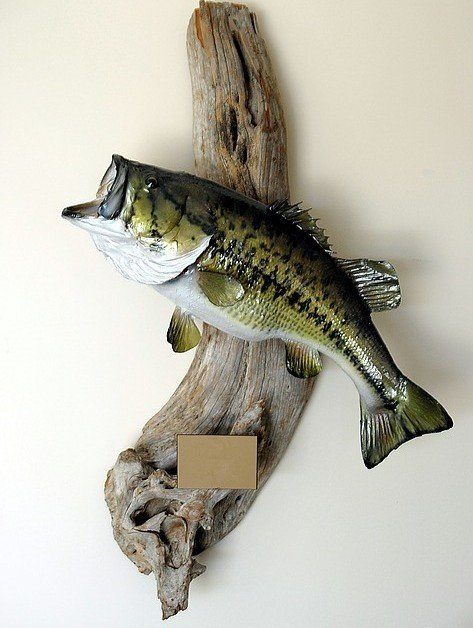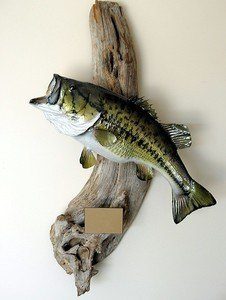 Are you ready to go on your first bass fishing trip? Before you do, you will want to read this article. I have compiled eight largemouth bass fishing tips that will give you the edge you need to catch more bass than you ever thought possible!
The largemouth bass is one of the most fun and demanding fish species to catch. So without further ado, let's get into the bass fishing tips you will need to know to make your bass fishing trip a successful one.
Tip #1 – Five Artificial Baits That Will Help You Catch More Largemouth Bass…
There are five artificial lures you want to make sure that you have in your largemouth bass fishing arsenal.
The first and most popular lure for largemouth bass fishing year round is the skirted jig. Jigs are work wonders if you are hard water fishing or summertime fishing. Bass love these things and if you don't have a good assortment of skirted jigs I recommend you go out and get you a bunch.

The second artificial bait for largemouth bass would be crankbaits. You will want to focus on the big-billed crankbaits they seem to work the best around underwater structures such as sunken trees and weed beds.

Thirdly you will want to have an assortment of swimbaits. Swimbaits work well when they are on an umbrella rig. They work well because they look and act just like the prey that largemouth bass are use to feeding on.

Number four in the list would be the good old rubber worm. These work great any time of year and in any weather condition. Fish these artificial worms in the weed beds, around docks and piers. If you're having no luck with the other artificial baits, the rubber worm usually will do the trick as long as the bass are hanging around where you are fishing.

If all else fails, grab a jig and a plastic crayfish. These two lures together work wonders for catching largemouth bass and can be fished year round. Craws are foragers, and largemouth bass just love these little creatures. You can fish them around weed beds and in deeper waters because that's where you will find the crayfish.
Tip #2 – The Best Times Of Day To Fish For Largemouth Bass
Our second tip is to know when the best times of day that you will be the most successful in catching largemouth bass. The best times are right before sunrise and right before sunset for about an hour each time. This is true for most fish they have feeding schedules, not unlike us humans.
So you can wake up early and be ready for the morning onslaught. Then you can take a nap in the afternoon if you like and be prepared for the evening fishing bash! You can catch them all day long but the best times are in the early morning and late evenings.
Tip #3 – What Are The Bass Feeding On?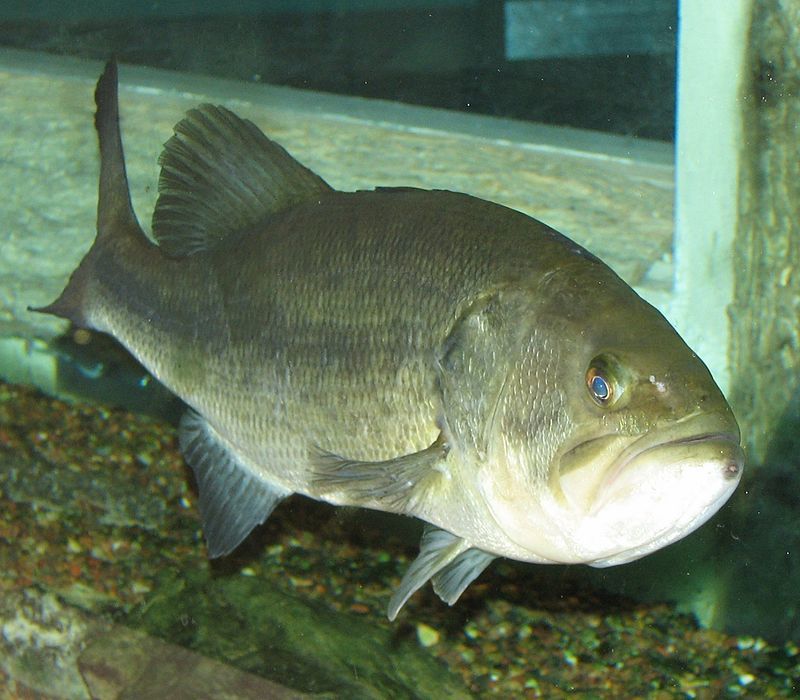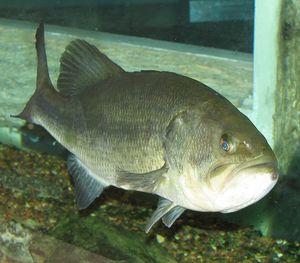 A little research can go along way when you are largemouth bass fishing. Find out from your local bait stores or other anglers who have fishing for bass in the area you are going to fish in about what type of prey bass feed on in the area. You can also find what they're feeding on after you catch one they usually will throw up the contents of their stomach.
I know it sounds disgusting, but once you see what they have eaten, it will give you a good idea of exactly what kind of live bait you want to fish with when you find out to get that type of live bait or artificial bait that mimics the live bait and give that a try.
Tip #4 – What Color and Size Are The Largemouths Going For?
Before you start fishing look around and see what colors the forage is in the area and match those colors as close you can to your artificial lures. Fish are visual creatures so if you can match the natural color around them you will have a better chance at catching them.
If the day is cloudy or sunny can be a factor as well in your lures color choice. A lighter color, such as yellow for when it's cloudy out and a darker color or translucent color for when it is sunny.
Also, find out about what size prey they are going after and match your bait size with the real preys size. The big largemouths won't know the difference from your bait or the real thing!
Tip #5 – Be Quiet!!!
A good tip for when you are fishing for largemouth bass is to keep your mouth shut! Bass will spook if you are talking too loudly so make as little noise as possible. If you are fishing with other especially just whisper and you will have a better chance at not spooking the bass. Your friends may not want what to listen to you anyway.:)
Tip #6 – Fish For Bass Pre-Spawn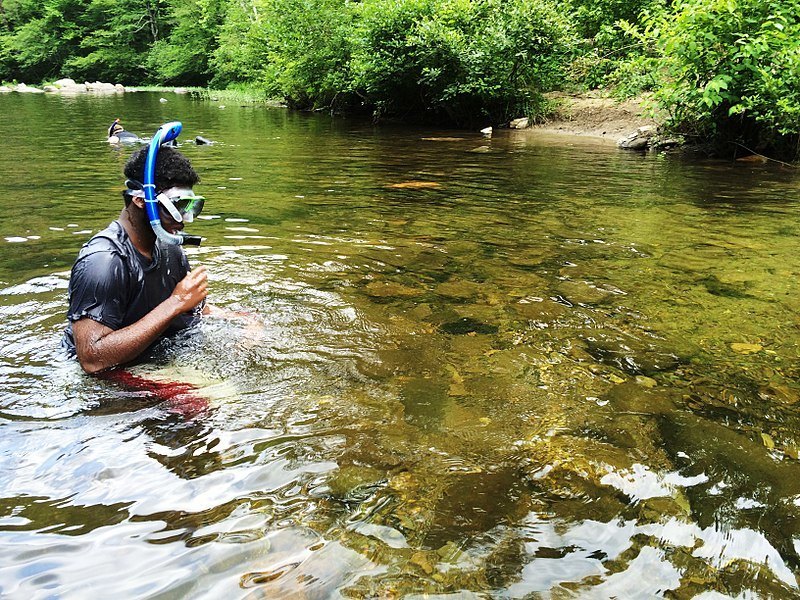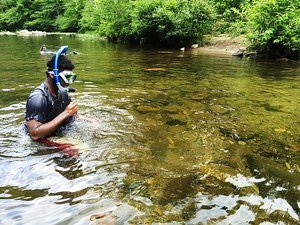 When largemouth bass are in the pre-spawn phase is a perfect time to be fishing for them. During pre-spawn and while spawning they will come to the same areas year after year. And during this time bass are extremely territorial, and they will attack just about anything that gets in their way!
The pre-spawn and spawning periods for bass happen different times of the year depending on your geographical location. In my area of Wisconsin, pre-spawn starts in late April and lasts until early July. So if you live in my area of the country, this would be the time to hammer the largemouth bass and catch your limit.
Tip #7 – Cast Against The Wind
I know it sounds like a pain in the,  you know what but cast against the wind. Bass swim with the current, so if you cast against the current, you will be presenting your lure in front of the bass instead of behind them. They won't be spooked so easily this way because the noise that you might produce will carry away from the bass not at them.
Tip #8 – Fish In Shallow Water During The Spawn
When the bass are spawning, you will find them in shallow water because that is where the bass are laying their eggs. Cast and fish shallow and they will also be close to the edges of the banks. Doing this will help you catch more largemouth bass than you know what to do with.
These Eight Tips Will Help You Catch More Largemouth Bass
The more you practice and use these tips in the field the better your chances are at snagging that big largemouth bass. So go out have fun put into use each one of these largemouth bass fishing tips and bring home the motherload!
If you have any questions or comment, please leave them below. Thanks for reading and Happy Fishing!