Learning about the different types of fishing rods will help you decide which one is best for the kind of fish you want to catch. Fishing rods come in all different lengths and sizes. There are two questions you want to ask yourself before you choose a fishing rod.
What kind of fishing are you going to be doing?
What kinds of fish do you want to catch?
Once you can answer those two questions you will have an easier time choosing the right fishing rod for you.
All fishing rods are obviously used for one thing to take the brunt of the force when you are fishing. But there are 8 different types of rods that function a little differently from one another and are meant for certain functions and fishing techniques.
The following are 8 main types of fishing rods, and in this article, I will explain each one of them and their uses for each.
---
8 Types of Fishing Rods
| ROD TYPE | FUNCTION |
| --- | --- |
| Casting Rod | Accurate casting long distances |
| Spinning Rod | Most popular rod |
| Fly Rod | Used for fly fishing |
| Telescoping Rod | Extendable/collapsible rod. Saves on space and is convenient |
| Offshore Rod | Deepsea fishing on a boat or ship |
| Surf Rod | For inshore fishing |
| Ice Fishing Rod | Short rods used for ice fishing |
| Trolling Rod | Used for trolling for fish |
---
1. Casting Rods
A young angler waits for a fish to take his bait Saturday during Marine Corps Logistics Base Albany's 25th annual Buddy Fishing Tournament held at Covella Pond here.
Casting rods are meant to be used with bait-casting or spin-cast reels. The eyelets on these types of rods face up, and the line pushes against the rod when you are fighting with a fish.
The great part about having the eyelets on top of the rod instead of hanging below it is that they have a lesser chance of breaking.
The proper way to hold a casting rod is to hold it in your hand with your thumb at the top of the rod handle and the rest of your fingers wrapped around the rod handle. The reel should be facing up at you. The eyelets that go down the length of the rod should be sitting up on the rod.
Bait-casting rods and reels are a little harder to learn than spinning rods and reels because of the backlash you can get from bait-casting reels, but once you get the hang of them and have experience fishing with them, they are much more accurate than the spinning rod and reels are.
You can cast farther with a casting rod than with a spinning rod mainly because of the different reels. These rods come in many different lengths and strengths, so you can fish for all types of fish species from bluegills to musky.
Here's a fishing tip for ya. If you are a beginner angler, you could use a casting rod with a spin-cast reel. Spin-cast reels are much easier to learn how to use than a bait-casting or for that matter a spinning reel. You need to use a casting rod with a spin-cast reel anyway.
The casting rod in itself is not hard to learn to cast with. It's the bait-casting reel that's the tough thing to learn here.
---
2. Spinning Rods
Spinning rods usually come in sizes between 5 and 9 feet. They are similar to casting rods but have some main differences that I will explain here. Unlike casting rods spinning rods are just the opposite. The eyelets face down below the rod. The spinning reel also faces down below the rod.
With spinning rods, the eyelets take more of the force of the line pulling down on them. This makes them more likely to snap and break compared to casting rods that have eyelets on the top. The eyelets are bigger on spinning rods which helps lessen the friction the line causes to the eyelets.
Spinning rods and reels are the most popular of all the rods and reels that you will find on the market. They are easy to learn how to maneuver and cast, and they do a pretty darn good job for what they are made for.
An angler will usually hold the rod with his or her dominant hand and reel with their other hand. This is done so the stronger hand can have a stronger grip on the rod when bringing the fish in.
I wouldn't recommend fishing for musky using a spinning rod, but anything smaller like pike to bass to sunfish is a good choice with a spinning rod. I don't recommend the bigger fish with these rods, mainly because they are lighter than casting rods. But I'm sure others might differ from my opinion.
---
---
3. Fly Rods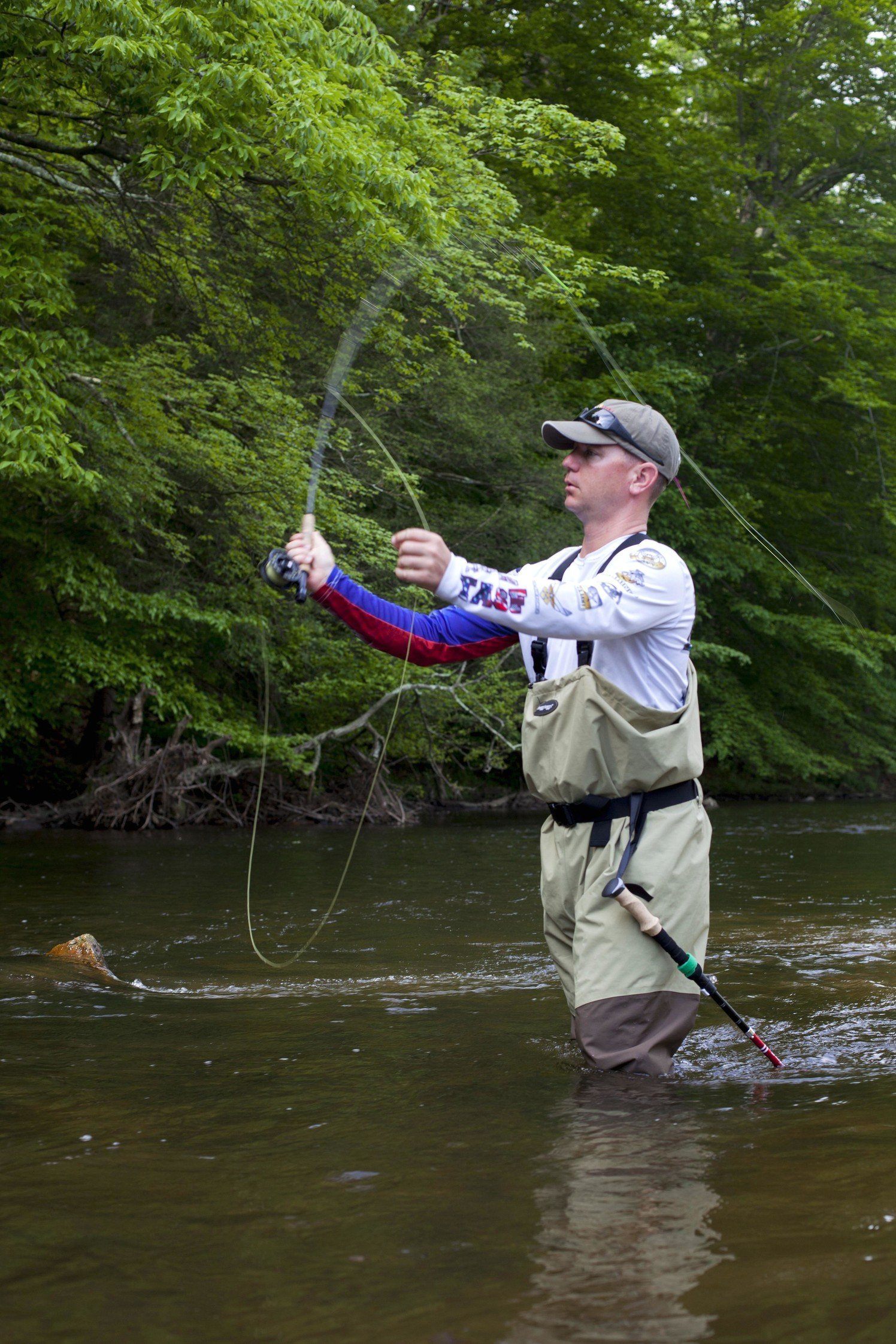 Next, we have fly rods. There are many sizes and lengths of fly rods. It all depends on what type of fish you are trying to catch. Fly rods are used for, you guessed it fly fishing.
This is where you use a fly tied to the end of the line and cast it out to the water. There is a big learning curve when it comes to casting a fly rod. It takes technique and timing to get it right.
Fly rods don't extend below the reel. The eyelets on a fly rod are called snake eyes, and they keep the line from tangling when casting. Fly rods can get rather expensive, but you can find them in the cheaper range as well. The more expensive they are the better materials they are made of.
Most fly rods are made of composite fiber, which is light but durable, and the more expensive rods will have a corked reel mount.
Fly rods usually come in sections and have a wheel-looking reel. However, there is a type of fly fishing called Tenkara that has no reel to it. Tenkara is kind of new to America but has been around for a long time in Japan.
You can fly fish for a number of species such as small stream trout to large saltwater fish like black marlin. It all depends on the size of the fly rod that you use.
If you're interested in getting into fly fishing, then check out my fly fishing beginners guide it shows you everything you need to know to get started with fly fishing
---
4. Telescoping Rods
Extendable or telescoping rods are a convenient way to transport your fishing rod. It's also a big space saver.
All you have to do is collapse your rod when you are done, and it will fit in your trunk or the backseat of a car without having to bend the rod which can cause damage if left that way for long periods of time. You can even put it in your backpack.
Most telescoping rods can extend between 6 and 10 feet long or more. Also, most of these rods are spinning rods, so you will need a spinning reel to go with them. There are combos you can purchase these kinds of rods.
Telescoping rods open and close rather easily but there are a few steps that you will want to follow when opening and closing these rods.
Opening a Telescoping Rod
When opening the rod you want to be careful so you don't put any side pressure on the rod. Pull each section out starting with the tip and going to the bottom. Making sure each section locks in place as you go. Go slow so sections don't get stuck, twisted, and damaged.
When you have the rod fully extended, give it a shake. If you hear a clicking noise that means that one of the sections wasn't fully extended and locked. Find the section that's not fully extended and extend it.
Closing a Telescoping Rod
Closing the fishing rod you start at the bottom and work your way until the top is the bottom. Do this slowly holding each section at the joint. You loosen the joints by holding the two joints and pull them apart. Then you slide the sections into each other.
Every rod will not be the same, so make sure you consult the instructions from the manufacturer.
---
Related: 7 Best Tarpon Fly Rods
---
5. Offshore Rods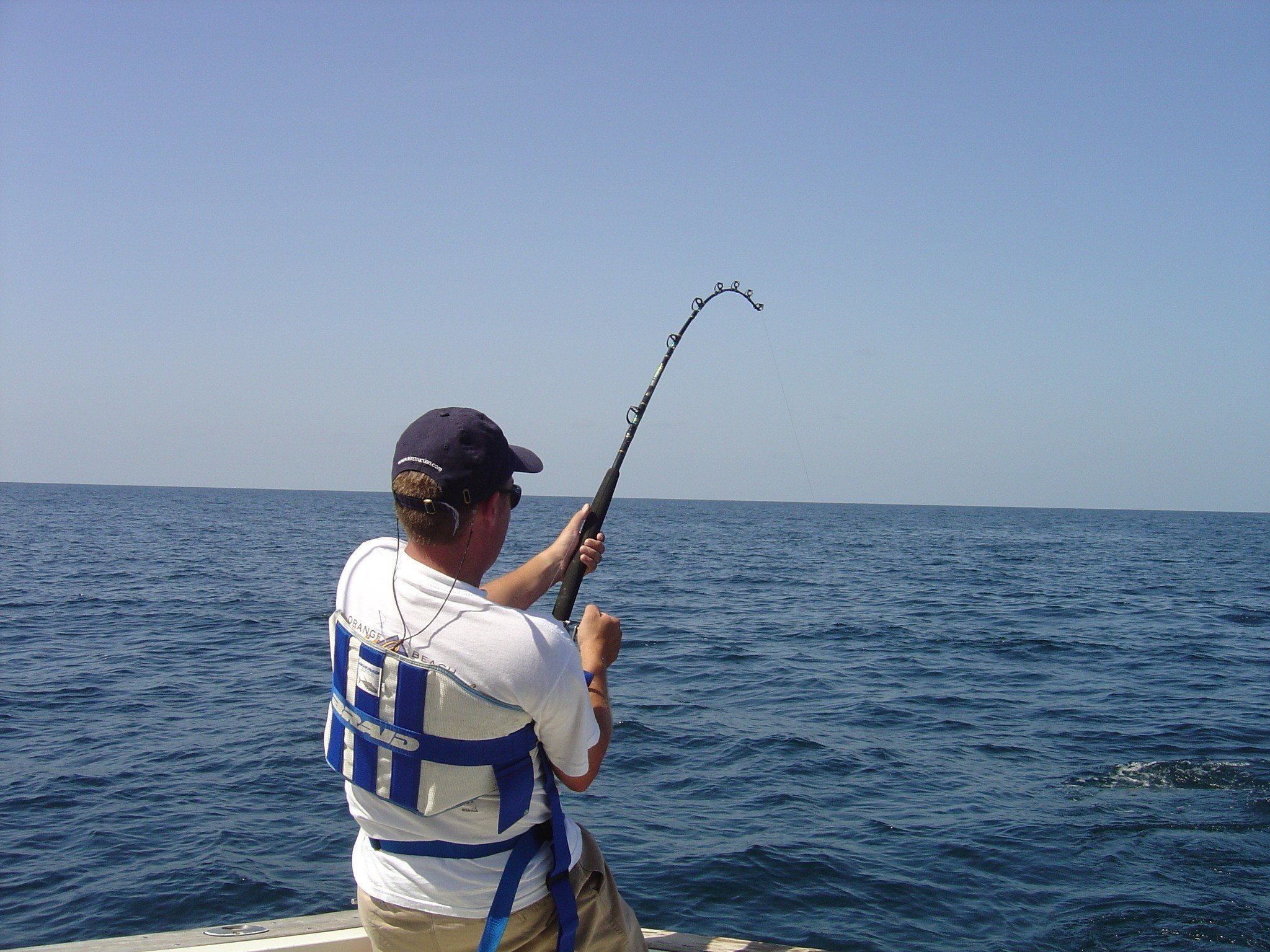 These types of rods are used for fishing in a boat or ship in the ocean. Offshore rods are short extremely tough fishing rods. This allows the angler to have the leverage needed while sitting or standing on a boat to land those monster fish. Think shark or swordfish!
You need to use a heavy, thick line when fishing with these rods because of the sizes of fishing you will be going after.
The tips on these rods are big, and the eyelets are extremely large because of the thick line you will be using. Large bait and tackle are used when fishing with these rods
Offshore rods have long straight handles or bent handles. The straight-handled rods are to use in conjunction with fighting harnesses when battling a sailfish or other giant deepsea fish.
The bent-handled rods are to be put in rod holders on the boat. Many of these rods will have roller guides. Having these guides makes the line move smoothly and causes less friction along the rod.
---
6. Surf Rods
Surf rods are used for fishing saltwater fishing along the beaches and bays of the ocean. These are extremely long rods up to 15 feet in length. The length of the rods is for long casting that needs to be done because of the high waves that accompany fishing from the shore.
When using these rods, you will be casting out heavy terminal tackle, and you will be catching enormous fish that fight hard like sharks or redfish.
The handles are long and strong and can be placed in a rod holder, or you can use what they call a fighting belt with these rods.
There are travel versions of surf rods that come in one, three, four, and five-piece versions making for easy transport while on vacation or flying in an airplane.
You will want to make sure you have the right line and tackle depending on the surf conditions and what type of fishing you are going to fish for. Conditions change fast in the ocean so you might want to have a few different rigs set up when you surf fish.
These rods are paired with spinning reels. And as you would think, the reel seats connect the reel to the rod very securely because you don't want to lose a fish that's on the end of your line by your reel falling off.
The price of these rods can get expensive as you can imagine. Some of them go as high as $600 for a St. Croix Legend rod. But there also are some more reasonably priced surf rods as well. You will want to shop around before purchasing these types of rods.
---
7. Ice Fishing Rods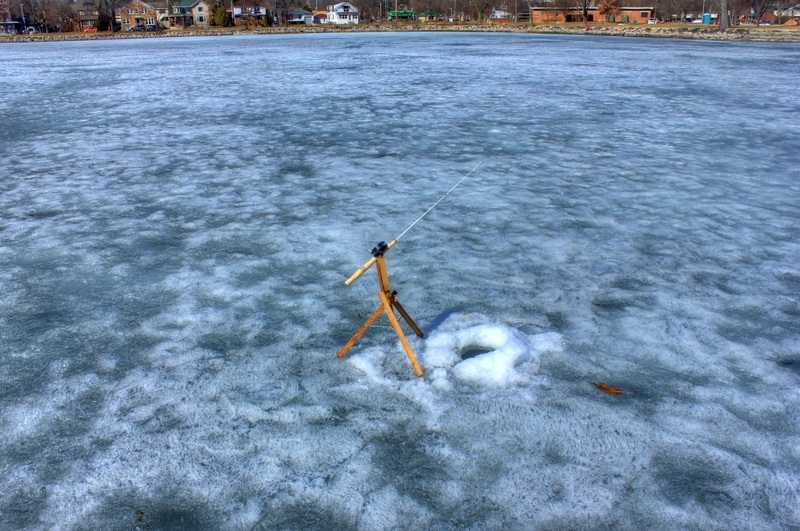 Ice fishing rods are of course, used for ice fishing. These are short rods between 18" to 48" in length. These rods can support a reel, but some are just rods with the fishing line wrapped at the bottom. They are compact and short so that you can fish with them in an ice house with limited space to fish.
If you are going to be hopping from hole to hole, you will want longer versions of these rods. The shorter ones are used for fishing in your ice shack.
When ice fishing, you will want to bring a few rods with you to cover multiple holes. Many ice anglers will use tip-ups as well to cover multiple ice holes. Ice fishing rods are strong but light so that they can detect the slightest nibble at the end of your line.
The rods that have reel seats use spinning reels, so the rod itself is of the spinning rod type. And, of course, there are fewer eyelets than their longer spinning rod counterparts.
You can get ice fishing rods by purchasing the rod individually or a combo rod reel together. One great thing about ice fishing rods is they won't cost you an arm and a leg.
This is good because you will be spending plenty of other equipment you will need for ice fishing like an ice house, warm clothes, and an ice auger.
Before you go purchasing a rod and reel combo, take a look at my review on 7 of the best ice fishing rod reel combos. You will find some of the best combos on the market.
---
8. Trolling Rods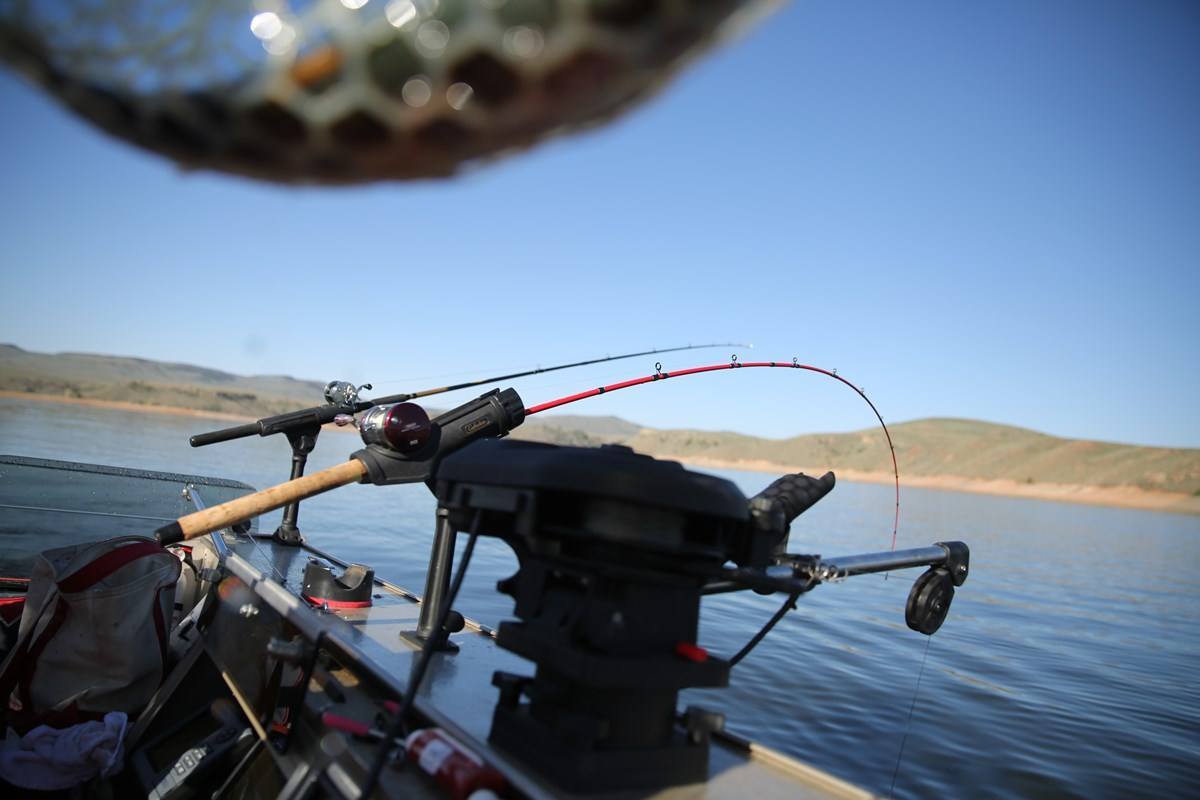 Trolling rods, as the name suggests used for trolling on a boat. You can use these rods for fishing any fish in fresh or saltwater. They fit in rod holders that you would place in the back of your boat. They are made of fiberglass and graphite with long corked handles that slip into the rod holders.
You can get these rods in one or two-piece, and some of them are of the telescoping type for easy storage. Some of the rods you use with downriggers. These rods are more flexible than the other trolling rods because they pull up when the downrigger is triggered.
Trolling reels or baitcasting reels are usually used with trolling rods. These rods need to be strong to hold the terminal tackle that is used and for fighting big fish. Some rods of this type are meant for use with large spinning reels, but that's not the norm.
Some trolling rods are designed for certain types of fish species, like musky, walleye, and salmon.
Some of the trolling rods have roller guides and specialized tips. You would typically find these types of rods in use with wire trolling lines. If you are using braided or wireline, you want the guides to be made of stainless steel because of the abrasiveness of the line.
The reel seats need to be secure so the reel stays in place while heavy forces from a huge fish fight on the end of the line.
Usually, anglers who fish frequently use these types of reels because they can be expensive, especially for the rods that are designed for a specific type of fish species.
---
Conclusion – 8 Different Types of Fishing Rods
There you have it. 8 different types of fishing rods. It's important to understand the main types of fishing rods so that you can choose the right rod for the type of fishing you will be doing. To recap, here are the main types of fishing rods.
Casting Rods – Great for casting long distances with high accuracy.
Spinning Rods – Easy to learn how to use, and they are the most popular of all rods.
Fly Rods – Used for fly fishing.
Telescoping Rods – Extendable and collapsible rods.
Offshore Rods – Used for fishing on the deepsea on a boat or ship.
Surf Rods – Used for fishing inshore bays and from the beach on the ocean.
Ice Fishing Rods – These are used for ice fishing.
Trolling Rods – Used to troll fish behind a boat.
Many different types to choose from for many different uses. I hope you enjoyed this article, and I hope you got some helpful information about fishing rods. If you have any questions or comments, please leave them in the comments section below.
Thank you, and Happy Fishing!