Deciding on the right electric ice auger can be a not-so-fun task. There are so many on the market today and you are left wondering which are the best ones to buy? Well, I have good news for you. You don't have to search anymore. I have reviewed and put together a list of the best electric ice augers of 2019.
Up here in the Northern half of America where the winter tundra comes upon us one season a year sometimes spilling over into three, many of us anglers look forward to ice fishing!
Call us crazy, fishing in below zero temperatures but that is one of the things that makes us a hardy people, and a lot of us look forward to the hard water fishing season.
Having a great electric ice auger on your side that you can rely on can mean the difference between an excellent day of ice fishing or a horrible day of ice fishing.
Crappy ice augers suck. You get fewer holes drilled because they die out too soon or a plethora of other problems that can go wrong with them. And if your ice auger peters out on you then you end up with the holes you got drilled and nothing more.
Well, say no more, you won't have to worry about that with the list of electric ice augers that I have compiled.
The Best Electric Ice Augers
AUGER NAME
BLADE SIZES
BLADE LENGTH
WEIGHT
BATTERY
ION X
Check Price
8″ or 10″
8″ = 34″
10″ = 42″
8″ = 22-lbs
10″ = 25-lbs
Lithium 40v 5ah
Jiffy E6 Lightning
Check Price
6″, 8″, 9″ or 10″
36″
24-27 lbs
Lithium 40v 6ah
Razr
Check Price
6″,8″ or 10″
40″
28-lbs
Lithium 40v 7ah
Trophy Strike
Check Price
8″ or 10″
31.5″
34-lbs
Lithium 120v 2ah
Landworks
Check Price
8″
39″
22-lbs
Lithium 48v 2ah
Ion G2
Check Price
8″
40″
17-lbs
Lithium 40v 3ah
Ion Standard
Check Price
6″ or 8″
34″
22-lbs
Lithium 40v 3ah
1. Ion X Ice Auger

First on our list is the Ion X electric ice auger. This auger comes in two models. 8″ and 10″ circumference drills. Ardisam the maker of Ion products is getting back to its roots with the Ion X. This company started out manufacturing electric ice augers and they have made a superb ice auger in the Ion X.
Ardisam is located just miles from where I live in northern Cumberland Wisconsin. In Wisconsin, we know ice fishing there is not a better place in the world to manufacture an ice auger from people who actually use ice augers and ice fish. So you know you are getting a product from that use the product themselves.
The Ion X has a 5 amp 40-volt battery. The charging capacity on this batter is over 60% more than the original batteries that were used in the Ions of the past. Making this one of the longest-running batteries around. With one charge you can cut up to 1600 inches of ice with the 8″ auger and 640 inches of ice with the 10″ auger. You will love being able to hole hop all day long and not have to worry about charging the battery. Now to me, that's astounding for an electric ice auger.
You are also going to love the fact that Ion X has a reverse button. No more getting your blades stuck in the ice. You will also have freshly cut holes with no slush to scope out when you are done the cutting.
The bottom is made of cast aluminum so you know it's tough! With this new bottom, you get a more even cut when you are going in and coming out. It also has a center point that cuts right through the ice with ease and is as accurate as you can get with an auger.
The handlebars are redesigned closer to the powerhead so you can drill in tight spots close to your ice house. This also helps with the accuracy of the cut. You will be able to drill holes at night with the two led lights that are under the powerhead. The lights are an excellent feature that you can use to drill in your ice house without missing a beat.
The 8″ Ion X only weighs 22-lbs and the 10″ is 25-lbs so they are both very light ice augers indeed. The auger length is 34″ for the 8″ model and 42″ long for the 10″ model.
They are both available on Amazon so pick one up before the ice fishing season starts.
---
2.
Jiffy E6 Lightning
The Jiffy E6 Lightning electric ice auger is a powerhouse. It's powered by a 6 Amp-hour lithium-ion battery that gives you hours of hole drilling power.  You can drill up to 135 holes in 2 feet of ice with a 6-inch blade on a single charge. Now that's power! No more having to recharge or change batteries after drilling a couple of holes.
Top Features:
Reverse Drill Operation
Night lights
Comfortable Grip Handles
6, 8, 9, and 10″ blades assemblies available
2-year limited warranty on powerhead and drill
1-year warranty on the battery
Carrying weight of 24 to 27 pounds depending on the size of the blade
USB charging port for the battery
The blades are coated with Jiffy D-Ice'r ARMOUR that keeps the blades from ice build-up. This helps the blades to cut cleaner and faster through the ice. Jiffy is one of the fastest cleanest running electric ice augers around that is why it has made the list. You can check out the price on Amazon.
---
3. Razr Lithium with Reverse
You will be cutting holes like a mad person with the Razr Lithium 40 volt electric ice auger. This thing is bright orange so you will be seen a mile away in case of a snowstorm. You won't lose this ice auger anytime soon. You get a 7 amp hour battery. The reverse on the Razr is excellent for cleaning out slush from your holes and ease of extraction.
The auger length is 40″ so you can cut through up to 3′ of ice without needing an extension. That saves tremendously on extra costs. The blades are twin serrated making it easy to cut through the ice without having to push it through saving strain on your back and arms. No rusting with these blades because they are made out of stainless steel.
Razr has two different blades to choose from:
Curved Blades – Used For drilling new holes.
Chipper Blades – Used for Reopening old holes.
If you need light the Razr has that too. Included is an Led light that can be turned on and off even when the auger is not running. This is handy so you can have light in your portable ice house at night or if you have no windows to let light in. There is an indicator light to let you know when the battery needs charging and you get a quick charging station.
You will be able to fish all day on one charge. You can cut up to 1,785 inches of ice with the 8″ blade and 1,326 of ice with the 10″ blade on a single charge of the battery.
You get a 3-year warranty on the powerhead and a 1-year warranty of the battery unit. So Razr stands behind their products which is a driving factor when I'm looking for augers or for any product.
You can check out the price of the Razr Lithium 40v on Amazon below.
---
4. Trophy Strike 120v Lithium-Ion
If you're looking for power, you are going to want to check out the Trophy Strike 120-volt Lithium-Ion. This is a lightweight but powerful electric ice auger. You can drill up to 80 holes in 20 inches of ice and you can do it precisely and accurately. It's a powerhouse of ice augers.
It's the only kind that I know of that has a 120-volt battery for long-lasting power.
The motor is brushless and has 5 planetary gear transmission making the Trophy Strike one of the toughest electric augers around even in harsh conditions.
You will be loving the reverse drive on this thing making the removal of slush and the auger blades a breeze.
The handles are ergonomically designed for a comfortable grip and less wear and tear on your hands. A center ring that is mounted makes opening up frozen holes a breeze. Trophy Strike is engineered in the Rocky Mountains where the ice gets extremely thick so they are made to dig through the thickest of ice.
You will enjoy the smooth cut you get from their revolutionary blades. No more losing a fish from a cut fishing line because of the jagged edges that some auger blades leave behind. And because it's electric you can safely drill holes right in your ice house without having to worry about toxic fumes.
Here's what you get with your Trophy Strike ice auger kit"
8″ or 10″ auger blade
3.0Ah 120 volt battery
Battery charger
Battery bag
15″ Extension
---
5. Landworks Eco-friendly Cordless Electric Ice Auger
Landworks is a name you can trust. Landworks has made its name by manufacturing post hole digging augers and they are now getting into ice augers. Their auger comes with an 8″ blade that is 39″ long so no need for an extension unless you are drilling holes in the ice in the arctic circle.
The handles are widely spaced so you can get a good grip on the auger when you are drilling. With a 3 gear planetary transmission and a brushless motor, you get a very smooth and accurate cutting of holes.
A 48 volt 2 amp-hour lithium battery and charger are included. You can purchase a 4 amp battery sold separately if you choose. The Landworks ice auger is light at only 22-lbs but you will be able to drill through the ice with ease.
When it comes to well-known names in drilling and chipping equipment Landworks is it. On a single charge, you can drill approximately 2340 inches of ice with the 2 amp battery and 4680 inches using the 4 amp battery. That's a lot of holes!
The manufacturer has a note about how to drill the holes with their electric auger. They say before you break through the bottom of the hole to reverse the direction of the blade and then continue drilling through. I thought I would pass that information on to you.
You can purchase the Landworks electric ice auger on Amazon. Check the price by clicking the buy now button below.
---
6. Ion G2 Electric Ice Auger
Can you tell I really like Ion ice augers? The second Ion on our list is the Ion G2 electric ice auger. This is another excellent ice auger made by Ardisam. The G2 is the second generation ice auger. The G2 is crazy lightweight. Weighing in at only 17 lbs this is 29% lighter than other ice augers of its caliber and it's light to carry. Always nice to lighten the load when you are going out ice fishing.
The battery is a whopping 6ah Gen 2 one of the longest life batteries in the industry. It's also a single cell battery so it will work wonders even when the weather gets extremely cold and when you are ice fishing you all know that well.
The bottom is made of a polymer composite helping with cutting smooth as silk holes and making re-drilling a cinch. The polymer bottom also helps with keeping the auger's overall weight low.
To flush the slush out of the hole just hold the reverse button for about 20 seconds and the job is done. You will be able to cut through the thickest of ice with the 40″, long 8″ circumference drill bit. No need for an extension here!
The Ion G2 has a long 3-year warranty on the auger and the battery. This is unheard of in the industry which shows that Ardisam stands behind their ice augers.
I highly recommend this electric ice auger. Do yourself a favor and check out the Ion G2 on Amazon by clicking the blue buy now button below.
---
7. Ion Standard Series Gen 1
The last electric ice auger in our list is the Ion Standard Series. This is a generation 1 ice auger by Ion. The price is about $100 cheaper than the Ion X only because the technology is a little more advanced on the Ion X but the Ion Standard is still an ice auger that is a powerhouse.
With the Standard Series, you get a lightweight auger weighing in at only 22 pounds which is almost 40% less than gas-powered augers. You will love the center ring for reopening frozen over holes.
You get a 6″ or 8″ diameter auger bit that is as sharp as a razer for cutting smooth as silk holes making breakage of your fishing line near impossible. The length of the auger bit on both the 6″ and 8″ versions are 34″.
The great thing about battery-powered augers is you don't have to put up with the nasty fumes that gas augers give off and they are much cleaner the handle. And no more mixing gas and oil in the fridged temps. All you do is put the charged battery into place and hit the on- button and your off and drilling!
The handlebars are ergonomically designed for comfort when drilling. They also have a large trigger button that you will appreciate. The ice slush gets flushed down the hole when you utilize the reverse option on the Ion Standard. You can cut up to 1000 inches of on a single charge with the 8″ blade and 1800 inches with the 6″ blade.
You get a generation 1 3ah amp-hour 40-volt battery with the Ion Standard. Even though it is a gen 1 battery it still is a powerful battery for an electric ice auger.
---
Electric Ice Auger Buyers Guide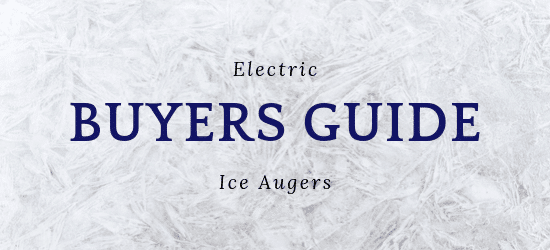 There are a couple of things you want to consider before purchasing an electric ice auger. You will want to determine what size holes you want to drill which will depend on the type of fish you are trying to catch. How long of an auger bit you want. And the type of battery you are looking for. The following buyers guide I will explain each one in more detail.
The diameter of Auger Bit
The first thing you will want to determine is the size of the blade you want. This will depend on the type of fish you are after. Basically the bigger the fish, the bigger the size hole you will want to cut. Most ice augers you get a choice of 6″,8″ or 10″ diameter auger bits. The bigger diameter bit the more the auger is going to cost.
If you are fishing for bluegills or perch a 6″ blade will do just fine. If you want to go after bass or walleyes you could do with an 8″ blade. But if you are aiming for catching bigger fish like lake trout or musky you will want to opt for the 10″ blade. If the fish you want are monsters you might have to go with drilling two holes next to each other.
The one thing you don't want to happen is to have a hole that is too small when you latch onto a fish. Because once you have the fish on the line there is one of two ways it's going to end by bringing that fish through the hole or losing it to the waters below. So picking the right size auger bit is a very important piece of the puzzle to think of before purchasing and electric auger.
Length of the Auger Bit
The length of auger bits varies from 32″ to 42″. The longer the bit will determine how deep of ice you can drill through. If you purchase shorter auger bits you can always get an extension of the ice you are drilling through is too thick. But if you get a bit that's 40″ long that will get you through some pretty thick ice.
And the longer the bit the more it's going to cost but if you don't need to purchase an extension it might be worth the price in the long run. But some augers come with an extension anyway so you will want to check the manufacturer's details about what is included with the auger.
Battery
The last thing to consider is the battery. You will want a battery that is at least 40 volts which most electric ice augers come with. A lithium-Ion 40 volt 3-amp hour battery will usually get you cutting through a ton of ice on one charge.
There is one auger in the list that has a 120-volt battery which in my opinion is overkill but you won't have to worry about that one dying out on you.
Conclusion
So there you have it the 7 best electric ice augers for your consideration. These ice augers that I have included in the list are top quality electric ice augers that are worth your consideration.
Some of these ice augers come with warranties which is an important thing to consider as well. Like I said earlier in this article if a company offers a good warranty that shows that they stand behind their products and you are probably going to get a quality product if they have a 3-year or more warranty which the Ion's do.
The goal in all of my reviews is to bring you the angler information that you need to purchase the right fishing product. I hope I reached my goal with this review.
If you have any questions or comments please leave them in the comments section below. I would love to hear from you. If you own any of these ice augers I would like to hear about your experience with using them. As always Happy Fishing!