In this article, you will discover the 7 best portable fish finders that are on the market today.
Having a fish finder that you can carry with you is essential in finding the best places to fish. Fishfinders come in many shapes, sizes, and prices. Finding the right one for the right price can be a daunting task.
Here I have taken the pain out of searching for the best fish finder by providing you with a review of the 7 best of them. I love fish finders especially portable ones because when I use them I usually come home with a boatload of fish and a ton of great memories.
So sit back relax and let's find you a portable fish finder for the right price!
7 Best Portable Fish Finders of 2021
1. Garmin Striker 4 with GPS
Garmin is a company that is known for its fishfinders and it's no surprise that one of the best portable fish finders on the market today is the Garmin Striker 4 with GPS and CHIRP transducer technology.
You will love the easy-to-read, 3.5-inch color screen and its highly sensitive GPS. The keypad is big and easy to operate. You can get back to your favorite fishing spots, boat docks, and ramps because you can save these right in Striker 4. Just follow the path that is laid out for you on the Striker 4 screen.
With the Chirp (77/200 kHz) sonar transducer technology, you get crystal clear images of fish and structures that lay underneath. Instead of sending out one frequency like other transducers, CHIRP sends out a continuous wave of frequencies coming up with much clearer results. You will be able to distinguish more easily what you are actually seeing. The transmit power on the Chirp is 200 W RMS and the peak to peak is 1,600 W.
The Striker 4 will track the speed you are going and it also swivels and tilts and includes hardware so that you can mount it to a trolling motor. You will appreciate this when the water is rough and you need the fish finder to be in a fixed position.
The built-in flasher works great especially when you are ice fishing. The flasher will indicate if the bottom is muddy or solid. I will also show where your bait is and at what depth the fish are at when they swim through the sonar beam.
This fish finder is easily portable when you opt for the portable kit which is sold separately. The portable kit for the Striker 4 includes:
Protective carrying bag
Rechargeable Battery
Battery Charger
Suction Cup Transducer Mount and Float
Transducer cable management and storage
---
2. Deeper Pro +Smart Sonar

The Deeper Smart Sonar Pro is built for inshore anglers. It's a castable fishfinder with a castable range of 330 feet. No other castable fish finder can cast as far. The GPS allows the Deeper Pro the map right from the shore. Cast this fish finder to where you are planning on fishing and reel it in. You get detailed bathymetric maps from shore. To my knowledge, this is the only castable fish finder that can create maps like this.
Not only can you cast the Deeper Pro out to 330 feet you also get a wide scanning area of 55 degrees that the sonar beam can cover. If you want a detailed scan just switch to that and it will limit the coverage to 15 degrees.
And Talk about the depth this fish finder scans to 260 feet which is 100 feet deeper than any other comparable fish finders on the market today. That is deep, especially when scanning from shore.
You will appreciate the dual-beam transducer that the Pro has installed in it. It has a target separation of 1" and scans 15 times per second. This provides for very accurate readings and with the use of WiFi instead of Bluetooth, you get those readings lighting fast in real-time.
You get to mark fish and see fish archways. Also, add fish tags and depth tags. You can see the vegetation and fish with the split-screen scanning. View the bottom contour with ease of clarity.
Choose from 3 color pallets which helps you view the display better whatever the weather is outside. You will know the depth and water temperature as soon as the Deeper Pro+ hits the water.
This is an all-around best castable portable fish finder that money can buy! The Deeper Pro+ Sonar fish finder is available on Amazon and free shipping is available with a Prime account.
---
3. ReelSonar iBobber Bluetooth Smart Fish Finder
The iBobber by ReelSonar is a handy little castable fish finder to have. As a matter of fact, it is the smallest fish finder you will find anywhere. The iBobber is wireless with Bluetooth capabilities that will sync up to your iPhone or Android smartphone from 100 feet away.
You can choose between raw sonar and fish tagging views. Fish will get tagged on your screen in two different colors depending on the length of the fish. Fish that are under 15" get an orange tag and fish over 15" get a green tag. This helps you determine which fish are worth going after before you even start fishing.
The sonar reads to a depth of 135 feet which is a long way down there and if you are fishing off the shore that should be plenty.
There is a trip log with the type of fishing, conditions, lure, number, and species of fish that you caught, water temperature, location, time, and date. This is great if you are an angler who likes to take notes of your trip.
You can tag your fishing spots with built-in GPS and interactive mapping. The iBobber is compatible with Google watch and iWatch. There is also social media share capability on the app that's provided free.
The battery is rechargeable and lasts up to 10 hours which is perfect for a whole day of fishing. The first time charging the battery takes 6 hours and after it's been used once it takes about 2 hours to charge.
A little fish finder like this is perfect for anglers who fish from the shore or for boaters who can't get their onboard sonar to certain areas. Just cast the iBobber out to those limited areas and you are in business.
The iBobber is available on Amazon and you get free shipping with a Prime account.
---
4. Lowrance Hook2 5x

Next up on our list is the Lowrance Hook2 5x. This fish finder is touted as the world's easiest fishfinder. Lowrance has a wide selection of fish finders and the Hook2 is one of the best. If you want to find fish and not have to tinker with complicated settings then the Lowrance Hook2 is for you
With the easy-to-use autotuning sonar you just turn on the fish finder and see where the fish are. You are good to go. The Hook2 5x is a perfect size easily portable take it anywhere you go fishing.
The 5x stands for the screen size that is 5" diagonal. The Hook2 also comes in 4", 7", 9", and 12" models all depending on how big of a screen you would like.
The Sonar covers a wide area because of the wide-angle CHIRP sonar cone that is installed on the Hook2.
The single transducer is easy to set up. You can place it on a trolling motor, on the transom of your boat or you can even put it through the scupper hole on your kayak. Quick and easy no problems. The transducer is Split-shot that gives you DownScan and CHIRP sonar. So you get a view straight down from your boat and on the sides. This allows a view of the whole area you are fishing.
With the SplitShot transducer, you can scan depths up to 500 feet with CHIRP and 300 feet with DownScan. This is excellent coverage you don't find in all portable fish finders.
Navionics and CMaps software comes installed in the Hook2. This is a great software to use when you are new to some waters. The US mapping system shows you 4,000 lakes with 1-foot contours. The Navionics software has inland and coastal mapping of the US and Canada.
The screen display is of high resolution and is called SolarMAX which is handy when you need to see the fine details. The Hook2 5x also comes with a 12v battery and charger and two storage boxes to keep the fish finder safe when not in use.
Have peace of mind with the one-year warranty that you get with Lowrance products.
You can pick up the Lowrance Hook2 5x on Amazon and get free shipping with a Prime account. You can check on the price at Amazon by clicking the button below.
---
5. Hawkeye Fishtrax 1C

The Hawkeye Fishtrax 1C is an excellent portable fish finder. The Fishtrax is great for fishing onshore, from a boat or kayak, and on the ice. There is no complicated hardware very easy to set up. It's a very versatile fish finder.
You get a transducer that is floatable, mountable, and trollable. Mount it right to your boat and your good to go. If you are a kayak angler the transducer works great just plop it in the water and troll away.
The sonar has two frequencies 83 kHz for deep water and 200 kHz for shallow water. This lets you get readings in water only 1.5 ft deep and as deep as 240 ft.
There are three modes that come standard on the Hawkeye Fishtrax.
The Fish Finder Mode finds the fish, shows you what's beneath the water like the contour of the bottom and how deep the water is. It's always advantageous to know what kind of water you are casting your bait into.
When you click on the data mode you get an enlarged view of the information for easy viewing. You get readings on the depth, battery voltage, and temperature. The data is displayed big enough so you can read it several feet away.
The third mode is the ice mode which is a digital flasher that's useful for ice fishing. You get sonar echos that are sent out in real-time.
The Fishtrax is powered by four triple-A batteries that can last for up to 30 hours. The housing is waterproof so no need to worry if you drop it in the water and we all know that will inevitably happen.
You can even wear it around your neck with the handy neck strap that comes with it. Just toss the transducer in the water and your good to go. It also includes a carrying case to keep it protected when it's not in use.
You get a 2-year warranty so if anything happens to your Fishtrax fish finder you can have it replaced. What else could you ask for?
View the owner's manual here.
Check out the Hawkeye Fishtrax on Amazon.
---
6. Humminbird Piranahmax 4.3 DI
If you are looking for crystal clear images of what's beneath your boat then you will want to swing for the Humminbird Piranahmax. What a cool little fish finder any angler would be proud to own.
First off Humminbird is a brand you can trust and has been around for over 40 years which is a great accomplishment for any business and this shows the effectiveness of their products. They do make "top of the line" fish finders and Piranahmax is no different.
With the Piranahmax you get a 4.3" diagonal screen and a 272H X 470V pixel matrix that makes the images so clear.
The sonar can go down to a depth of 320 feet with coverage of 28" and 16 degrees at 10 dB. This gives you plenty of sonar power to play with. With the dual-beam sonar, you will be able to choose from a wide or narrow sonar beam. If you choose the narrow beam you get finer details and the wider beam will give you the coverage you need when looking for the contour and structures of the bottom below.
You get Down Imaging, depth and fish alarms, Fish ID+, and zoom all in an easy-to-use interface.
The transducer is built-in and can be mounted on the transom inside the hull. The Gimball mount dimensions are 3.91" x 7.34" x 3.62".
Mounting the Piranahmax to your boat is easy with the tilt and swivel mounting system that comes with the Piranahmax. This allows you to view the screen from anywhere on your boat.
You can find the Humminbird Piranahmax on Amazon. Click the button below to check out the price.
---
7. Lowrance Elite – 9 Ti2
Talk about top of the line. The Lowrance Elite 9 has it all! You get a 9-inch screen for a big viewing experience. There is Active imaging with the 3 in 1 transducer, Real-time map creation, preloaded C-MAP US inland mapping, and wireless networking included. The Elite 9 Ti even has a touchscreen now how convenient is that?
C-MAP Genesis Live lets you map in real-time. Map your best fishing spots or map areas you have never been before and see it all in real-time on your screen.
You will love the preloaded inland US maps of 4,000 lakes with one-foot contours. Narrow it down to find where the drop-offs and cover are that fish tend to like hanging around.
The active imaging of CHIRP sonar lets you down scan and side-scan this provides for excellent coverage all around your boat.
With the enhanced display technology you get great target separation and clarity of the onscreen objects so you will be able to identify fish and underwater structures more easily. The overall technology is state of the art with the Elite 9.
Then you have the wireless networking coverage so you can share your waypoint and routes, sonar, and mapping with whomever you like. There is no cable involved connect wirelessly.
The Elite 9 works in any type of water, saltwater, or freshwater making it a great fish finder no matter where you fish.
If you are fishing deep lakes this fish finder is perfect because you can scan to depths of 1000 feet. Now that's deep but if you are talking ocean fishing that is precisely what you need and the Elite 9 can give that to you.
The Lowrance Elite 9 Ti is available on Amazon and ships free with a Prime account. Click the button below to check on the price.
---
Portable Fish Finder Buyers Guide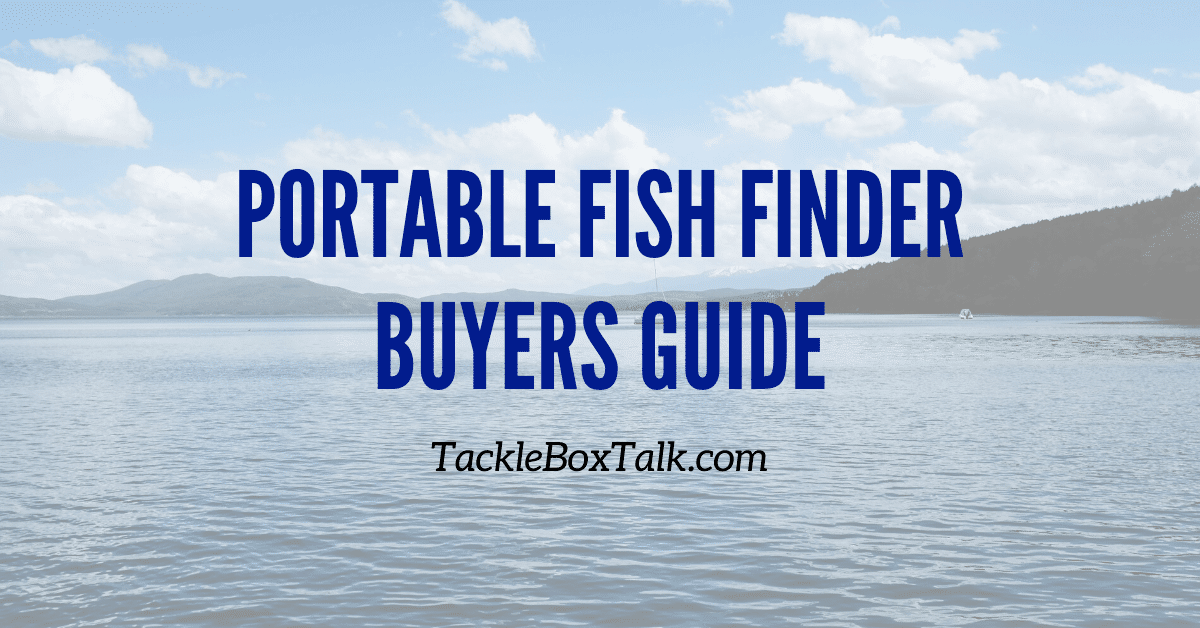 There are a few things you want to consider while shopping around for a portable fish finder. Some of these are more important to look for than others but the more information you understand about fish finders before you purchase them the better off you will be in choosing the right fish finder that suits your specific needs.
Transducer
The transducer emits and receives a sonar wave that reflects off surfaces underneath the water. These waves come back as images and data that you can see on your fish finder screen.
There are usually three types of mounting to choose from with a fish finder. They are:
Transom Mount
Hull Mount
Scupper Hole Mount
You will typically find plastic transom mounts for your fishfinder. If you are mounting the transducer through the hull or in the hull of an aluminum or steel boat you will want to use a stainless steel housing for the mount. If the boat is fiberglass or wood then you would go with a bronze housing.
Make sure the transducer comes with the right mounting system for the type of boat you have.
High Wattage vs Low Wattage
The wattage of a fish finder will determine how reliable of a reading you get. Fishfinders that can scan deep and fast have higher wattage than units that cannot. The faster the waves of sonar the deeper and more reliable the scan.
Frequencies
There are four frequencies that a transducer will come in:
50 kHz
83 kHz
192 kHz
200 kHz
The deeper the water that you are scanning the lower the frequency that you will want. So deep water you would go with 50 to 83 kHz. For shallow water fishing, you would want the 192 to 200 kHz frequency transducer. Some fish finders offer up to 400 kHz frequency transducer which provides for a really sharp and clear image.
Most transducers offer dual frequency so you can switch back and forth depending on the depths of water you are in.
Screen Resolution and Color
The screen resolution and color choice can make a huge difference in the readability of your data on the screen. The bigger the screen the better the picture that you are going to get.
You also want to check out how many pixels your screen has. The more pixels that a fish finders screen display has the more detailed of an image you are going to get.
A color screen is better than a black and white screen. Color makes it easier to decipher between displayed images. On dark and cloudy days black and white is not the easiest thing to read.
Sonar Beams and Cone Angles
The beams and cone angles have to do with how wide of an area that the sonar transmits around underneath your boat. Most fish finders will come with cones that transmit 16 to 20 degrees but they can go all the way up to 60 degrees and over.
Some fish finders come with dual-beam features which means you can scan more of an area. Although this is a great feature to have the more beam options there are on a unit the more it's going to cost.
Water Resistance
The water-resistance of a fish finder is another option you will want to consider. There are two ratings you want to look for the JIS and IPX. These ratings will tell you at what level the water resistance is. The ratings range from 5, 6, 7, or 8. The higher the number the better resistance to water that the unit is.
If your using your fish finder on the shore you will only need a rating of 5 or 6. If you are on a boat with rough waters a 7 or 8 rating would be a good option.
Conclusion
So there you have it the 7 best portable fish finders that are on the market today. I hope with the information that I provided here you will be able to find the best fish finder that you are looking for.
You can find all of these fish finders on Amazon. If you have any questions or comments about fish finders please leave them in the comments section below and I will be happy to answer each and every one of them.
As always thanks for reading and Happy Fishing!