Say it with me, "Swivels are a Godsend." But what size swivel do you use for trout? With so many to choose from, it can be confusing for sure, so I thought I'd bring you the answer from my experience and research.
The size swivel you use for trout varies with the size of trout you aim to catch. For the most part, a size twelve swivel is good enough, but you can also go to a larger swivel for other varieties of trout by upgrading to a size eight swivel.
Below, I will discuss the different types of swivels and the sizes of swivels. If you want to learn more, read on.
What Are Fishing Swivels?
Fishing swivels are small ball-shaped tools for fishing with the line from one end and a lure on the other. The ball-shaped part of the swivel is attached to a hook-like device called eyelets which appear on both sides and swivels, hence the name. These eyelets turn independently to each other, which makes the presence of line twists less likely.
Some forms of swivels attach a sinker weight. Most of the functions incorporated with the swivels have a lot to do with preventing breakage due to line twists.
What Size Swivel Do You Use For Trout?
Swivels come in many shapes and sizes, which may, in turn, be confusing to the end-user. The amount of weight a swivel can hold is directly proportional to its size. This proportionally direct relationship with swivels would imply that the larger the swivel, the heavier loads it can manage.
So what is the confusion then? Why can't I use the biggest possible swivel to support the biggest loads instead of the smaller ones? Well, choosing a swivel isn't precisely that easy per se.
There is also another relationship between the swivel's size and its functionality, and that functionality is preventing line twists that may result in breakage. The implications are that the bigger the swivels are, the less effective it is in avoiding line twists.
Most anglers would recommend you use the smallest swivels possible within a particular fishing trip. Instead of choosing the most extensive swivel to catch the biggest fish like Lake trout, what would be recommended is to use the smallest possible swivel that can accommodate most of the fish in the area.
Trout Species And Weights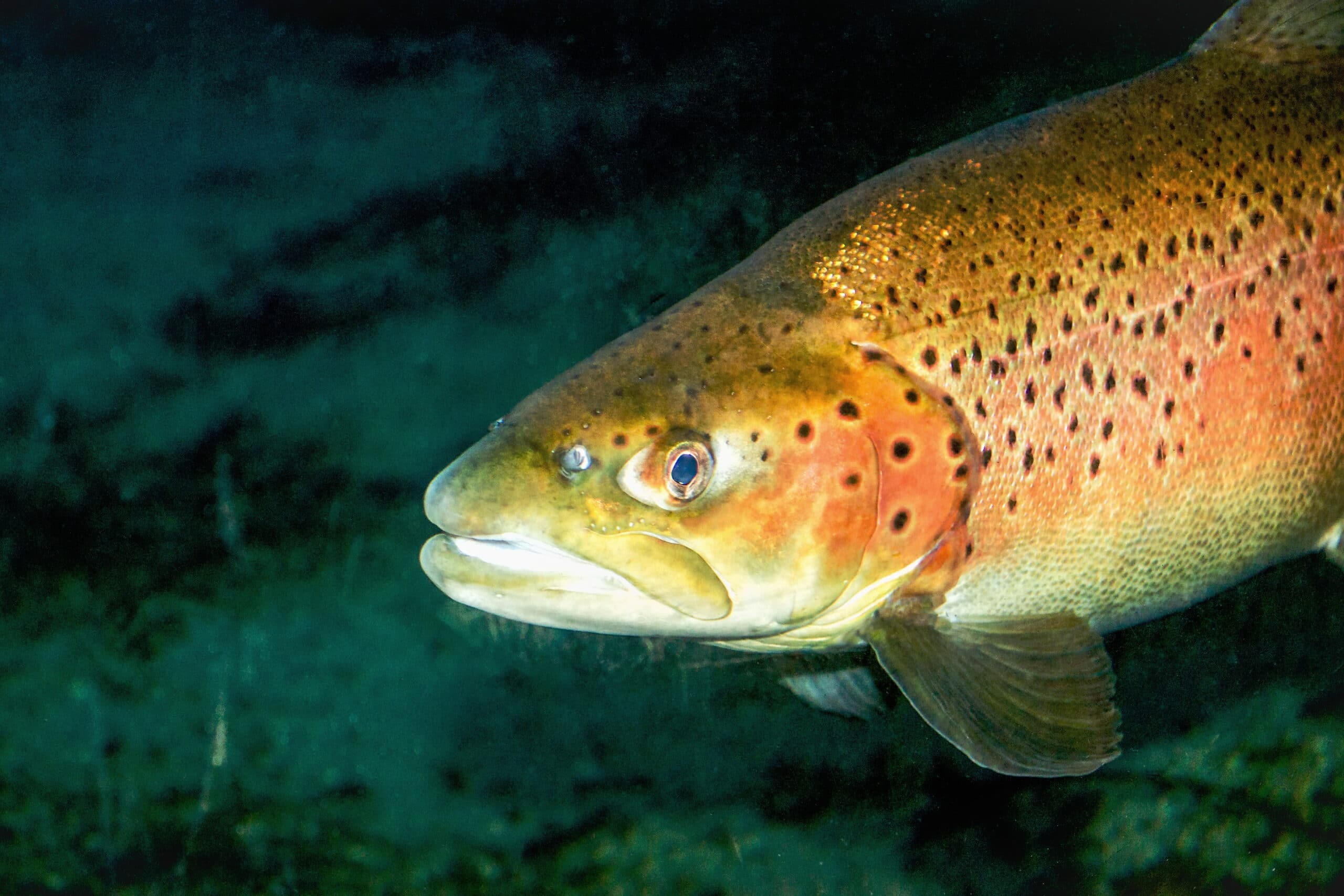 Trouts are of many varieties and species. Earlier, I had concluded that a size twelve or eight swivels would be perfect for trout fishing. How is that so?
To have come up with that conclusion, let's look at the weight limit of a size eight swivel. A size eight swivel typically supports up to 42 lbs or approximately 19 kg of weight, while a size twelve would support up to 20 lbs or up to 9 kg of weight. Now, let's look at the average weights of trout, shall we?
Most adult rainbow trout average around half a kilogram to 2.3 kilograms of weight. Meanwhile, the lake trout averages around 6 kilograms to 18 kilograms.
The brook trout does not weigh more than 6.6 kilograms, while most cutthroat trout species fall in the range of a kilogram to 7.7 kilograms of weight.
Accounting for the colossal trout average weight belonging to the lake trout, it is safe to say that you can get a size eight swivel for most of your trout fishing needs. 
Below, I have included a table showing the swivel sizes and weight limits of the said swivels. Additionally, I also incorporated the swivel sizes you should use in accordance with what species of trout you are looking to catch.
Swivel Size And Strength Capacity
| | | | | |
| --- | --- | --- | --- | --- |
| Size | Strength (lbs) | | Size | Strength (lbs) |
| #12 | 20 | | #1 | 104 |
| #10 | 31 | | #1/0 | 132 |
| #8 | 42 | | #2/0 | 165 |
| #7 | 49 | | #3/0 | 220 |
| #6 | 66 | | #4/0 | 298 |
| #5 | 71 | | #6/0 | 352 |
| #4 | 77 | | #8/0 | 551 |
| #3 | 88 | | #10/0 | 772 |
| #2 | 95 | | #12/0 | 1323 |
Trout species and recommended swivel size
| | | | |
| --- | --- | --- | --- |
| Trout Specie | Weight (lbs) | Weight (kg) | Swivel Size |
| Rainbow Trout | 1.1 – 5.1 | 0.5 – 2.3 | #12 |
| Lake Trout | 13.2 – 40.0 | 6.0 – 18 | #8 |
| Brook Trout | > 14.6 | > 6.6 | #12 |
| Cutthroat Trout (sea-run) | 2.0 – 5.1 | 0.9 – 2.3 | #12 |
| Cutthroat Trout (stream-resident) | 0.024 – 0.2 | 0.011- 0.091 | #12 |
| Lahontan Cutthroat Trout* | 0.25 – 8.0 | 0.11 – 3.63 | #12 |
| Lacustrine Trout | 12.0 – 17.0 | 5.4 – 7.7 | #12 |
*fishing for Lahontan Cutthroat Trout may be illegal in certain conditions and states. Please fish responsibly.
Types of Swivels
There are three common types of swivels. Each one of them serves different purposes and has separate usage cases. Let's look at each one of the swivels thoroughly.
Barrel Swivel
Known as the cheapest out of all the swivels, the barrel swivel has a hollow barrel. This hollow design creates opportunities for lowering costs from materials and production. Additionally, barrel swivels perform excellently with light to moderate weights.
Under heavy load and tension, barrel swivels struggle to perform as the eyelets succumb to friction and will hardly swivel. When fishing for small trouts such as the brook trout, the barrel swivel should be more than enough.
Ball Bearing Swivel
The ball-bearing swivel is the best performing swivel with a hefty price tag. However, with its stainless steel construction, the ball bearing swivel performs excellently even with extreme pressure from both sides of the swivel. 
With its intelligent mechanisms, the ball-bearing swivel reduces friction, thus allowing it to carry heavier loads, especially when compared to a barrel swivel.
Due to its construction and materials, the ball-bearing swivel comes with a rather hefty price tag. However, suppose you are aiming for larger trout, such as the lake trout varieties. In that case, you are better off using a better performing swivel such as that of the ball bearing swivel rather than risking it for a cheaper swivel like that of the barrel swivel.
Three-way swivel
Known as the most alien-like out of all the swivels, this swivel's specialty focuses on its hybrid design containing three eyelets instead of the usual two. 
The three-way swivel's use case is usually when attaching fishing leaders to two eyelets while the other eyelet has a hook. Other three-way swivels are also used for connecting a floating or a weight device.
It is important, especially for three-way swivels, to buy the highest quality one to reduce breakage. Especially if you are opting for larger trouts, buying a stainless steel one like the ball-bearing swivels will assure you better than brass varieties.
Three Frequently Asked Questions About Trout Fishing and Swivels
What species of trout are on the endangered species list?
Bull Trout
Steelhead Trout
California Golden Trout
Yellowstone Lake Cutthroat Trout
Cutthroat Trout of the Northern Rockies
Gila Trout
The list of endangered trout species may vary from time to time, so it is best to check again and again.
What is a crane swivel?
Not discussed earlier, a crane swivel is better under heavy loads when compared to the barrel swivel but is still inferior compared to the ball bearing swivel. It is best used for fish species like catfish.
Are there any plastic swivels?
Fishing swivels are composed of many materials, but most are made of either nickel-plated brass or stainless steel. Plastic swivels are a thing, and they are available for purchase, although they are less common when compared to the other two.