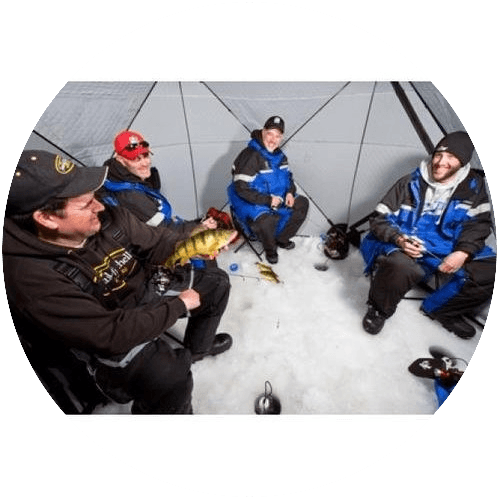 I bet you're looking for a review on Clam ice fishing houses… Am I Right? I know I'm right otherwise you wouldn't have landed here. I review various fishing products from time to time.
The Research
With extensive research scouring the internet for facts and figures, watching videos, and talking to people that have used the products I tend to find some awesome products and once in a while some great deals! No better forum than the internet to find compare and review kick-butt quality products and services.
You can find anything and everything if you just do a little google search. That's more than likely how you got to my website Tackle Box Talk.
Enough about me and how I research and how you got here. Let us dig into the topic at hand which is Clam Ice Fishing Houses! This is an exciting review for me because these ice houses are the creme de la creme of ice shacks. Some of them are a bit spendy but well worth it for what you get with them.
Suffice it to say you are probably an ice angler looking for a fishing house to purchase online or a miss guided soul searching for clams online LOL. I like to believe you're an ice angler. I wouldn't want to deal with a hungry clam eater anyway. 🙂
These shelters are anything but a shack! These Clam ice fishing houses are some of the best fishing houses on the market. They have been that way for many years.
The Clam Ice Team

The Clam corporation started what they call the Clam Ice Team over 20 years ago in 1997. Jason Mitchell is part of this team that travels up and down the ice belt as they call it. They are ice fishing professionals who are essentially ice fishing tour guides for Clam. They test out new products on the road educating and inspiring ice anglers of all ages as they go.
Jason has his own line-up of Clam ice fishing houses. Two of them to be exact and they are the two we will be reviewing in this article.
Clam Ice Fishing Houses
Clam has over 25 shelters in 3 different model types. The three models are:
Pop-up Hub – 9 shelters – 2 thermal floors
Fish Trap – 19 shelters
Permanent – 1 shelter more like a trailer lol
These come at various prices from $300 all the way up to $10,000 for the big boy called The Clam Shack. The clam shack is the only one in the permanent model and it is a shack on wheels! Pick one up if you got the bucks. Pick me one up too while you're at it. 🙂 Just wanted to brighten your day I couldn't afford it either. I will be doing a separate review on just The Clam Shack in an upcoming post… So stay tuned for that.
Legend XL
The Legend XL Thermo by Clam will keep you warm on those cold blustery days of ice fishing on the lake. It's made of strong 900 denier fabric that will keep the coldest of winds out while you stay toasty warm on the inside. And with 90 grams of insulation per square meter, you won't find a more insulated ice fishing shelter. You will fish in comfort with its deluxe swivel seat that can slide back and forth and even left and right. This makes for an easy time maneuvering your fishing pole when you have a fish on the line.
Easy Set-up and Teardown
It doesn't get much easier to set up and tear down these Clam ice fishing houses. With the 1 1/4″ Rapid Pole Slide Extreme (RPSX) life is easy only takes about a few minutes to set up or teardown. They have a new bigger thumb tab release so you can set up or tear down with or without your gloves or mittens.
There are no sharp edges on the pole frame because of the one-piece hoop pole design. The more often you would do this the faster you would be at it.
---
Jason Mitchell Thermal 5000
Jason's second one is called The JM 5000 Thermal Ice Shelter. This one is less expensive than the thermal x2 because it doesn't come with a sled.
The 5000 is a 4 to 6-man shelter. Comes with an oversized carrying case made for easy repacking. It has an oversized skirt for extra snow banking that helps keep the wind and cold out.
Also has lab-tested hubs large ones for easy set-up and teardown. Like the thermal x2, it has the 900 denier fabric for heat in and moisture out. Flex-tested 11mm poles. Extra strap pockets and anchor straps 5 of them for windy conditions, which you are bound to run into on the ice. If that thing isn't tied down your going to have a mess.
Specifications
50lbs
9 feet across
Center Height 82″
Inside area 63.5 sq ft
Packing Size  L 63″ x W 13″ x H 13″
This is a nice-looking strong shelter with plenty of room for 4 to 6 people. So it's warm big and easy to set what more can you ask for and the price is right on this one at only $449.99! You can't beat that for the quality you get.
Those are the two Clam ice fishing houses for today. Click on the links and check them out. I know you will want to get one. Ice fishing season is just around the corner.
Feel free to leave questions or comments below and I will answer them to the best of my knowledge. Thanks for reading.
And Remember, You Can Catch Your Fish and Eat 'em 2
In need of Ice Fishing House Supplies? CLICK HERE