Product: Frabill Aegis 2000
Price: $379.99
Cheapest Place to Buy: Amazon.com 
Dimensions and Weight: 83"L x 58"W x 61.5"H, 53lbs
Warranty: 1-year Limited
My Rating: 9.1 out of 10
Today I will be writing a Frabill ice shelter review on the Aegis 2000. This flip-over is one of Frabill's less expensive lines of ice shelters. Frabill has five ice shelters in the Aegis line-up, and they are all well-built flip-over ice shelters for the price.
Frabill is a solid company
This company has been around since 1938. It started with five members of the Matra family, Frank, Bill, Earl, Michael and Ed, and the first two members Frank and Bill is how they came up with the Frabill brand name. The Fra in Frank and Bill equals Frabill! Pretty clever huh?
Anyway, they have been around for more than 70-years. Frabill has produced some excellent ice fishing and open water fishing products throughout the years.
Now that you have a little history on the Frabill company and how it was founded let's get into the
Frabill Ice Shelter Review – Aegis 2000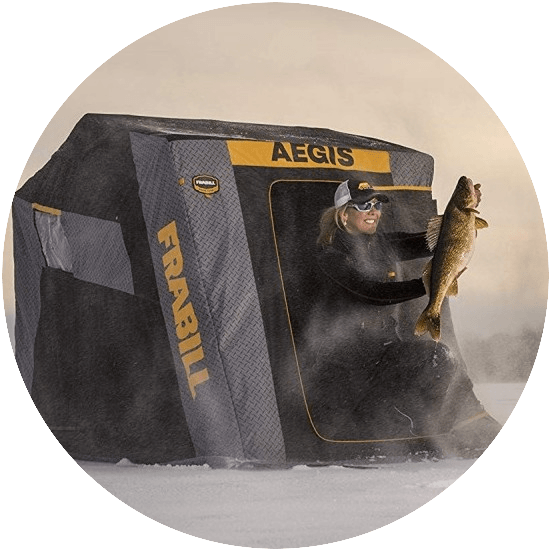 Aegis is named after the shield that protected the god Zeus from Greek mythology. So these shelters must be tough as nails! Just a little useless trivia you can use around the campfire to impress your friends with lol. 🙂
The Aegis 2000 fits two people comfortably and has spacious room inside for your ice fishing pleasure. It's a flip-over type ice shelter. You just set it up, flip it right over crawl in and start ice fishing. Or you can flip it over yourself and start fishing. It doesn't matter how you do it because it is lightweight and easy to transport.
The Aegis 2000 dimensions when it is set-up are 83″L x 58″W x 61.5″H. The fishable square feet is 19.5 and is made out of 300 denier fabric. Denier fabric is a durable and long-lasting material. It will keep the wind out on those cold frost bit days out on the ice. It comes in a contemporary style. At only 53lbs it's easy to haul this shelter around on the ice. You could fold it up and throw it over your shoulder.
The openings and windows are in optimal places around the ice shelter. The Aegis also comes with a front door with a heavy-duty zipper attached. It's durable and lightweight. The housing comes with two padded trunks under the seats for separate added storage space — plenty of room to do your fishing with a patented modular seating system for two.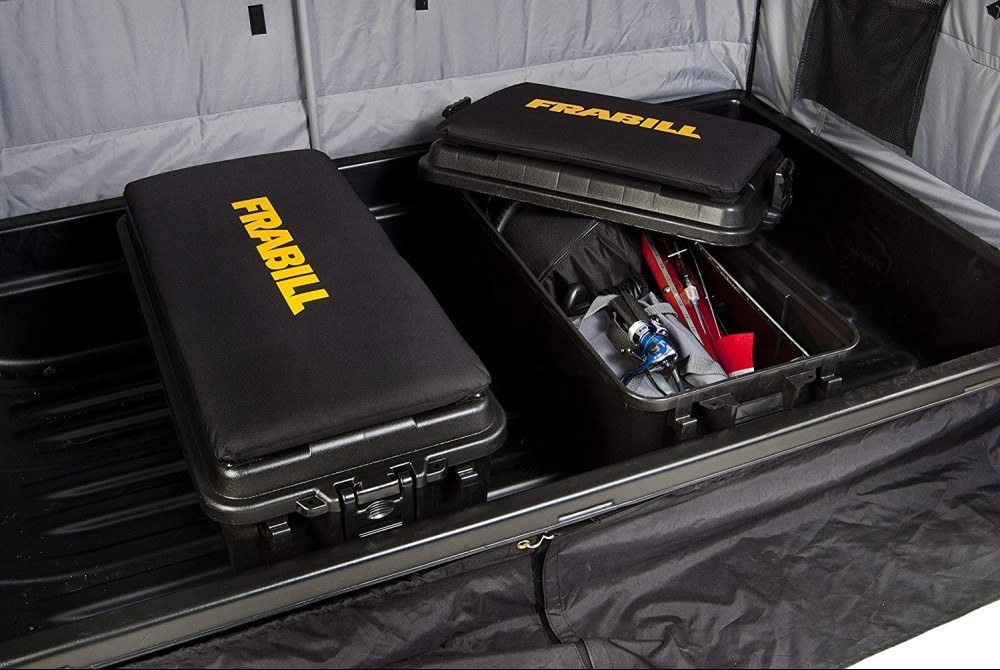 This ice shelter has builtin storage and rod holders. Which is a plus so that you can put the gear you are not using out of the way. Does not come insulated but a little space heater like Mr. Heater will keep it warm and cozy enough so that you can enjoy yourself ice fishing.
Conclusion
The Frabill Aegis 2000 ice shelter is a great beginner ice shack. It's bare bones, but it will keep you out of the elements and keep the wind off of your face. Like I said earlier if you put a little electric space heater in there like a Mr. Heater you will stay toasty warm even when it is frozen outside.
The price is right at only $379.99. Durable and light to carry around. Easy set-up, stiff fabric and plenty of fishable space for two people you can't go wrong. Try this one out if you're getting into ice fishing or it would make an excellent gift for someone you might know that's just starting in this sport.
I hope you got some useful information out of this Frabill ice shelter review. In the future I will be doing more reviews of other Frabill ice shelters and products so bookmark https://tackleboxtalk.com for future reviews.
If you have any questions or comments please feel free to leave them below or email them directly to me at cory@tackleboxtalk.com
Always remember this, You Can Have Your Fish and Eat 'em 2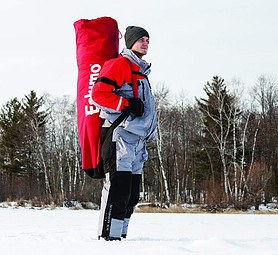 Are you looking for that perfect ice shelter? If you are you have come to the right place. Eskimo ice fishing shelters are proven products that have stood the test of time.
I like the bright red color of their ice shelters. It makes it easy to see them out on the ice if it's a cloudy, windy day. That is a safety feature in itself.
Eskimo ice fishing shelters
Eskimo shelters are built well, and they are easy to set up and take down. You can have your shelter up and ready to use within minutes. They are also very portable. They fit in a duffle bag! How about that for portability.
In this article, I will be reviewing 3 of Eskimos ice fishing shelters. I will compare price, special features and the various specifications of each so that you can have an informed opinion on which one would be best for you and your specific situation.
Quickfish 2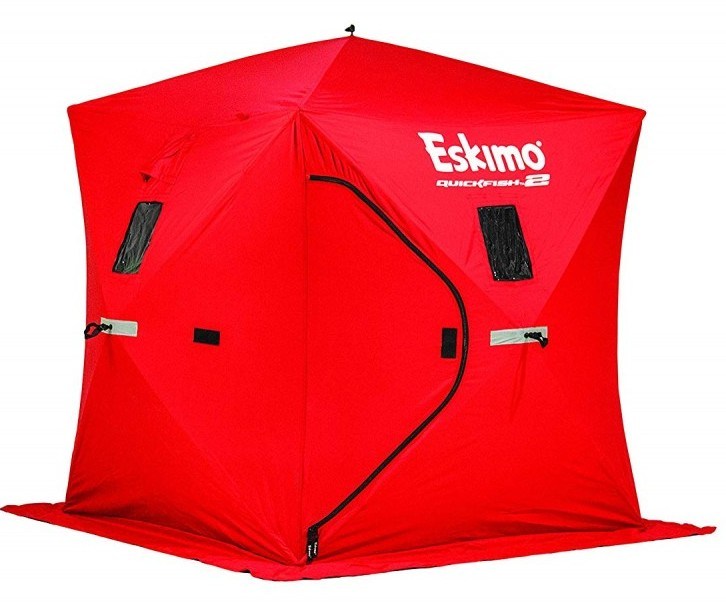 Product: Eskimo Quickfish 2
Price: $139.99
Cheapest Place to buy: Amazon.com
Collapsed Size: 45″ x 8.5″ x 8.5″
Warranty: 1-year Limited
My rating: 9.2 out of 10
The Quickfish 2 ice shelter by Eskimo is a great fit for the ice angler who are new to the ice fishing sport. This shelter is priced at $139.99 on Amazon. Which is a fair price for a nice shelter as this one is. Only takes about 60 seconds to set-up! Now, that's no time at all!
This ice shelter fits two people comfortably. You could probably crame four people in there, but I wouldn't recommend it. And that's to close for comfort for my taste lol. Once the Quickfish 2 is set up, it is 60″ x 60″ and elbow room of 76″ x 76″ making it a nice sized ice shelter for two people. It's 67″ high and 21.5 lbs.
The Quickfish 2 fits in a backpack. So you can strap it on your back, and off you go. It has mesh pockets on the inside for storage of equipment and extra skirting which to snow on top to help keep the wind out and the warm in. This ice shelter is not insulated to make that clear and made out of 300 Denier fabric. That stuff is as tough as it gets in a material.
Windows are removable for ventilation purposes. Self-tapping ice anchors to keep the shelter in place. With the anchors and the snowpack, this shelter will not be going anywhere.
---
Quickfish 3
Product: Eskimo Quickfish 3
Price: $189.99
Cheapest Place to buy: Amazon.com
Collapsed Size: 52″ x 8.5″ x 8.5″
Warranty: 1-year Limited
My rating: 9.4 out of 10
And we have the Quickfish 3 which is a step up from the Quickfish 2 in that it fits three people comfortably.
Also, the whole unit fits right into a duffle bag for easy transport. With 34 square feet of fishable area and 70″ x 70″ total room on the inside. A maximum height of 80″ for the taller ice angler. And you have 90″ x 90″ of elbow room to stretch those tired ice fished arms out when needed.
It only takes about 60 seconds to pop-up like the other one and comes with removable windows, durable fiberglass poles, extra long skirting, and six self-tapping ice anchors.
It comes with four removable windows for ventilation. It fits in a duffle bag that can be worn on your back or put in a sled for easy transport. This ice shelter is made out of durable 300 Denier fabric. Also has two doors with YKK zippers for easy opening and shutting. It has sturdy hubs to keep it from collapsing in on you.
The -Quick fish 3- is not insulated, but you can opt for the -Quickfish 3i- which is an insulated version of 3. The price for the  Quickfish 3i is $258.99. Less than a 100 dollars more so if you want extra warmth in ice shelter you would want to go with the 3i version. The insulated version will keep you 35% warmer than the non-insulated version with Eskimos insulated quilted fabric.
If you have a couple of other anglers to fish with you will want to pick this one up for sure.
---
Quickfish 5i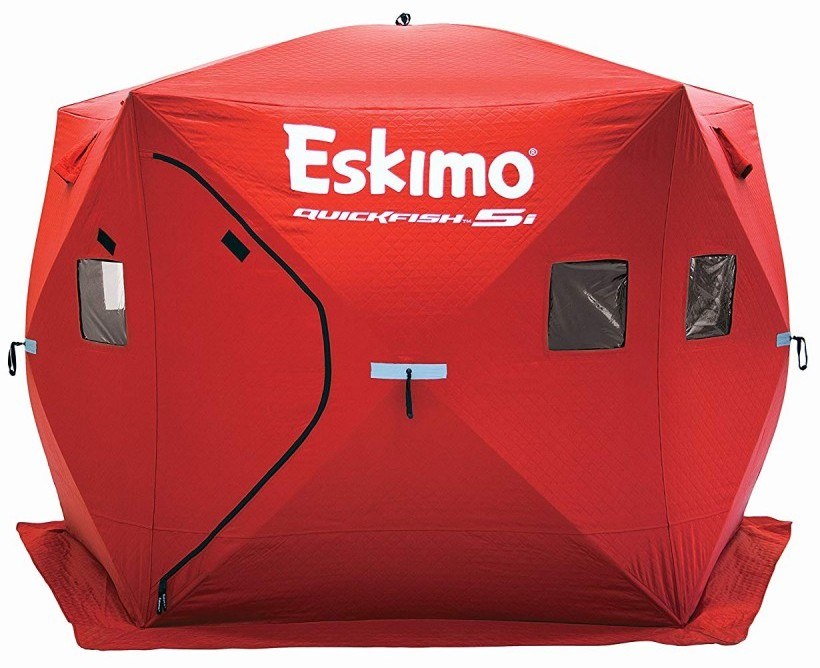 Product: Eskimo Quickfish 5i
Price: $359.95
Cheapest Place to buy: Amazon.com
Collapsed Size: 63″ x 11″ x 11″
Warranty: 1-year Limited
My rating: 9.3 out of 10
Last but not least we have the Quickfish 5i. This Eskimo shelter comes with all the features of the other two shelters plus it's insulated for extra warmth in those cold wind wiped days we can have out on the ice. This ice shelter fits about five people comfortably. One or two more if you want to feel like your in a can of sardines lol.
For easy transport, this shelter can be put in a duffle bag which can be worn or placed in a sled. The fishable area in this one is 64 square feet with a set-up up the size of 108″ x 108″ x 108″. Height is 84″ and a whopping eight windows for excellent outside viewing to see what your neighbors are up to! It has a five-sided design for an extra fishing area and is made out of 600 denier fabric.
The poles are strong, the fabrics strong and the sturdy hubs will hold this shelter up time after time. Also easy to set up within minutes you will be up and ice fishing.
So if you have a fishing party of 5, I would put Eskimo Quickfish 5i on your Christmas list. In my opinion, it's well worth the money.
Conclusion
Now that you have three choices of Eskimo ice fishing shelters to choose from which one will you pick? Will it be the:
Now that you have all the information you need now to make an informed decision. You can't go wrong with the Eskimo brand. They are a world-class company with durable and reliable ice fishing shelters and gear that will stand for years and they back it by a 1-year limited warranty.
Hope you got some useful information out of this review and if you have any further questions or comments please leave them below.
For more ice shelter reviews: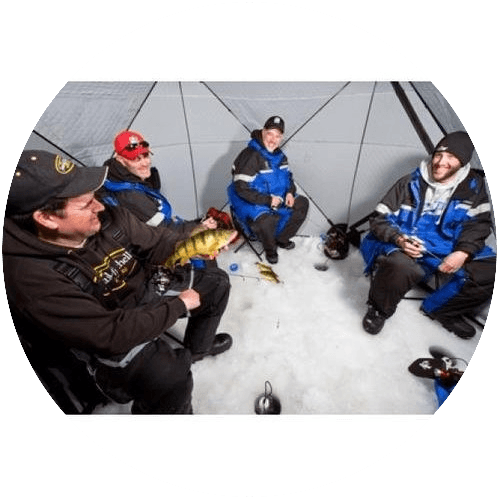 I bet you're looking for a review on Clam ice fishing houses… Am I Right? I know I'm right otherwise you wouldn't have landed here. I review various fishing products from time to time.
The Research
With extensive research scouring the internet for facts and figures, watching videos and talking to people that have used the products I tend to find some awesome products and once in a while some great deals! No better forum than the internet to find compare and review kick butt quality products and services.
You can find anything and everything if you just do a little google search. That's more than likely how you got to my website Tackle Box Talk.
Enough about me and how I research and how you got here. Let us dig into the topic at hand which is Clam Ice Fishing Houses! This is an exciting review for me because these ice houses are the creme de la creme of ice shacks. Some of them are a bit spendy but well worth it for what you get with them.
Suffice it to say you are probably an ice angler looking for a fishing house to purchase online or a miss guided soul searching for clams online LOL. I like to believe your an ice angler. I wouldn't want to deal with a hungry clam eater anyway. 🙂
These shelters are anything but a shack! These Clam ice fishing houses are some of the best fishing houses on the market. They have been that way for many years.
The Clam Ice Team

The Clam corporation started what they call the Clam Ice Team over 20 years ago in 1997. Jason Mitchell is part of this team that travels up and down the ice belt as they call it. They are ice fishing professionals who are essentially ice fishing tour guides for Clam. They test out new products on the road educating and inspiring ice anglers of all ages as they go.
Jason has his own line-up of Clam ice fishing houses. Two of them to be exact and they are the two we will be reviewing in this article.
Clam Ice Fishing Houses
Clam has over 25 shelters in 3 different model types. The Three models are:
Pop-up Hub – 9 shelters – 2 thermal floors
Fish Trap – 19 shelters
Permanent – 1 shelter more like a trailer lol
These come at various prices from $300 all the way up to $10,000 for the big boy called The Clam Shack. The clam shack is the only one in the permanent model and it is a shack on wheels! Pick one up if you got the bucks. Pick me one up too while you're at it. 🙂 Just wanted to brighten your day I couldn't afford it either. I will be doing a separate review on just The Clam Shack in an upcoming post… So stay tuned for that.
Jason Mitchell Thermal X2 Series
The first one of Jason's is the Thermal X2 Series Fish Trap.
This 2 man shelter comes with a grey sled and Deluxe seats. There's a hammock under the seats for storing gear. It has full thermal 900 denier fabric which is layered like plywood.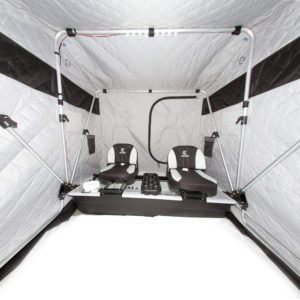 120lbs
26 Square feet
Set-up size 92″ x 72″
Height in the center 75″
Packed 72″ x 20″ x 26″
Easy Set-up and Teardown
It doesn't get much easier to set-up and teardown these Clam ice fishing houses. With the 1 1/4″ Rapid Pole Slide Extreme or (RPSX) life is easy only takes about a few minutes to set-up or teardown. They have a new bigger thumb tab release so you can set-up or teardown with or without your gloves or mittens.
There are no sharp edges on the pole frame because of the one piece hoop pole design. The more often you would do this the faster you would be at it.
Durable and Comfortable
Clam ice fishing houses are some of the most durable and stable portable ice houses you can find. They stand up against the wind and keep the cold air out of the shelter.
These babies are warm and keep you comfortable in the coldest of conditions because of the 50% more insulation than their competitors. That coupled with the strongest full thermal 900 Denier Fabric keeps the heat in and the moisture out
Jason Mitchell Thermal X – 2 Man – Grey Sled & Deluxe Seats
---
Jason Mitchell Thermal 5000
The second one Jason has out is called The JM 5000 Thermal Ice Shelter. This one is less expensive than the thermal x2 because it doesn't come with a sled. The 5000 is a 4 to 6 man shelter. Comes with an oversized carrying case made for easy repacking. It has an oversized skirt for extra snow banking that helps keep the wind and cold out.
Also has lab tested hubs large ones for easy set-up and teardown. Like the thermal x2, it has the 900 denier fabric for heat in and moisture out. Flex tested 11mm poles. Extra strap pockets and anchor straps 5 of them for windy conditions which you are bound to run into on the ice. If that thing isn't tied down your going to have a mess.
Specifications
50lbs
9 feet across
Center Height 82″
Inside area 63.5 sq ft
Packing Size  L 63″ x W 13″ x H 13″
This is a nice looking strong shelter with plenty of room for 4 to 6 people. So it's warm big and easy to set what more can you ask for and the price is right on this one at only $449.99! You can't beat that for the quality you get.
Those are the two Clam ice fishing houses for today. Click on the links and check them out. I know you will want to get one. Ice fishing season is just around the corner.
Feel free to leave questions or comments below and I will answer them to the best of my knowledge. Thanks for reading.
And Remember You Can Catch Your Fish and Eat 'em 2
In need of Ice Fishing House Supplies? CLICK HERE