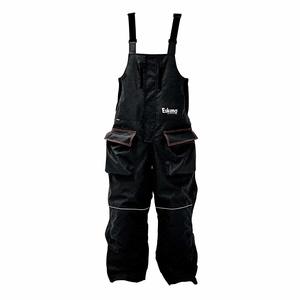 Product: Eskimo Lockout Ice Fishing Bibs
Cheapest Place To Buy: Amazon.com
Product Dimensions:  10.2 x 7.1 x 1.6 inches
Shipping Weight: 4 Pounds
My Rating: 9.8 out of 10
Looking for a pair of nice warm and cozy bibs to wear this ice fishing season?
I have done some research on the Eskimo Lockout ice fishing bibs that you might want to take a look at. I promise it won't hurt and I will explain why I think these are a great pair of bibs to get yourself into this ice fishing season.
What Features does The Eskimo Lockout Ice Fishing Bibs Have?
The Eskimo Lockout bibs come in a variety of sizes from small all the way up to 5 extra-large. The length of the legs can be shortened by six inches which is great if you are height-challenged and need to adjust. They also come with padded knees. These bibs are ideal for when you are kneeling on the ice struggling with the monster fish you just caught!
The liner of these bibs is made of Sureflote Flotation-Assist in case you fall through the ice you will stay afloat and won't sink. These bibs will also keep the moisture out while staying breathable with its Hydrapore® 5000 laminate that's built right into the outer shell of the bibs.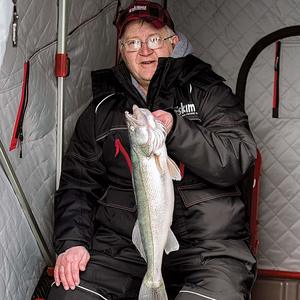 The outer shells constructed out of 600 denier fabric. This material is tough as nails. Denier fabric is a canvas-like material that's used on many of the ice shelters you see. So if it's good enough for the ice shelter, it's good enough for your body.
The zippers all around the suit are easy to get to so you won't be twisting and bending over backward to get that ice fishing tool you need.
Your Body Heat Will Stay In The Bibs!
You won't be having any displacement of body heat because the interior lining is 210T and it's insulated with 60g of Thermadex® insulation. These combined will trap your body heat in and keep your legs and chest nice and warm. No more frozen body parts when wearing these bibs!
Built For Comfort and Mobility!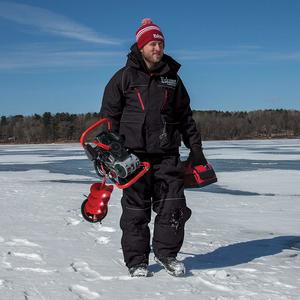 The Eskimo Lockout bibs are built for comfort and mobility. The padding is in all the right places. They are lightweight but warm at the same time so they won't weigh you down when you are walking through the snow. There is a velcro hem at the base of the legs so that mud and water don't ride up the leg when walking around.
Pros
Has Hydrapore® 5000 for breathability

60g of Thermadex® insulation to keep you warm

Made of 600 Denier fabric some of the most robust fabric around

Velcro Hem around the angles to keep the legs from dragging in the slush

You can adjust the length by six inches

Plenty of Pockets for fishing tools

Zippers placed in easy to reach areas

Sureflote Flotation-Assist to keep you afloat
Cons
Couldn't find any downfalls to these bibs. If you own a pair of these bibs, let us know in the comments what you think of them.
---
I Highly Recommend These Bibs
What's not to recommend about these bibs? The size choices are numerous from small to 5 x-large anyone would be able to find a size.
These bibs can be shortened by six inches, now that's a plus. I also like that it made of floatable material and its tough 600 denier fabric that keeps the wind out. And the Hydrapore® 5000 laminate keeps you dry and the air moving through the bibs.
The interior lining is 210T and its 60g of Thermadex® insulation which keeps you warm and toasty even when the elements outside are harsh. I would recommend you pick yourself up a pair of these Eskimo Lockout ice fishing bibs whenever you get the chance. Eskimo is a company has been around a while, and you can trust them for quality and comfort.
If you have any questions feel free to leave them in the comments section below. Thanks for reading and Happy fishing!