Product:Landworks Auger
Price:$339.99 
Available at: Amazon.com
Product Dimensions:41 x 20 x 10.2 inches 
Product Weight:34.5 lbs 

 


My Rating: 9.8 out of 10


You are looking for an auger that can drill through ice and earth? You have both options in the Landworks Auger.
This auger has been in many top lists for being one of the best electric augers for drilling holes in ice and drilling holes in the earth. Why not get the best of both worlds in one auger.
You can take it out ice fishing with you in the winter and then in the summer; you can use the same auger to drill post holes, planting seedling trees and bulbs.
Landworks Auger Review
The following is a review of the Landworks heavy-duty dual-purpose eco-friendly electric cordless auger.
The Powerhead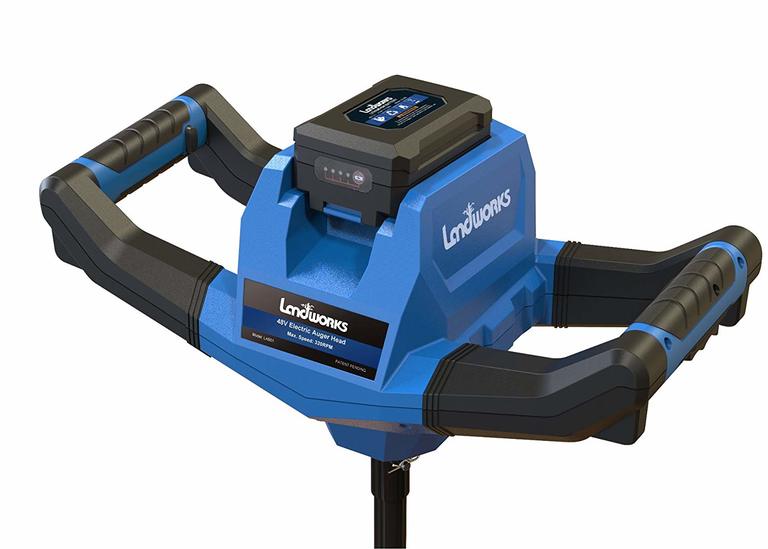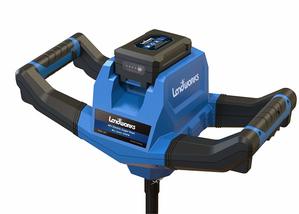 The Powerhead on the Landworks auger comes with a 2ah 48 volt lithium-ion battery and charger. With a battery-powered auger, you don't have to worry about smog and noise.
This makes it very eco-friendly and safe. This auger is equipped with an overload protector, so the powerhead doesn't overheat. The handles are spaced apart to improve balance while you are drilling your holes.
The powerhead also comes with a brushless motor and is designed with a 3 Planetary gear mechanism, so it transmits higher with better efficiency. The max speed is 320 RPMs. The horsepower is 2.01 HP with 60 nm of torque and maximum wattage of 1400W.
Drill 30 Holes With Single Charge!
You can get up to 30 holes drilled on a single charge with the 2AH battery. You can drill up to 60 holes if you purchase the 4AH ion battery. This unit comes with the 2AH, but the 4AH can be purchased separately.
The handgrips are made of ergonomic silicone to reduce stress on your wrists and arms. It has an easy to reach safety button in case you trip and fall when using the auger. There's also a reverse torque control button that's easily accessible so that you can take the auger out of the hole with the slush or dirt debris so that you don't have to do any hand shoveling or scooping.
You can drill in the dark with the LED high-intensity light that is incorporated into the powerhead.
Two Different Types of Blades
The Landworks auger you can either get the earth blades for boring in soil or you can get the ice blades for drilling ice fishing holes.
Earth Auger Blades
With these blades, you can bore through the soil with no problem. Small rocky soil no problem drill through it with ease. You won't be drilling through boulders but what can you expect.
Earth Blade Sizes:
4" x 30."

6" x 30."

8" x 30."
These blades are useful for:
Weed and root removal

Fertilizing shrubs and trees to deep water aeration

Drilling post holes

Planting bulbs and  seedling trees

Pest control
Ice Auger Blades
The ice auger blades come in two sizes:
And of course, the ice auger blades are used to drill holes for ice fishing. Rough cut holes can be a problem with some blades because your fishing line can get cut. Not with Landworks ice auger blades, you get a smooth cut hole in the ice so your line won't get snap off when you are reeling in a fish.
Universal Thread
The powerhead and the auger blades have what is called a universal threaded bolt connection. The blades fit easily with this connection. The blade is secured with a locking mechanism on a threaded ½" socket cap bolt. There will be no play in this auger blade bit.
A wobbling auger bit can cause many problems and be dangerous so this a great extra feature to have on an auger.
Pros
Dual Purpose
Ergonomic Silicone Hand Grips
2 AH 48V Ion Battery
Universal Threading System
Easy Access Stop Button
Reverse Torque Control Button
Led High-Intensity Light
Cons
Need to Purchase Separate Blades for earth or ice drilling
Great All-Around Auger
I recommend this auger especially if you are using it for both worlds. It's lightweight at only 22 pounds that includes the auger blade. Landworks is a strong brand with many great reviews on a whole line of their products. Be it summer or winter you can drill drill drill with the Landworks auger. The applications are almost endless. Well worth the money spent on this auger.
To recap here's what you get with the Landworks electric power auger. A powerhead that is powered by a 2ah 48 volt lithium-ion battery. You get an easy access stop button for your safety. There's an LED light that will help you see what you are doing if it is cloudy or at night.
The reverse torque control button is great for drilling holes in the ice. All you do is hit reverse and you can easily clean out the slush from your ice hole. No more need for ice slush scoopers.
The universal threading system ensures that the powerhead and the drill bit will stay attached. One thing you don't want is these coming loose. Now that would be a big issue.
Landmarks products are of high quality, and the customer support is superb. They produce many other great outdoor products as well, and they stand behind them all.
Frequently Asked Questions
How much does Landworks Auger Cost?
You can buy the Landworks auger on Amazon for $339.99.
What size battery does the Landworks auger come with?
The Landworks auger comes with a 2 amp-hour 48 volt lithium-ion battery and a battery charger.
What size are the earth blades for the Landworks auger?
There are 3 different size earth blades that you can purchase for the Landworks auger.
4" x 30."

6" x 30."

8" x 30."
What size are the ice blades for the Landworks auger?
There are 2 sizes of ice blades that you can purchase for the Landworks auger.
How many holes can you drill with a single charge of the battery?
You can drill approximately 30 holes on a single charge of the 2aH battery and 60 holes with the 4aH battery.
What's the maximum speed of the Landworks auger?
The maximum speed for the Landworks auger is 320 RPMs. The horsepower is 2.01 HP with 60 nm of torque and maximum wattage of 1400W.
If you have any questions, feel free to leave them in the comments section below.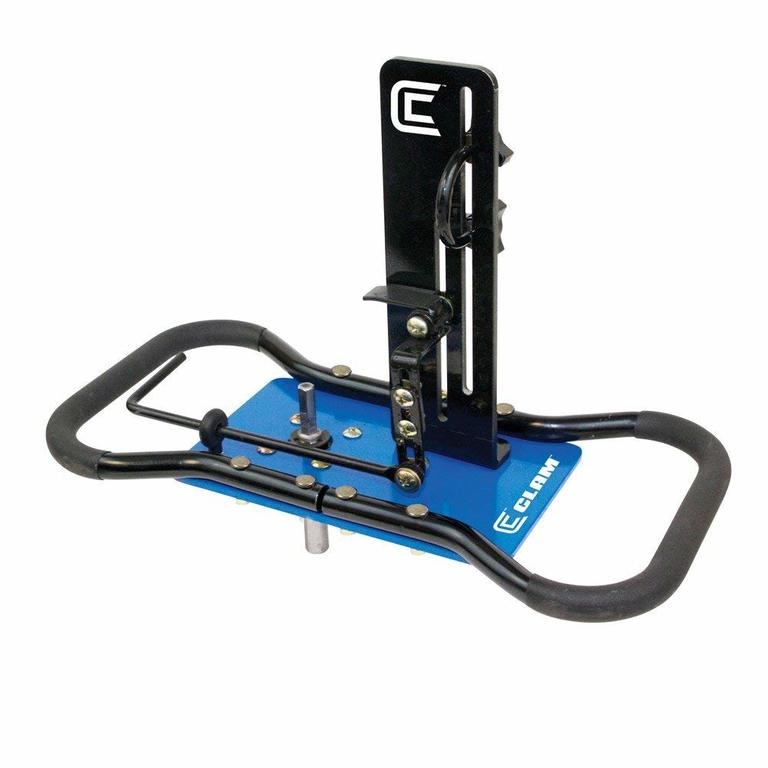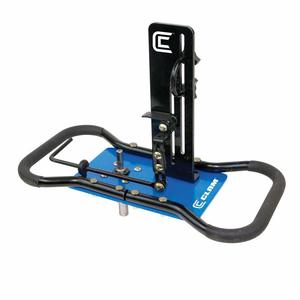 Have you been searching for the legendary Clam ice auger drill plate? Then you are in luck because I have done some extensive research on this drill plate that you can attach to your Clam hand auger so that you can save your arms from falling off and power through the thick ice with ease.
With this drill plate conversion kit, you can save a ton of money by not having to purchase expensive gas or propane augers. Better yet, you won't have to drag along gas and oil with you every time you go ice fishing.
Not only that, but you won't have to worry about mixing the gas and oil, which can be a messy job, especially out on the cold lake in the middle of winter.
What Type Of Drill Should Be Used To Power The Auger?
To power the auger, you will want to use an 18-volt cordless drill. Make sure the drill has a good-sized battery on it. I recommend that you use a lithium powered battery with high torque. The drill is only used to turn the auger blade. It doesn't support the auger blade torque because the ball bearings take the load. This alone will prolong the life of your battery and your drill.
I recommend purchasing a Milwaukee 18-Volt Lithium-Ion Cordless 1/2 in. Drill Driver Kit to use as the drill on your Clam auger. Or some other brand name similar to the Milwaukee. Also, when drilling, you are going to want to keep the drill at low speed. Doing this will give the auger more torque to drill through the ice with. The more torque, the more power. The more power, the faster you can drill through the ice, and the more holes you can drill until the battery runs out.
How To Assemble The Clam Ice Auger Drill Plate…
There are a few steps on how to assemble the drill plate and how to attach your drill to the plate and auger. First, there are a few tools you're going to need to assemble the drill plate.
Tools:
Disassembling of the chuck on the drill is no longer needed in this new version of the clam ice auger drill plate. This version comes with a hexagon motor shaft that fits right into the chuck head. This saves a lot of time in assembling of the drill plate, which gives you more time out on the ice fishing.
First
Put the hexagon end of the motor shaft into the chuck of the drill and tighten the chuck just like if you were putting in a drill bit. Next, you take the plate that the drill will be mounted to and install the vertical bracket that comes with it. You will have two 1" ¼"-20 screws, two nylon lock nuts, and four flat washers. Loosely tighten the nuts because you will be making adjustments later on when you fix the drill to the plate and auger shaft.
Second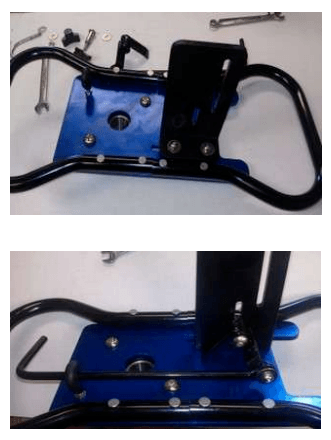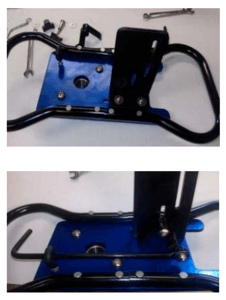 You will want to put on the trigger linkage. Place the trigger rod through the bolt that's on the plate. Then put the trigger paddle into the small slot that's in the vertical bracket using the shoulder bolt, ¼"-20 Nylon Locknut, and a flat washer. Make sure not to tighten too hard at this point to allow for final adjustments.
Third
Put the motor shaft that's in the drill through the plate and the ball bearing assembly. You will need a 1/8″ Allen wrench to adjust the two set screws.
Fourth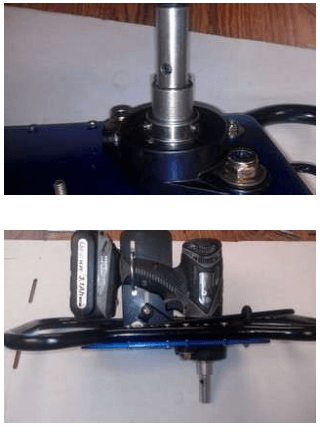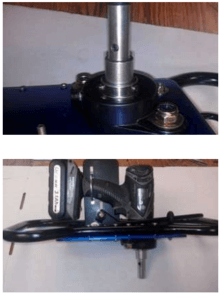 You will want to install the U bolt that you will find around the drill handle. Tighten this down with the flat washers and plastic knobs. Make sure the drill is sitting flat against the vertical bracket. This ensures that the trigger paddle can be adjusted to push against the drill trigger fully.
Fifth
Now you will want to adjust the paddle height. Doing this will enable you to be able to pull the drills trigger entirely using the trigger paddles.
Once the trigger can be pushed all the way in by using the trigger paddle and linkage, then you can tighten the four bolts down that hold everything in place.
Now that the Clam ice auger drill plate is assembled you can attach it to almost any hand auger you want. You will need to take the top handle of the hand auger off before putting on the drill.
Conclusion
The Clam ice auger drill plate is an excellent choice in a drill plate assembly. It is lightweight but with enough torque to get through the thickest ice. I've been told that this auger set-up can drill 40 plus holes in a single charge! Now to me, that is Power. Especially for an electric type auger.
You can also pick up a 16″ extension for the auger itself if you're tall and need more height. And there is the conversion kit combo that comes with the drill plate and the hand auger but without the handle for the hand auger. The price for the combo kit is a little higher than the drill plate alone but cheaper than purchasing the whole hand auger and drill plate separately.
 Either way, it's easy to assemble and easy on the wallet. What more could you ask for? I recommend buying one of these, especially if you want to lighten that load you haul out onto the ice every day. It will make your hole drilling much easier, and you will enjoy ice fishing that much more — no-fuss no-muss.
Now you can say goodbye to gas and oil augers Today!
If you have any questions or comments, please leave them in the comments section below. Happy fishing and remember You Can Have Your Fish And Eat'em 2!
Eskimo Ice Auger Review
Product: Eskimo Sting Ray 33cc w/ 8" Quantum Gas Auger
Price: $309.99
Cheapest Place to buy: Amazon.com
Guarantee: 5 year Warranty
My Rating: 9.7 out of 10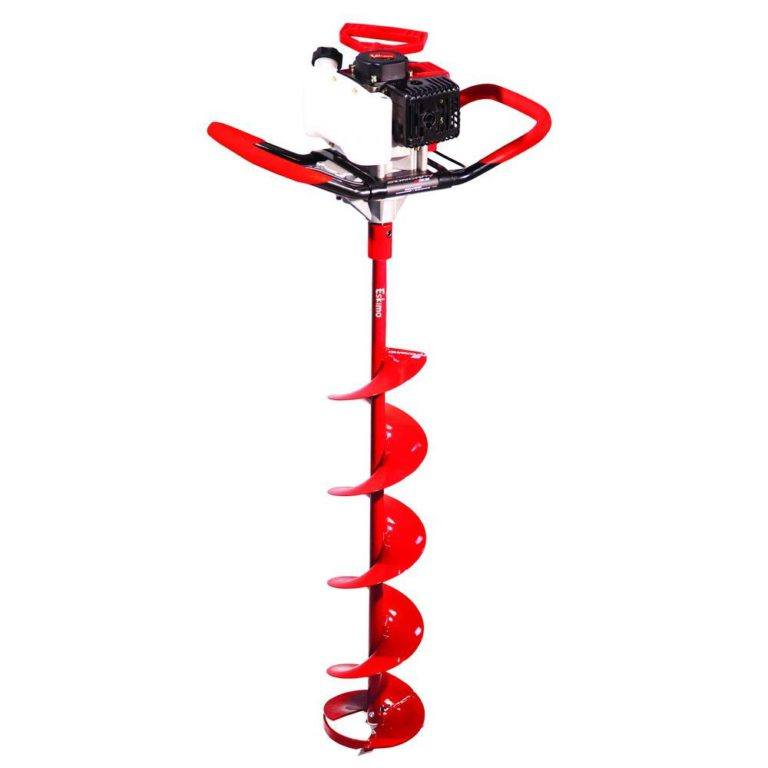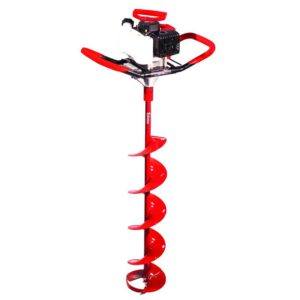 It's that time of the year again, Winter!! And along with winter comes… You guessed it ice fishing season. It's also time for an Eskimo Ice Auger Review.
Like many of you anglers out there I hate it when I don't have a quality auger to work with. It can turn a fun weekend of fishing into a nightmare.
Trying constantly to tear through the ice with what seems like a dull butter knife. This constant forcing the auger to cut through uses a ton of fuel and also your own energy. By the time you get through the ice, you are too tired to fish.
I know you might say why not get the blade sharpened? After so many times of sharpening and the cost to get that done, it's just not worth it. Ice augers only last so long and as many ice holes I cut in a year it doesn't take long. Especially if I'm using a cheap off-brand of an auger.
If you go through what I just explained this Eskimo ice auger review might be for you. Eskimo is a time-tested quality brand of ice augers and ice fishing equipment of all kinds. Today I will be reviewing just one of their products…
Check Price On Amazon
First off for the price you're paying for this ice auger you are getting a darn good deal. At under $300 right out of the box, you can't complain. The quality is impeccable compared to some of its competitors. The Sting Ray has all the features you would want in an ice auger.
Eskimo has excellent customer service. Unlike Strikemaster that doesn't even pick up the phone for services calls Eskimo answers the phone and answers all your questions or concerns about parts or problems you might have with your ice auger.
This thing is lightweight but tough and durable cutting thru 30″ of ice with no problem. It has a little trouble starting at around -20 Fahrenheit. It could depend on if your gas is old you will have a harder time starting the Sting Ray. To remedy that I make sure I have clean gas every time I go out ice fishing then it should start with not too many issues in the cold.
If it's that cold I either don't go out ice fishing or I have my holes already drilled and I throw tip-ups in them. Then I just watch the tip-ups from my ice shack! I don't mind the cold but not that cold. I must be getting old lol.
Eskimo Ice Auger Review Features
Here are some quality features that come on The Sting Ray 33cc Ice Auger: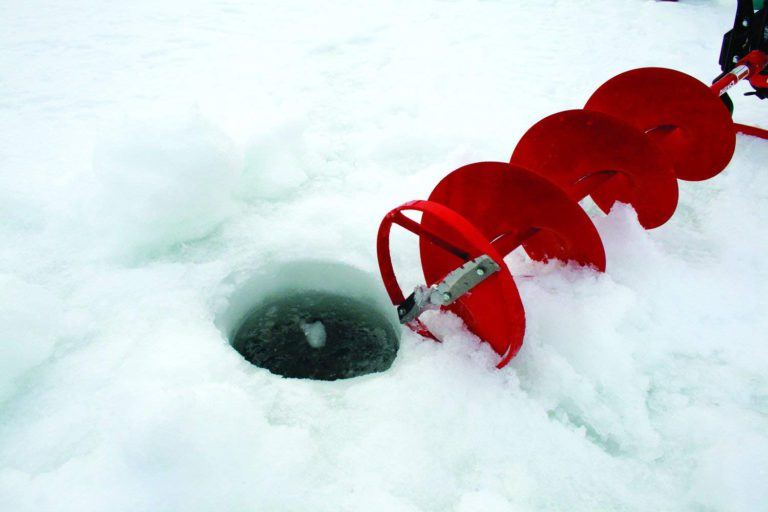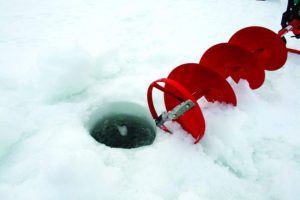 Blades – This Eskimo ice auger comes Quantum blades that can be replaced if needed, These blades cut through ice like butter. They are strong and you can rely on them. Nothing worse than cheap crappy auger blades. Re-drilling holes are a snap with the center ring on this auger.
Engine – The quantum blades are powered by great running 33cc 2 cycle Viper Engine that has starting power in very cold weather but like I said you will run into a little trouble starting it when you get to around -20 to -30 Fahrenheit. Having clean gas could fix this issue and is more than likely the cause of it not wanting to start in these temperatures. They use sealed ball bearings in their transmission, not bushings! Eskimo is the only auger company using sealed ball bearings in their transmissions!
Mitten-grip recoil – so that you can start the engines with your gloves.
Muffler guard – so you don't get burnt
Primer Button makes it easy to start.
Handles – The foam grip handlebars provide for less vibration and angle upwards for better control.
Blade Protector – Comes with a protective hard plastic cover that adjusts with a rubber strap.
Specifications
The Eskimo Sting Ray 33cc w/ 8" Quantum Gas Auger only weighs 28lbs. It's easy to haul around and carry around when you have a ton of holes to cut. You will be having people around wanting you to drill their holes for them because they see how quick and easy your auger is cutting.
This has a 2 stroke motor and uses a 50:1 gasoline to oil ratio.
Dimensions of the product are 50″ high x 50″ long x 22″ wide. Nice compact but tough ice auger. This ice auger also comes with a 5-year warranty. I don't know the specifics of the warranty to you would want to check that out for yourself.
The Choice Is Yours
In this Eskimo Ice Auger Review, I have shown you all the features and specifics that this ice auger has to offer. In my opinion, this is an excellent ice auger. It's tough and durable and at only 28lbs it's lightweight and easy to carry around and maneuver.
Quiet running compared to many augers out there. The blades on this thing are sharp right out of the box. They are strong and reliable. With a center ring that keeps the blade from skipping around on the ice and making re-drilling holes easy as pie.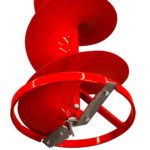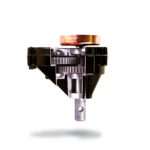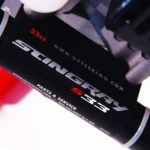 A 33cc 2 stroke Viper engines with sealed ball bearings in the transmission. And it starts in cold weather with only 2 or 3 pulls! The only con to the Eskimo Sting Ray 33cc w/ 8" Quantum Gas Auger that I could see is the trouble starting at -20 to -30 Fahrenheit. I heard that from only one person so I think if you have fresh gas in it and have mixed the gas to oil ratio right this shouldn't be a problem.
When the weather on the ice is below zero you are going to appreciate the large recoil handle that lets you start the engine with your mittens on. The foam grip handles will help in reducing vibration and give you more control over the auger while you are drilling.
The primer button is big enough to start with your mittens on and the muffler guard will save you from third-degree burns.
The price is right at only $309.99 and shipping is free if you have an Amazon Prime account! A 5-year Warranty is in itself a top feature of the auger.
I hope you got some useful information out of this Eskimo Ice Auger Review. If you have questions about this product or about anything that has to do with fishing please leave a comment below and I will answer your questions the best I can.
Happy ice fishing,
Cory Haasnoot