With the hundreds of fishing lines from different brands available in the market, selecting the right option for carp fishing can be quite challenging. Especially with many producers claiming their lines have some outstanding characteristics like high abrasion resistance, low memory, and 96% knot strength. And as a beginner, am sure you're wondering what the best strength fishing line for carp is? So, after thorough research, this is what we found out.
The best strength fishing line for Carps ranges between 10lbs and 25lbs. But being quite challenging to catch and aggressive when caught, the right fishing line will be determined by the size of the fish you're targeting. 
Carp angling can be fun, but with the wrong fishing line, it can become disastrous. So in this article, we'll show you which are the best types of lines for carp fishing and the correct strength line for a wide range of fishing conditions.
The Best Strength Fishing Line for Carp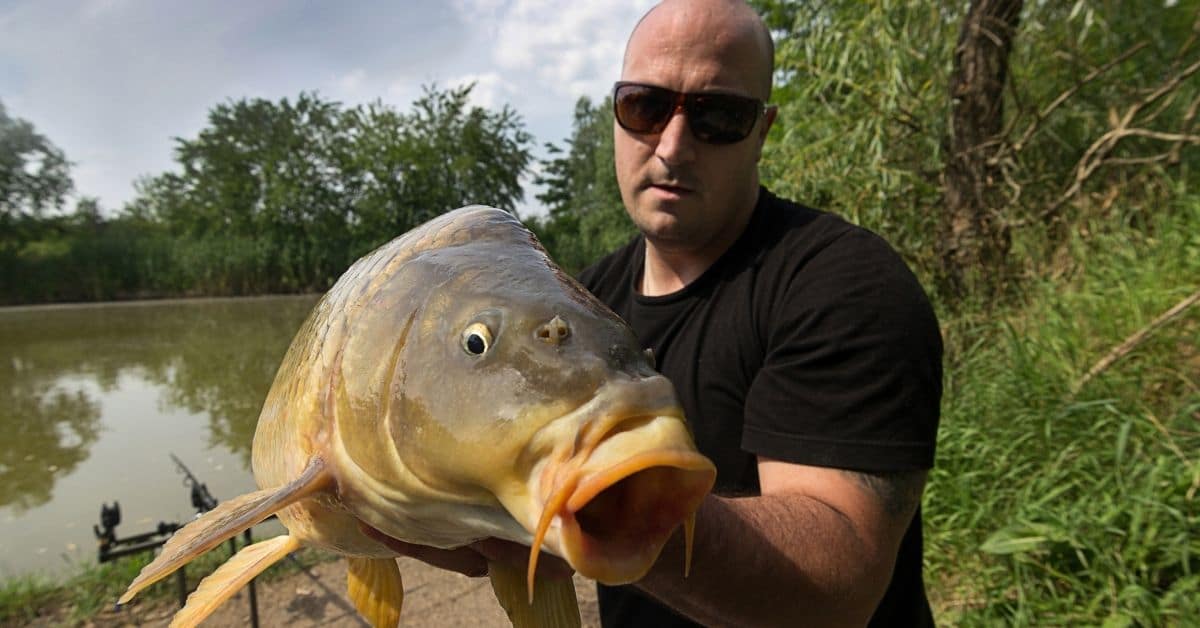 While carp are caught and consumed in various parts of the planet, they are considered invasive species in the U.S. and Australia. And their strength, size, and tenacity when caught are what make them the most sought-after species by anglers. Therefore, selecting the best carp fishing line can increase your chances of capturing the biggest carp of your lifetime. 
There is nothing more disappointing than hooking a huge carp you've been targeting for a few hours, only to lose it, thanks to your low-quality fishing line.
Unfortunately, most anglers overlook the line's importance and pay more attention to the rods and rigs. After all, it is nice to purchase the best gear money can buy and the latest rigs, but if the fishing line is not ready for the job, your high-quality tackle will be useless.
Consider Breaking Strain & Strength of Your Spool
Therefore, you must purchase the best line for the angling you want to do. Remember, fishing lines are different; most fishing lines are designed for a particular type of fishing, like a thick abrasion-resistant snag line and a low-diameter, long-distance casting line. 
So before you purchase a line, you need to understand that every spool has a number that indicates its breaking strain or strength. The breaking strain refers to the amount of pressure the line can sustain before breaking. Luckily, some lines can support more pressure than their indicated weight, but it's always a great idea to use the breaking strain as an indicator when shopping for lines.
---
Fishing Guide: Best Time to Fish for Carp
---
Factors to Consider When Looking for the Best Strength Line for Carp Fishing
And as aforementioned, the best breaking strains for carp fishing lines ranges between 10lbs and 25lbs, but your choice of the line will be determined by the following:
---
The Condition of the Lake or River Where You Are Going to Fish
Carp can be found in various environmental conditions, but they are common in slow or still water in low-altitude places. Carp can be found in places with abundant vegetation. Carp can also thrive in brackish lower parts of coastal lakes and rivers.
Therefore, when buying the fishing line, you need to find the condition of the lake or river where you plan fishing.
---
The Size of the Carp
The size of carp varies in places like North America, attaining a maximum length of about 3.9 feet and a weight of about 31 pounds. And it's known that bigger carp are stronger and more aggressive than the smaller ones. To find out the size of the carp in the river or lake where you will fish.
If the lake is home to bigger carp, you need a line whose breaking strain exceeds 20 lbs. If there are smaller fish, then anything between 6 lbs and 10 lbs can do the trick.
---
Fishing Style
The size and strength of the fishing line can affect your fishing style. If you plan on casting short distances, you can invest in thicker and vice versa. A thick line can give you the needed distance, making it possible to reach places your boat can't access.
---
Buyers Guide: 10 Best Fluorocarbon Fishing Lines
---
What Strength Fishing Line for Carp?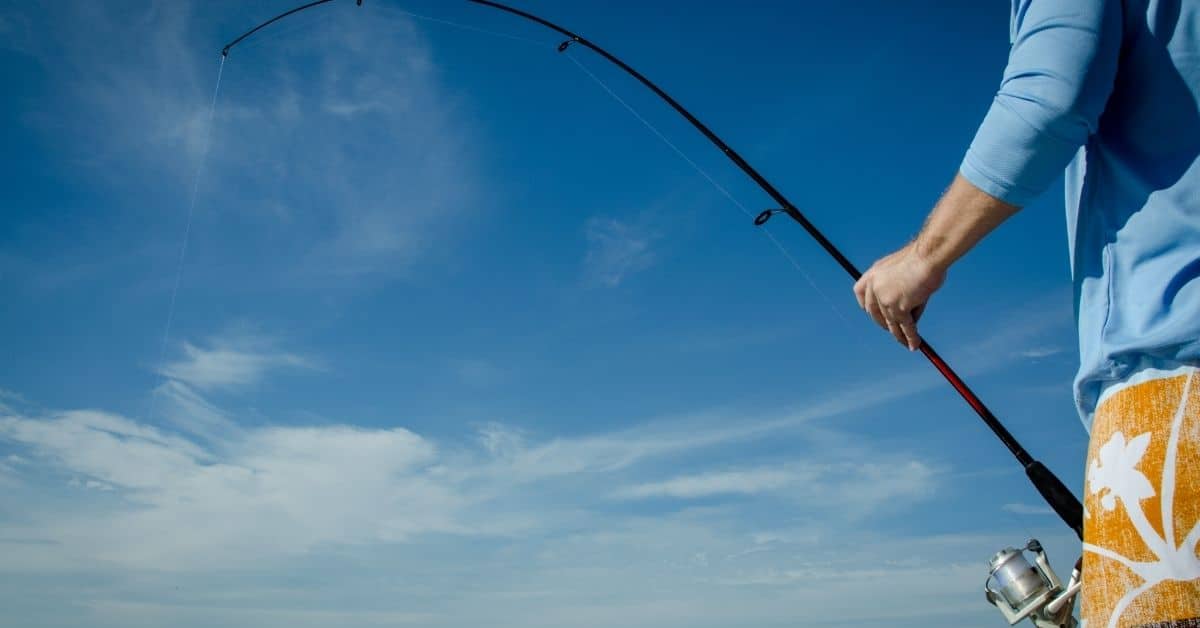 If you plan on casting long distances, you need a reasonably thin line that allows you to cast further. Therefore, you should look for a line with a breaking strain of around 10lbs. The 10lbs line is strong enough to hold the fish while you're reeling it in but too thin to be cast long distances.
If you want to cast even further, you can back this line with a shock leader. The best strength for general carp fishing in calm or slow-moving water should be about 15lbs. But you must consider the weight of leads when you're casting, the size of the fish, and the type of water. 
For decades, a fishing line with a breaking strain of between 10lbs and 15lbs has been the right option for general carp fishing. It worked for a long time and still works in numerous situations, but you will only require a heavier line when fishing in a rugged moving river. But the average weight of the carps in the place where you're fishing also matters.
Size & Conditions Matter
After all, you can't use a 10 lb line in a place known for carp weighing over 20lb. If you're fishing where the biggest carp weighs over 20lb, you need a fishing line with a breaking strain of at least 12 lbs. If the lake is rugged or weedy, you might have to increase the line's breaking strain to 15lbs. 
Therefore, you should adapt to the lake's condition and the size of the carp that you're targeting. Use them as a guide when picking the best strength fishing line for your fishing trip. 
---
Fishing Guide: Best Carp Hooks
---
Can You Catch Carp on a 6lb Line?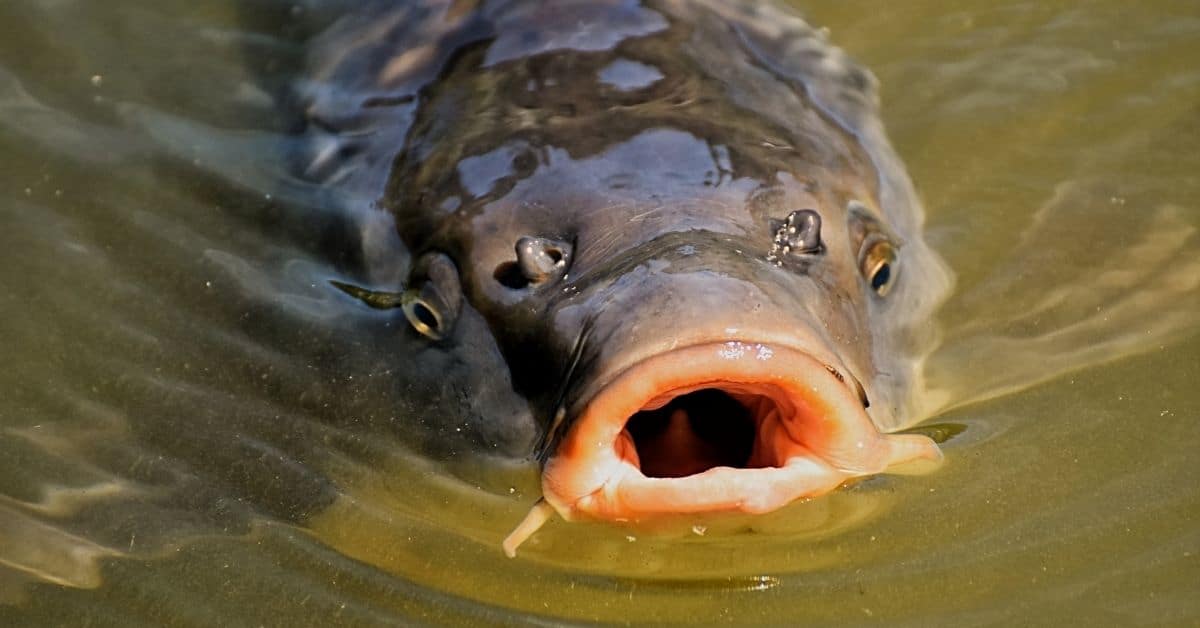 Generally, the angling technique used can help you determine the breaking strength of your fishing line. And the best breaking strain for float fishing for carps ranges between 6lbs and 12lbs. a 6lbs line is a great starting point, but the best option is a 10lbs line.
A 6lbs line is too weak and can break when fighting with bigger carp. But when dealing with small-sized carps, then it can be the best option.
FAQs
---
What Is the Ideal Strength for Carp Fishing?
Huge and hard-fighting fish like Carp need a strong line that is up for the task. Therefore the best breaking strain for carp fishing should exceed 10 lbs. Numerous factors, including the size of the carp and the condition of the river or lake, will determine your choice.
---
What Size Carp Can I Fish Using a 10 Lbs Line?
There is no practical line to determine the exact weight and size of fish caught using a 10lbs line. Generally, a line with a 10lbs rating can handle 10 pounds without breaking. But that is not always the case, as it all depends on your fishing skill. 
---
What Does the LB on the Fishing Line Mean?
The strength of the fishing line is referred to as the "test," and it's measured in pounds. LB is the symbol for pounds, and it usually refers to the amount of pressure a line can handle without breaking up.
---
Conclusion 
Your gear will determine the success of your carp fishing trip, and this includes the right line. And with carps being tricky fighting creatures, you need a strong line that can give you enough time to reel the fish in without breaking. Therefore, make sure the strength of carp fishing lines you park for the trip exceeds 10lb.