Product: Sun Dolphin Excursion 10
Cheapest Place to Buy: Amazon.com
Product Dimensions: 

120 x 30 x 13 inches


Guarantee: Limited Lifetime Warranty
My Rating: 9.4 Out of 10
The Sun Dolphin Excursion 10 Product Overview
---
Are you looking for a fishing kayak that will get you into those excluded fishing spots that a regular boat can't? Well, You have found it in the Sun Dolphin Excursion 10! This kayak has everything you would want in a fishing kayak. It has plenty of storage, affordable, not too big, and not too small. The Excursion 10 is the perfect one-man, 10-foot, sit-in fishing vessel.
This fishing kayak is lightweight at only 4o total pounds. So you can easily carry it from fishing spot to fishing spot with ease. There is a nice big storage compartment on the bow of the kayak that's held shut with shock cord deck rigging. The storage compartment is useful for storing your fishing tackle and gear it keeps it out of the way when you are not using it.
The Sun Dolphin Excursion 10 can hold up to 250 pounds so you can bring plenty of your fishing gear with you and you don't have to worry about capsizing or sinking the kayak.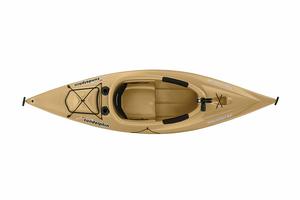 Pros
Lightweight

Plenty of Storage

Protective Thigh Pads

Large Cockpit

Get Into Excluded Fishing Spots

Durable

It's Stable
Cons
Might Need Extra Cushion for The Seat

Paddles Sold Separately
Excursion 10 Fishing Kayak Specifications
---
Length: 10 Feet

Width: 30 Inches

Height: 13 Inches

41 Pounds

Holds up to 250 Pounds

Cockpit Size: 17" Wide x 35" Long
The Best Features Of The Sun Dolphin Excursion 10 Fishing Kayak
---
One swivel rod holder included

Water Bottle Holder

Two Flush Mount Rod Holders

Adjustable Padded Seat

Adjustable Foot Braces

Shock Cord Deck Rigging

Storage Compartment

Rugged UV-stabilized Fortiflex High-Density Polyethylene

Paddles and tracks easily with total stability

It's Lightweight at only 41-lbs

Carry it easily from stream to stream

The Cockpit is large and roomy
Why Should You Own a Sun Dolphin Excursion 10?
---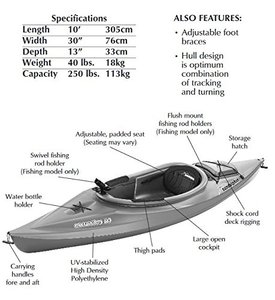 There are many reasons to own a Sun Dolphin Excursion 10. It's an affordable investment compared to other kayaks on the market. The Excursion has many awesome features you don't always find in a fishing kayak. Like a cockpit that's big enough to maneuver around when you need to change positions when your casting.
It's stable and won't capsize easily because of its made of UV-stabilized Fortiflex high-density Polyethylene.
This lightweight kayak can easily carry it from a car to a lake or river to river. It paddles and tracks easily which helps keep you stable in the water. It also has 3-rod holders, two of them are flush and one of them swivel.
The padded seat is adjustable. The foot braces keep your feet planted in place so they don't slide all over the inside which can make it difficult to maneuver the kayak. This fishing kayak also has a big storage space with deck cord shock rigging and a water bottle holder that stays in place with a bungee cord.
The paddle holder will keep your paddle in place when you are not using it. Having a paddle holder helps you be able to put the paddle down and fish without having to worry about the paddle falling into the water and thus losing the paddle.
My Conclusion
---
With all the features and little to complain about, I highly recommend getting the Sun Dolphin Excursion 10. This fishing kayak will get you into places you can't normally go with a boat, canoe or bigger-sized kayak. If you are an Amazon Prime Member, you can pick one up on Amazon with free shipping. Get your Excursion 10 today. I know you won't regret it.
If you have any questions or comments, feel free to leave them in the comments section below.