Knowing how to clean a spinning reel is crucial to the continued performance of your spinning reel. Spinning reels are one of the most important pieces of fishing equipment that you could own. So you will want to clean your reel properly by removing dirt, debris, and saltwater that can accumulate on and in your reel.
These little particles can get in your reel and cause damage and corrosion that could become irreversible. That's the last thing we want. You have spent your hard-earned money on this equipment and you want to keep it as pristine as possible.
If you adhere to the following guidelines your spinning reel should last for years to come. Without further ado let's jump right into the dirty little details. 🙂
How to Clean a Spinning Reel Properly
---
Saltwater Usage
Saltwater is one of the worse things that can happen to your spinning reel. If you are a saltwater angler you will want to clean your reel more often than a freshwater angler would. You will want to clean it after every fishing outing that you go on.
Freshwater Usage
If you are a freshwater angler you will probably want to clean your spinning reel about once or twice a year. I will usually clean my reel once in the middle of the fishing season and then when I'm done fishing for the season. That way you don't put it away wet so to speak.
Items Needed For Cleaning a Spinning Reel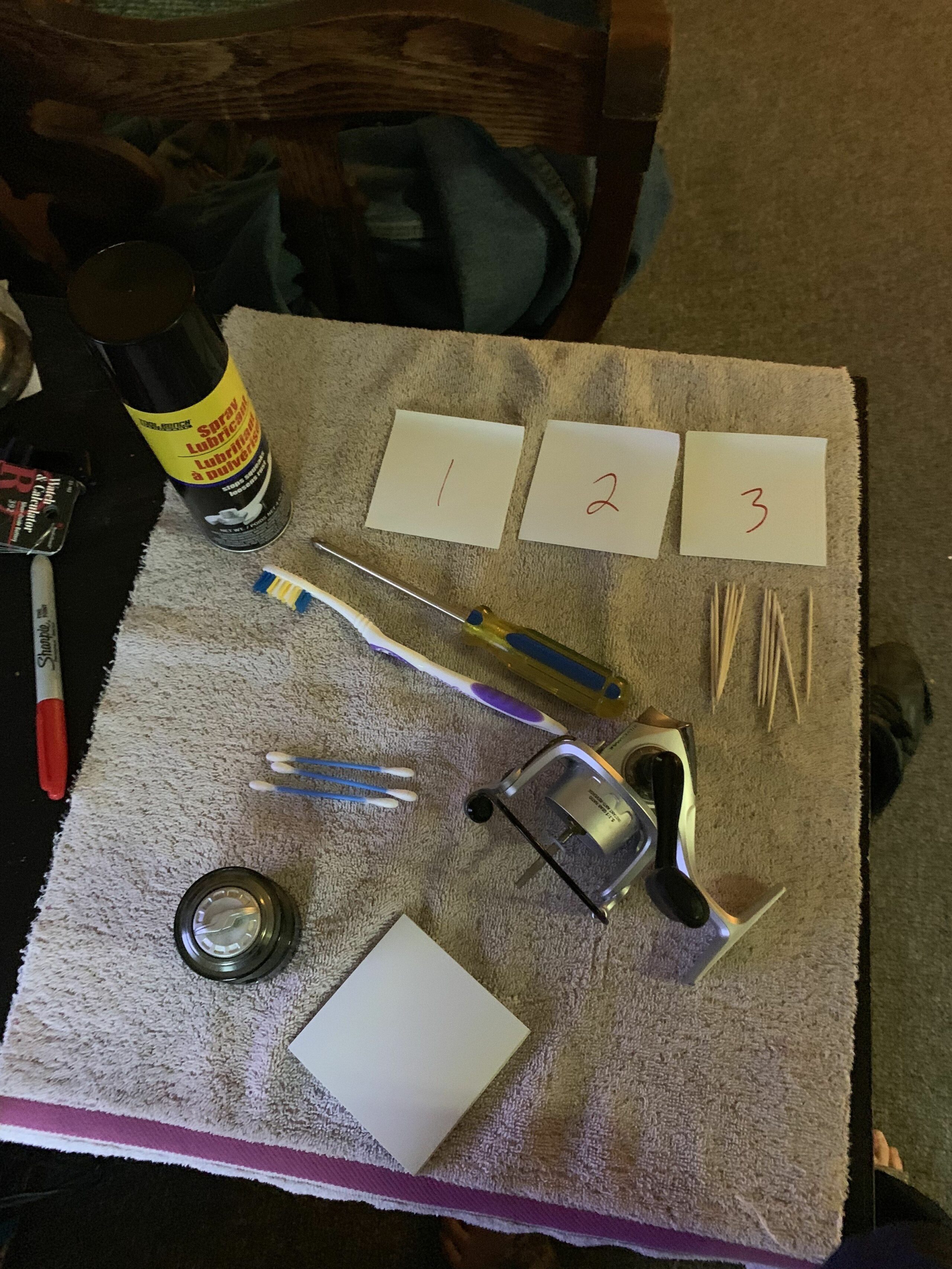 You will need a few every day around the house type of items to clean your reel with.
Here's what you need:
Phillips head screwdriver or screw gun with a Phillips insert.

Flat Head Screwdriver

Tweezers

Q-tips

Toothpicks

Toothbrush

WD-40 or a similar brand lubricant

Reel Grease

Ball Bearing Oil
Clean towel or rags that you can get dirty and stained
Once you have these items you are ready to clean.
First Clean the Outside of the Spinning Reel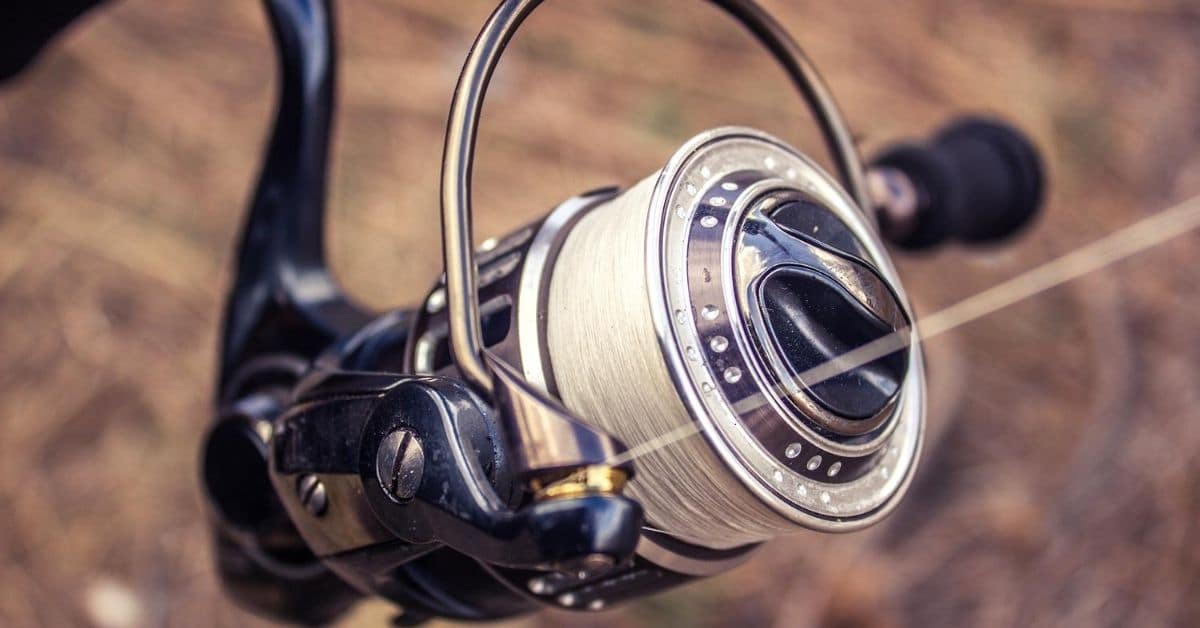 Cleaning the outside of your reel is the easiest and doesn't take long at all. You can do this after every fishing outing that you go on if you like. You can use a hose with a light mist of water to clean the salt and dirt off the outside of the reel. Next whip it off with a clean, dry towel or rag.
Whatever you do don't dunk it in a bucket of water even though bearings and components are sealed it is not good practice to put your reel in water if you absolutely can help it.
Next, take the spool off and then you will want to lower the axle of the reel so that it is in a downward position. You can do this by turning the handle. After that, spray the body of the reel with WD-40 making sure to have the rotor and spool axle away from you while you are spraying.
Now take the towel and whip down the body of the reel. This will clean the dirt and grime from the outside of the reel. Pretty easy right?
Cleaning the Internal Components of the Spinning Reel
---
Now that the outside is nice and clean you will want to start disassembling your spinning reel so that you can clean the internal parts of the reel.
I recommend taking your reel apart piece by piece taking special note of the parts that come off so that you can reassemble them in reverse order from the way you disassembled them. A good way to keep track of the parts is to get a pad of posted notes and put the part on the posted note with a number that corresponds with the part 1, 2, 3, etc. Then you would assemble the parts in reverse order after cleaning.
Take out little parts like springs with the tweezer. This ensures that you won't lose any parts while you are disassembling them. The tweezers also make it a lot easier putting the small parts back as well.
Grease the Gears and Oil the Bearings
---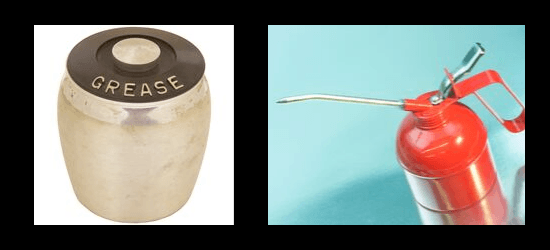 Once you have everything disassembled, check the gears in the reel make sure that grease doesn't look black or have dirt and grime in it. The only reason the gear grease would be dirty is if you dropped it in mud or dirty water. If the gears have dirt in the grease then you will need to take the gears out and clean them with the Q-tips. Make sure that you align them right when you put them back in. If the gears are misaligned you are going to damage the reel and or it won't work.
If the grease seems clean then all you have to do is dab a little grease using a toothpick onto the bottom and top of the gear teeth. The block that holds the gears should be greased as well on the top and bottom.
Clean the ball bearings with a biodegradable cleaner and then oil them using only one drop of oil per ball bearing.
Cleaning of Parts
Now you will want to clean all the parts with a biodegradable cleaner. There are special rod and reel cleaners that you can buy but you can also just use Simple Green or WD-40. Clean the parts scrubbing with a toothbrush and toothpicks to get into the small crevasses. This is the most important part of the cleaning process. Make sure all sand, grit, and dirt are out of the component parts before reassembling.
When All is Said and Done
---
Once you have sufficiently cleaned all the internal parts of the reel, greased and oiled everything that needs it then you can start reassembling all the parts. As long as you numbered the parts as I mentioned earlier you should have no problem reassembling them in reverse order from how you disassembled them.
Once the reel is put back together spin the reel and make sure it works the way it's supposed to. The good thing is that it's not that difficult as long as you have everything laid out and individually numbered. You only need to do this once or twice a year if your fishing freshwater but if your saltwater fishing you might want to do this after every fishing excursion.
At the very least for saltwater fishing clean the outside of the reel every time. Now that you know how to clean a spinning reel you will be able to keep your reel corrosion and damage-free for years to come.
I hope I have provided you with useful information on how to take care of your spinning reel. If you have any questions or comments feel free to leave them in the comments section below and I will be happy to answer each and every one of them. As always Happy Fishing!