Product: Garmin Striker 4 
Price: $99.98
Cheapest Place to Buy: Amazon.com
Product Dimensions: 

3.6 x 1.6 x 5.9 inches


Shipping Weight: 2.2 Pounds
Guarantee: 2-year Limited Warranty
My Rating: 9.8 Out of 10



    


        

Garmin Striker 4


                        

Available On Amazon


    


    




Garmin Striker 4 Overview
In this Garmin Striker 4 review, I will show you everything you need to know about the Garmin Striker 4 sonar fishfinder. You will be able to make an informed decision on whether or not this fish finder is right for you.
The Garmin Striker 4 is a state of the art fishfinder with realistic graphics and a high sensitivity GPS that lets you mark those spots on the lake that you are killing it with the fish so that you can go back to that fishing spot time and time again. You can also share your locations with other echo maps and striker combinations.
The Striker 4 has a built-in flasher and displays your speeds data. Included with this fishfinder is the CHIRP (77/200 kHz) transducer with trolling motor and transom cable and mounting hardware. This makes the Garmin Striker 4 easily accessible. You mount it wherever is most convenient for you.
Pros
Highly Sensitive CHIRP Transducer GPS Navigation

Lightweight and Compact

Chrystal Clear Sonar Images

Records Your Trolling Speed

Mark Your Favorite Fishing Spots For Future Use

Can Be Mounted On Trolling Motor or Transom

Built-in Flasher Useful For Ice Fishing and Jigging For Crappies
Cons
Higher Performance CHIRP Transducers Sold Separately

Carrying Case Not Included
Sonar Images Are Crystal Clear With The CHIRP Transducer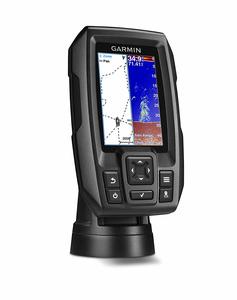 Like I said the Garmin CHIRP transducer is included in this fish finder. It is a 77/200 kHz transducer which can be mounted on the transom or the trolling motor if you have one. The CHIRPS clarity is superb with much higher quality visibility of the fish and surrounding structure than the traditional 77/200 kHz transducers.
This is possible because the CHIRP transducer sends out a continuous array of frequencies instead of just one. These frequencies range from high to low and are interrupted individually when they return. The CHIRP sonar technology brings in a lot of information from a broader range. This creates more evident fish arches with a more significant target of separation.
If you want even higher performance CHIRP, you can upgrade to the GT8 or GT15 transducer. These two are sold separately. They provide even clearer sonar images and a better resolution and target separation from shallow to deeper depths. The bottom contours are much clearer even with faster speeds with these upgrades.
Superb Navigation with The Garmin Striker 4 Fishfinder
Never get lost again with the high sensitive GPS that the striker 4 fishfinder offers. It's very accurate at letting you know where you are at and can maintain your GPS positioning anywhere you go on the lake or river.
With this fishfinder you can mark where on the lake the fish are biting so you can return to that exact spot in the future. It can also mark boat ramps and docks for future reference which makes it easier finding your way out of the lake when you are done fishing. There is a path that's created on the screen, so you follow that to where you want to go.
This is especially useful when you are fishing in a massive lake that you have never fished before or are fishing on one of the great lakes. Nothing is more frustrating than not being able to find your way out.
Know Your Speed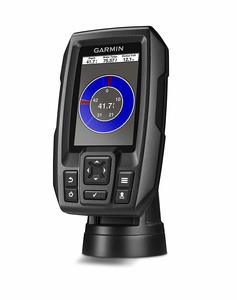 With the Striker 4 fishfinder you can know the exact speed you are going by glancing over at the screen. This helps when you are trolling for fish so you know exactly what speed you are at for the different kinds of lures you may be using. It is also useful in wake controlled areas where you need to know your speed so that you don't create waves.
The Striker 4 Fishfinder Has a Built-in Flasher
The flasher works well when you are not in the boat like fishing on shore, crappie jigging or ice fishing. The flasher shows you what the bottom of the lake is made of if it's a muddy or a rock solid bottom.
It will also show you the weight of your lure or live bait and how deep the fish are when they swim into the sonar beam. You can also see how far your bait or lure is being lifted and if the fish swim towards it or away from it. The built-in flasher is one of my favorite features of this sonar fishfinder.
Main Fishfinder Features of The Garmin Striker 4
3.5" Color Screen

Easy To Use Keypad Operation

Mark Your Locations On The Lake such as where the fish are biting and where your loading and unloading ramps and docks are. You can also map out weed beds and rock piles.

CHIRP (77/200 kHz) sonar transducer is included; transmit power (200 W RMS)/(1,600 W peak-to-peak)

Split-screen zoom

Ultrascroll® (displays fish targets at higher boat speeds)

AutoGain Technology (minimizes clutter, maximizes targets)

Fish Symbol ID (helps identify fish targets)

Adjustable depth line (measures the depth of underwater objects)

Water temperature sensor included

Tilt/swivel mount

Integrated GPS

A-scope (real time display of fish passing through transducer beam)

Mark Waypoints

Course over Ground (COG)

Current draw @ 12V: 0.23A
Sonar Features and Specifications
Dual-frequency (50/200 kHz) sonar capable

Dual-beam (77/200 kHz) sonar capable

Supported Frequencies: Traditional: 50/77/200 kHz; CHIRP (mid and high)

Transmit power: 200 W (RMS)

Maximum depth: 1,600 ft freshwater*, 750 ft saltwater*

Bottom lock (shows return from the bottom up)

Water temperature log and graph
Physical dimensions: 3.6" x 5.9" x 1.6"

Display size: 1.9" x 2.9"; 3.5" diagonal

Display resolution: 480 x 320 pixels

Display type: HGVA color

Weight: 8.1 Ounces

Water Rating IPX7
My Conclusive Opinion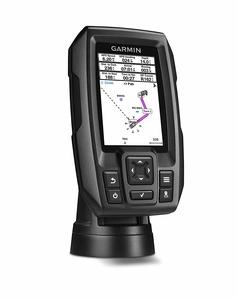 I hope I have provided you all the pertinent information that you need in this Garmin Striker 4 Review. The Striker 4 fishfinder, in my opinion, is a great buy at under $100 on Amazon.
It has all the features you would want in a fishfinder and then some. There is no secret why The Garmin Striker 4 is the number one Best Seller on Amazon in the fish finder/ depth finder category.
You get a GPS that lets you mark wayward point which helps get you to where you want to go and helps you mark where you have been on the lake or river. This makes it easy to get back out of the lake.
What's also helpful is it lets you mark where the fish are biting so that you won't forget. Then you can come back time after time to the same fishing spot and pull in some big fish.
It's also a great ice fishing fishfinder with the built-in flashers that let you see what your bait is doing and how the fish are reacting to your bait. It also shows you what the bottom of the lake looks like if it's muddy or solid. You can also control your trolling speed with this fishfinder which helps to keep you at the right speed for whatever lure you are trolling with. It also helps to keep your speed down in wake controlled areas of the lake.
I highly recommend you purchase your own Garmin Striker 4 fishfinder. The cheapest place to buy this fishfinder is on Amazon. I know you won't regret this purchase.
If you have any questions or comments, please feel free to leave them below. Thanks for reading and Happy Fishing!
Product: Marcum LX-6s Digital Ice Fishing Sonar System
Price: $628.03
Cheapest Place To Buy: Amazon.com
Product Dimensions: 8.8 x 10.5 x 8.5 inches ; 11 pounds
Guarantee: Two-year System Warranty
My Rating: 9.7 out of 10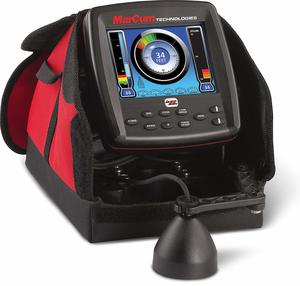 It can be hard to catch your limit when you are out ice fishing. Drilling hole after hole until you find the right spot. And a lot of the time you never do find where those elusive fish are hiding. That can all change if you bring along a Marcum ice fishing sonar. This digital sonar system is perfect for finding those fish that don't want to be found!
This fishfinder comes loaded with exemptional features like real-time graphing and excellent response time. You can easily switch back and forth on the compact screen to find the features you are looking for. Now that I told you a little about the Marcum  LX-6s let's get into the meat and potatoes of this ice fishing sonar system.
The Features
There are a ton of great features that come with the Marcum LX-6s. It has a customizable display and dashboard with 12 levels of interference rejection. You can adjust the zoom and it has excellent target separation. Comes with dual-beam transducers for extra fish finding capabilities. The following is a short list of some of its most important features.
A dashboard display that keeps you updated with all the information you need while ice fishing.

It's protected with a nylon padded soft pack and a clear shield.

User-friendly adjustable zoom feature.

Display up to three different sonar windows at once out of five.

It's Quite

Has a transport shuttle with a

transducer

arm that is extendable

LCD monitor

A dual-beam transducer that you can switch between 8 degrees and 20 degrees

And has a 2-year warranty on the system itself
With all these features you just can't go wrong. Anglers from all around just love their Marcum ice fishing sonar and who can blame them! They are the most advanced sonar systems on the market today.
Setting Up Is Easy
Setting this unit up for ice fishing doesn't get any easier. It comes almost ready to go right out of the package. Not quite but close. Just open the top cover of the soft pack. Then you want to loosen the knobs around the monitor. Once that's complete you can move the screen to were you view it the best. Now that you have the monitor to where you want it, tighten the knobs back down.
Now take the digital sonar system out of the soft pack. Plug the cord into the battery. No need to charge the battery right away. It comes with a 9 amp fully charged and can last 10 hours! So it is truly a plug and play unit right out of the box.


Reading Through The Ice
Make sure the ice is clear before reading. To clear the ice for coupling of the transducer just dump a cup of water on the spot your reading. Now place the transducer firmly to the ice where you poured the water. This will show the bottom of the lake and whatever fish might be there on your screen.
Next, you want to drill into the ice about 2" before you take your first reading. This is done if the ice is rough or there are a lot of air bubbles in it.
Tips On Fishing In Shallow Water
If your fishing in shallow water of 10' or less you will need to make some adjustments to you will want to experiment with.
No matter how thick the ice is manually select the 10' range.

Keep the transducer on top of the ice almost holding it in the air. This gives it more room to work with.

Go to the menu button, select sonar settings, find sonar mode. Highlight that and select open water mode. Although your ice fishing, setting it to open water mode will allow for better fishing if the ice conditions are horrible.

Change the color palette from SIX-COLOR to one of the three color palettes.
Like I said you will have to do some experimenting with this. If the ice is clear you might not have any trouble just using the factory settings when fishing in shallow water.
What Comes With The Marcum LX-6s?
Power Cord

Universal charging system

Snowshield – for protection from rain and snow

Ice Transducer

Transducer Arm – holds the transducer cable

Soft Pack – for protection from the elements

Shuttle – The base your Marcum ice fishing sonar is mounted to.

Open Water Transducer – This transducer mounts to the transom or trolling motor of your boat.

Stopper – This suspends your ice ducer in the hole along with the transducer arm.

12 Volt Battery
Pros
Dual Use – for hard water and open water fishing

Battery Lasts 10 hours on a full charge

Ready to use out of the box

Adjustable night vision backlight

Multifunctional sonar display

Sonar footprint technology

Touchscreen

Quiet

2-year warranty
Cons
Problems in shallow water

A learning curve for the displays

Small screen     
Conclusion
With all these awesome features that come with a Marcum LX-6s I don't know what else to say but go out and get yourself one of these beauties. You will spend more time fishing. Less time drilling holes and better yet catching your daily limits of fish. And if the system breaks within two years you can get it replaced with Marcum's two-year warranty.
One of the best part of this Marcum ice fishing sonar system is that you can use it hard water and open water fishing. In the ice shelter or in the boat it's a year-round use of this fish finder and a solid investment in fishing equipment if you ask me.
If you have any questions or comments please leave them below. To get ahold of me directly you can email me at cory@tackleboxtalk.com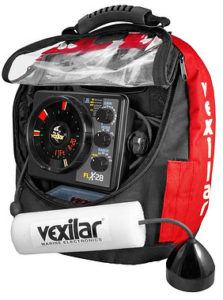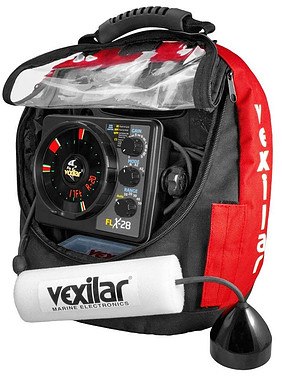 If you're like me; you don't head out to the lake ice fishing without a good fish finder. That's why it's a good idea to check out my Vexilar ice fishing finder reviews.
It sucks fishing one hole for hours not getting a single nibble. If you're not a patient person; you end up wrecking your auger blade drilling a ton of holes trying to find where the fish are. And at the end of the day, you go home tired, cranky, cold, wet and fishless!
You start asking yourself why in the hell do I bother going ice fishing? But if you have an ice fishing finder, you don't have to go through all that. Ice fishing can be enjoyable and exciting again!
If you're searching for that 'just right' fish finder for ice fishing you're in luck! I have three Vexilar ice fishing finder reviews for you to look over and see which one is the best for your situation.
Vexilar, Who Are They?
Vexilar is a top-notch ice fish finder manufacturer based in Minneapolis Minnesota. They invented the three color flash sonar technology. Testing every single fish finder, they produce before shipping it out into the world. Vexilar is considered the best ice fishing finder company in the world.
Their fail rate is impeccable. Only one-tenth of one percent of Vexilar fish finders fail in the first two years of ownership. That is a crazy statistic that makes them the best in the industry when it comes to manufacturing fish finders for ice fishing.
The ice fish finders from Vexilar last more than ten years on average. And listen to this… You can resell their products after five years for about what you originally paid for it. To me that's amazing it's like an investment of sorts and a tangible one at that.
Now let's get on with the Ice fishing finder reviews.
3 Ice Packs By Vexilar
There are three what they call ice packs that Vexilar has in their arsenal.
The Genz Pack
The Pro Pack 2
The Ultra Pack
The Genz Pack
The Genz pack was designed by Dave Genz founder of the Clam ice fishing company. There are five different units the Genz pack come in, They are:
FL-8
FL-12
FL-18
FL-20
FL-22 HD
All of these come with a one AMP charger and a 7 AMP battery. You can leave the charger on 24/7 without ruining the battery. FL stands for flasher for the Flasher Sonar Systems. I don't know why they just went with an abbreviation of the first word flasher? I would have called these FSS for short, but that's just me. On with the ice fishing finder reviews lol.
I will give you a brief rundown of what these flash sonar systems do.
FL-8
First, we have the FL-8 which is widely popular around the world. It's a great working unit that can be used for ice fishing and open water fishing as well. The only thing it doesn't have come with is a zoom feature, so it's hard to find those fish that are on the bottom of the lake or hiding in the weeds. But it has six different depth options so you can get better readings.
FL-12
Second, we have the FL-12 that is an upgrade of the version FL-8. It has a different shape and has an interference rejection system that helps cut the crosstalk from other Vexilar units that might be in the vicinity.
FL-18
The FL-18 which is one of the ones I will be reviewing in this article. This one is a very advanced fish finder. It's also easy to use. It has an on/off range mode controller. You can change your settings from high to low with a turn of the knob. This is great for when you change depths of fishing. It is an excellent unit with a very clear signal. One of the top picks of the Genz ice packs if you are an abide ice angler.
FL-20
The FL-20 has two zoom zones, and the FL-18 only has one but who's counting. Another feature it has is a night mode. It will also automatically change your power settings if your in under 10 feet of water. That way you don't have to change it yourself manually. You can catch a lot of fish with all the features this unit has to offer.
FL-22 HD
Last but not least we have the FL-22 HD fish finder — this one made for shallow fishing. Only detecting to a maximum of 60 feet of water. On this unit, the fish will look like they are alive and in person or should I say fishson. 🙂
The following is the first of the ice fishing finder reviews.
Vexilar GP1812 FL-18 Genz Pack 12 Degree Ice-Ducer
Product: Vexilar FL-18 Genz Pack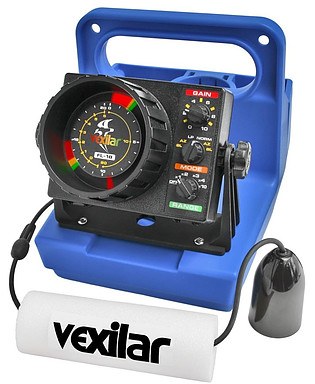 Price: $419.99
Cheapest Place to Buy: Amazon.com
Size of container: 4.4″H x 6″W x 2.5″D
My Rating: 9.3 out of 10
The Vexilar FL-18 fits perfectly on a five-gallon bucket. Ideal to when your out ice fishing. It has built in the transducer which fits all ice-ducers. Capable of zooming into the bottom six feet of water.
Specs:
6 Depth Ranges
A frequency of 200 kHz
Power Output 400 W Peak to Peak
Weatherproof case
Three color display
Backlight depth scale for easy visibility in little light
---
Vexilar FLX-12 Pro Pack II w/12 Ice Ducer
Product: Vexilar Pro Pack 2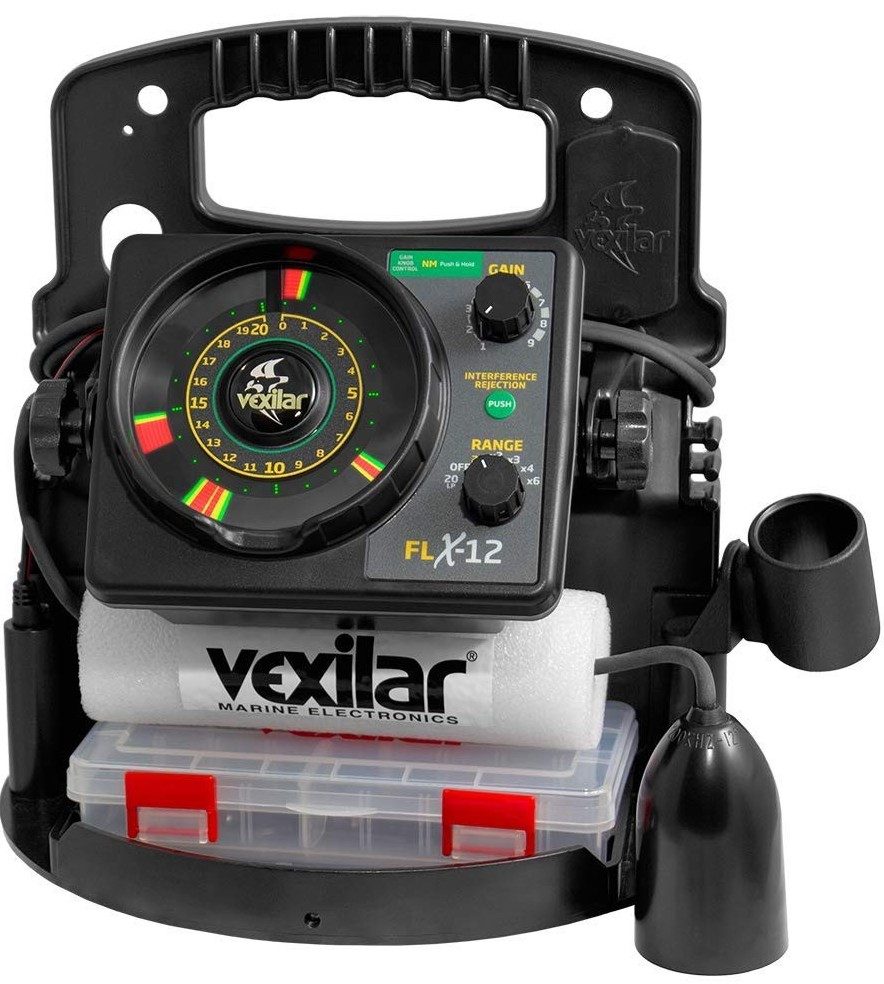 Price: $442.99
Cheapest Place to Buy: Amazon.com
Size of Container: 12 x 11 x 10 inches
My Rating: 9.1 out of 10
The Vexilar FLX-12 fits right in a 5-gallon bucket, so it's easy to carry around. It comes with a tackle box and rod holder. You can see down to 120 feet with this unit because of its brushless data transfer technology. It has a 12-degree ice duce transducer on it.
---
Vexilar FLX-28 Ice ProPack II Locator with Pro View Ice Ducer
Product: Vexilar FLX-28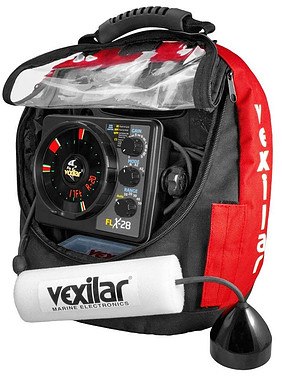 Price: $649.95
Cheapest Place to Buy: Amazon.com
Size of Container: 2.5 x 6 x 4.4 inches
My Rating: 9.5 out of 10
The Vexilar FLX-28 Ice Pro Pack 2 comes with more features than all of the other ice fish finders by Vexilar.
5 Color Palettes
Five-foot depth range adjustments with a total range of 300 feet
Brightness settings for day and night
Two Zoom Zones
Digital Depth
Auto Range
Battery Status
Low Power Options for fishing in weedy shallow areas
Weed Mode
By far this one is the best of all three. At least in my opinion. Now it's up to you to decide which one you want to go with. I hope this article on ice fishing finder reviews helped you find what you were looking for. If you have any questions, please feel free to leave them below.